Mykelti Brown and Antonio "Tony" Padron from Sister Wives transformed their physiques over the last few months. The 27-year-old Utah woman and her 28-year-old husband tied the knot in 2016 after appearing as supporting cast members on Sister Wives. Four years later, they announced their pregnancy and had their first child, Avalon Asa Padron. In early 2022, Mykelti and Tony got pregnant again, this time with twins. The couple had their sons Archer Banks Padron and Ace McCord Padron in November 2022. Like any other parent, the new mom and dad decided to be the best version of themselves to their kids by getting fit, showing some surprising results.
Mykelti and Tony started focusing on their health right after their twins. In 2023, the mom of three posted about her and her husband's ongoing weight loss journey and revealed that they decided to get healthy after a major life shift. Mykelti also explained her and Tony's mindset throughout their fitness journeys. She shared that she and her beau aimed to focus on long-term weight loss instead of finding a quick fix. The Utah native said that it's been a great journey, adding that she and Tony are still working daily to keep their bodies moving in the right direction.
This Sister Wives Couple Is Bouncing Back After Becoming Parents
Mykelti's body went through a huge change in the past few years. She gained baby weight and has undergone postpartum journeys twice since 2020. Similarly, Tony has had three new responsibilities in his babies that he had to worry about while pursuing his career. Despite the pressure of being new parents, the pair didn't give up hope. They focused on consistency and stopped worrying about achieving short-term goals. In June 2023, Mykelti posted a transformation photo of herself and her husband. She wrote, "Results like Tony and I have had come with longevity." The couple hasn't revealed how much weight they lost, but their transformations suggest it must be over 50 pounds combined.
Mykelti & Tony Looked Different Before They Slimmed Down
The famous couple looked very different when they debuted on Sister Wives. Mykelti had been part of the franchise for a long time due to her father, Kody Brown. In comparison, Tony came into the picture in 2015, when he first began dating the Sister Wives star's daughter. At the time, he had a relatively bigger physique. The couple's wedding video also shows they hadn't started their fitness journeys then. In fact, the two looked pretty much the same for the coming years until the last six months, which makes their weight loss all the more surprising.
The Sister Wives Stars Are Embracing A Healthier Lifestyle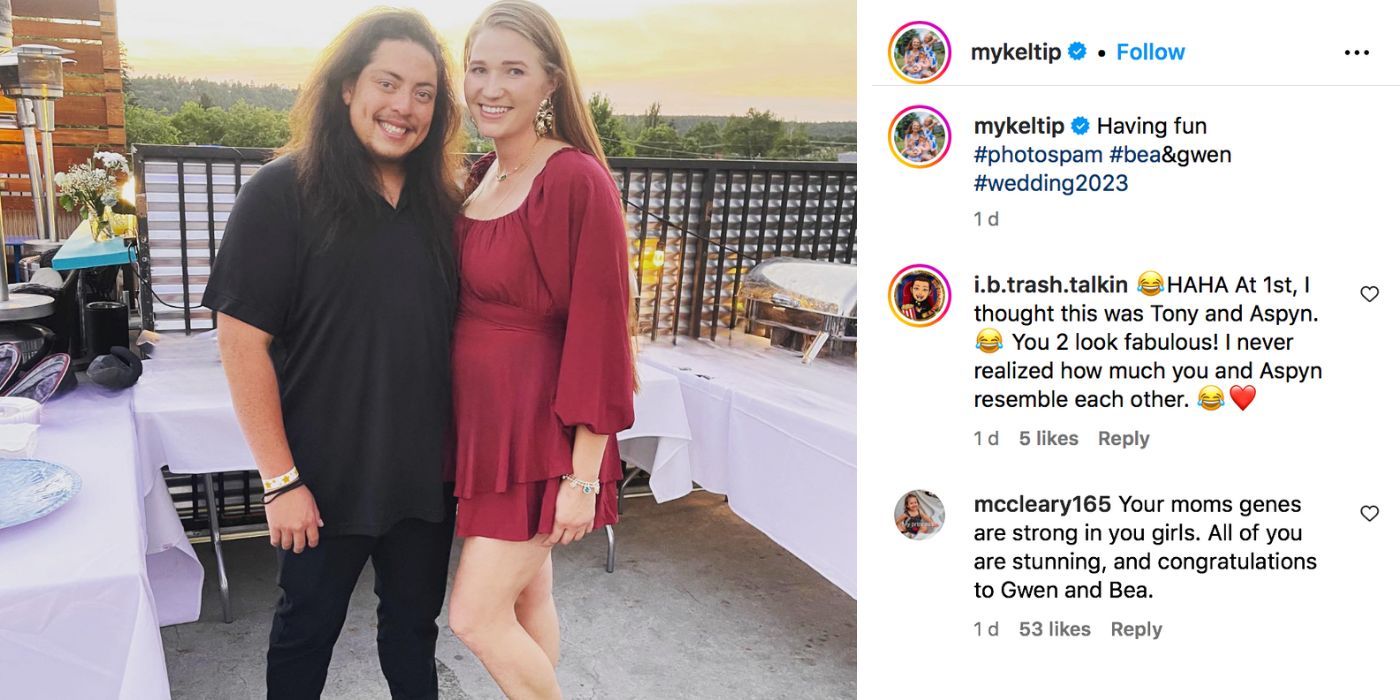 Mykelti and Tony have transformed in various ways since becoming parents. They have gotten more serious about everything, from enjoying special moments to caring for their kids. In July 2023, Mykelti shared the couple's latest weight loss photos, proudly flaunting their new toned bodies and chiseled jawlines. They wore big smiles showing they were internally happy and glowing. The pair shared pictures from a wedding they attended in 2023 and simply titled it, "having fun." Mykelti and Tony looked healthier than ever, especially compared to pictures from their wedding in 2016. The young couple's new approach and lifestyle changes will make it easier for them to handle the demands of parenting.
Mykelti and Tony aren't the only Sister Wives cast members who have achieved weight loss in 2023. Kody's second wife, Janelle Brown, also showcased stunning weight loss over the last few months. Like Mykelti, Janelle was also a curvy woman from the beginning. However, she has lately lost nearly 100 pounds through hard work. Even Mykelti's mother, Christine Brown, has lost weight since splitting from Kody. After being body-shamed by her other sister wife Robyn Brown, the 51-year-old became toned and fit. Another Brown family member, Madison Brush, has also dropped weight since becoming a mom.
Christine and Janelle have their weight loss Instagram page, The Secret to Selfcare, where they promote the supplements they use to become fit. The Sister Wives duo's posts also suggest that they may be a factor in encouraging Mykelti and Tony to do the same. Many Brown family members have decided to improve their lives together. Their approach is great, as a family-wide focus on health will allow them to support each other and become healthier over the next few months. The weight loss knowledge will further allow Sister Wives pairs like Mykelti and Tony to instill a healthier lifestyle into their kids' lives as they grow up.
Source: Mykelti Brown/Instagram, Mykelti Brown/Instagram, The Secret to Selfcare/Instagram