I think we've all known that artists are cut from a different cloth than the rest of us "normies." One of these differences is our perception of life/death. Daniel Lawrence Wilson's short film, A Brush of Violence, takes us into the mind of a prolific artist's pursuit of immortality.
Akila is a prominent photographer/journalist under a deadline to find the next big story. In an instant, the opportunity of a lifetime is presented to Akila (Mia Krystyna). The renowned and reclusive artist VIO (Yavor Vesselinov) has selected her to reveal his identity to the world in conjunction with releasing his latest masterpiece. With a healthy dose of reticence, Akila agrees to the photo shoot.
When Akila arrives at VIO's mansion, she is met by his caretaker Vaasefa (Sausan Machari), who has a way of not answering Akila's curious questions. When Akila and VIO finally meet, he explains why he chose her for his once-in-a-lifetime opportunity. The two discuss topics about life and debate over the odds of existence. VIO then takes her up to his secret studio to show off his ultimate work of art.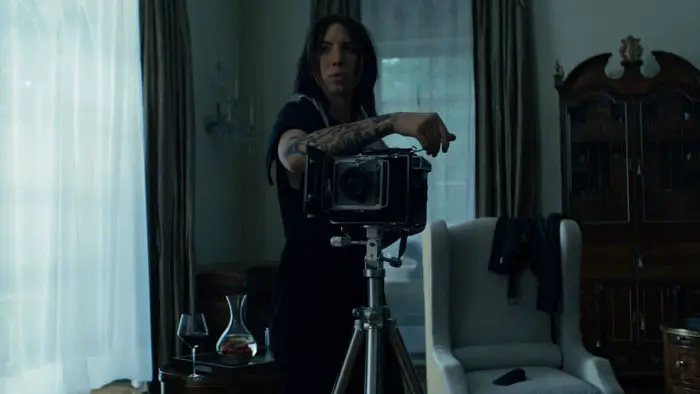 "…renowned and reclusive artist VIO has selected her to reveal his identity to the world…"
The first thing that writer/director Daniel Lawrence Wilson does perfectly with A Brush of Violence is set the right tone. In a short film about the existential nature of fine art, he perfectly nails the film's cinematic feel in not just the lavish location of VIO's mansion but in how he shoots Akila's work as a photographer.
Then there's Akila and VIO's discussion of life, which eventually leads to immortality that brilliantly leads into VIO's masterpiece. It's here that A Brush of Violence takes an unexpected turn, which spins both Akila and VIO's lives out of control in what is a thought-provoking commentary on art and immortality.
Krystyna and Machari give fantastic performances as Akila and VIO. As VIO, Marchari nails the off-balance artist living on a "higher plane." Akila plays the curious photographer trying to find the true essence of VIO in her work and then is forced to deal with the unexpected nature of fame she receives from this encounter.
Yes, films about eccentric artists can feel pretentious. Still, there is beauty to A Brush of Violence in what Daniel Lawrence Wilson has to say about this elitist world that can feel inaccessible to ordinary folks like us.
For more information, visit the A Brush of Violence official website.