Eddie Murphy has been a comedic force of nature ever since he became the youngest cast member of Saturday Night Live in 1980 when he was just nineteen-years-old. The comedic actor quickly transitioned into film roles and almost immediately became one of the biggest, most bankable stars in Hollywood. Although he has found much of his success within the comedy genre, Murphy hasn't been afraid to step outside his comfort zone throughout his career and take on more dramatic roles. With his newest movie,You People out on Netflix today, here is a list of his top films.
Axel Foley in Beverly Hills Cop (1984)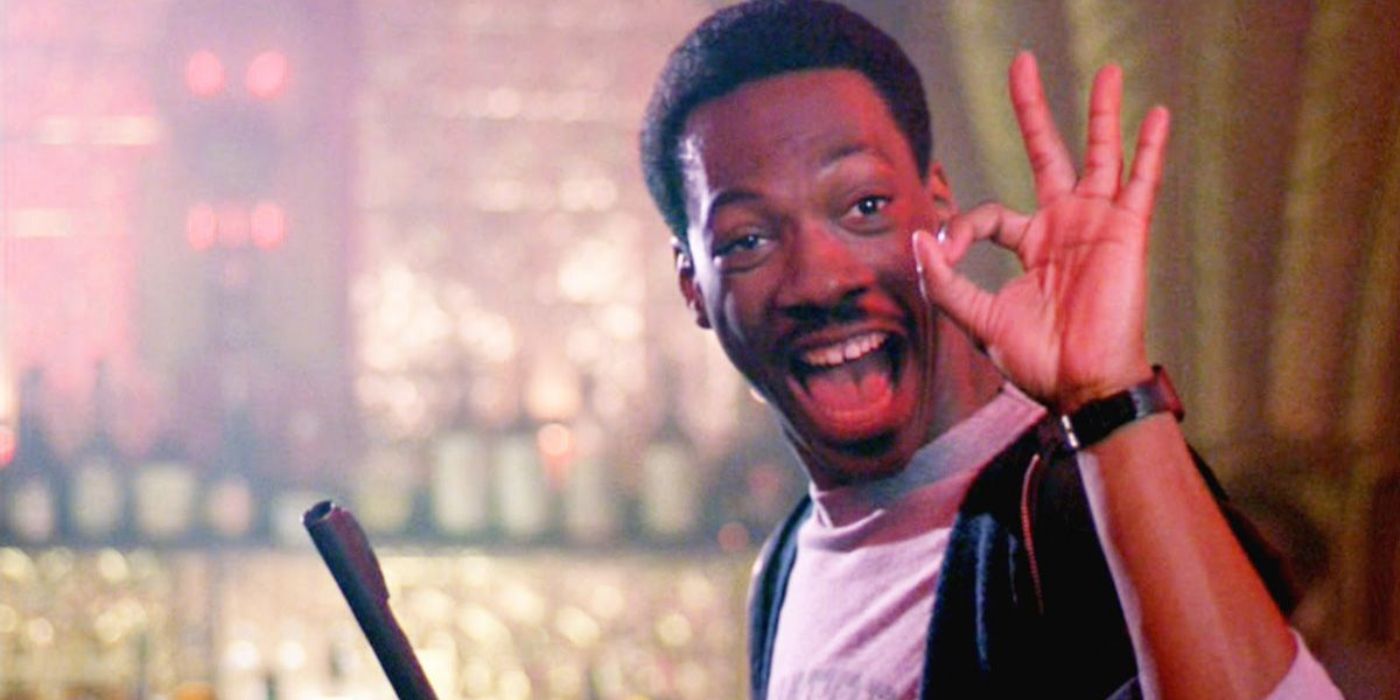 When the young SNL graduate signed on to play the part of "Axel Foley" in Beverly Hills Cop, it marked the first time that Murphy carried a movie on his back, and served to solidify his status as one of the biggest stars of the 1980s. With the perfect blend of action, suspense, and Murphy's comedic charm, it was a huge box office hit topping $316 million worldwide officially solidifying his status as the most bankable star of the decade. The success of the film would spawn two more entries into the franchise that also did very well. The fourth installment of the franchise, Beverly Hills Cop: Axel Foley, is slated for release later this year on Netflix.
Related: 'Beverly Hills Cop: Axel Foley' Adds Paul Reiser and More Original Cast Members
Billy Ray Valentine in Trading Places (1983)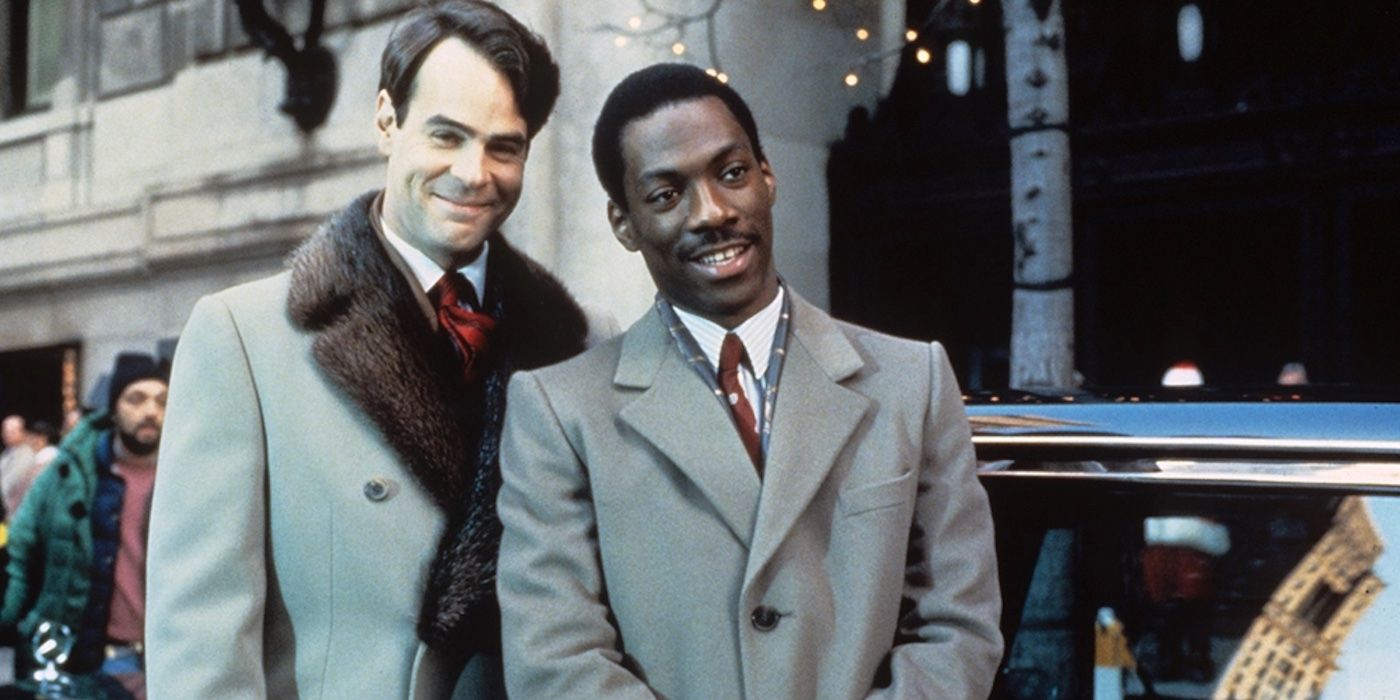 "Looking Good, Billy Ray. Feeling good, Louis." is just one of the iconic lines from this 1983 comedy that starred Murphy alongside fellow SNL alum, Dan Akroyd. Murphy plays a homeless man who is used as a pawn in a cruel and whimsical one dollar bet between two brokerage house barons, the Duke brothers (Don Ameche, Ralph Bellamy). Murphy and Akroyd eventually team up to turn the tables on the two with a stock market scheme that sends the legendary Wall Street brothers from the penthouse to the outhouse. Jamie Lee Curtis plays the role of Ophelia, Murphy's love interest in the film.
Rudy Ray Moore in Dolomite is My Name (2019)
Netflix had a bit of an unexpected hit on its hands when Murphy starred as stand-up comedian and iconic blaxploitation actor Rudy Ray Moore whose Dolomite character rose to prominence in the mid 1970s. After premiering for audiences at the Toronto Film Festival in 2019, the critically acclaimed biopic earned Murphy a Golden Globe Award foe Best Actor while the film also garnered a nod for Best Motion Picture. It was a bit a of a career resurgence for the star who had not worked much for nearly a decade prior.
Himself in Delirious (1983)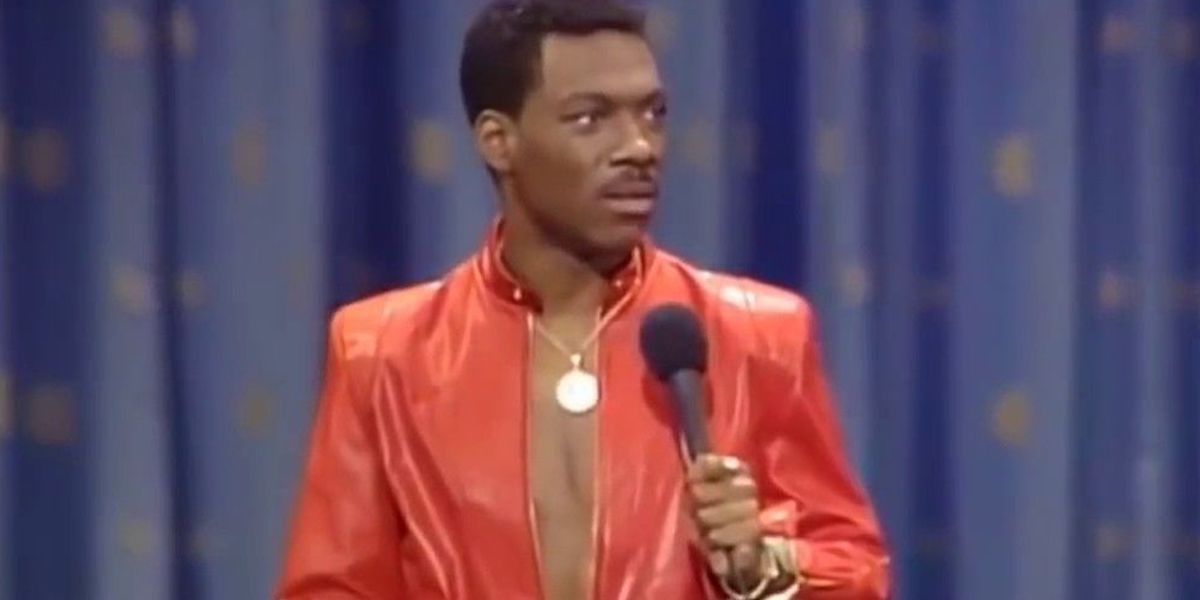 Riding high on the heels of breakout performances on SNL, and in big screen hits 48 Hours and Trading Places, Murphy decided to shift gears with a stand-up concert that technically aired on HBO, but later saw a theatrical release as well.The comedy concert, Delirious marked the first of several stand-up gigs that the talented performer would package for cable network that became hit films (the other being Eddie Murphy: Raw). As a one-man show on stage, Murphy was allowed to get down and dirty, so to speak, and deliver some of the funniest "R" rated material in his repertoire getting to follow in the footsteps of his idol and friend, Richard Pryor.
Reggie Hammond in 48 Hours (1982)
Murphy was still a full time cast member of Saturday Night Live when he starred opposite Nick Nolte in this buddy cop comedy/drama that saw a young Murphy shine for the first time on the Silver Screen. He plays a young, brash detective named Reggie Hammond who must learn to work with the salty, set-in-his-ways veteran cop, Jack Cates, played by Nolte. It was the launching pad for Murphy's astounding career in film that is still rolling more than 40 years after its release.
Prince Akeem Joffer in Coming to America (1988)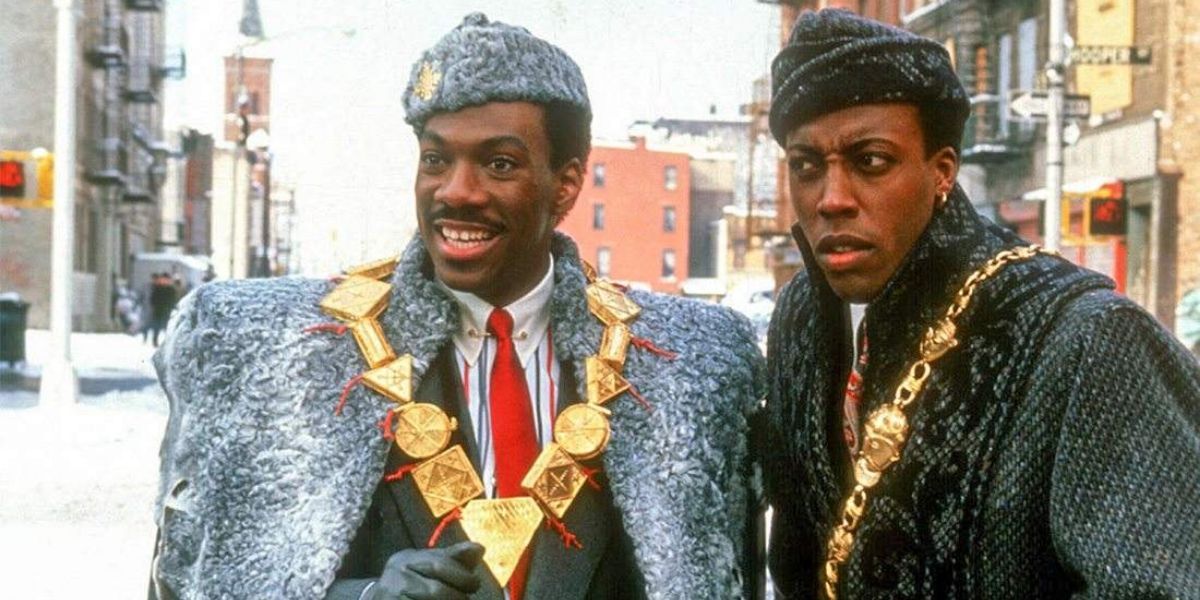 Coming off of two substandard films by Murphy's standards, The Golden Child and the shaky, but commercially successful Beverly Hills Cop II, Murphy struck gold again with Coming to America in 1988. The story of a wealthy African prince who moves to Queens, New York in search of a potential bride saw Murphy take on several different characters alongside friend Arsenio Hall in this uproarious film that also features James Earl Jones as Murphy's father King Jaffe Joffer of Zamunda. The success of this film reestablished Murphy as the biggest star of the decade.
Donkey in Shrek (2001)
Who can forget the fast-talking and gregarious, "Donkey" who provided some fabulous comic relief in the Dreamworks Animation film that spawned a four picture franchise spanning nine years (2001-2010). Murphy's patented voice was unmistakable as the gentle giant Shrek's best buddy and sidekick as they both experience a series of misadventures and perilous situations. The ilm was so well done that it claimed th Academy Award for Best Animated film and was nominated for Best Adapted Screenplay.
Professor Sherman Klump in The Nutty Professor (1996)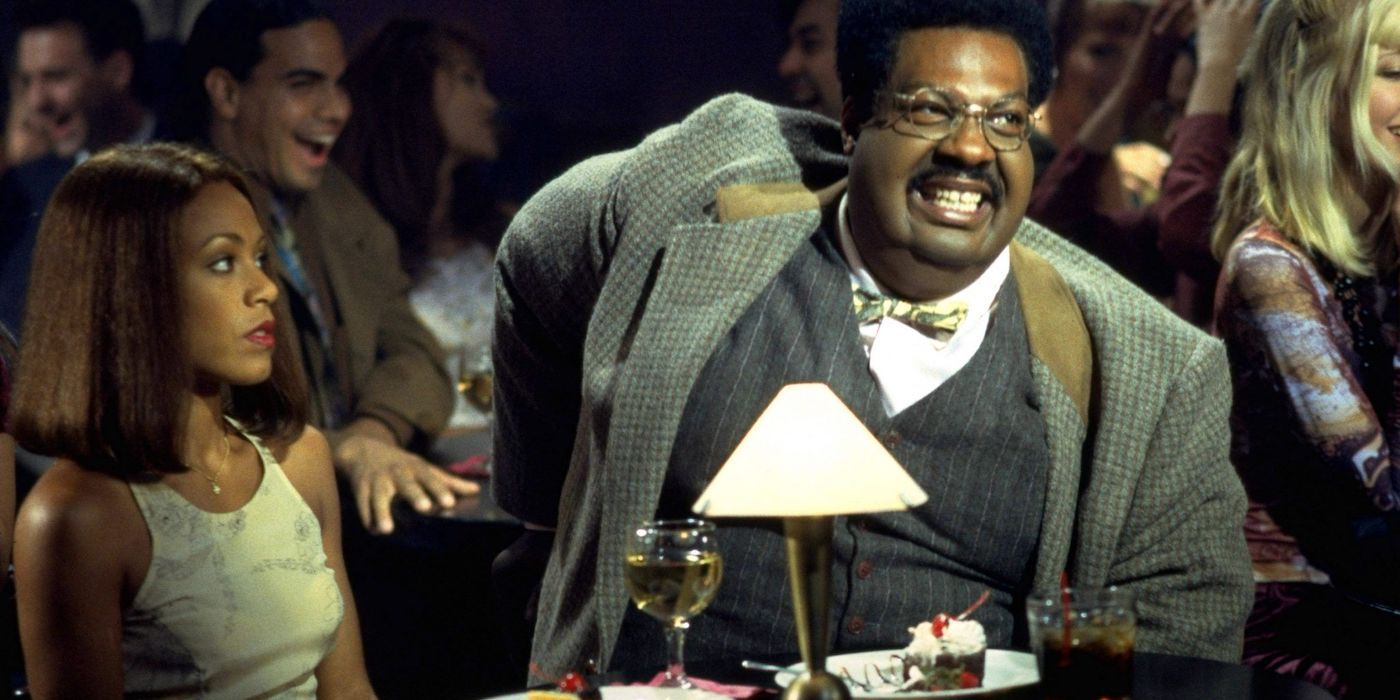 The beginning of the 90s saw Murphy's career hit a bit of a lull as films like Boomerang, The Distinguished Gentleman, and Vampire in Brooklyn saw him get away from the things that had launched him to stardom in the 80s. The Nutty Professor was just what the doctor ordered to see Murphy's star rise yet again. Playing the dual roles of Professor Sherman Klump and Buddy Love, the film got back to the comedic gravitas that had kept audiences in stitches for over a decade and reminded us why we loved the talented comic performer.
Jimmy Early in Dreamgirls (2006)
Adapted from the 1981 Broadway musical, Dreamgirls was an opportunity for Murphy to step outside his comfort zone and show what he could do in a more dramatic role. His turn as James Jimmy "Thunder" Early was inspired by real liife R&B legends like James Brown and Marvin Gaye. The character allows for Murphy to spread his wings playing a music legend who turns to drugs as hi star begins to fade. With an outstanding ensemble cast that includes, Jennifer Hudson, Jamie Foxx, and Beyonce, the film took home two Oscars and earned Murphy a Golden Globe Award for Best Supporting Actor.
Kit Ramsey in Bowfinger (1999)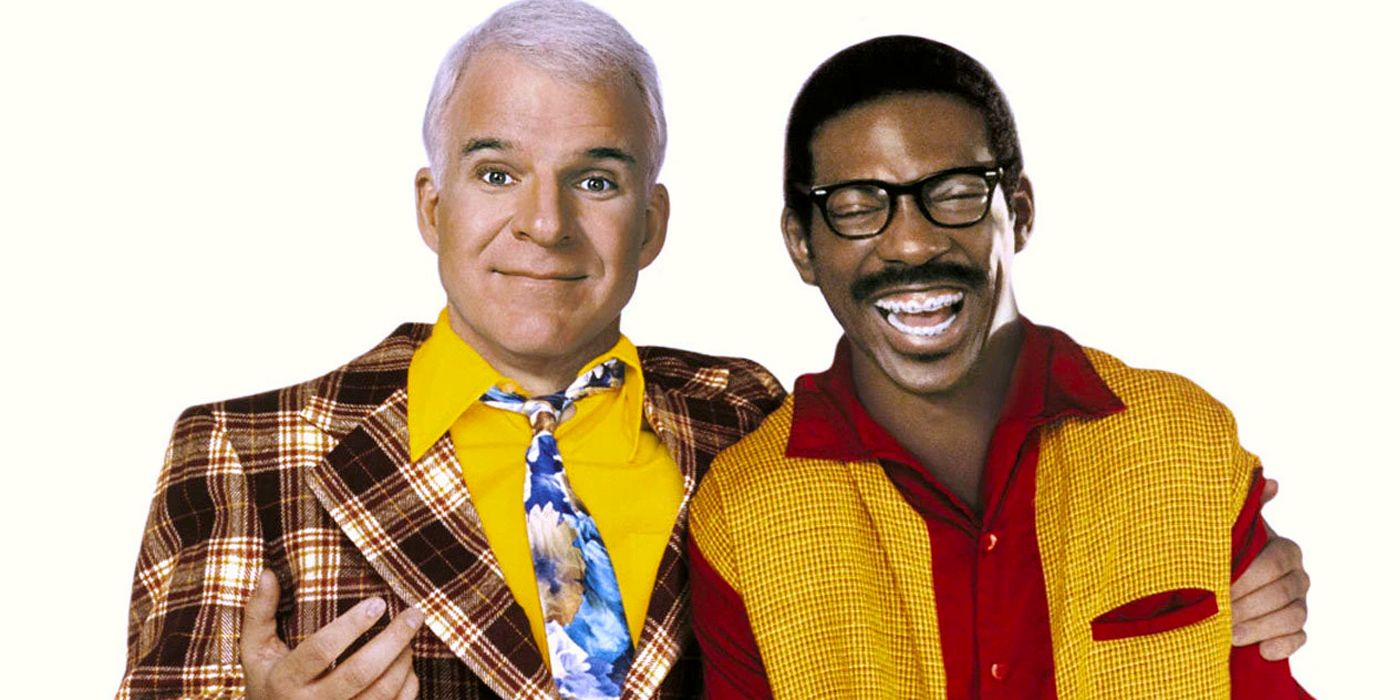 This film about a B list director (Steve Martin) and his rag tag group of struggling actors on their way up or on their way down in Hollywood saw Murphy again play hilarious dual roles. As Kit and Jiff Ramsey, Murphy stole the show in a cast that also featured Robert Downey Jr., Heather Graham, and Christine Baranski. Murphy's take on the polar opposite twin brothers was a dynamic and hilarious turn that showed off his range as an actor. Bowfinger is probably one of his best and most overlooked film and performance.