A Heartfelt, Ambitious Study of Grief and Connection
Plane crashes have been used as the catalyst for dramas for years, from cultural phenomenons like Lost to the hot new series like Yellowjackets and even the supernatural network-turned-Netflix show Manifest. Though Dear Edward may start the same way, what ends up unspooling throughout the first season is something much more grounded and understated, focusing not on the survival of those on the plane but rather on the family members of those who passed in the tragedy. And there are a lot of them.
The show is a true ensemble, focusing on around a dozen stories that interconnect through a central grief group but mostly stand on their own. Though each one is compelling and filled with rich nuance and characterization that creator Jason Katims is known to bring to his projects, it can feel a little overwhelming at first. Keeping all the characters and details straight, particularly in the first couple of episodes, can be a little tricky since there's so much ground being covered and background being explored.
However, it's a journey more than worth sticking with. Though there are things to love about each character we follow, there are some natural standouts — one of them being Connie Britton, who collaborated with Katims on Friday Night Lights and frequently stole the show as the fierce and caring Tami Taylor. Though those elements are something her character Dee Dee has in common, her performance here feels much more similar to her White Lotus role, with her exorbitant wealth and high-strung nature. Lucky for us, she gets to camp it up a bit — "with all due respect, just shove your kombucha up your ass" is uttered, along with several more deliciously wild lines all ripe for memeage (watch out, Jennifer Coolidge) — but in true brilliant Britton fashion, she never feels like parody. She's rich, naive, and can be selfish, yet it's easy to empathize with her as she discovers her husband was keeping a fair share of shocking secrets. It's a credit to the show that it never takes the straightforward route when it's revealed what those secrets are. The things her husband hid from her aren't black and white, and the morality and logic behind them aren't tied up into a neat little bow, which feels more interesting and layered than standard TV fare. Britton masterfully toggles between tightly coiled control and unrestrained rage, grounding what could have drifted into caricature in less capable hands.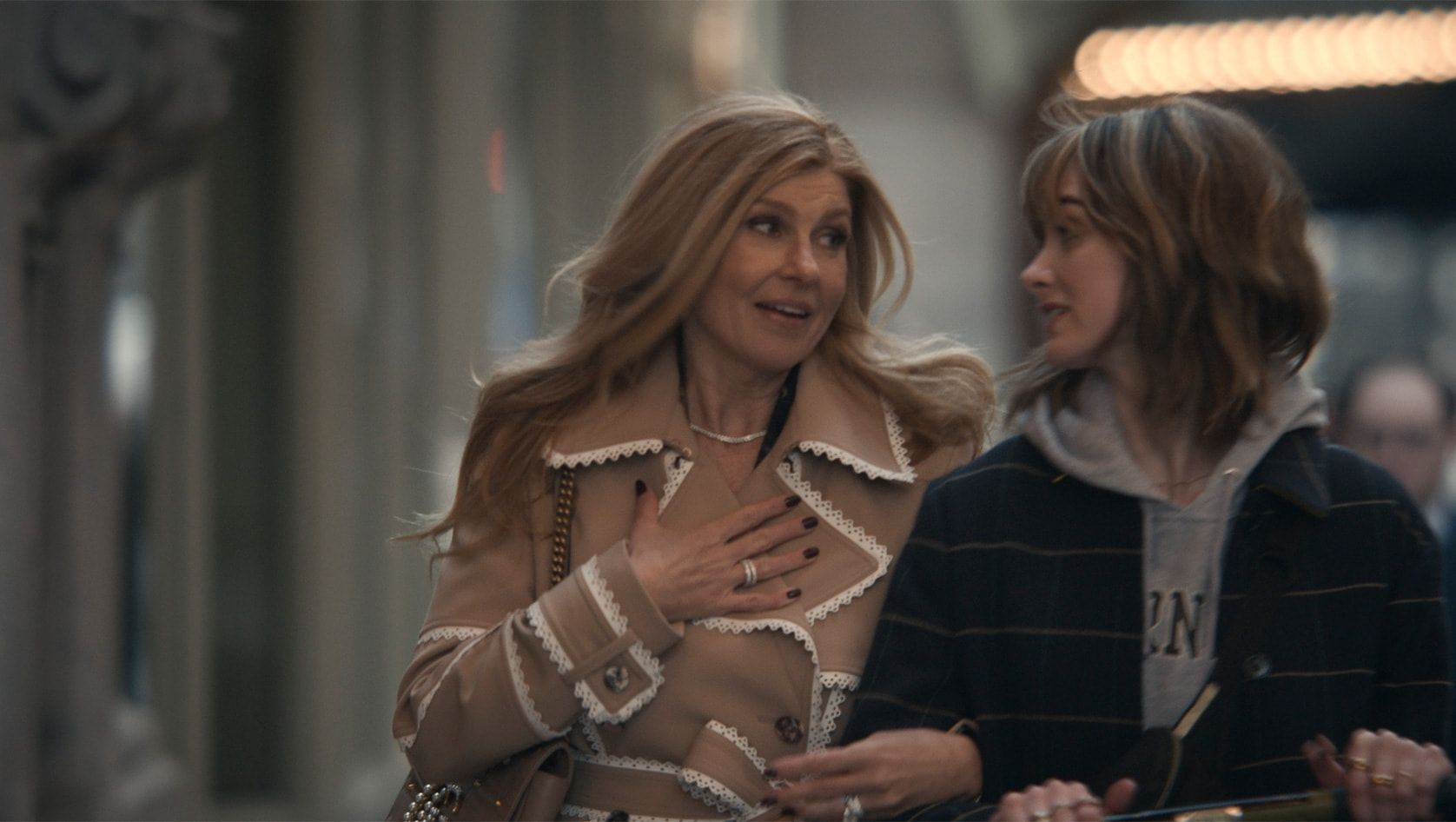 RELATED: The 'Dear Edward' Trailer Will Break Your Heart
Another standout story includes that of Adriana (Anna Uzele), a young, compassionate activist with a background in government. Having grown up around her grandmother, the second-ever Black Congresswoman, Adriana has a complex relationship with the political world, as she's seen how it can limit her impact on a community level. Though she's jaded by the environment at first, her journey of grappling with her grandmother's legacy and wishes for her — as well as finding confidence in herself — makes for an inspiring watch. Uzele plays Adriana with a captivating combination of seasoned grit and earnest optimism, making her impossible not to root for. That's in large part due to common scene partner Kojo (Idris DeBrand), a charismatic Ghanaian man who leaves his beloved home country in order to care for his niece after her mother passes in the crash. Adriana and Kojo's dynamic is one of the highlights of the show, as they start out by leaning on and confiding in each other, developing a slow-burn romance in the process. The relationship, though not without its complications and obstacles, is beautiful — a stunning, raw depiction of love that never feels saccharinely fairytale nor bleakly doomed, though it'd be easy to choose one of those cookie-cutter lanes. Uzele and DeBrand have excellent chemistry that acts as the heart of the show.
If they're the heart of the show, Edward (Colin O'Brien) is the soul. The lone survivor of the crash, the 12-year-old finds himself living with his Aunt Lacey (Taylor Schilling) and Uncle John (Carter Hudson) after his immediate family dies. Throughout the show, we see him mourning, the relationship with his older brother Jordan (Maxwell Jenkins) taking center stage. Edward often speaks to Jordan's ghost to help him mourn and process — a device that could feel forced or out of place but instead is surprisingly effective and impactful, mainly because of the playfulness of many of the scenes. (Edward, for example, can't fall asleep without hearing someone say "goodnight, stupid" — an affectionate phrase he and Jordan developed over the many years they shared a room.) This playfulness carries over to his dynamic with his neighbor Shea (Eva Ariel Binder), an outspoken athlete in his grade. Binder cements herself as a true up-and-comer to watch, as she gives her firecracker of a character an impressive amount of depth and lights up the screen every moment she's on it. She and O'Brien are undoubtedly one of the best parts of the show — not an easy feat when you're among several Emmy staples. Speaking of, Schilling is as good as ever, too. Her character arc is a fascinating one, as the pilot sees her and her husband struggling to get pregnant, dealing with the toll of several miscarriages, and losing hope of ever having children. Edward coming into their lives is a blessing and a challenge — one that takes a toll on their marriage. There are big, dramatic scenes that everyone does great work in, but it's the small, mundane glimmers of victory that ultimately feel the most moving and memorable. The most touching scene may just be when the three of them manage to laugh around the table while eating corn dogs.
Some of the conflict, while an authentic depiction of grief, can start to feel a little redundant. Edward is constantly on the run and acts out similarly on a few occasions. Though not an inaccurate portrayal of how a child in his situation would likely react when faced with what he's gone through, from an audience perspective, the story beats can feel slightly repetitive. Unfortunately, with an ensemble this big, there are naturally going to be a few storylines that aren't allowed the space or time to take off as much as the others. Amanda (Brittany S. Hall), a piano tuner grieving her fiancé, strikes up an intriguing connection with her fiancé's estranged brother Steve (Ivan Shaw), but it ends up feeling a little half-baked, as does Sam's (Dario Ladani Sanchez) storyline that sees him grappling with his sexuality after his best friend from high school passes away. The actors do a fine job with what they have, but the plots end up never feeling as fleshed out as they could.
There also feel like a few places where there were missed opportunities. Kojo and Lacey are in a very similar situation, suddenly caring for nieces and nephews, yet they hardly ever interact. Dee Dee and the young pregnant Linda (Amy Forsyth) begin to develop an interesting connection, but it comes to something of an abrupt end, seemingly in favor of diving more deeply into Dee Dee's relationship with her daughter Zoe (Audrey Corsa). The fact we don't get Zoe's point of view, her character always filtered through Dee Dee's perspective, does a disservice to her, though, as we aren't allowed to fully dive into her motivations or decisions — some of which can feel confusing or impulsive without explanation. In terms of pacing, there are a few small head-scratchers — the fact several characters appear mostly fine stepping foot on a plane as early as episode three feels a little strange, and the titular letters don't play a huge role in the story until toward the end of the season — but it's mostly adequate, moving at an engaging pace. Some moments feel tailored for tears — emotionally manipulative in a This is Us way. (No shade! We all need to sob sometimes!) The score can hover into cheesy territory, and the cinematography can appear overly weepy and sleek, but luckily, the show taps into something that feels real far more often than not.
Dear Edward is imperfect yet ultimately compelling — a quietly ambitious study of grief and connection. It's refreshingly unflashy, focused on its characters and the emotional thread that links them together. Though I don't foresee it having the lasting impact of a Friday Night Lights or Parenthood, it's still a solid outing from Katims that fans of his style are sure to enjoy. If you're in the mood for a sensitive portrait of humanity — or just a good, long cry — this is one you'll want to tune in for.
Rating: B
Dear Edward premieres on Apple TV+ on February 3.