Jeremy Renner & Chris Evans Are Cracking Jokes About Snowplow Accident
Following his traumatic snowplow accident, Jeremy Renner is now recovering at home and even joking around with fellow Marvel actor Chris Evans.
As he continues his recovery, Jeremy Renner jokes with fellow Marvel actor Chris Evans about his traumatic snowcat accident. Renner is best known to many for his role as Hawkeye in the MCU, appearing in hit films like Avengers: Infinity War and Avengers: Endgame, in addition to his very own Disney+ show, Hawkeye, in 2021. Earlier this month, on New Year's Day, Renner was involved in a very serious accident near his home in Reno, Nevada, in which he was run over by his snowcat when attempting to help a stranded vehicle.
After recently revealing that he has now returned home from the hospital, Renner proves yet again that he's in good spirits following the accident with a recent Twitter exchange with Evans.
The former Captain America actor jokingly asks about the condition of Renner's snowcat in response to a post from the actor about his home recovery process. Renner then responds, saying that the vehicle could use some gas. Despite their jokes about the vehicle that crushed Renner, the two actors clearly have a lot of love for each other, which they make evident in their tweets.
Related: Hawkeye Means The MCU Must Revive 1 Spinoff Marvel Unjustly Canceled
Jeremy Renner Recovery Timeline Explained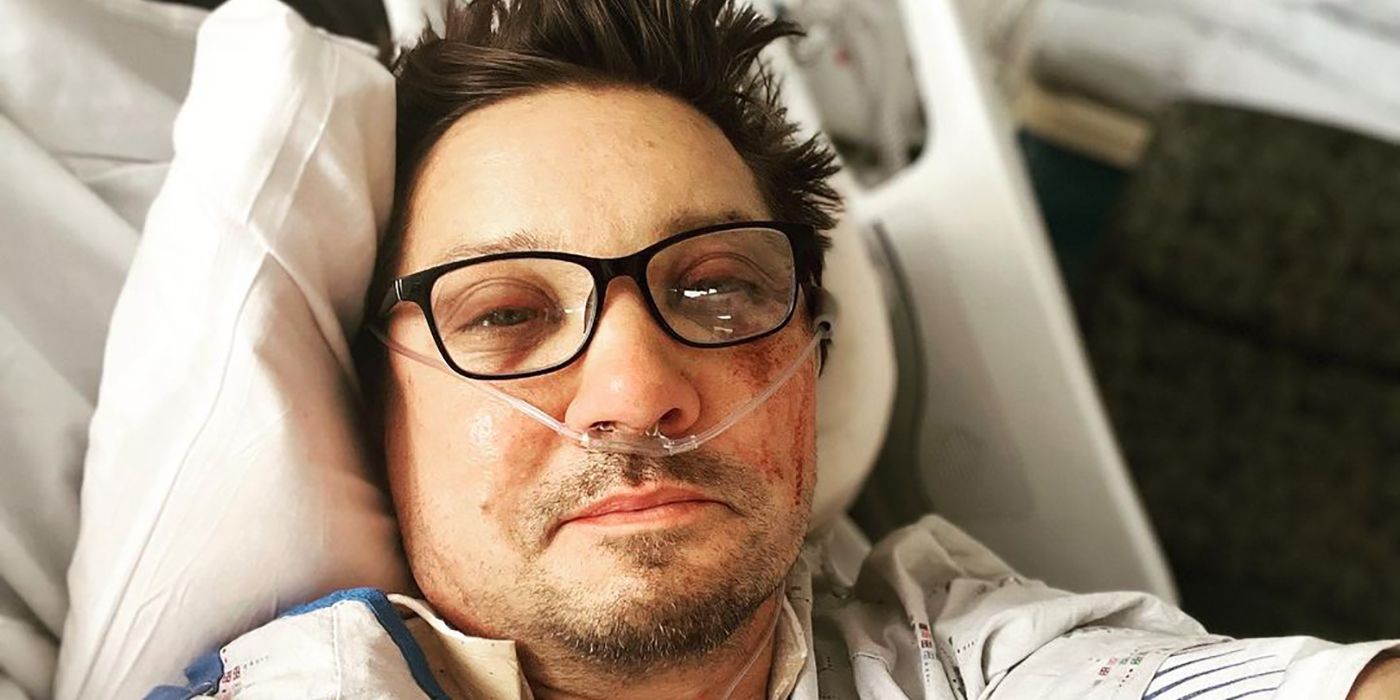 After being crushed by the snowcat, which reportedly weighs upwards of 14,000 pounds, Renner was airlifted to a local hospital. The right side of the actor's chest collapsed, which resulted in "extreme [difficulty] breathing," in conjunction with serious orthopedic injuries and trauma to his head and abdomen. As these additional details came to light in the days and weeks following Renner's snowcat accident, it became increasingly clear that he is incredibly lucky to have survived. In the same Twitter post that Evans' responded to, Renner further revealed the extent of his injuries, saying that he broke more than 30 bones in total.
Not long after the accident, Renner's family issued a statement, thanking the emergency medical personnel for their work and informing the public that the actor had undergone surgery. On January 17, Renner confirmed that he was out of the hospital and back at home with his family where he tuned in to the season 2 premiere of Mayor of Kingstown. Then, several days ago, the actor provided another update, sharing a photo of a carer stretching his right leg. In the post, Renner took the time to thank all of his fans and colleagues for their kind messages after the accident, affirming that his broken bones will heal and that his relationships with his family and friends are only growing stronger because of the incident.
Renner hasn't yet offered too many specifics about the injuries that he sustained from the snowcat accident and how long it will take to make a full recovery, but, for now, it's looking like he has a long road ahead of him. Thankfully, however, fans and colleagues alike continue to send the actor heartfelt messages and wish him the very best. While it doesn't look like Renner will be wielding his Hawkeye bow and arrows again anytime soon, the actor is evidently keeping his spirits high as his body heals from within the comfort of his own home.
More: Chris Evans' Captain America Comments Make An MCU Return More Likely
Source: Jeremy Renner