Eli Wallach's Last Film Is This Steven Spielberg-Acclaimed Short
From his Broadway debut in 1945 to his last feature-length film in 2010, Eli Wallach is no doubt one of the greatest, most prolific actors of our time. With a career spanning 65 years in both film and television, the consummate character actor worked well into his 90s before passing away in 2014. But while audiences are well aware of the multi-award-winning star's final roles on both the big and small screen, it's his 2015 short film The Train directed by Asher Grodman, and inspired by a true story, that is an underrated gem deserving of more attention.
Featured in more than 25 film festivals and earning praise for Wallach's performance from Steven Spielberg as a "fitting exit" for a "grand master" of the performing arts, The Train is one of the most affecting roles taken on by the spirited actor known for an immaculate catalog of 172 credits, including a cornucopia of scene-stealing roles we love. Filmed most perceptively on the noisy, busy exteriors of New York amidst an intimate setting between just three actors, The Train leans into how a single moment can yield an entire life while directed most expressively by Grodman, best known for his on-screen breakout role on the CBS sitcom, Ghosts.
RELATED:Steven Spielberg's 10 Best Movies, Ranked According to IMDb
What Is 'The Train' About?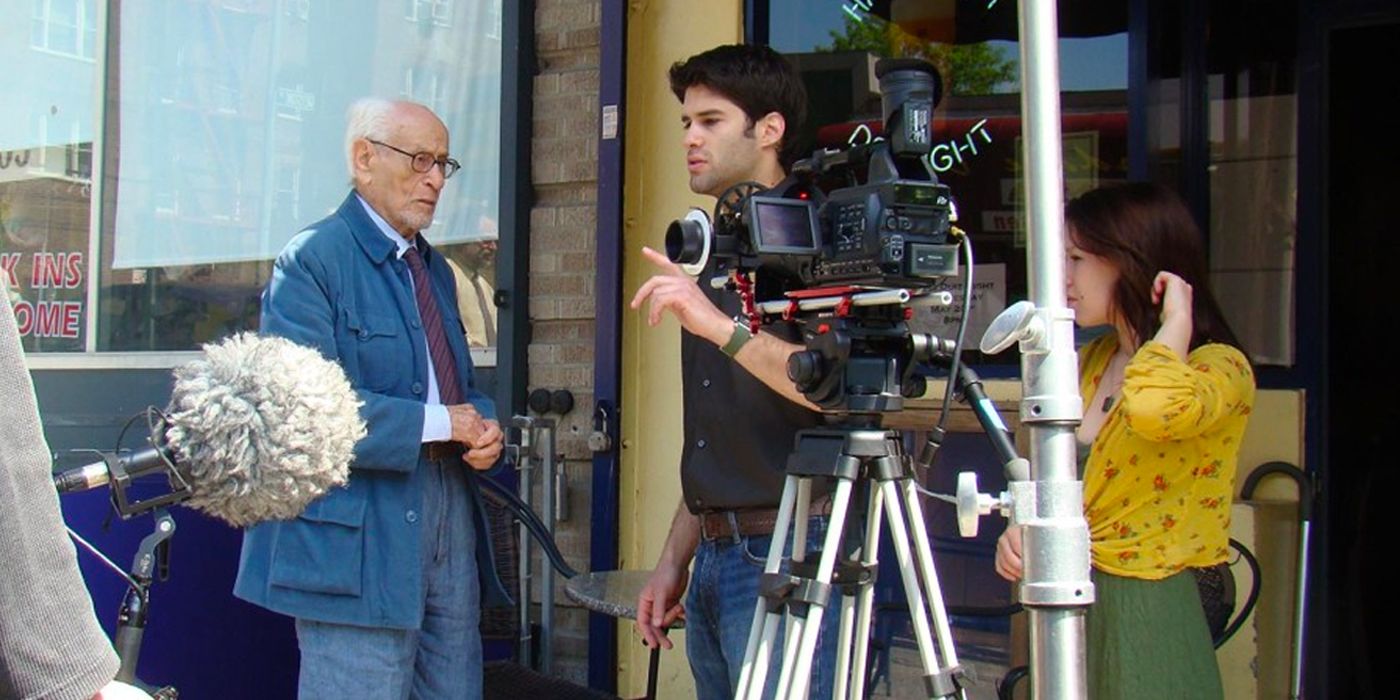 Chronicling the meeting between a Holocaust survivor (Wallach) and a self-consumed, preoccupied young man (Grodman) meeting his girlfriend's (Dawn Cantwell) grandfather for the first time, The Train is inspired by the true story of Andre Mencz, who at the age of 14 made an impulsive decision that would ultimately save him and his brother's life. In the short film, Grodman's character and Wallach's go head-to-head, with the Holocaust survivor teaching the distracted young man a lesson that could very well have been too late had circumstances been any different by the story's end.
As the film is one of Wallach's last performances, it should be observed how reliable and trusted of an actor the esteemed artist really was, with Grodman humbly bringing out the charm audiences have come to love from the star in his final role. Passing away just months before the film was released, Wallach is a constant visible stream of thoughts and immense heart in this performance thanks to some very vulnerable framework brought to life by Grodman. The veteran star brings his best to the short film, never overshadowing his co-stars either. Instead, he helps lift them up while accentuating the soul of the director's tender story. It is a vital performance and one that even earned the praise of Spielberg, who stated how he was "very much moved by the story and the players," while further stating it was a "fitting exit for a grand master of the performing arts" in Wallach. If a film gets the Spielberg stamp of approval, you know it's an incredibly perceptual one.
The True Story Behind 'The Train'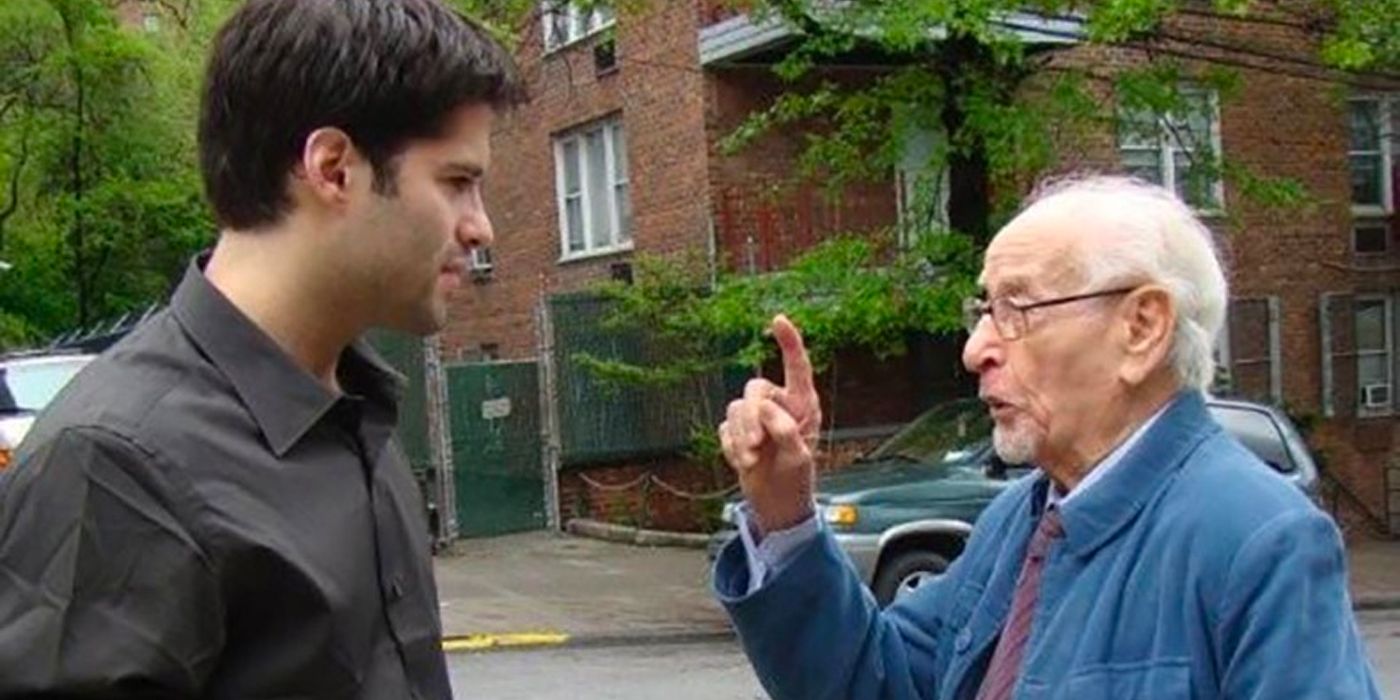 While working at labor camps in France with his family during WWII with months of no help or movement, things took a turn for Andre and his family when he one day discovered the Nazis had started transporting men, women and children on a train to Germany. It was from this action that the teenager grew suspicious of something being very wrong and instinctively snuck a crowbar onto the train with him. When the train had malfunctioned on the outskirts of East Belgium, Andre took it upon himself, almost irrationally, to bust through the side of the convoy so that he and his brother could escape. Though tragically leaving others on the train, as well as their parents, it was a moment that saved the lives of the two young boys.
After first learning about the harrowing account by his father, Grodman felt inspired by his own surroundings to jump at the chance to tell the survival story in the 10-minute short film, which has since gone on to winning numerous awards at festivals, including the Cleveland international Film Festival, Vancouver International Film Festival, and Miami Jewish Film Festival. Telling a panel at the Sedona International Film Festival in 2017 that he was drawn to the story but mostly "taken aback with the fact that this single moment could yield an entire life," the award-winning director applied the context of Andre's situation to his own modernized settings, revealing how every person today is on their phones, completely missing everything in front of them while choosing preoccupation over participation. "We tend to miss what's right in front of us with the justification that we're trading that present moment for a greater future," Grodman says in a statement on his website.
Casting and Directing Eli Wallach for 'The Train'
While aspiring filmmakers can only dream about casting a legend in their films like Eli Wallach, Grodman considers himself lucky for having the Academy Award winner be a part of his directorial debut. With the help of Wallach's daughter Roberta who was part of Grodman's acting class and initially said no on behalf of her father, the Ghosts star reveals that all changed when he received a phone call from an elderly gentleman one afternoon — days after looking for someone to fill the part. "He accepted the role by calling me in character and telling me Andre's life story before asking me what I thought of his Belgian accent," Grodman wrote on his website, further stating how Wallach "had no reason to do a small project like this" but with his few days free, wanted to help tell the story. Since then, he has gone on to share how Wallach being a part of his filmmaking journey has been the "greatest gift" he could ever dream of, touting it a "true highlight" of his life.
With a passion for story to steer the emotions of an audience and his adroit eye for storytelling, The Train is noteworthy as a skeleton key of sorts into the astute, directorial efforts of Grodman. The 10-minute short pulls the audience in through piercing visual techniques with intimate close-ups of Wallach that allow us to identify the heartbreaking realities of his past. Fluid while shifting between contrasting shots within a single setup, the skillful Grodman also wrote, produced and starred in the short that went on to win several honors, including the Director's Choice Award at the Sedona International Film Festival in 2017.
The Train, starring Wallach, Grodman and Cantwell, can be watched in its entirety thanks to the Miami Jewish Film Festival, which runs its annual event every January before International Holocaust Remembrance Day on January 27.