The Harry Potter franchise was more than just a game-changing box office success that signified the resurgence of both fantasy films and young adult novel adaptations. It was a global phenomenon in which a portion of the audience got to grow up with characters that they knew and loved for a decade; few film sagas in history have generated such emotional responses to the films, the characters, and the respective actors who portrayed them. While this created a unique success story that did certainly advance the careers of everyone involved, it did create an issue for the actors that wanted to distinguish themselves within their next projects. It's hard to not be viewed as a certain character from one of the most popular franchises of all time if you were playing them for ten years. However, Dudley Dursley himself, Harry Melling, has managed to avoid this issue altogether and shed his Harry Potter persona to become one of the most interesting character actors working today.
The 'Harry Potter' Actors' Attempts to Move on From the Franchise
Melling's success is somewhat of an anomaly compared to his co-stars. Many senior members of the Harry Potter cast such as Ralph Fiennes, Michael Gambon, Maggie Smith, and the late, great Alan Rickman already had extensive careers before their work on Harry Potter, and thus they faced less of a challenge in playing different roles outside of the franchise. However, the younger cast that portrayed the students of Hogwarts School for Witchcraft and Wizardry were essentially unknowns at the time they were initially cast, and have had to work against being typecast as the same characters. Daniel Radcliffe has certainly been doing some interesting work in wild genre movies, but most reviews still tend to cite the abnormality of seeing "Harry Potter doing something else." Similarly, Emma Watson has given strong performances in films like Little Women and The Perks of Being A Wallflower, but they've generally been perceived in comparison to the role of Hermionie Granger that dominated her life for a decade.
RELATED: Harry Melling's Edgar Allan Poe Is Nothing Like Poe's Work — And That's Why It's Great
Despite having played significant roles in five films within the franchise, Melling was never a "fan-favorite;" the character of Dudley is intentionally unlikeable, and unlike Tom Felton's Draco Malfoy, the films never really attempted to deconstruct his personality. Since fans didn't have a strong emotional connection with Melling in the first place, it made it easier for him to disappear into a wide variety of different roles. While the industry spotlight he received as being even a small part of the Harry Potter phenomenon was enough to earn Melling his credentials, it gave him the freedom to get weird, experimental, and exciting as one of today's best character actors.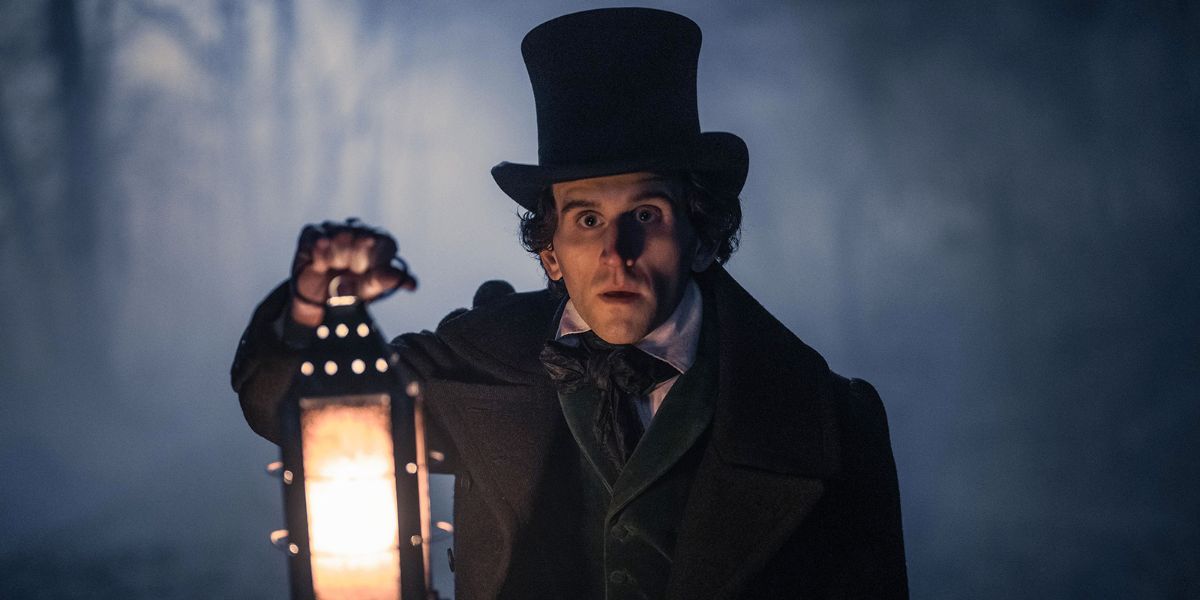 Harry Melling Took Some Risks After 'Harry Potter'
As Melling learned from his Harry Potter experience, being just a small part of a larger project can teach you valuable skills about the crafts required to succeed in the industry. Immediately after the last few Harry Potter films, Melling gave smaller, largely expositional performances in two masterful period dramas from great directors with James Gray's The Lost City of Z and Alfonso Gomez-Rejon's The Current War. Between the period-accurate costuming and dialect, the meticulous nature of the filmmakers, and the more mature themes, Melling certainly learned a lot about what goes into making an interesting deconstruction of history. In addition to giving impressively restrained performances (far more subtle than anything he had to do as Dudley), he used these skills in his next series of projects.
Melling took a huge risk by accepting the role of Harrison in the "Meal Ticket" segment of Joel and Ethan Coen's The Battle of Buster Scruggs; it required him to take the absurdity of Dudley and place it within the realism of a period piece. Due to his diverse experience, Melling was able to play an oddball character who is both haunting and utterly tragic by the end of the brief segment. It's one of the shorter stories in the anthology film, but Melling had learned that you can still leave an impact on a film in a short amount of screen time. He continued this train of excellence with similarly brief, yet impactful roles in the historical epics The Keeper and Waiting for the Barbarians.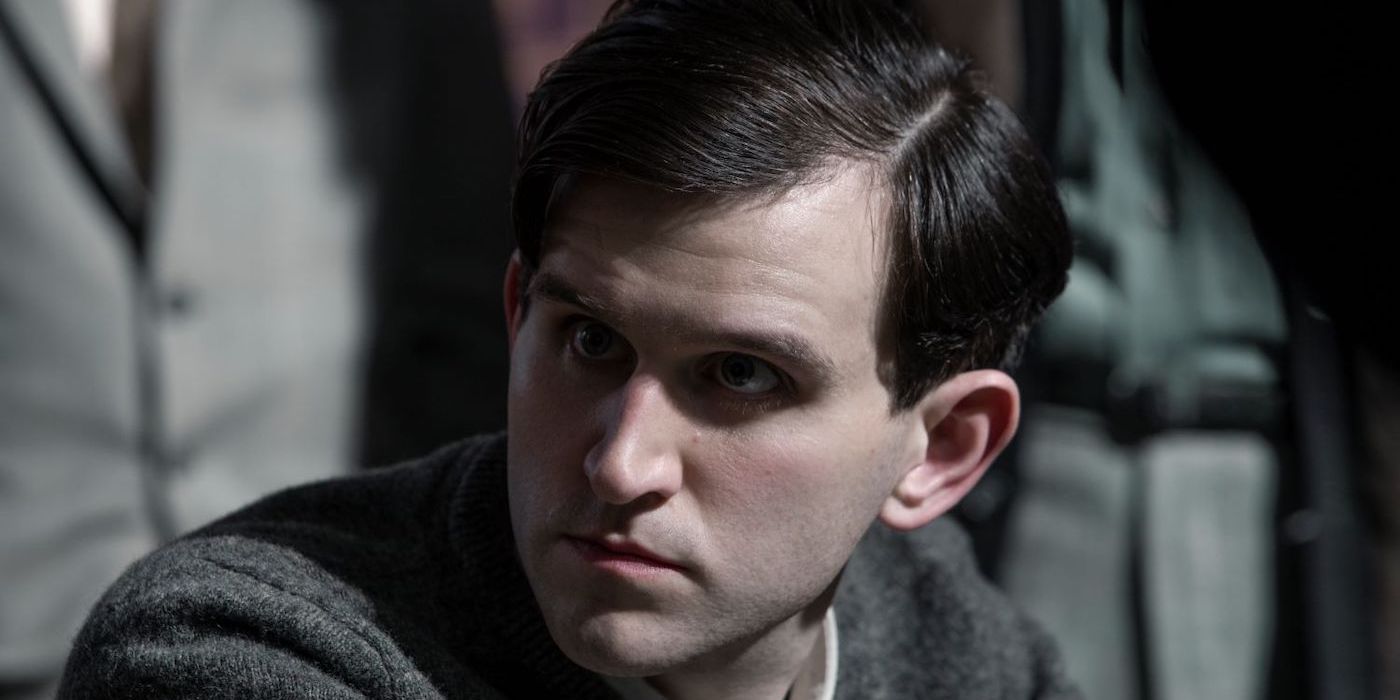 Showing His Range
Melling has shown an impressive ability to go from being incredibly charismatic to wildly unhinged. There's a patience to the way that he constructs his character arcs that is most certainly derived from the years he spent as Dudley. His performance in the hit Netflix miniseries The Queen's Gambit took many viewers by surprise. Initially, his character Harry Beltik is an experienced chess player who doesn't see Beth (Anya Taylor-Joy) as a serious threat until she beats him. While Harry is initially a little overconfident, he's not brash or rude, and thus it becomes quite powerful when he returns to become her ally towards the end of the series.
However, Melling can also go wildly over-the-top; while opinions are varied on Antonio Campos' controversial psychological thriller The Devil All The Time, it's impossible to doubt Melling's commitment to the role of an insane preacher when he douses himself with flesh-eating spiders and spirals out of reality. Similarly, his gloriously over-the-top performance as the corporate villain Steven Merrick in the comic book film The Old Guard is the most enjoyable part of a film where the rest of the cast is taking it all way too seriously.
These experiences have prepared Melling for the difficult task of playing characters that are already iconic and still finding his own unique way to portray them. There have been countless adaptations of the Macbeth story, but Melling differentiated his performance as Malcolm in Joel Coen's The Tragedy of Macbeth by playing the heir to the throne as somewhat removed from reality due to his sheltered upbringing. Similarly, his performance as Edgar Allen Poe in The Pale Blue Eye is so baffling, strange, and austere that it makes the final twist even more effective.
Melling has continued to get better and better, and with each performance, you can guarantee that he'll find a new challenge to overcome and surprise the audience. While he rarely got the respect that he deserved during his Harry Potter experience, Melling can rest assured that it's not a role that will define him for the rest of his career. Harry Potter will end up being a footnote in an increasingly extensive and impressive resume of great performances.