Darcey Silva and Stacey Silva from 90 Day Fiancé are rocking the diva look in a throwback photo from when they were young. The 47-year-old twin moms from Connecticut debuted on the franchise with 90 Day Fiancé: Before the 90 Days season 1. Since 2018, fans have watched Darcey and Stacey in multiple spin-offs including their own Darcey & Stacey. Currently, in its fourth season, the TLC show is returning to TV screens this week. And one thing that hasn't changed about the sisters is their love for plastic surgery.
90 Day Fiancé's Darcey Silva and Stacey Silva's changing look from 2018 to 2023 has earned them a fair amount of criticism. The sisters don't react to what the internet says about them, but at times, the internet also has nice things to say about them. In a Reddit post started by user u/NorthvilleCoeur, fans saw what Darcey and Stacey used to look like many moons ago, possibly before they went under the knife together to alter their faces and bodies. Darcey and Stacey were dressed in what looked like early 2000s fashion outfits for the playful pic.
They wore shimmering sequined tops and ripped, faded blue jeans. Both TLC stars Darcey and Stacey had matching hair in the picture as well. It was mid-length, natural, and dark brown, unlike the blonde Barbie hair they have currently.
Related: The Most Shocking 90 Day Fiancé Plastic Surgery Makeovers Of 2022
90 Day Fiancé Fans Wonder Why Darcey & Stacey Got Surgery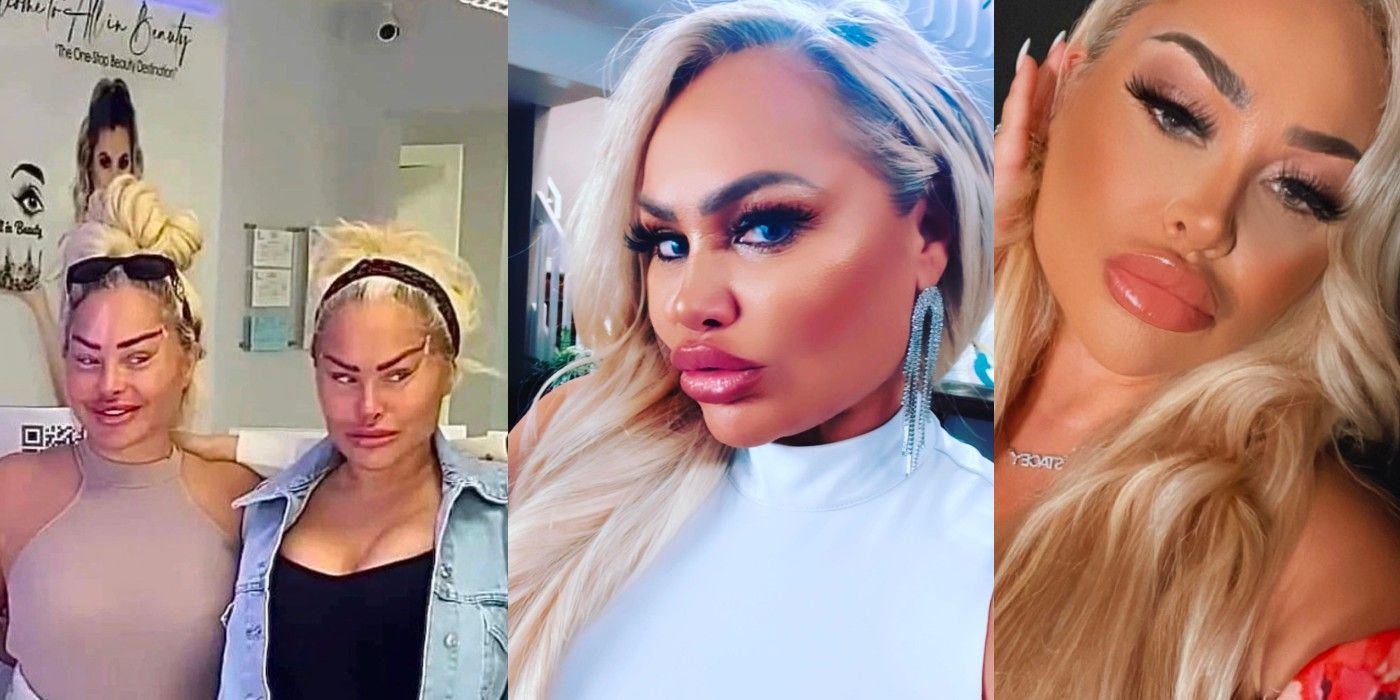 "I still can't believe those are the same people. They looked so much better then," wrote ineedavacation123. "They were so pretty! The dark hair suits them so much better than the fried blonde hair and dollar store extensions look," added horse_apple. They admitted they felt "sad" about how Darcey and Stacey changed themselves because they were "self-conscious" about their appearance. Someone in the thread recalled Darcey for the way she looked during her Before the 90 Days season with Tom Brooks. "She had a layered, shoulder-length blonde cut," commented happy_lad.
But Darcey and Tom were together a long time ago. Tom has been dating his girlfriend Mariah for the longest time and has moved on. In Darcey & Stacey season 1, Darcey also found a new boyfriend, a Bulgarian man called Georgi Rusev. Darcey, who always has her eyes on the prize and wanted a ring on her finger, got a fairytale proposal from the younger Georgi as well. But fate had other plans, and Darcey started suspecting Georgi was keeping secrets from her. While they did get engaged a second time in season 3, predictable things happened.
After the Tell-All of the 90 Day Fiancé spin-off, Darcey called off the engagement and split with Georgi. In Darcey & Stacey season 4, Stacey is living her happily ever after, as she plans her own second wedding with husband Florian Sukaj, while Darcey hires a matchmaker to meet a new man. It can be assumed that even in its fourth edition, the show will feature Darcey and Stacey undergoing new cosmetic procedures to get "snatched." On Instagram, the twins have shown off their fox eye surgery results, and extra long eyelashes, and recently, Darcey even got a weight loss surgery performed by a New York surgeon. It won't be surprising if Darcey & Stacey season 4 features the sisters looking even more different than what they did in the throwback posted by the Reddit fan.
More: Darcey & Stacey: Are Darcey Silva & Georgi Rusev Still Together In 2023
Source: u/NorthvilleCoeur/Reddit