The White Lotus ​​​​​Season 2 brought us a lot of frights—mainly our fear that Aubrey Plaza's Harper was not going to make it out alive. And as one of the few non-white guests this time around, we wanted to protect her and Ethan (Will Sharpe) as best we could. But with The White Lotus comes a lot of nonsense. Mainly from the guests but often times the staff too. So when Plaza took to Saturday Night Live to host alongside musical guest Sam Smith, it wasn't surprising that there was a sketch inspired by The White Lotus there.
The sketch cleverly turned the show on its head giving us "The Black Lotus," the same show but without the nonsense that people got away with at the White Lotus hotels. Run by Kenan Thompson and Ego Nwodim, the Black Lotus doesn't put up with a man trying to sneak sex workers in under the radar—referencing Michael Imperioli's role in the second season—or Jennifer Coolidge (played by Chloe Fineman) asking for a psychic.
All of the typical fanfare of the White Lotus hotel was gone. You weren't going to find a dead body from this staff—sorry Armond, we miss you. And even if you did, Nwodim wasn't counting it as their problem since it was not on the property of the hotel—which, to be fair, is something that Valentina said in the second season of the series.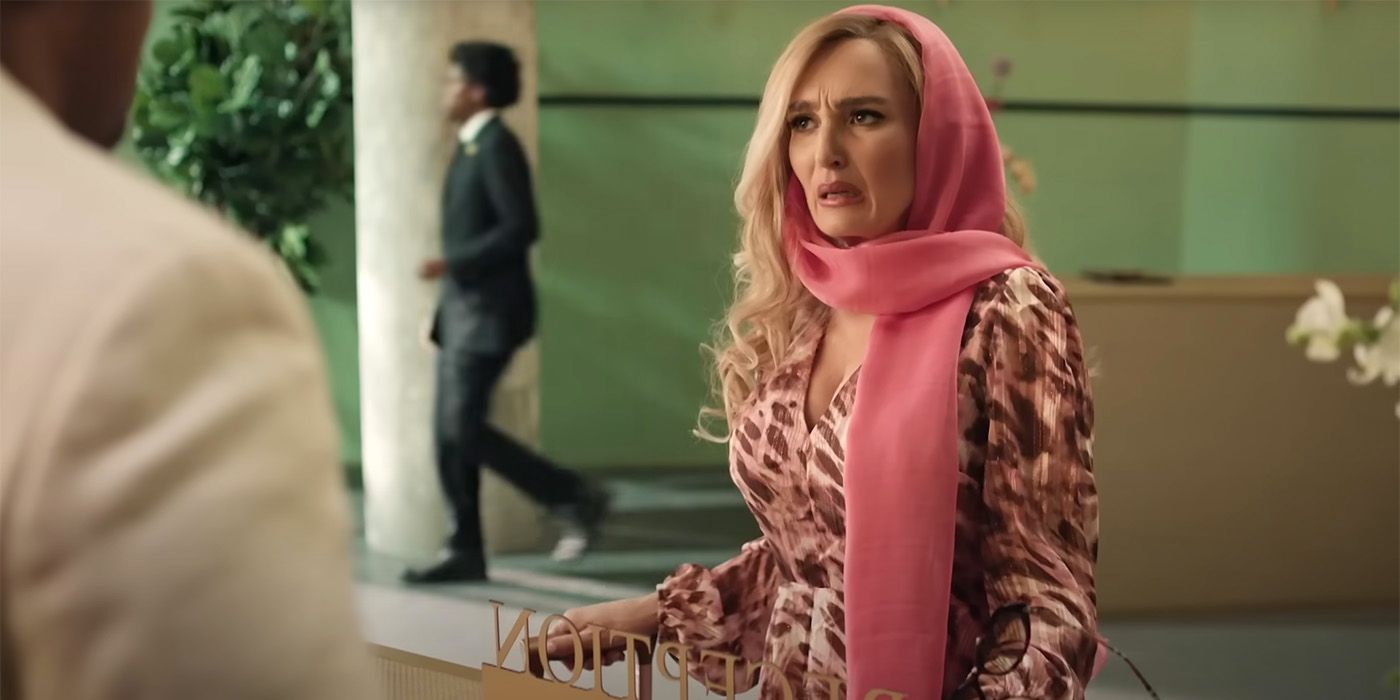 RELATED: 'SNL': Aubrey Plaza Gives the NBC Page Tour During Opening Monologue
The sketch is great because if you know White Lotus, you'll be able to spot even more references in this sketch from the actual show. Andrew Dismukes is clearly playing a version of Shane Patton (Jake Lacy) who spent his entire honeymoon angry because the room that his mother paid for wasn't the room he got even though they gave him a nicer room for the mix-up. Mikey Day is probably a nod to Ethan, while Sarah Sherman and Michael Longfellow were clearly referencing the wild storyline between Portia and Jack from Season 2.
It's the same concept as White Lotus but if there were people running the hotel who wouldn't put up with the nonsense that these rich white people were pulling in the series. Plaza's character, who is Thompson's partner, had the best moment when Dismukes comes up to Thompson trying to pull his "power" over him, calling him a moron. Plaza jumps over the bar, slaps Dismukes, and starts fighting him to which Thompson says "Welcome to the Black Lotus, bitch."
It was fun, a perfect nod to the series, and a show that we'd all definitely be watching.