Ironically, Mark Brazill and Bonnie and Terry Turner's hit series, That 70s Show, took the late '90s by storm. Following a group of friends in 1970s Wisconsin, the show mostly takes place in the home of the Forman's where the teens frequent the basement of Red (Kurtwood Smith) and Kitty (Debro Jo Rupp). Now, nearly two decades since the last episode aired, Netflix and the Turners are taking us back to the Wisconsin suburbs in That 90s Show.
Exchanging the polyester and feathered hair for grunge and overalls, That '90s Show will introduce fans to a new generation of friends. Taking over the infamous circle are Callie Haverda as Leia Forman, Ashley Aufderheide as Gwen, Mace Coronel as Jay, Reyn Doi as Ozzie, Sam Morelos as Nikki, and Maxwell Donovan as Nate. Much to Red's chagrin and Kitty's delight, this new posse finds Leia's grandparents' basement the perfect hangout. The series will also welcome back That '70s Show alums Topher Grace, Laura Prepon, Ashton Kutcher, Mila Kunis, and Wilmer Valderrama, in addition to Smith and Jo Rupp.
Before That '90s Show hits Netflix on January 19, the cast sat down with Collider's Steve Weintraub to discuss the series. During the interview they share their favorite episodes to film, who's most dedicated to the group chat, and what it was like filming for a live audience. They also discuss what to expect from Season 2, binging That '70s Show, and more. You can watch the interview in the player above, or read the full transcript below.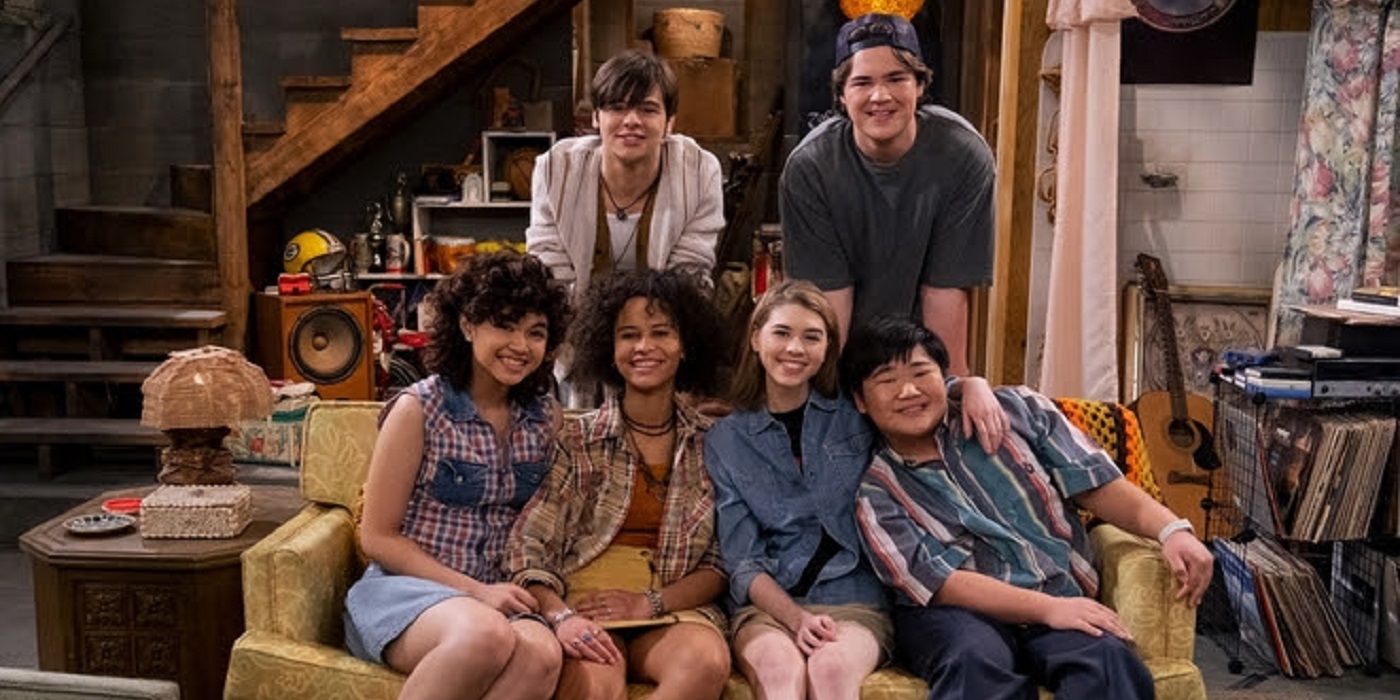 COLLIDER: I have to start with the most important question. How much fun is it watching Kurtwood [Smith] calling someone a dumbass, or being part of a scene where he is calling someone a dumbass?
CALLIE HAVERDA: Oh, my God. Amazing.
MAXWELL DONOVAN: It's so fun.
SAM MORELOS: It is the highlight of my life, for real.
HAVERDA: Yeah. I think we all watched the show, and being able to experience it in real life was very surreal, but definitely the highlight, like you said.
DONOVAN: It's such a funny contrast because Kurtwood is just the nicest human being on earth.
REYNO DOI: I know.
DONOVAN: Then, I get in a scene with him and I'm terrified, because I'm like, "Oh, is he going to call me a dumbass? I'm so scared."
DOI: He's never called me a dumb ass, though.
DONOVAN: No, you're smart.
DOI: Oh, thank you.
MORELOS: Yeah, no. Definitely a bucket list thing.
DONOVAN: Oh yeah.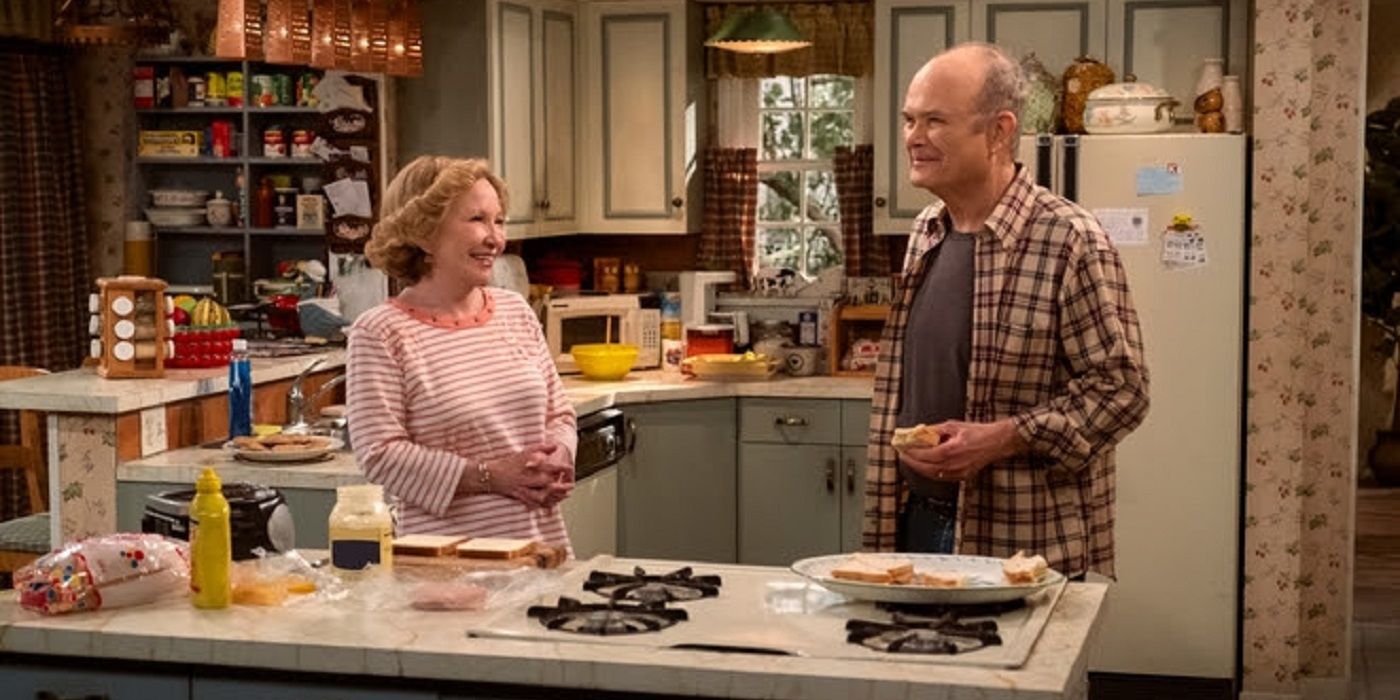 For all of you guys, once you got cast, did you feel the need to binge all of That '70s Show to see the whole thing?
MORELOS: I watched the whole thing before I even knew about That 90s Show, but definitely had to re-watch everything just to relive that.
DONOVAN: Me too. I watched it three times all the way through before.
ASHLEY AUFDERHEIDE: [To Haverda] You haven't seen it yet, right?
HAVERDA: No. For me, I mean, I hadn't seen it when I first got the audition, so I found clips on YouTube and stuff, but then I ended up actually buying the box set and just binging the whole thing.
AUFDERHEIDE: Same. Yeah, I hadn't seen it either. Then, once I got the audition for it, I was like, "Okay, I need to watch an episode just to suss it out," and then I loved it. Even if I didn't get the role, I would've watched the whole thing anyway. Now, I've seen the whole thing. Can I be a fan? Can I say that?
HAVERDA: Yeah, of course. We're huge fans.
I love learning about the behind-the-scenes [and] the making of the show. For each of you guys, what would surprise soon-to-be fans of the show, in terms of the making of it?
DOI: Well, I think because we filmed during COVID times, I think that the fact that we had a live studio audience was really cool. It was, I think, all of our first experience. I don't know, it was my first experience having an audience.
DONOVAN: Yeah, definitely for me.
MACE CORONEL: Same here.
DOI: Without them, it wouldn't have been the same, because we just vibe off of them, and their energy, and their laughter.
AUFDERHEIDE: I literally cried [during] the first live audience show, I was so happy. I was freaking out because I thought my makeup was going to get ruined, and (makeup artist) Elie [Maalouf] put so much effort into it, but it was fine. Yeah, the go-on eyeliner.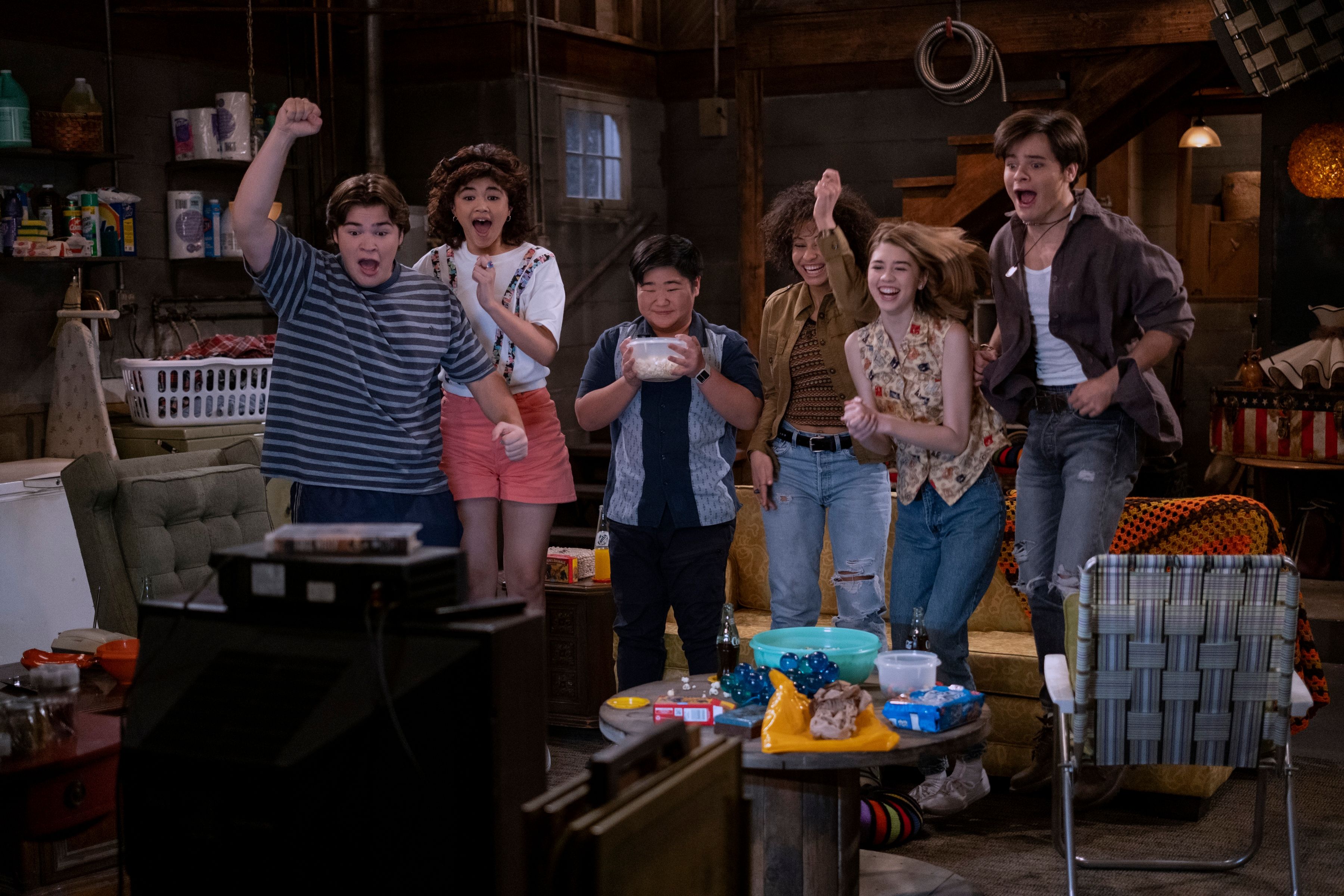 I've spoken to a lot of casts, and a lot of times they all have a group chat or WhatsApp. I'm assuming maybe you guys do, as well, and I'm curious, which of you is the one who texts way too much?
HAVERDA: Oh, yeah. Oh my gosh.
MORELOS: You know, sometimes I text into the abyss, multiple texts at a time, and it's like crickets for two weeks, and then someone responds, and then it is reborn again. Sometimes, I'm just like, "Hey, guys, look. I found these pictures of us." Nothing for two weeks. Sometimes, I–
AUFDERHEIDE: Two weeks?
HAVERDA: It's never two weeks. We're good at responding.
MORELOS: No one responds!
DOI: We see each other every day.
MORELOS: No, afterward.
HAVERDA: Sam and Max are really good at messaging in the group chat. They message the most, for sure.
DONOVAN: I'm a terrible messenger in general. I'm glad that I'm good at the group chat.
AUFDERHEIDE: Yeah, [to Haverda] I feel like you're good at responding too.
HAVERDA: Yeah, I try to.
DOI: Yeah, I'm really bad.
MORELOS: I'm an awful texter in general. I have 500 unread text messages.
AUFDERHEIDE: No, Reyn, though, texts like he's 60 years old.
DOI: Am I too formal?
AUFDERHEIDE: Yeah, you're formal, but it's okay.
MORELOS: We love that. It's so charming.
AUFDERHEIDE: It's so you, though. It is. It works.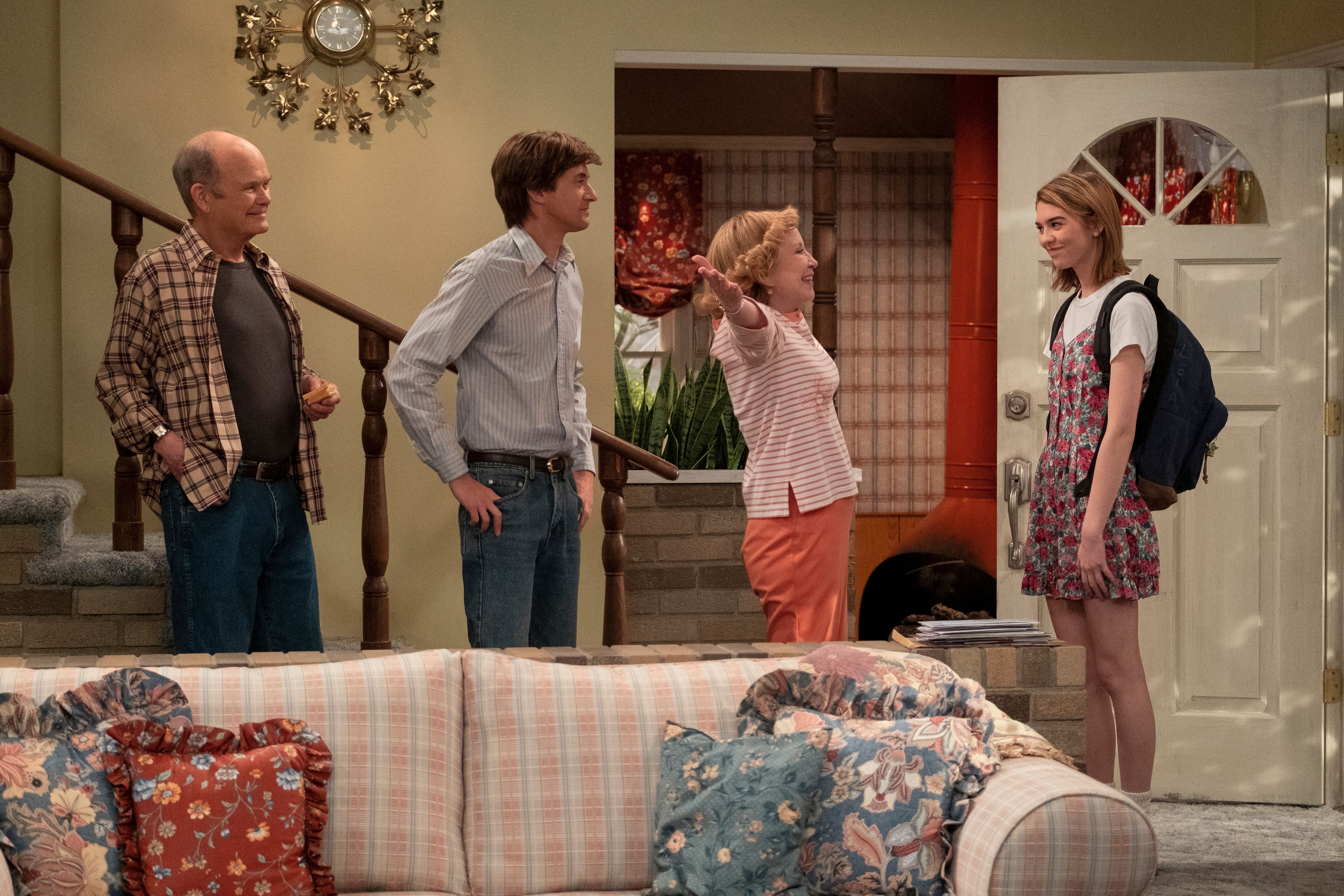 That was great. The season is 10 episodes. For each of you, which is your favorite episode, and why?
HAVERDA: That's so difficult.
DONOVAN: That's hard to pick. I love Episode 8. They're all great, but that one was just so much fun to film. I think it was actually the last one that we filmed, and also… sibling storylines. Keep an eye out.
AUFDERHEIDE: I was actually going to say the same one. I love that episode.
DONOVAN: Sure.
HAVERDA: Me too. I feel like for me, my favorite episode to actually film was probably Episode 6, just because that has a ton of interesting stuff in it. Looking back, my favorite episode to watch is Episode 8, because it has a lot of really sweet moments because it was our last week filming, and the circle scene in that episode was the last scene that we filmed. It's bittersweet watching it back.
MORELOS: Definitely.
DOI: Mine was probably Episode 5, because I was called a "Sex Boy" by Donna (played by Laura Prepon). No, [in] that episode I had a lot of scenes in front of the audience, and it was really fun. It was a special episode for Ozzie.
CORONEL: I don't necessarily have a favorite episode. I think, just when we got the hang of [it], and a really good feel of the show and our characters, starting from Episode 2 when we're all really comfortable with each other and on set. All the episodes we shot from then on, they're very fun. The whole experience is awesome.
AUFDERHEIDE: Yeah, we all get along really well, which is really lucky.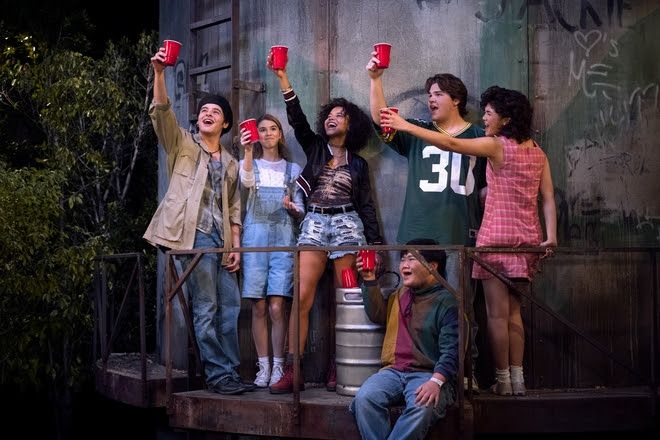 I'm confident this is going to get a Season 2. I'm curious because the thing about the show is that it's the summertime. Have you asked the creators, "If we get a Season 2, is it just going to jump ahead another year to the next summer?"
DOI: I think so. I think their plan was to do it every season in the summer. I think they said that in the interview.
DONOVAN: That's what I've heard, too, from (the creators) the Turners. Yeah.
That 90s Show premieres exclusively on Netflix beginning January 19. Check out Collider's interview with Kurtwood Smith and Debra Jo Rupp below: