Warning! This post contains SPOILERS for Batman: Urban Legends #23In the latest issue of DC's Batman: Urban Legends, Nightwing's biggest Batmobile adventure as the first Robin was so much crazier than Red Hood's. While it's widely known that Jason Todd was enlisted as Batman's second Robin after he was caught attempting to steal the wheels of the Batmobile, this new issue reveals a significant moment shared between Bruce Wayne and Dick Grayson's Boy Wonder which largely involved Batman's iconic car as well. However, it also features a good amount of vehicular mayhem.
The new Batman: Urban Legends #23 features the short story "Hot Pursuit" from Kenny Porter and Simone Di Meo. Taking place during Batman and Robin's earliest days, the future Nightwing takes it upon himself to drive the Batmobile after Bruce was knocked unconscious during a conflict with the villain Firefly. With Batman waking up in the passenger seat and finding the young man driving, the Dark Knight has no choice but to genuinely trust the Boy Wonder for the very first time, even though Dick's only driving experience comes from go-karts and arcade games.
Related: DC Teases an Unsettling New Villain for Nightwing
Nightwing's First Time Driving The Batmobile Was A Major Moment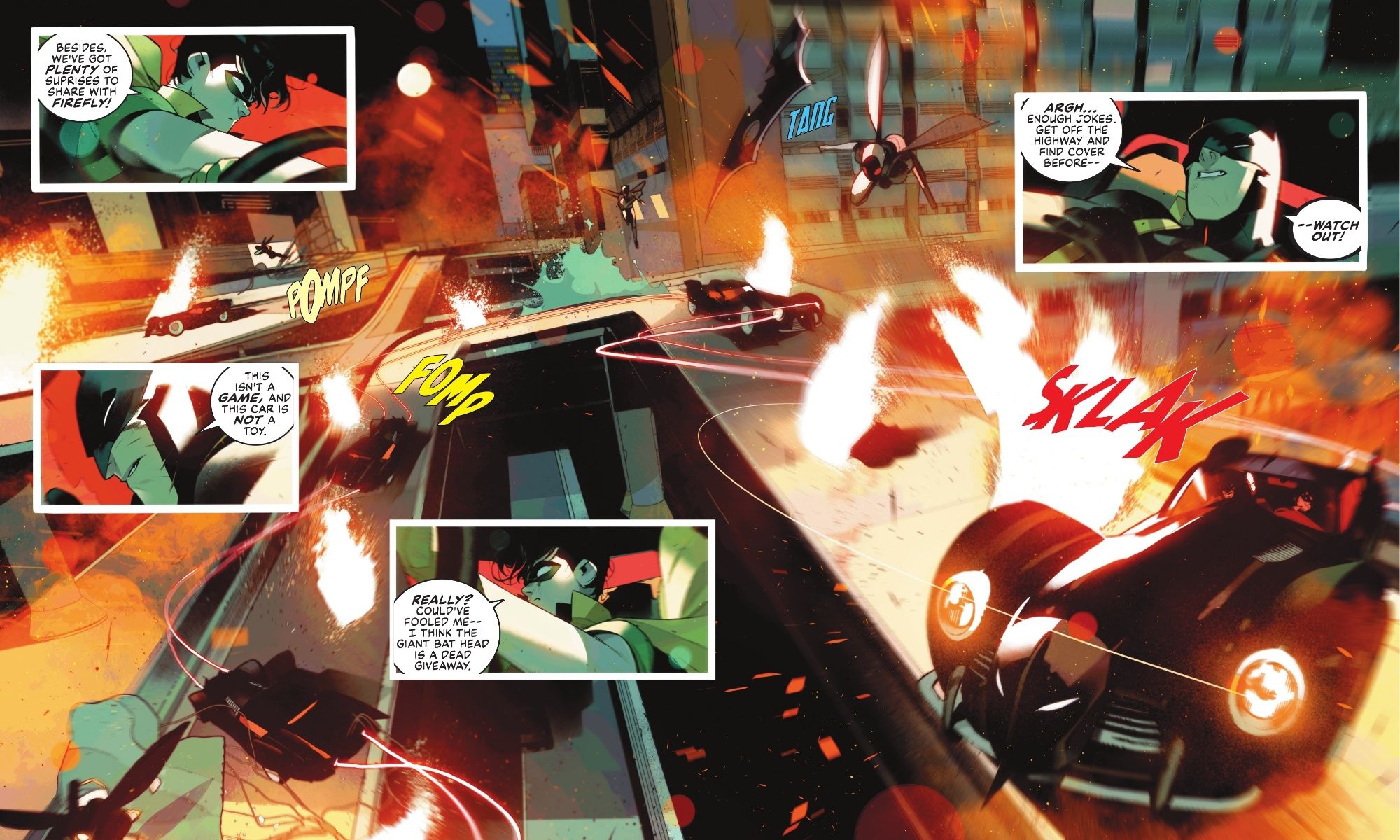 While Batman initially made demands for Dick to pull over and get out of the driver's seat, Dick stands up to Batman with a strong defense. Robin reveals that when he was still at the circus, he and his parents made a pact as the Flying Graysons that they would be partners during their trapeze act, leaving their family roles behind to give each other complete trust as equals. This is what Dick Grayson asks of Batman in this issue: for them to be genuine partners.
As such, Batman agreeing and giving his full trust to Robin via this Batmobile adventure is a major moment for the two vigilantes. It more than likely helped lay the groundwork for them to become the most effective Dynamic Duo they could be in Gotham City. That being said, seeing Grayson so young as Robin and driving the Batmobile is quite entertaining, especially after he sends the car off a jump to take down Firefly by the story's end.
While Robin may be one of the most well-known superhero sidekicks, this story shows that Dick Grayson was always more than Bruce Wayne's young ward. He was a legitimate partner who offered just as much to the mission as Batman, eventually earning an equal amount of trust from the Dark Knight. Despite their bad chapters and flaws, Batman's trust in his first Robin also helped set the stage for Dick Grayson to become his own hero as Nightwing, and it seems as though the Batmobile played a large role in making that happen. Batman: Urban Legends #23 is on sale now from DC Comics.
Next: Nightwing Cosplay Finally Gives Dick Grayson the Mask He Deserves