The Animaniacs and their friends set off on their last wacky adventures in the official season 3 trailer. Jess Harnell, Rob Paulsen, and Tress MacNeille's chaotic cartoon creatures earned acclaim throughout the show's original five-season run from 1993 to 1998. Animaniacs returned in 2020 after 22 years for a new season that would air on Hulu as part of a two-season order, with the concluding season 3 being ordered in early 2021.
After a long hiatus since season 2 concluded in November 2021, the long-awaited trailer for Animaniacs season 3 was finally released by Hulu on their YouTube channel ahead of season 3's premiere on February 17, just over two years since Animaniacs season 3 was initially announced.
In the new trailer above, Wakko (Harnell), Yakko (Paulsen), and Dot (MacNeille) break free of their water tower prison for more capers that poke fun at pop culture's most recognizable tales. Meanwhile, Pinky (Paulsen) and the Brain (Maurice LaMarche) also return for more world-conquering schemes, as the pair take part in Mad Max: Fury Road-inspired post-apocalyptic pursuits and Lord of the Rings parodies, as well as falling out with one another, as Pinky seemingly embraces a career as a live-streaming internet influencer. Check out the Animaniacs season 3 synopsis below:
Yakko, Wakko, and Dot return with an all-new season of laughs, songs, pop culture parodies, and enough zany antics to fill a water tower (or at least 10 episodes!). Pinky and Brain's never ending plans to take over the world journey them to the ends of new lands, deserts, and even the space time continuum. And while new friends, Starbox and Cindy continue their play date, the Warner siblings must battle their way out of a video game, learn the secrets of being a teen influencer, and escape a mad scientist's island all while finding time to teach us about the threat of global warming!
Related: Animaniacs Season 2 Cast Guide: What The Actors Look Like
Everything We Know About Animaniacs Season 3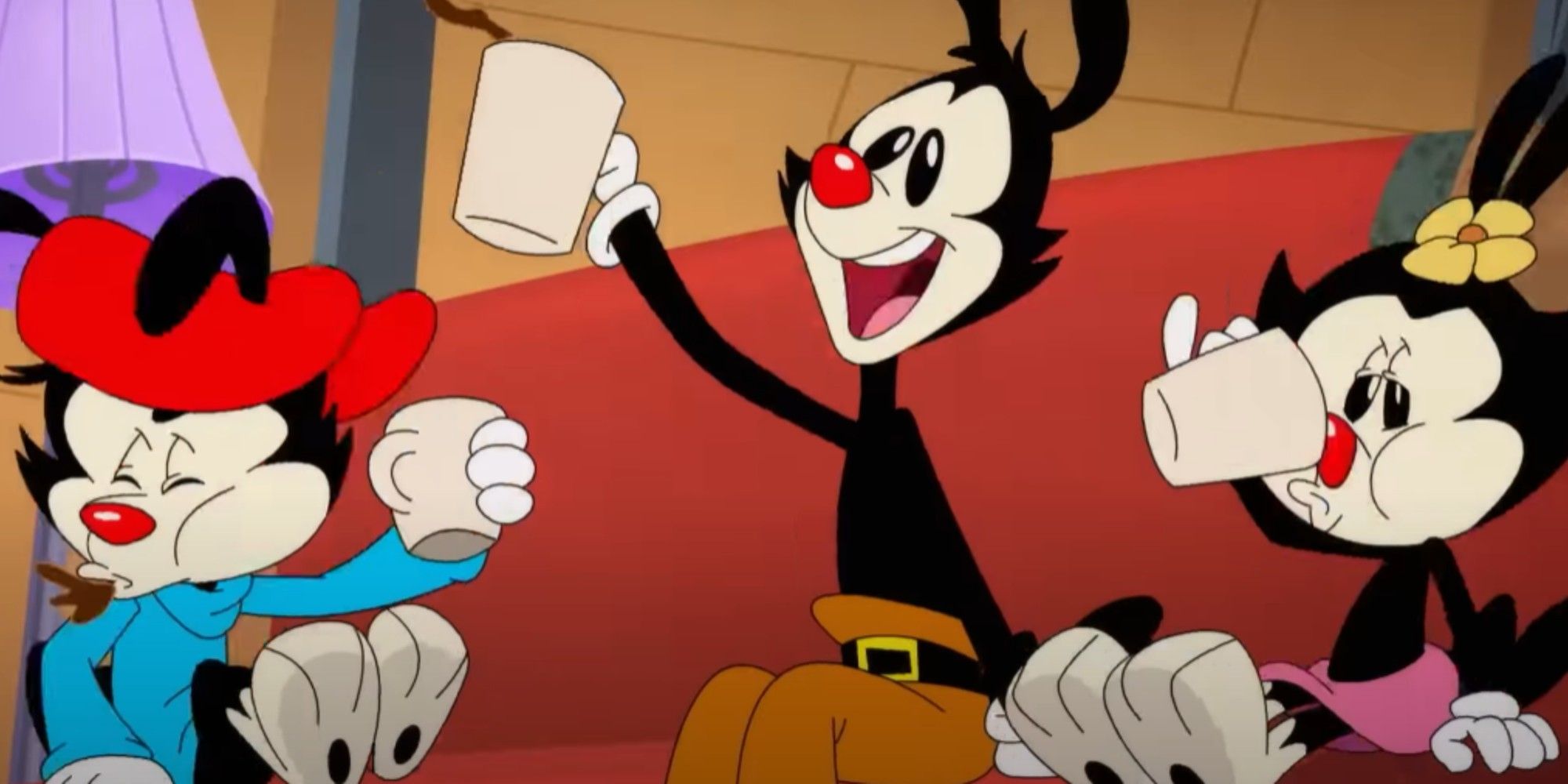 Despite nearly 2 decades passing since the Warner trio last stepped out of their water tower to offer a sillier, tongue-in-cheek send-up of pop culture, Hulu's Animaniacs revival reunited the original cast to reprise their iconic roles. Alongside Harnell, Paulsen, MacNeille, and LaMarche, Frank Welker returns to voice Warner Bros. Studios' security guard Ralph T. Guard and Chicken Boo, while Stephanie Escajeda made her Animaniacs debut to voice the company's new CEO, Nora Rita Norita. Steven Spielberg returned to act as executive producer on Animaniacs, as both Amblin Television and Warner Bros. Animation set out to create three seasons that acted as a continuation of the original run rather than a complete reboot, maintaining the characters' original designs.
Upon its return, Animaniacs once more set their sights on tackling media and trends both new and old, including a Jurrasic Park skit featuring Spielberg himself. Animaniacs seasons 1 and 2 saw the Warner Siblings, Pinky, and the Brain set their sights on It, Westworld, and ThunderCats, as well as contemporary topics such as rap battles, meme culture, political campaign interference, and even the concept of reboots/revivals itself. Animaniacs season 3 promises to be no exception, as the new trailer features jabs at sudden show cancelations, Kaiju ducks, Lassie, and a comical superhero in addition to the aforementioned Pinky and the Brain Fury Road parody.
Hulu's Animaniacs reunited the iconic characters of the original animated comedy and brought the Warner Siblings' zany antics into the 21st century. While Animaniacs has faced some controversy due to the timing around certain references, the revived series remained faithful to the original core values of the beloved '90s cartoon. While dedicated fans may be sad to see Wakko, Yakko, Dot, and their fellow cartoon characters take a bow once more, season 3's new trailer promises that the siblings will go out with the same witty and cheeky spirit that has endeared them to audiences for decades.
Next: Everything We Know About Animaniacs Season 3
Source: Hulu