Adam Sandler is 56 years old, though it's not hard to remember when the comedy mega-star was but a young gun. Sandler established himself as a fixture on Saturday Night Live in the early 1990s, where his low-concept, endearingly out-there comedy stylings earned him legions of fans, as well as a handful of skeptics among the show's old guard. In his Happy Gilmore days, Sandler was the rare star who was also an acquired taste in certain circles. To adolescent boys, he was nothing less than a goofball hero. To parents… well, perhaps they simply couldn't wrap their heads around why the sight of a man screaming at a golf ball might be very, very funny.
One of the more admirable things about Sandler – and when you step away from the meaningless pejoratives that have been lobbed at him since Billy Madison, there's a lot to like – is how he treats other comedians. Sandler has consistently taken comedic co-conspirators under his wing and paved career paths for others; certainly the likes of Allen Covert, Nick Swardson, and Rob Schneider (who has a co-starring credit in an average 7/10 Sandler vehicles) must credit some of the industry success they've enjoyed to the Sandman and his tremendous generosity of spirit.
Even more telling is the reverence that Sandler holds for the comedians who influenced him. Sandler is always one to "give it up," as he might put it, to the greats who initially blazed the trail; even his Instagram page is filled with heartfelt eulogies to fallen greats of the comedy community, a group that, in this case, includes Bob Saget, Budd Friedman, and Sandler's departed dear friend and Grown Ups co-star, Norm MacDonald (Sandler's love for his pal Chris Farley should go without saying, he wrote a song about the guy!)
Adam Sandler's Love of Classic Comedies Is On Display In His Films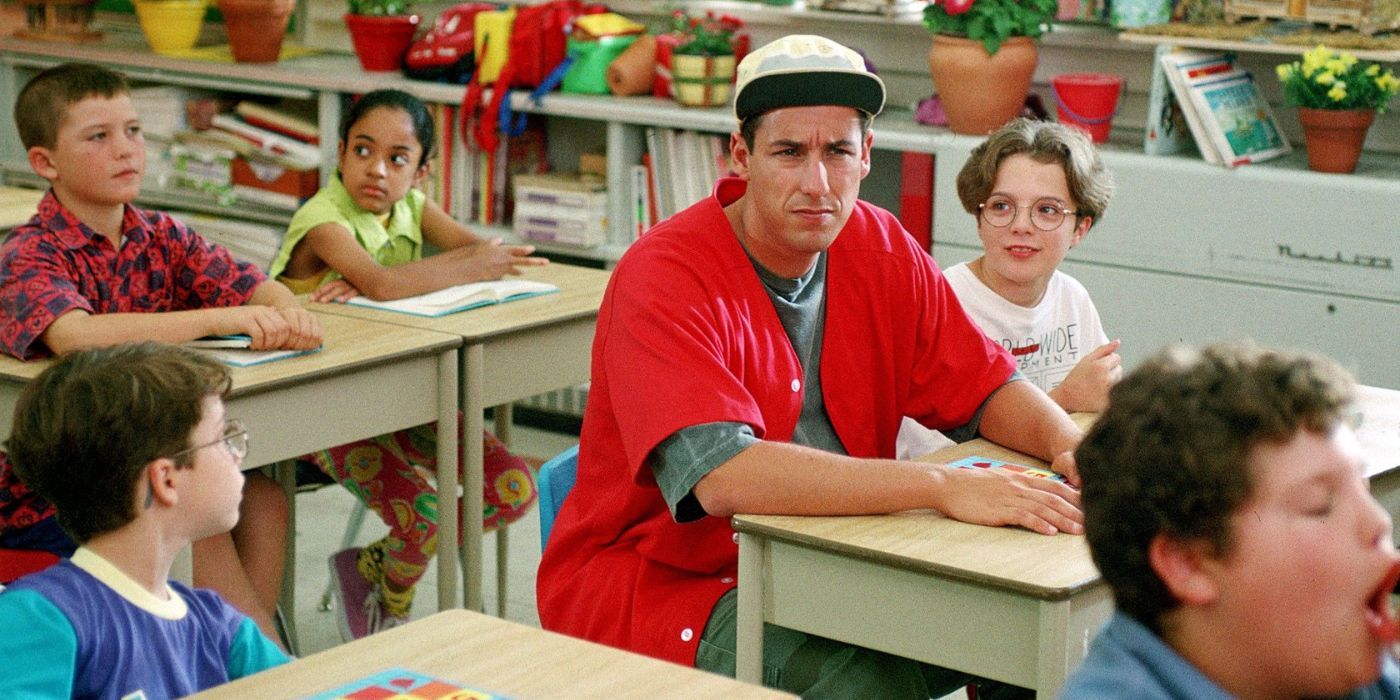 It's only natural that this well of affection for comedy's past finds its way into Sandler's movies. It begins as early as Billy Madison, which is very clearly forged in the fires that also gave us the bawdy 80s-set Rodney Dangerfield farce, Back to School. In Back to School, Dangerfield's self-made loudmouth goes back to college to prove a point to his adult son. In Billy Madison — arguably one of Sandler's funniest and most inspired works — Sandler's hard-drinking trust fund loser is made to repeat grades K-12 so that he may take over his father's hotel company.
Sandler has also been vocal about his unwavering love for the Harold Ramis classic Caddyshack over the years; this makes it impossible to view Happy Gilmore (still one of Sandler's more well-liked comedies on the whole) through anything other than a post-Caddyshack lens. Not only is Dangerfield in the movie, wreaking havoc in a stuffy, upper-crust country club milieu as Sandler does in Happy Gilmore (Sandler has been vocal over the years that Dangerfield was always one of his comedy heroes) but Bill Murray's bizarre, mush-mouthed groundskeeper character, Carl Spackler, feels like a prototypical Sandler oddball in the Hubie Dubois or Little Nicky vein.
Sandler's veneration of 20th century comedy goes back even further then the 1980s. On one occasion, it even landed the Sandman in a spot of trouble. In 2000, it was reported that the grandchild of silent comedy legend Harold Lloyd (who, it must be said, frequently played well-meaning, striving nerds that Sandler's movie characters sometimes resemble) sued the distributors of the comedy blockbuster The Waterboy, citing plot similarities to the 1925 Lloyd vehicle The Freshman. Both movies, admittedly, are about hapless dorks who gain the respect of their peers by joining a college football team. That said, that is where the similarities begin and end. The Freshman and The Waterboy are both wonderful comedies, each has its time and place; one way to think about it is that one movie is a classic, satisfying steak dinner, while the other is the best cheeseburger you've ever tasted in your life (in any case, the movie's co-writer, frequent Sandler co-writer/co-conspirator Tim Herlihy, has downplayed the controversy in the years since The Waterboy's release).
Sandler would continue working in this lane, to highly profitable ends. Occasionally, he would make official, bona fide remakes, as he did with the re-imagining of the Frank Capra classic Mr. Deeds Goes to Town (Mr. Deeds, helmed by Little Nicky director Steven Brill), and the rom-com Just Go With It, which some folks may not know is actually a sort-of remake of a 1969 Walter Matthau comedy, Cactus Flower.
Adam Sandler Tests His Limits With Underrated 'Sandy Wexler'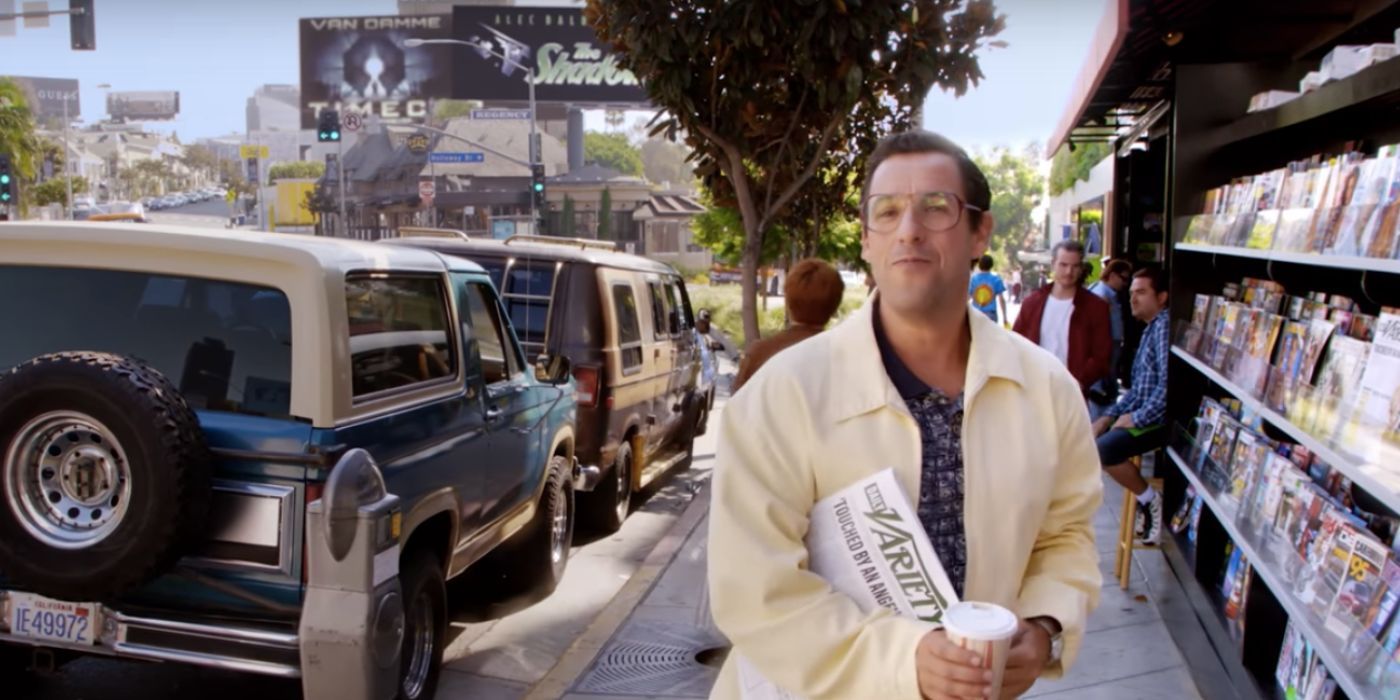 It's important to note that what Sandler does is not mere comedic pastiche. He's not imitating anyone: love him or hate him, there's never been anyone quite like him. What Sandler is demonstrating, at the end of the day, is a completely sincere and credibly far-reaching respect for the greater comedy pantheon, as well as a keen awareness of his place in it, often culminating in performances that, love them or hate them, are instant classics.
Sandler's willingness to pay homage to the jokes and tropes of yesteryear has even reared its head in his more recent output for Netflix (obviously, The Ridiculous 6 is a kind of puerile send-up of something like Blazing Saddles, but we're not going to talk about that film here, because life is too short). One of Sandler's better and more slept-on late-career movies is Sandy Wexler, which, believe it or not, is structurally indebted to Broadway Danny Rose. Both movies are about inept but hard-working talent agents, and both movies utilize a primary storytelling device wherein comics sit and regale an imagined audience with anecdotal recollections about the movie's subject. Sandy Wexler is an indisputably uneven movie that gets by on the strength of its pure heart and unexpected ambition: it's the rare Sandler/Netflix vehicle that feels like Sandler genuinely pushing himself, or at least testing the limits of what he can do.
RELATED: The Best Adam Sandler Comedies, Ranked From 'Little Nicky' to 'The Wedding Singer'
Adam Sandler Thrives on Naysayers
Another thing we love about Sandler is his apparent allergy to hubris. He knows the movies he makes are largely loathed by critics. When Sandler wasn't even nominated for an Oscar for his career-redefining work in Uncut Gems — one of the biggest Oscar snubs of the year — he didn't begrudge anyone. Instead, what did he do? He joked about the matter, claiming he would make a movie that was "so bad on purpose" as a manner of exacting retribution on his naysayers. Bless his heart, that's just the kind of guy he is.
In a way, Sandler thrives on even having naysayers. The characters he plays, even in his dramas, constantly have something to prove. They are forever looking to assert their worth in a world that views them as bumbling fools. Of course, Sandler understands that we, as a movie-loving audience, can easily fall in love with fools. When it comes to the comedy greats of decades past: to quote a Sandler audio skit too filthy to reprint in earnest here, Sandler has done nothing if not show the utmost "f*#%ing" respect."