Internet Protocol Television (IPTV) set-top box transmits live television programs through live-streaming and recordings of all television programs from internet streaming services to your television.
With IPTV set-top box, you can carry a world of your favorite television programs to any part of the world wherever you go with personalized channel lists on IPTV to remain closely bound with your culture, language, identity, and personality. It makes you feel at home and comfortable after a long and tiring day of work or have just returned from a long trip that wasn't a vacation.
With IPTV, you will never miss out on any television program because IPTV has the catch-up feature; it is possible to watch the previous episodes that were missed out. It not only gives you the flexibility to choose what you want to watch but also when you want to watch them. The television programs are buffered for you by IPTV; you can watch them when you have time. The flexibility of IPTV gives users the opportunity to watch their favorite shows at their leisure, giving them the time they need to spend with family, on work, or on a hobby.
Would you like an IPTV box and media streamer that can transform lower-resolution media to 4K using AI-based scaling, then Nvidia Shield TV is the best option. If you are a gaming fan, then you would love the features of the Nvidia Shield TV media streamer. Its GeForce Now game streaming is astonishingly responsive. It shows HD cartoons supported by AI upconversion.
You can fine-tune the level of sharpening using AI-based scaling by comparing the sharpened and unsharpened images on a split-screen. If you want to fine-tune scaling, the sharpening setting is best at the medium or low setting and it only works with sources that are 1080p or earlier and 30 frames per second or less. Scaling drastically improves the quality of lower-resolution sources.
The Nvidia Shield TV is not only an IPTV box but also works as a Plex server, a gaming console, a web browser, and a Chromecast.
It offers 4K HDR playback at 60FPS; it is equipped with an Nvidia Tegra X1 processor, 3GB of RAM. It has two options of storage; you can choose any one of them – either 16GB or 500GB.
The Nvidia Shield TV is one of the leading Android TV streamers with greater upscaling of non-4K content. It has a quick and clear interface.
It provides regular updates. It supports Dolby Atmos and Dolby Vision. Google Assistant is in-built with it. Its remote control with brilliant backlight allows you to easily access channels both in bright light and in dark rooms.
Key Features
Highly responsive GeForce Now game streaming
Offers 4K HDR playback at 60FPS with its superfast Nvidia Tegra X1 processor
AI upconversion for transforming 1080p low resolution content to 4K
Works as a Plex server, a gaming console, a web browser, a Chromecast
Specifications
Memory Storage: 8GB
Picture Quality: 4K HDR
What's Included: Device, remote control
Brand: NVIDIA
Pros
Backlight-equipped, easy-to-use, and comfortable to hold remote control
Voice control the IPTV box using the player's microphone and built-in Google Assistant
Provides convenience to search content on multiple platforms, play music, and much more
Easily control a smart home and play retro games
Cons
Most features are for PC gamers
Does not provide USB ports
Buy This Product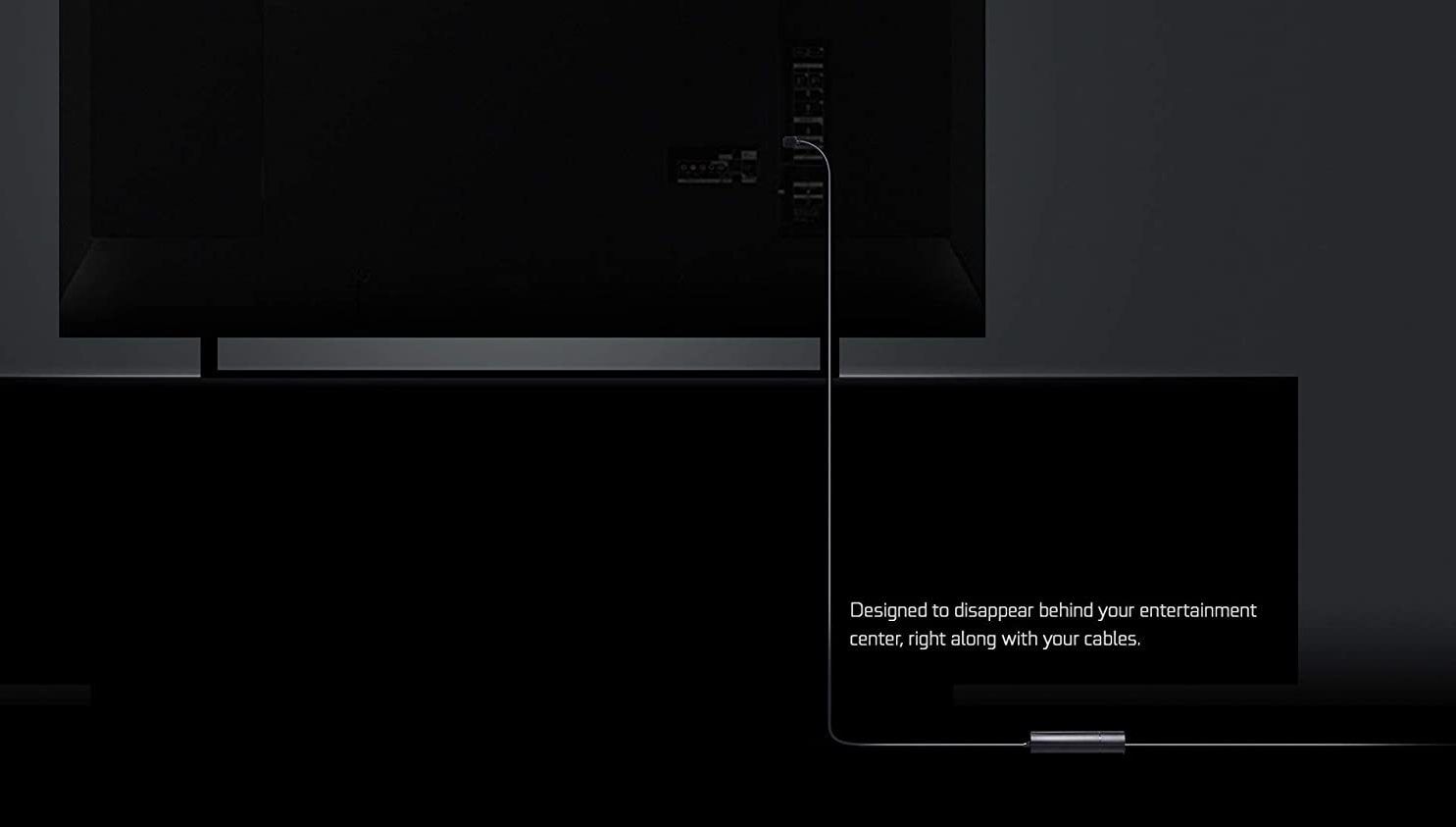 Nvidia Shield TV IPTV Box B07YP94PBJ
If you are a music fan with an ear for awesome sound with a taste for a wide variety of TV shows and love top chartbuster music shows, then Roku Smart Soundbar is an excellent choice.
It streams mesmerizing sounds with equally amazing 4K content.
It is laden with tons of media apps to keep you entertained every moment of your life whether you are traveling to another city or are comfortably sipping a cup of coffee at home or fresh juice at a friend's party. You would love the ambience the sounds and bass of this little device creates in your party. It's a wonderful home theater for partying anytime you want.
To start enjoying an extravaganza of audiovisual treat and gulp sumptuous and abundant content to entertain a big family and friends, you just need to do a simple thing, just plug in the Roku Smart Soundbar into your TV.
With Roku one thing is for sure, you can feel a connection to the whole community of thousands of channels, including Netflix, Hulu, and Amazon Prime, and lesser recognized players such as Vudu, GoNoodle, and CuriosityStream. Roku not only brings the whole gamut of media services under one umbrella but it serves them conveniently in a group of clusters on Roku's home screen. These clusters help in keeping track of billing as per the number of streaming services that you use.
The Roku app is useful for finding titles and for entering account usernames and passwords using your fingers. Roku provides a lot of flexibility and freedom; you can cast videos on your television screen even by using other apps on your phone provided this app has a Roku supported channel.
Key Features
Fabulous cinematic-quality 4K streaming
Vibrant studio-quality sound at home
Speech clarity feature to pump up voices
Volume-leveling feature to automatically reduce noise of commercials
Specifications
Memory Storage: 8GB
Picture Quality: 4K HDR
What's Included: Device, power cable, remote control
Brand: Roku
Pros
Catch up on the most trailed award winning shows without spending a lot on cable bills
Stream your favorite music and videos or play them using Bluetooth
Relish heart-pounding bass that you can feel with subwoofer
Enjoy engaging surround sound with wireless speakers
Cons
Comparatively less powerful bass
Some small snags that occasionally pop up during daily use
Buy This Product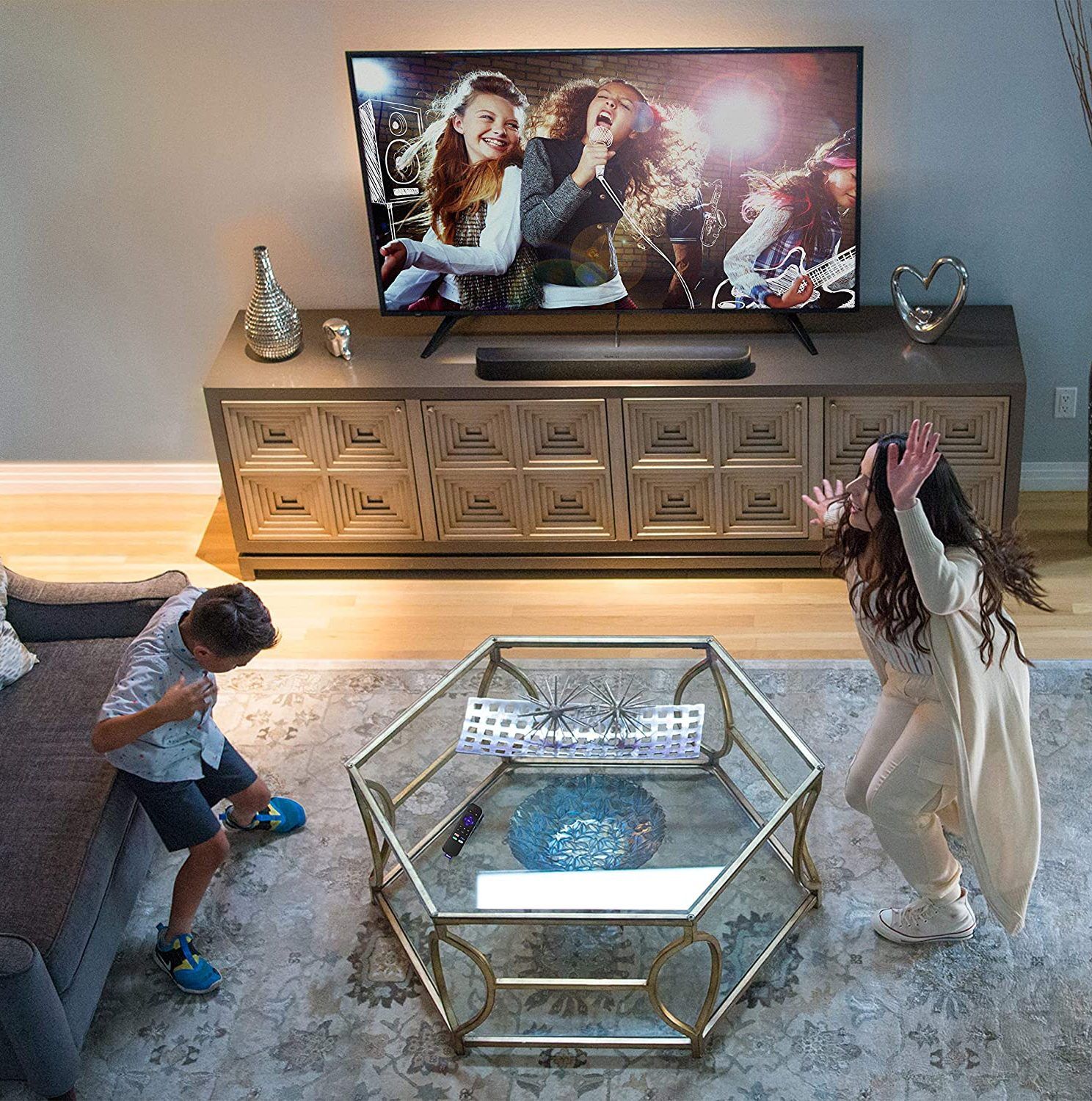 Roku Smart Soundbar IPTV Box B085FSVM75
If you are an ardent fan of Amazon and are happy to watch only Amazon Prime Video along with Netflix, iPlayer, All 4, then Amazon Fire TV Stick is for you. If you have Kodi, you get a range of entertainment channels. It also offers a broad range of apps. You have a choice of 1080p and 4K models.
Alexa Voice Remote is available in both models; you can search and play films and videos across a broad range of installed apps. Your remote also helps you to control smart lights and speakers and the volume of the TV. The Fire TV stick can also be controlled using an Echo speaker.
Its interface is smooth and simple to browse. Playing back Amazon Prime Video and Netflix in magnificent 4K with HDR is outstanding.
It comes with Alexa-enabled remote control for controlling the IPTV device and smart devices using voice commands.
You old TV changes into a smart TV after hooking this little stick into the HDMI port into your TV using a small micro USB power plug.
In order to use Fire TV Stick for IPTV, the Perfect player is an excellent third-party Android IPTV app. Fire TV Stick also supports TV streaming apps such as Hulu and PlutoTV.
Fire TV Stick allows you to enjoy 8GB of storage and Bluetooth headphones. If you have an adapter, you can connect your Fire TV Stick to your router through an Ethernet cable.
Fire TV Stick is an amazingly entertaining and educational device with Disney Plus and 15,000 skills for children. For a sports fan in your home and for your office cafeteria, it streams NBC and WatchESPN.
Key Features
Alexa voice assistant to control volume and change channels
OTA tuner and DVR to watch and record broadcasted local TV channels
Offers HDR10+ and Dolby Vision
Supports Bluetooth headphones for freedom to move around
Specifications
Memory Storage: 8GB
Picture Quality: 4k HDR
What's Included: Device, remote control
Brand: Amazon
Pros
Turns your old TV into a smart TV with capability to control all smart devices using voice
Delivers power-packed entertainment for children, sports fans, movie buffs, and music fans
Entertains and educates simultaneously with Disney Plus and 15,000 skills for children
Supports and ecosystem of Amazon content and all major streaming services
Cons
Remote quality could be better
Buy This Product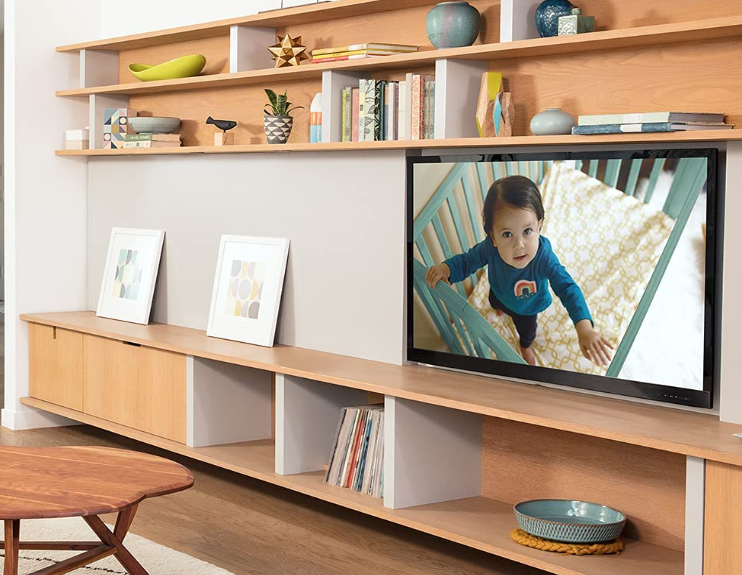 If you are looking for the best internet streaming device for televisions that has brilliant interface and search features with a big pool of fantastic media services, then Roku Streaming Stick+ is one of the best choices. It provides 4K resolution, HDR10, and Dolby Atmos, and voice-activated remote control. It also supports all the most significant image and audio standards.
Network connection does not drop due to the Wi-Fi 5 wireless technology. The RF remote control efficiently works even from other rooms with the RF and Wi-Fi 5 wireless technologies. The user experience is excellent due to a seamless connection.
With the mobile app and headphones are plugged-in your mobile, it is possible to watch TV channels without any noise outside, where only you can hear the sounds from the television in an exclusively private environment. You can easily move around while keeping in touch with both the sick person and your favorite TV program. People around you and other rooms do not get disturbed at all. Especially when someone is sick at home, while you are taking care of them, you are not totally cut out from your favorite television entertainment and programs.
You can enjoy watching Netflix, Amazon Prime, Disney Plus, Hulu, Sling, ABC, HBO Now, and ESPN. It also streams channels for children such as Cosmic Kids Yoga and Minecraft TV that children love a lot. It is possible to password-protect adult channels from children.
It's a lightweight and compact device that can be easily carried in your dress pockets. If you are traveling to a different place or country for a short trip, it's really handy. It plugs-in easily behind your television.
Key Features
Offers the latest 4K, HDR10, and WCG video formats and Dolby Atmos for audio
Improved reception with faster 802.11ac Wi-Fi antenna
RF remote works across walls and cabinets and its voice search is an awesome feature
Shows searched channels sorted by free and lowest priced channels first to save your money and time
Automatically detects the model of TV and programs the RF remote buttons for you
Specifications
Memory Storage: 8GB
Picture Quality: 4K HDR
What's Included: Device, remote control
Brand: Roku
Pros
Favorite and free channels can be added on the home screen for easy and quick access to them
Private listening feature and mute button to instantly prevent any disturbance from TV to others
Allows you to log in to Wi-Fi through confined portals as they are in a hotel
Streams or mirrors programs from supported android and Windows phone devices
Cons
Ethernet port does not exist
Does not support iOS devices yet
Buy This Product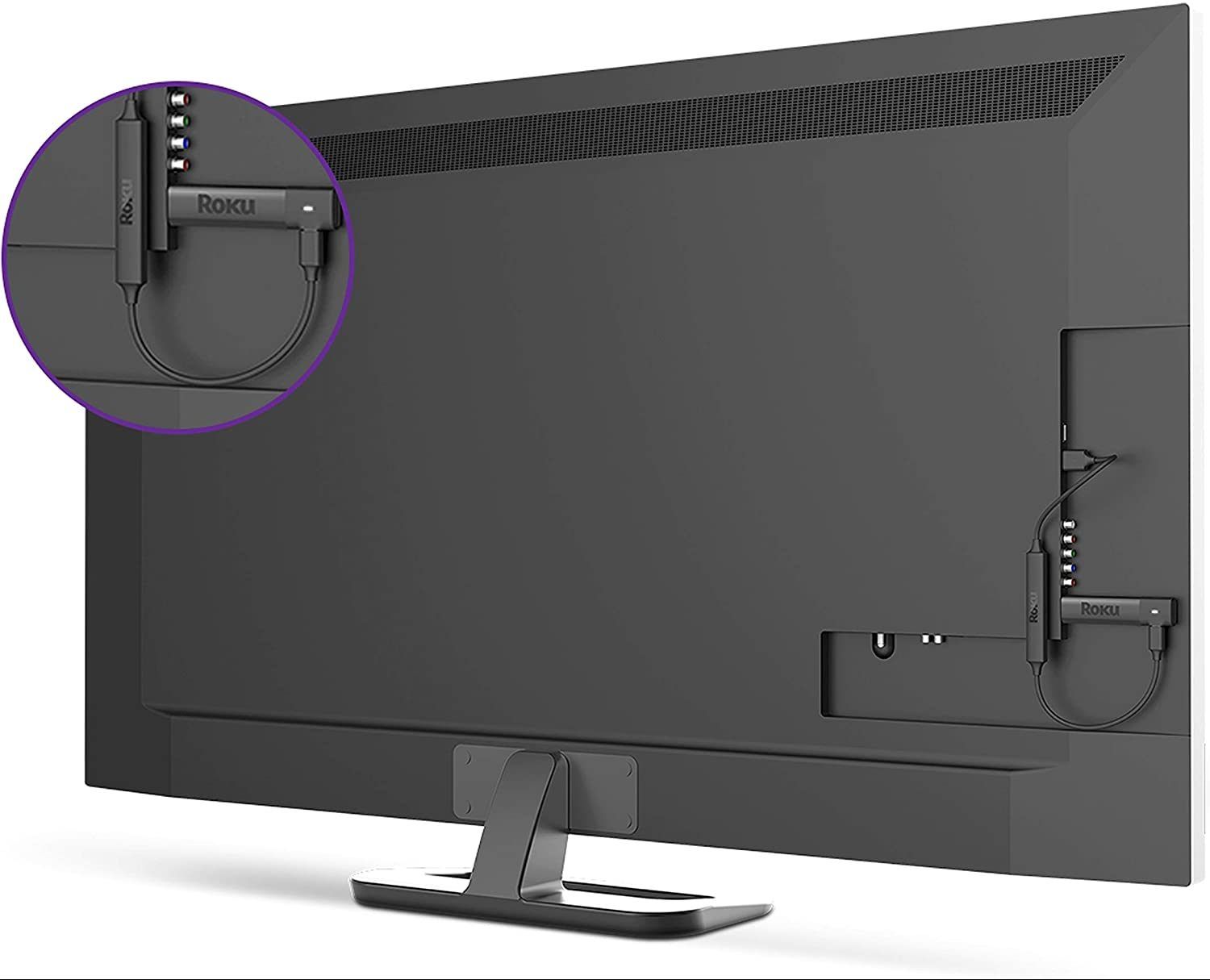 Roku Streaming Stick+ IPTV Box B075XLWML4
If you are looking for a robust 4K media streamer with first-rate software and security, then Apple TV is one of the best choices.
Apple TV streaming device is driven by its powerful A10X Fusion processor. It provides amazing features such as 4K and HDR, Dolby Vision, and Dolby Atmos for you to experience the best sound and pictures.
Apple's Siri service is especially beneficial for people whose vision is not strong, for children, and for carefree and tech-savvy people, and for those who already understand how to control the AI assistant through their iPhone or iPad. Command the Apple Siri genie to remotely control the TV and search and play channels quickly and easily.
Airplay comes handy to quickly show your favorite photos and videos from your iPhone and iPad on the big screen of your TV. Use your iPhone to remotely control the Apple TV.
With a stable and strong Wi-Fi connection, the user experience is seamless and outstanding.
It provides the convenience of opening and closing and completely controlling a smart home without getting up from the couch while watching your favorite program. It offers many apps to control other smart home gadgets and the internet of things devices. Check what's in your fridge, lock door and windows, adjust lighting for best TV viewing, and adjust the room's temperature, everything from your connected TV streaming device.
The Apple TV 4K has a broad range of top-class content on Apple TV and supports content available on TV shows and movies on Netflix, Amazon Prime, Hulu, and other streaming services.
Key Features
AirPlay 2 and the Apple TV app
Offers 4K, HDR, Dolby Vision, Dolby Atmos for outstanding experience
Apple TV+ access
Powerful A10X fusion processor
Specifications
Memory Storage: 32GB
Picture Quality: 4K HD
What's Included: Device, remote control
Brand: Apple
Pros
Supports 4K and HDR for both HDR10 and Dolby Vision
Wi-Fi connection is stable and strong
Siri and voice remote to control TV and search and play channels
iPhone works as a remote for Apple TV
Cons
More costly than competitors
Many streaming apps of Apple are not yet updated for 4K streaming
Buy This Product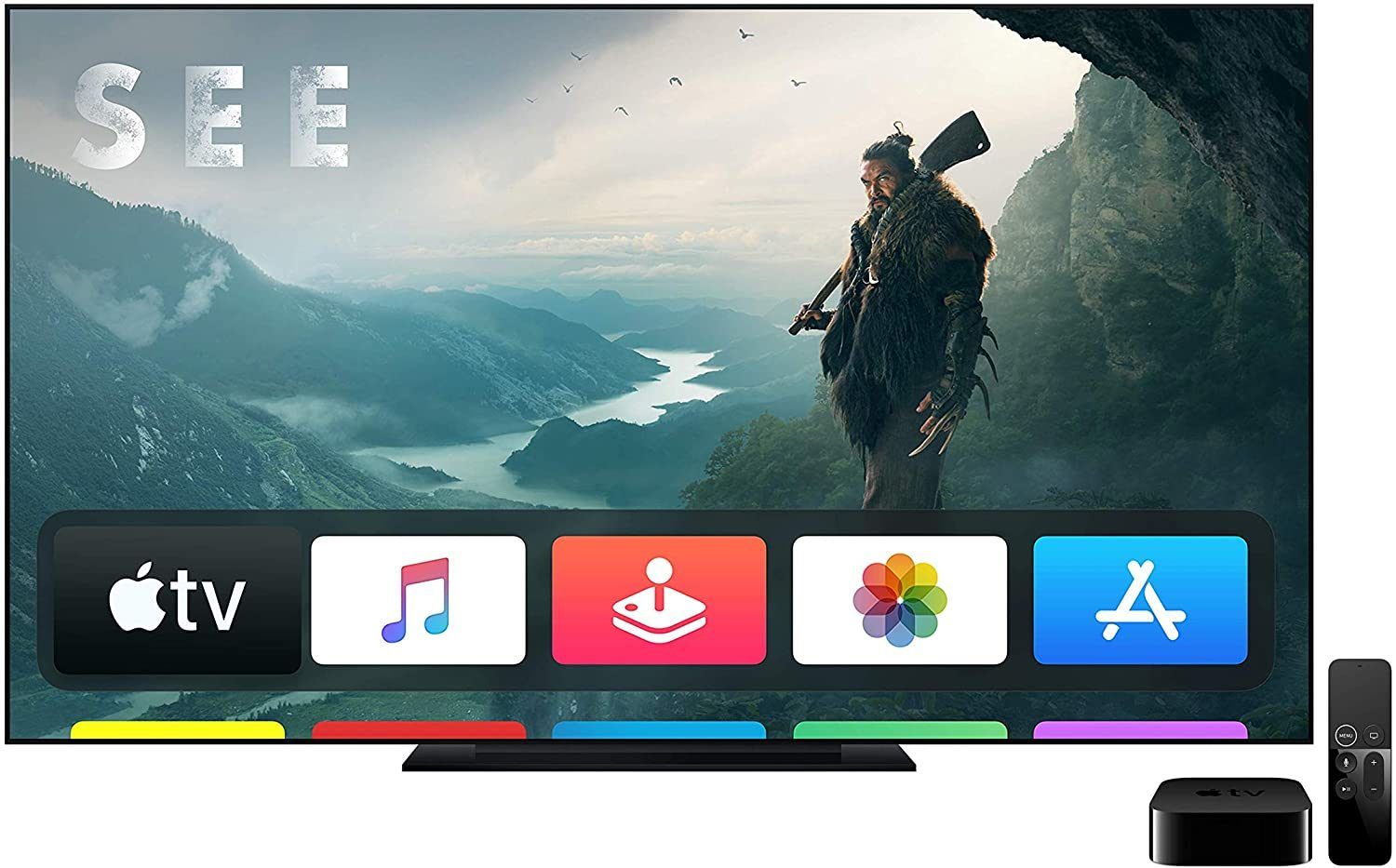 If you are looking for brilliant 4K and HDR content and unusually fast loading menus and navigation, then BuzzTVs XR4000 is one of the best choices.
Its enhanced BuzzTV interface and robust BuzzTV IR-100 remote along with shortcut buttons provide the best user experience that normally users look for. Its three times faster channel switching is a big bonus that makes the experience swifter and faster.
The powerful Android OS 9.0 and faster AMlogic S905X2 make this box a high-performance media streamer and provide two times faster system performance.
Its countless customization features for EPG and video on demand (VOD) provide flexibility and more freedom.
Its advanced graphics processor produces high-quality images for viewing the best photos, videos, and TV programs.
It supports complete system backup and restore for making it available seamlessly.
It also supports SmartLED technology and improved video player. The OTA and android security patches automatically keep your BuzzTV updated and secure from potential attacks.
If you are a person who likes to preserve selected programs, do not worry as BuzzTv is equipped with sufficient internal memory of 16 GB.
It is also not too costly and also offers many QOL bonus useful features.
There are zero time lags due to the upgraded operating system and up-to-date graphics processor.
It supports super fast and steady streaming with dual-band Wi-Fi. Consistently high-quality videos are extremely easy to come out due to this steady connection.
For smoother and two times faster navigation, the BuzzTV 4 app has amazing features and enhanced user interface such as intuitive channel list page, instant navigation to categories and single-button access to your favorite shows, video on demand (VOD) grid design. It helps you to scroll through movies faster than ever.
Key Features
Enhanced BuzzTV interface
Powerful android OS 9.0
Faster AMlogic S905X2
Three times faster channel switching
Specifications
Memory Storage: 16GB
Picture Quality: 4K
What's Included: Device, power cable, remote control, batteries, user manual
Brand: BuzzTV
Pros
Robust BuzzTV IR-100 remote with shortcut buttons
Shows brilliant 4K and HDR content
Exceptionally fast loading menus and navigation
Countless customization features for EPG and video on demand (VOD)
Cons
100M Ethernet port speed might prove to be very slow for some users
Buy This Product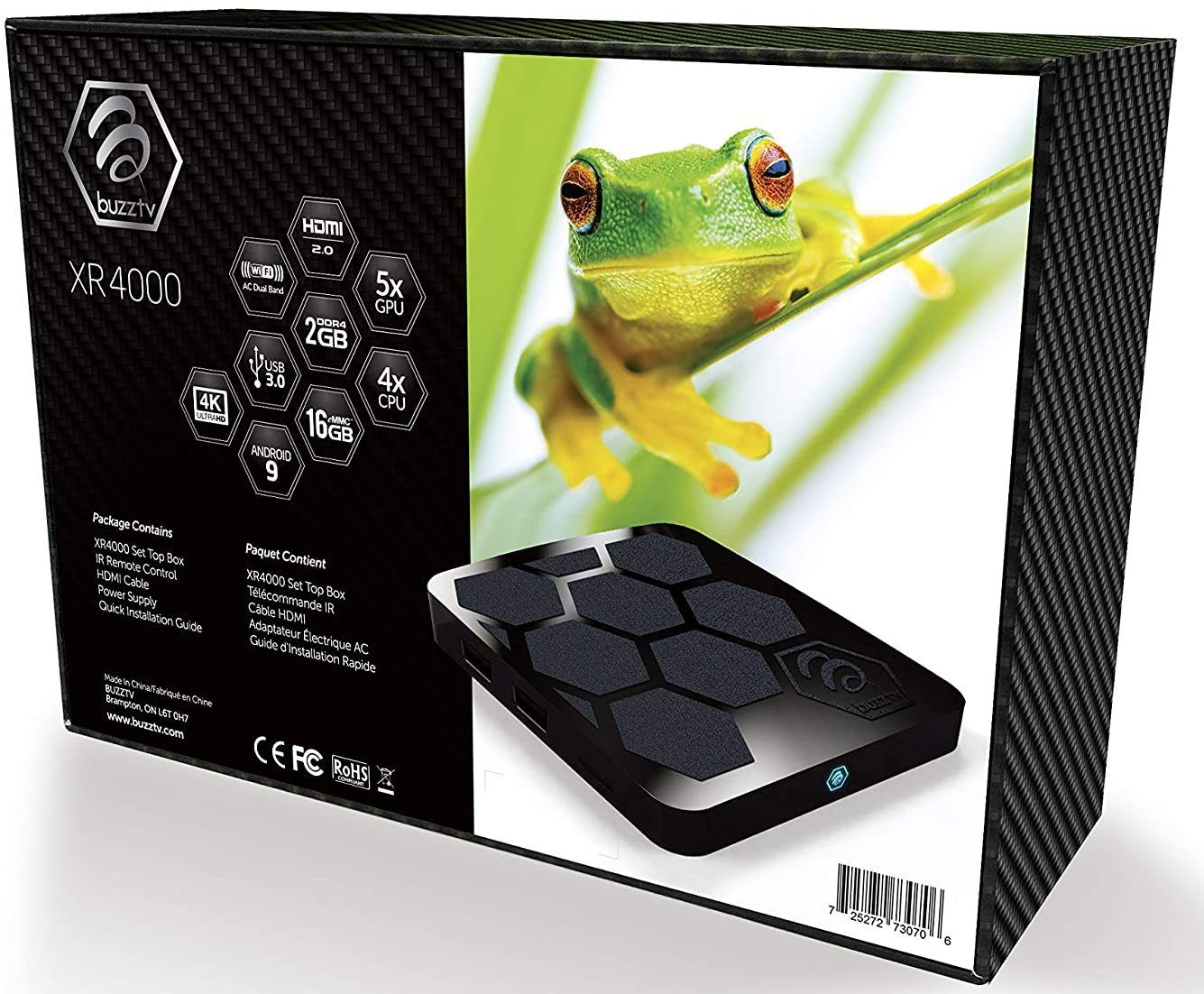 BuzzTV XR4000 Android IPTV Box B07Y5K21D1
The economical Roku Express is one of the best video content streamers for anyone who hasn't yet come on board to 4K and has an older 1080p TV with only component video. You can enjoy HD content and access to streaming apps and services such as Netflix, Amazon Prime, Disney Plus, Hulu, and many others on any compatible TV. You can also access locally stored media with the support for Plex local network streaming platform.
Roku Express provides an open platform to choose your favorite movies, music, and TV programs from thousands of media services. It is a tiny little device that can easily be placed even on a crowded self. You can easily carry your favorite entertainment anywhere you go and never miss out on any moment of fun with this portable and easily pluggable USB pen drive like device that can be carried in your shirt or jeans pocket.
It's infrared remote provides shortcuts to quickly access your favorite streaming services. It also has an options button and a simple replay button for your convenience and service. Although speed is not its forte, the desire to watch awesome HD content and on your old TV is fulfilled by Roku Express. Amazing major streaming services such as Amazon Prime Video and Google Play Movies and TV can be enjoyed on Roku Express.
It's extremely easy to set up, install apps, and watch the outstanding quality of videos and streaming TV programs with amazing audio.
The design of Roku Express is attractively curved to fit beautifully on your TV. Its USB connection can be powered by either TV's USB port or an HDMI output.
Key Features
Supports Plex local network streaming platform
Infrared remote provides shortcuts to quickly access your favorite streaming services
Shows brilliant HD content from major streaming services on your old TV
Attractively curved to fit beautifully on your TV
Specifications
Memory Storage: USB
Picture Quality: 1080P HD
What's Included: Device, remote control, power cable, HDMI cable
Brand: Roku
Pros
Extremely easy to setup and install apps
USB connection can be easily powered by either TV's USB port or an HDMI output
Low cost streaming device
Easily mountable on the TV due to its compact design
Cons
Slower than the newer devices
IR remote can be controlled only when you are in line-of-sight
Buy This Product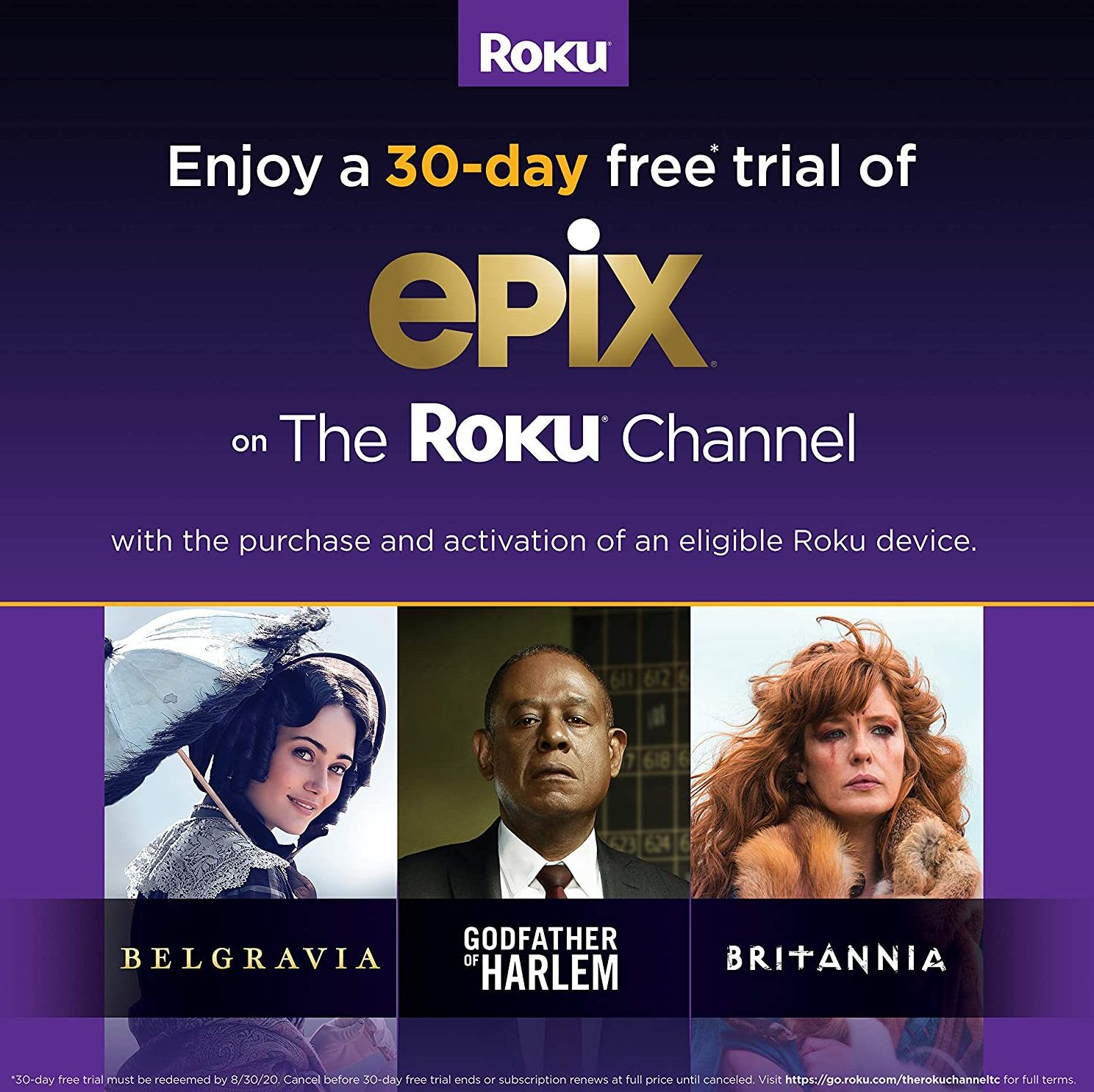 Roku Express IPTV Box B07WVFCVJN
If you're looking for an IPTV setup that is easy to use, convenient, and portable, this could be the one for you. The new 2022 CHANNELWALA Sword 4K UHD IPTV box checks all those boxes, and has even more to offer.
The best thing about IPTV setups is that you get to watch what you want, when you want it. No more sticking to arcane TV schedules, or missing out on international programming because of time differences. Capture everything you want to watch in glorious 4K, and play it back on your schedule. Not only can you watch your favorite programs live, you can also record them and take them with you on the go.
The CHANNELWALA Sword can swap from device to device seamlessly. Take it on vacation with you so you won't miss a thing while you're gone. Or bring it on business trips to feel like your right at home. Use the Sword with Bluetooth or Wi-Fi connectivity, and even record with the Dual Band GIgabit LAN Box. With all of these features, the Sword is a great option for your IPTV setup.
You can even download apps to the Sword, making it even more capable of providing all the entertainment you're looking for. You don't have to stick with TV shows and movies. Download your family's favorite apps and app games as well.
Overall, the CHANNELWALA Sword is a great device that has all the features that you'll want in an IPTV setup.
Key Features
Watch international channels
Bluetooth and Wi-Fi connectivity
Download and use apps
Specifications
Memory Storage: 16GB
Picture Quality: 4K
What's Included: Player, remote
Brand: DOORDARSHAN
Pros
Convenient and easy to use
Simple connectivity
Portable
Cons
Can be slow to load content
Buy This Product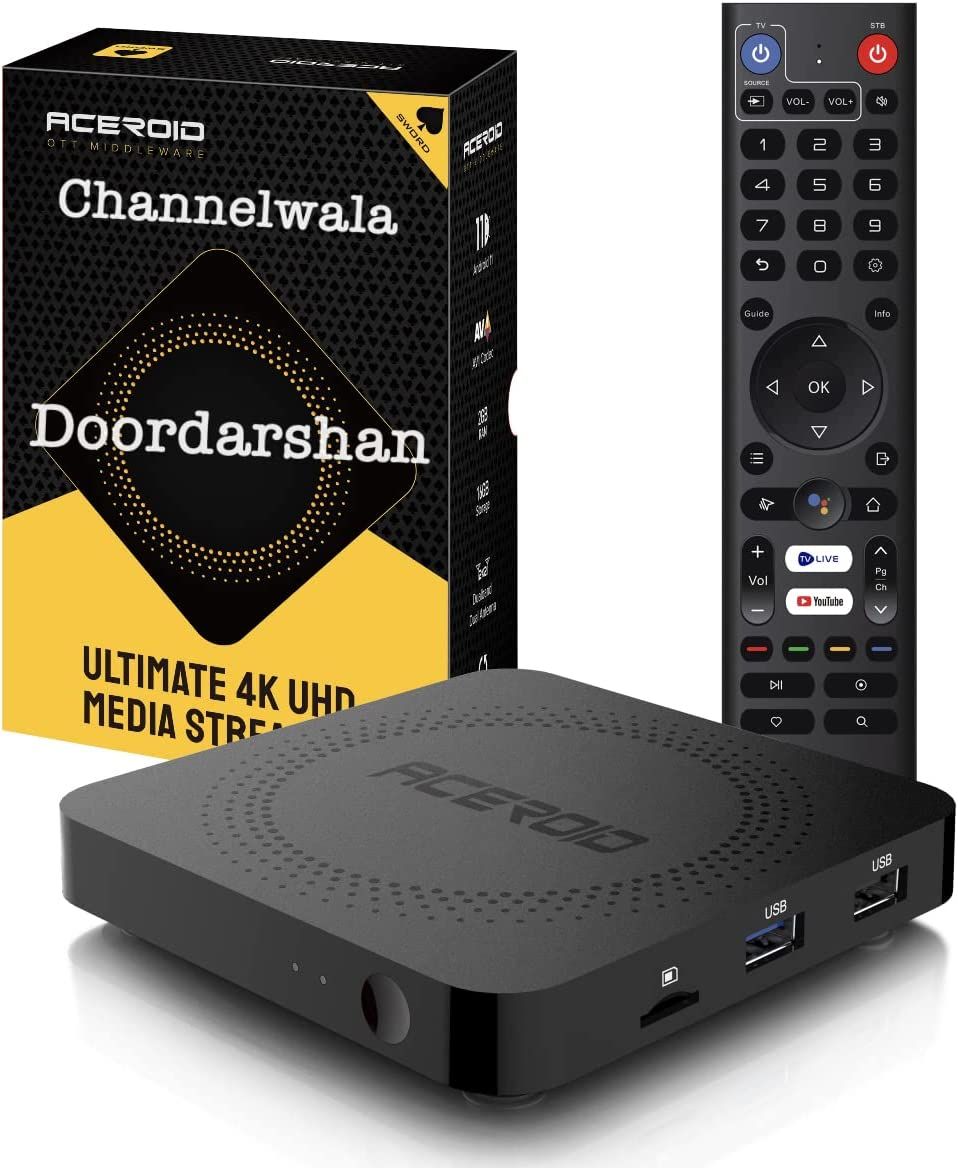 CHANNELWALA Sword 4K UHD IPTV Box
If you are looking for a dependable and seasoned IPTV Box with 4K high definition with HDR, then Formuler Z8 is one of the best choices.
The speed of Android 7 OS is excellent that is used in Formuler Z8. Its top-class 60hz refresh rate is maximum and is excellent for gaming and content streaming. Z8 comes with a superfast quad-core processor.
16 GB of internal storage is brilliant and makes downloading apps convenient. The buttons of the remote control illuminate in the dark for your convenience and ease.
It comes with a free three-in-one charger.
Its external antenna provides excellent quality signals for better reception and outstanding quality pictures and sounds. The signals rarely drop, so you get seamless reception, and you never miss a single thing from your favorite television soap opera, sports match, animation, movie, or from an online game. You always win in online games due to excellent and consistent signal.
Formuler Z8 provides an astonishing download speed of 1000Mbps; you can download games and apps quickly and complete your tasks.
It comes with the popular MyTVOnline 2 app which provides the clearest and fantastic television viewing experience with a user-friendly electronic program guide for quick access to the programs. You spend more time watching TV programs than in searching for the programs. You can watch live TV and video content on-demand using this app.
If you are used to playing games in a dark room and watching late-night movies, then the luminous remote control won't let you down. It's perfect for your kind of case because you need not grapple to get to it and won't accidentally sit on it because it's clearly visible even in the dark.
Key Features
Supports air sync remote Z with mobile experience
Mirror controller allows you to watch the television and control it using your smart phone
USB recording and time shifting
Cutting-edge USB PVR
Specifications
Memory Storage: 16GB
Picture Quality: 4K
What's Included: Player, remote, power cable
Brand: FORMULER
Pros
Smart learning remote control to control power and source of reception
Option to simultaneously view multiple channels at a time
Easy connectivity
Works with different types of media
Buy This Product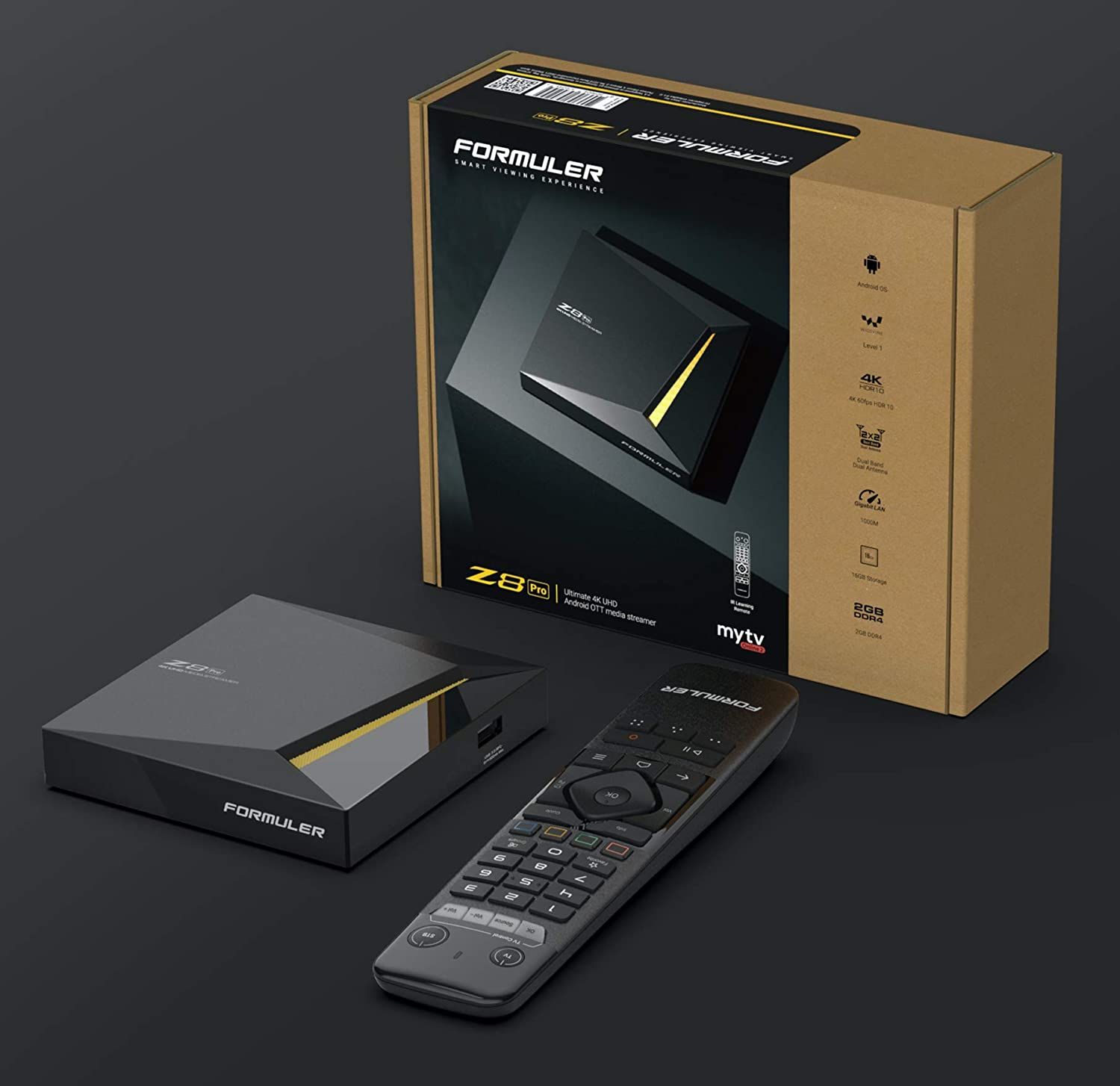 If you want a powerful device that can do it all, consider the J-Tech Digital H.264 IPTV HDMI Video Encoder. This device is perfect for live-streaming not only TV, but also your favorite streaming services and content platforms like YouTube Live, Twitch, and Facebook Live.
Achieve better quality at a lower bandwidth through LAN. The J-Tech IPTV Encoder converts the HDMI signal to H.264, which is then transmitted through the internet/LAN to give you the best quality without throttling your bandwidth.
With a variety of supported resolutions, from 480i@60Hz all the way to 1080p@60/50Hz, you're sure to find the most sparklingly clear picture for all of your favorite programs. And, the portability of the J-Tech IPTV device lets you take the show on the road with you wherever you go.
While the device does not come with a remote control, there are multiple options for you to control it using your smartphone or control tablet. Pair it with your Control4 or Crestron to seamlessly integrate it with your smart-home features. Or, use your smartphone to control it while traveling. The fact that it doesn't come with a remote is a double-edge sword. It's nice to have a remote, but that means having another remote lying around that could be lost and always needs batteries. Don't skip over this device because it doesn't have a remote.
Overall, this is a quality IPTV setup, that can provide everything you need, and nothing you don't. And best of all, it comes with free lifetime US-based support!
Key Features
High quality design
Supports H.264 encoding
Integrates with Control4 and Crestron
Specifications
Memory Storage: USB
Picture Quality: 1080p@60Hz HD
What's Included: Device, power cable, user manual
Brand: JTECH
Pros
Better quality, lower bandwidth
VLC player compatible
RTMPS compatibility
Free lifetime support
Buy This Product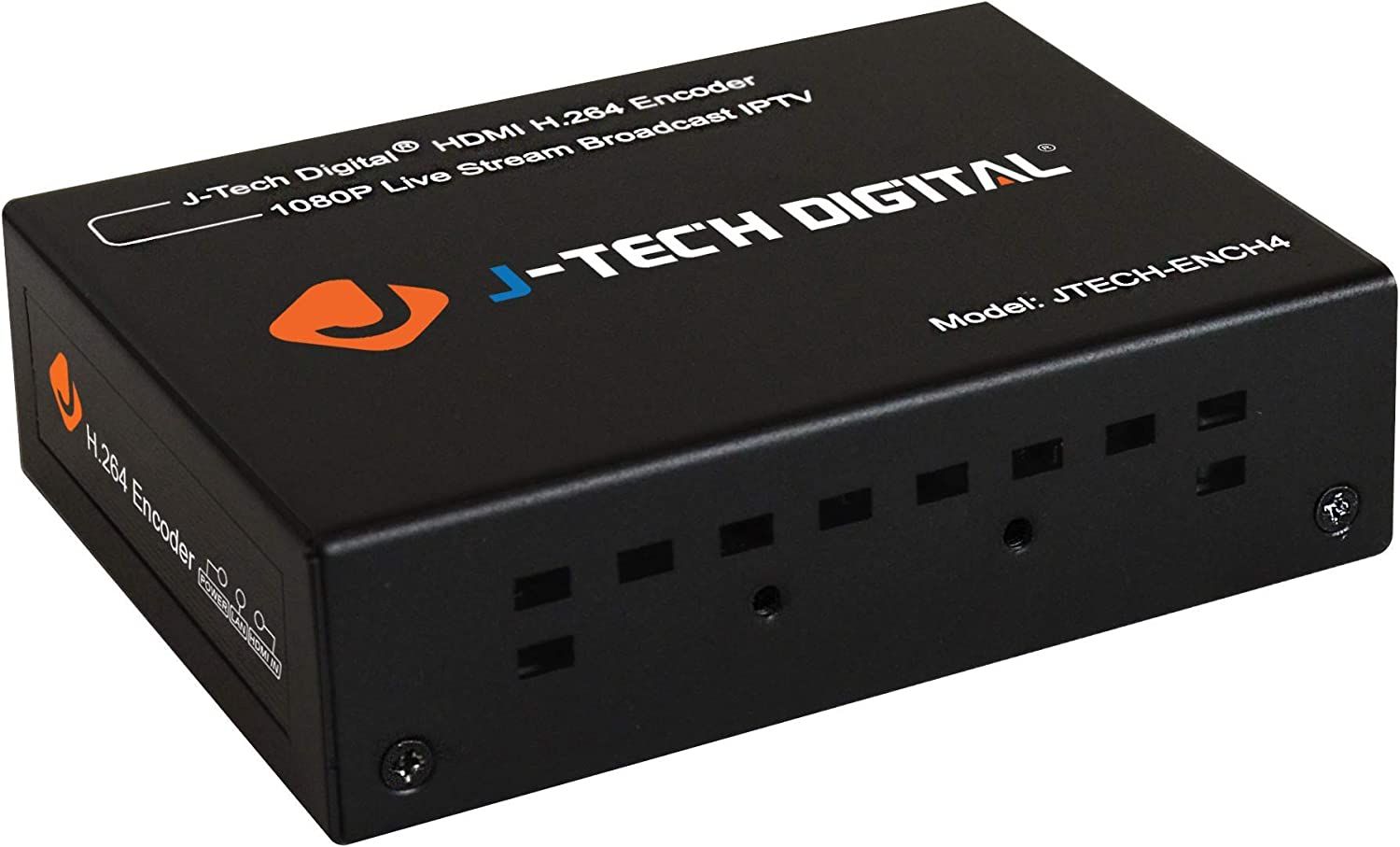 J-Tech Digital H.264 IPTV HDMI Video Encoder
IPTV consists of the IPTV service and the IPTV set-top box. As per the IPTV service that you select, it streams TV programs as per your choice. The set-top box for IPTV converts the signals into a format that your television can decode and show on your television as clear and high-quality pictures and sound. The device doesn't need the set-top box to watch your favorite shows, and you're no longer bound to a rigid viewing schedule. On multiple televisions at home, you can watch up to five different television programs simultaneously at a time. Isn't it awesome? If you are subscribed to multiple IPTV services, you will definitely have a blast with your friends across the border and socialize with them through the various TV programs, music, dramas, and relevant events and festivals occurring in different parts of the world. It is a brilliant way of networking and building strong bonds with the world community.
Basics Of IPTV
You might have a lot of questions related to IPTV, such as do I need a physical wired connection to use IPTV services? Will my IPTV work on any Wi-Fi network? What happens if my Internet service breaks down? What kind of support can I expect? What about audio quality? Do I remain in total blackout till my Internet services are restored? Can I watch live TV without any internet lag? Do I need an emulator and STB both? There might be numerous questions in your mind. We will try to answer most of them.
If you are able to mirror your computer screen using screencasting services to your television, you do not need the IPTV set-top box and if you can mirror it on a clean surface such as a well-panted wall or a whiteboard, it helps you to watch the programs for longer hours without injuring the health of your eyes.
Hybrid IPTV allows you to watch both the regular traditional television transmitted through the satellites to your dish antenna and the television programs broadcasted by the IPTV service subscribed by you. If your Internet service is down, you can always remain entertained with satellite television programs.
There are different types of IPTV services provided by IPTV:
1) Video-on-demand service (VoD): based on what a user subscribes, only videos on those topics are sent to individual users and subscribers. Users are able to watch any movie from the VoD media library anytime like we watch videos and movies from the YouTube library.
2) Pay-per-view video or near video on demand service (nVoD): it charges users based on the model of pay-per-view video. Multiple users subscribe to the nVoD service and watch videos that suit their taste from their chosen field as per the schedule published in advance by the broadcaster.
3) Time-shifted TV service: this provides the users the facility of watching recorded live television programs and events at their convenience. They can playback and resume from the point where they last left. They can also rewind and watch an earlier part of the TV program.
4) TV on demand (TVoD): this is an excellent service for users who only want to watch particular TV channels. These are also recorded for convenient viewing.
5) Live television service: this allows users to watch television programs live using live streaming. It is available both with and without interactivity.
FAQ
Q: What is IPTV and how does it work?
IPTV stands for Internet Protocol Television. This technology uses the internet to share all kinds of programming straight to your TV. IPTV uses broadband internet connections to share international programming to your home without the need for a satellite dish.
Q: Can I use IPTV without a satellite dish?
Yes. IPTV allows you to connect to international programming without a satellite dish.
Q: Can I watch live TV on IPTV?
Yes. You can watch live TV, as well as record and save your favorite shows for playback.