The marketing for Ant-Man and the Wasp: Quantumania has finally ramped up for its February release. With new images, more details about the upcoming feature are trickling down answering fans' many queries as well as creating more mysteries. A new image revealed by Empire Magazine gives us a good look at the Quantum Realm as well as Michelle Pfeiffer's Janet Van Dyne.
In the new image Janet is seen standing tall in the robes we've seen previously in the trailer. She's well armored and behind her, we get a glimpse of the quantum tunnel shining blue. Given the fact most things in the MCU are color coded, for example the Infinity Stones, the significance of the blue hue in the Quantum Realm is yet unknown. Teasing the Quantum Realm, writer Jeff Loveness calls it "Jodorowsky's Dune within Marvel." He describes it to be a "fun place," adding, "It's a limitless place of creation and diversity and alien life."
Janet was said to be lost in the Quantum Realm before she came back in Ant-Man and the Wasp. Speaking of her character, Pfeiffer said, "The Quantum Realm can change a person, and you can have a whole other life down there. It's something that she hasn't wanted to get into." It's a caution Janet preached to Scott also before he went sub-atomic and got lost in the Quantum Realm for five years. Fans have long theorized that she has some kind of connection with Kang, and seems like they were correct. Marvel boss Kevin Feige reveals, "It's about how these five family members deal with this environment and the new reality of what their mother/grandmother has been through." Adding:
"She's a very, very well-known, very powerful freedom fighter in the Quantum Realm. Which none of them had any idea about until they get down there."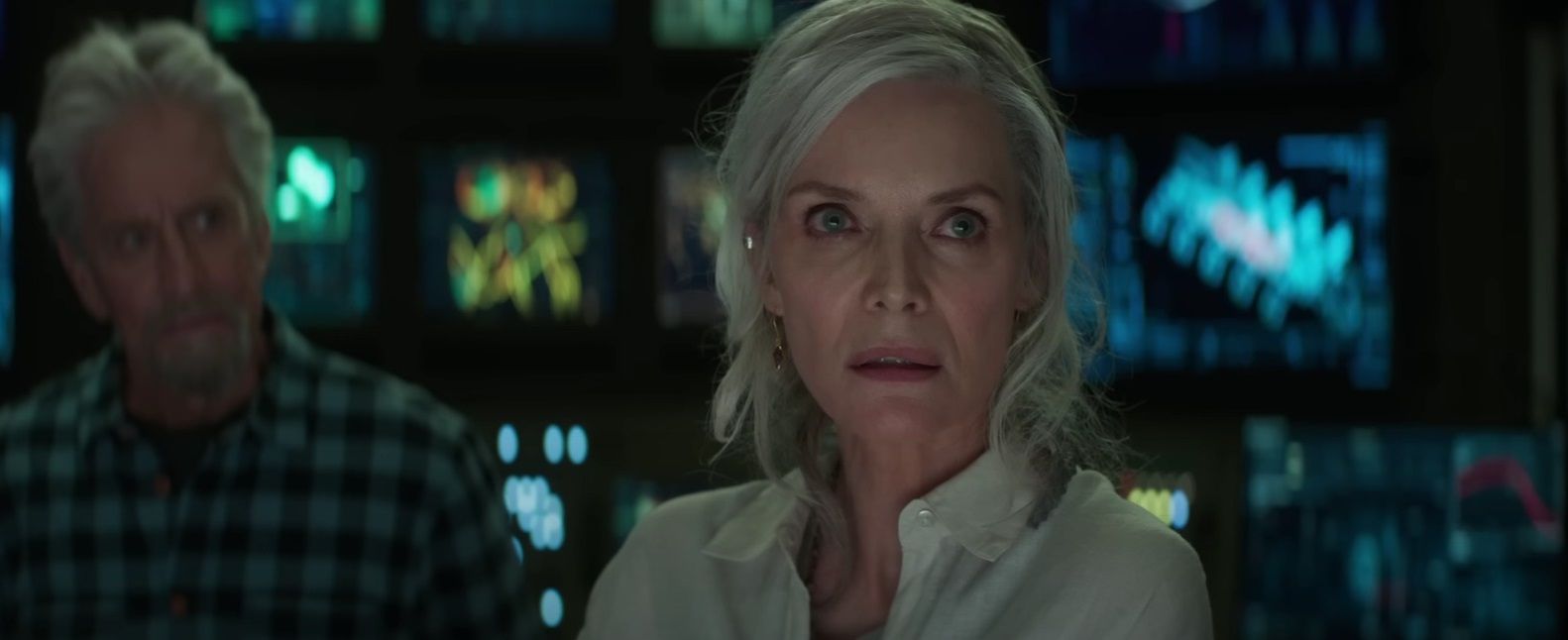 RELATED: Kevin Feige on Kicking Off the MCU's Phase Five With 'Ant-Man and the Wasp: Quantumania'
The movie casts Paul Rudd as Ant-Man/Scott Lang, Evangeline Lily as the Wasp/Hope Van Dyne, and Michael Douglas as Hank Pym. While new entrants include Jonathan Majors as Kang the Conqueror, Kathryn Newton as Cassie Lang, and Bill Murray as Roi Krylar Corey Stoll who appeared in the first Ant-Man film as the antagonist, Darren Cross (Yellowjacket), returns in a new role as MODOK. Franchise helmer, Peyton Reed, returns to direct the feature from a script by Loveness.
Ant-Man and the Wasp: Quantumania premieres on February 17. You can check out the new image below: