The Yakaku Outfit is a new Glamour Set introduced in Final Fantasy XIV Patch 6.3 featuring the stylish look of traditional Japanese garb. This set contains five separate pieces, but the main attraction that many will desire from this set is undoubtedly the Dogi, the chest piece of the collection. This clothing piece is exceptionally fashionable by revealing its wearer's right shoulder and adding beautiful body art of branching sakura blooms. The Kamidome is a headpiece that serves as a hair extension, and the Fundoshi is a unique-looking loincloth wearable for both males and females. Finally, the Koshita serves as the stunningly designed leg piece, and the Geta is the set's Japanese-style footwear.
Lovers of the Stormblood expansion story and aesthetic will undoubtedly adore the Yakaku Outfit in Final Fantasy XIV. Correspondingly, this Glamour Set is acquired through a Side Quest that involves revisiting some past acquaintances from Stormblood.
To unlock all five pieces of the Yakaku Set, FFXIV fans must head to Old Sharlayan and travel to the coordinates (X: 11.8, Y: 9.8), where they will encounter Mehdjina, the Quest Giver for Tataru's Grand Endeavor Quests.
Related: Final Fantasy XIV: How To Get Pixie Wings
Unlocking the Yakaku Set in FFXIV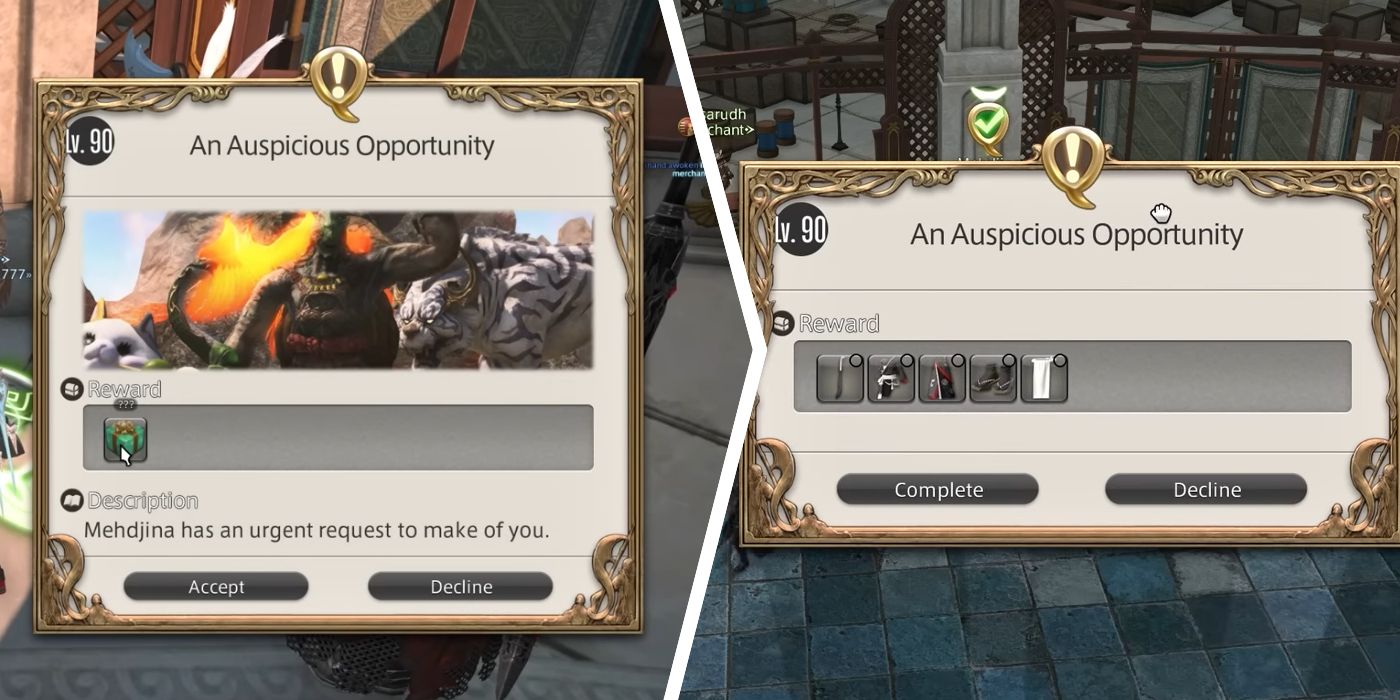 According to Final Fantasy XIV content creator Meoni, the Side Quest that players must accept to unlock Yakaku Set is called "An Auspicious Opportunity." It is tricky to explain the objectives of this quest without going into "spoiler territory;" therefore, it is ideal that players enter this brief quest blind and enjoy seeing several old faces and experiencing new stories along with Tataru.
The quest primarily involves lots of walking and talking, so participants do not need to worry about any challenging combat sequences or puzzles. Once the entire ordeal is over, players will find themselves back in Old Sharlayan with Mehdjina, who will reward the Warriors of Light with the Yakaku Outfit.
However, those unfamiliar with Tataru's Grand Endeavor Quests must keep in mind that this questline only becomes available once the entire Endwalker MSQ has been completed. Once this feat has been fulfilled, players must then clear the Post-Endwalker Main Scenario Quest, "Newfound Adventure," given by Tataru in The Rising Stones. Next, adventurers must go on to complete "Small Business, Big Dreams" and "Soaring Profits," which will grant access to "An Auspicious Opportunity." If players do not rush, the quest should take around an hour to complete, which is minimal effort for the excellent Yakaku 5-piece Glamour Set and some post-game story about the characters of Stormblood in FFXIV.
More: Final Fantasy XIV: How To Get The Blue Blossom Parasol
Source: YouTube/Meoni
Original Release Date:

2013-08-27

Developer:

Square Enix

Franchise:

Final Fantasy

Genre:

Fantasy, MMORPG

Platform:

PlayStation 3, PlayStation 4, PlayStation 5, Microsoft Windows, macOS

Publisher:

Square Enix

ESRB:

T

Multiplayer:

Online Co-Op, Online Multiplayer

Summary:

Final Fantasy 14 (Final Fantasy XIV) is the fourteenth entry in the Final Fantasy franchise. It is an MMORPG that initially launched in 2010 before it was completely rebuilt from the ground up for a 2013 release as Final Fantasy XIV: A Realm Reborn. After the events of the 2010 iteration's conclusion, where the primal dragon Bahamut brings calamity to the land of Eorza, the player survives and is sent into the future by five years in a world that has begun to rebuild, but now thrust into the middle of a war from the Garlean Empire. As a consistently expanding world with an ever-scaling storyline, Final Fantasy XIV's narrative grows with each expansion, with the core experience still surrounding working with other players and NPCs as they level and customize their characters, engage in real-time events, and coordinate teams to enter massive dungeons to face raid bosses. The game is available to play with people of several nations and has a massive translatable vocabulary for players to be able to work with one another despite language barriers. The most recent expansion pack, Endwalker, was released in December of 2021 and follows the trend of each title releasing roughly every two years. Final Fantasy XIV is available as a free-to-play title up to level 60, where the game then transitions to a subscription model. The game is playable on Microsoft Windows, macOS, PlayStation 4, and PlayStation 5, as the PlayStation 3 version was shuttered in 2017.

Expansion Packs :

Heavensward (June 2015), Stormblood (June 2017), Shadowbringers (July 2019), Endwalker (December 2021)