Quick Links
Pokémon Scarlet & Violet players will finally meet with Cassiopeia, the Big Boss of Team Star, following the defeat of all five bases. The mysterious boss requests to meet for a battle in the schoolyard after dark, where they will reveal their identity at long last. While some players might have guessed Cassiopeia's identity early on in the game, the truth may come as a shock to others. Regardless, players should be ready to enter battle with Team Star's final boss fully prepared to put up a fight.
After defeating Team Star's Fighting-Type Base in Pokémon Scarlet & Violet, players can battle Cassiopeia, whose identity remains a secret throughout the game. Upon arriving at the Academy, however, they will first be met by Clive, who will reveal himself as Director Clavell.
In an attempt to convince them that he is also, in fact, Cassiopeia, he will challenge them to a battle. Following an interesting turn of events, trainers must prepare to defeat both the Director of the Academy and Team Star's final boss.
Related: How to Find the Waterfall TM in Pokemon Scarlet & Violet (TM077)
How to Defeat Director Clavell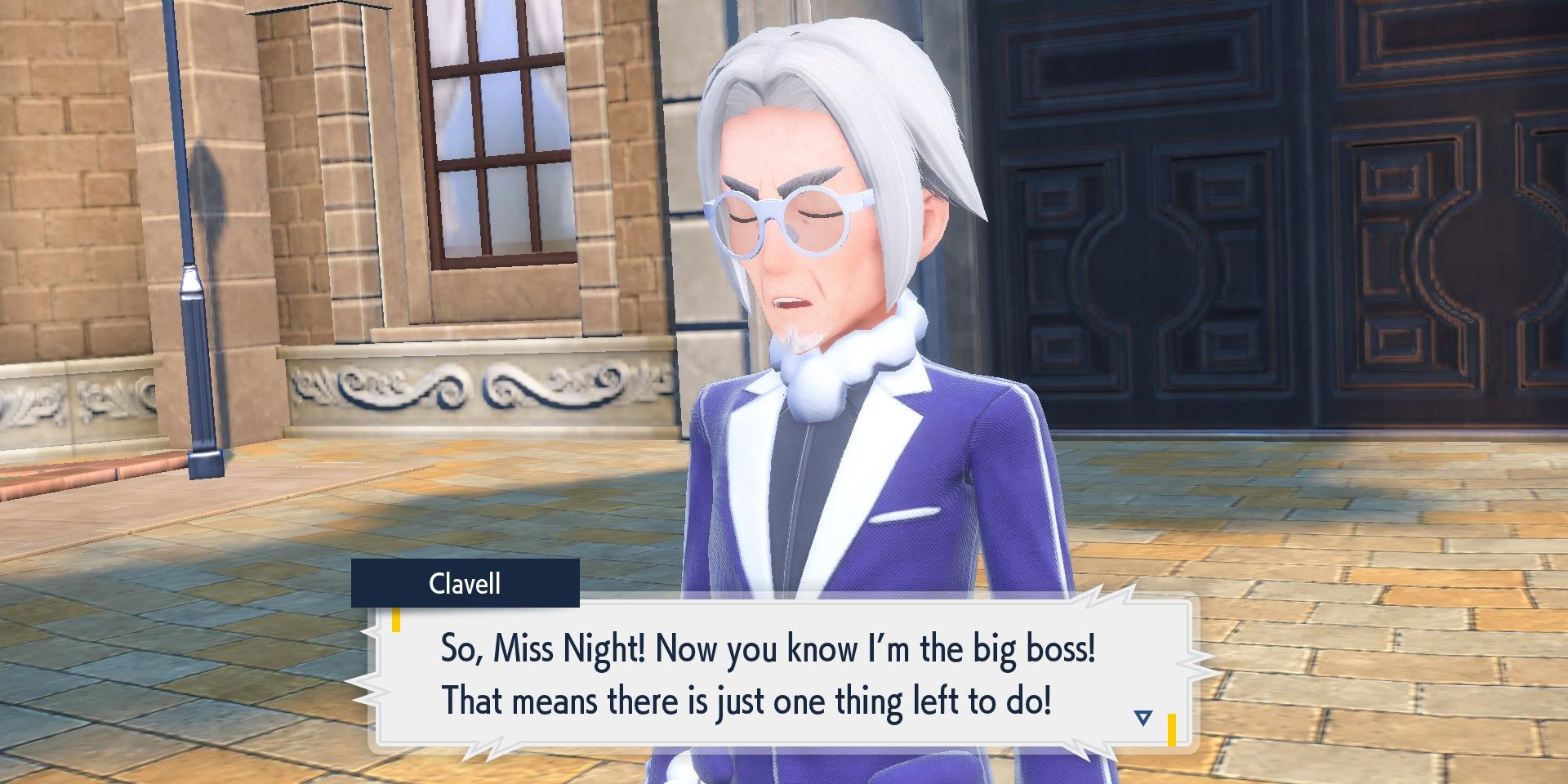 As the Director of the Academy, where trainers can take Battle Studies classes in Pokémon Scarlet & Violet, According to the Youtube channel GosuNoob, Clavell is unsurprisingly a formidable opponent to beat. The Director does not specialize in a specific type of Pokémon, so trainers will need to play to the unique strengths of their chosen team members. The largest hurdle to overcome during battle will likely be Director Clavell's ace Meowscarada, Skeledirge, or Quaquaval, depending on which type the player's own starter Pokémon is weak to. The rest of Clavell's team remains the same regardless of which Pokémon players chose as their starter.
| | | | |
| --- | --- | --- | --- |
| Pokémon | Level | Type | Weaknesses |
| Oranguru | Lvl. 60 | Normal/Psychic | Dark, Bug |
| Gyarados | Lvl. 60 | Water/Flying | Electric, Rock |
| Abomasnow | Lvl. 60 | Grass/Ice | Fire, Flying, Bug, Rock, Poison, Fighting, Steel |
| Amoonguss | Lvl. 60 | Grass/Poison | Fire, Flying, Ice, Psychic |
| Polteageist | Lvl. 60 | Ghost | Dark, Ghost |
| Skeledirge (Player chose Grass starter) | Lvl. 61 | Fire/Ghost | Water, Rock, Ground, Dark, Ghost |
| Quaquaval (Player chose Fire starter) | Lvl. 61 | Water/Fighting | Grass, Electric, Flying, Psychic, Fairy |
| Meowscarada (Player chose Water starter) | Lvl. 61 | Grass/Dark | Fire, Flying, Ice, Poison, Fighting, Fairy |
Consisting of Oranguru, Gyarados, Abomasnow, Amoonguss, Polteageist, and one of Paldea's starter Pokémon, Director Clavell's team will make battling the gym leaders of Pokémon Scarlet & Violet seem easy. To beat the Director, trainers should ensure that their Pokémon can combat their own weaknesses. For example, trainers who chose Sprigatito will likely enter battle with its fully evolved form, Meowscarada, a Grass/Dark-type. In this case, Clavell will have a Skeledirge on his team. Players can combat the Fire/Ghost-type with either a strong Dark-type move like Night Slash or by teaching Meowscarada the move Power Gem, a special Rock-type attack with a base power of 80.
How to Defeat Cassiopeia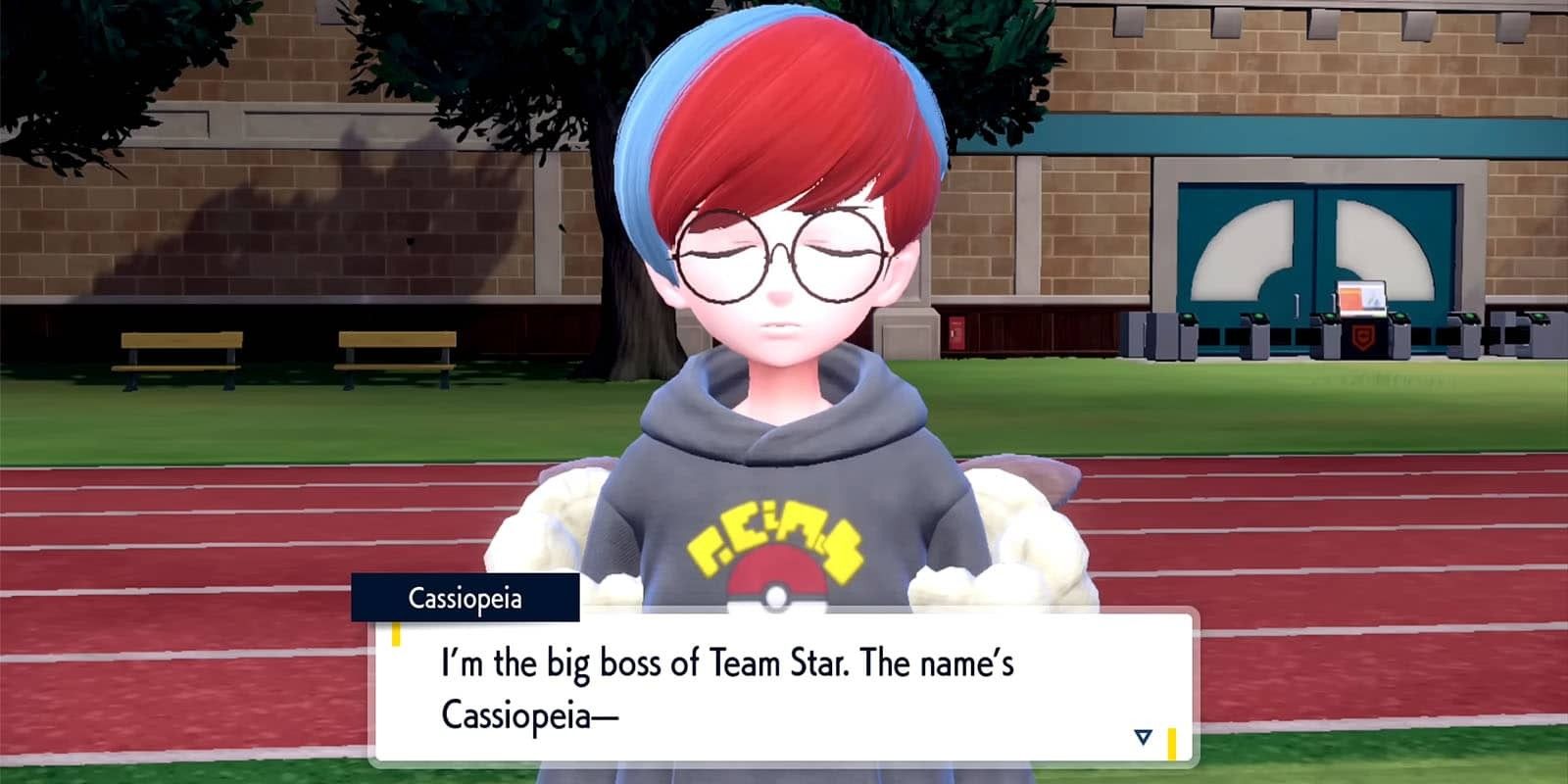 Following the defeat of Director Clavell, players will be able to battle the real Cassiopeia in the schoolyard. To do this, the computer at the main desk inside the Academy must be accessed, and trainers can then fast travel to the location. Upon arrival, Cassiopeia will reveal herself to be Penny, the Eevee enthusiast that players defended in battle at the start of their journey. Fittingly, Penny's team consists of the various Eevee evolutions in Pokémon Scarlet & Violet, and players must once again strategically hone in on the diverse team's weaknesses.
While Penny's team doesn't include all the so-called Eeveelutions, it does include some of the strongest, like Umbreon, a defensive Dark-type, and Jolteon, a lightning-fast Electric-type sweeper. However, Penny's most powerful Pokémon is the last on her team, a Sylveon with a traditional Fairy Tera-type. While each member of her team showcases different strengths, Penny tends to spae Baby-Doll Eyes, a priority status move that lowers the opponent's attack stat. Players can expertly combat this tactic by using super-effective special attacks, securing their win against Team Star's final boss, and paving the way to challenge the Elite Four in Pokémon Scarlet & Violet.
| | | | |
| --- | --- | --- | --- |
| Pokémon | Level | Type | Weaknesses |
| Umbreon | Lvl. 62 | Dark | Bug, Fighting, Fairy |
| Flareon | Lvl. 62 | Fire | Water, Rock, Ground |
| Jolteon | Lvl. 62 | Electric | Ground |
| Vaporeon | Lvl. 62 | Water | Grass, Electric |
| Leafeon | Lvl. 62 | Grass | Fire, Bug, Flying, Ice, Poison |
| Sylveon | Lvl. 63 | Fairy, Fairy Tera-type | Poison, Steel |
More: How to Find the Flamethrow TM in Pokemon Scarlet & Violet (TM125)
Source: Youtube/GosuNoob
Original Release Date:

2022-11-18

Developer:

Game Freak

Franchise:

Pokemon

Genre:

RPG, Adventure, Action

Platform:

Nintendo Switch

Publisher:

Nintendo, The Pokemon Company

ESRB:

E

Summary:

Pokemon returns in its next installment series: Pokemon Scarlet and Violet. Now set in a fictional locale based around Mediterranean Spain, players will traverse the land of Paldea as they continue catching the series' classic and new Pokemon. New to this entry are unique Pokemon that can transform into vehicles, allowing players to traverse the world through new means- which helps with Scarlet and Violet's new open-world approach. Players can tackle gym battles in any order they wish, with foes scaling to their level as they progress. Scarlet and Violet also introduce co-op exploration online and a new battle feature known as Terastallize.

Multiplayer:

Online Co-Op, Online Multiplayer

Prequel:

Pokémon Sword and Shield

Mode:

Single Player, Multiplayer