We return to the land of the Norse. The era of great sea raiders and mighty Viking warriors…and of course, shield-maidens. The release of the second season of Netflix's Vikings: Valhalla offers us yet another chance to be immersed in that world and its scheming and violent battles. For viewers of the first season, the name of the fierce shield-maiden Freydís Eiríksdóttir (Frida Gustavsson) would be familiar. She was one of the most feared opponents on the battlefield, and given how the first season climaxed, it was certain she would be back battling for vengeance.
Season 1 wrapped with the siege of Kattegat, led by Jarl Olaf (Jóhannes Haukur Jóhannesson) which was successful for a time, having beaten down the defense mounted by the trio of Leif (Sam Corlett), Harald (Leo Suter), and Freydís. The Jarl saw his victory quickly turn to miserable defeat when the banners of King Sweyn Forkbeard (Søren Pilmark) appeared on the horizon, ending Olaf's reign. Prince Harald had been wounded in the fighting, needing Freydís to take him to safety. Now as Season 2 returns, Gustavsson speaks on a new arc to her ferocious shield-maiden. "I don't just fight, I fight while pregnant and wearing a dress," Gustavsson told E! News in an interview. "I worked really closely with Susan O'Connor Cave, our wonderful costume designer, and we broke down the entire arc of the season of how far along is she in the pregnancy." She continues, "And then we worked with the prosthetics team to create prosthetics that would weigh the appropriate amount of where I was in the stage. It really shifted my center of balance and made me have learn how to fight again."
If one were looking for a group of women, for whom expecting a child would not hinder them from taking to the battlefield, it would be Viking shield-maidens and Freydís is of the elite stock. Gustavsson then goes on to explain how fighting with her newly-acquired baby bump turned out on set, "I felt so protective, because it changed everything about my physicality," she recalled. "All the sudden, my feet started turning a little bit more outwards, because the belly was weighing in and that shifted how my hips set. It changed how I walked. Instinctively, I'm standing holding my belly. And, for everyone on set, they had to remind themselves that I'm not actually pregnant."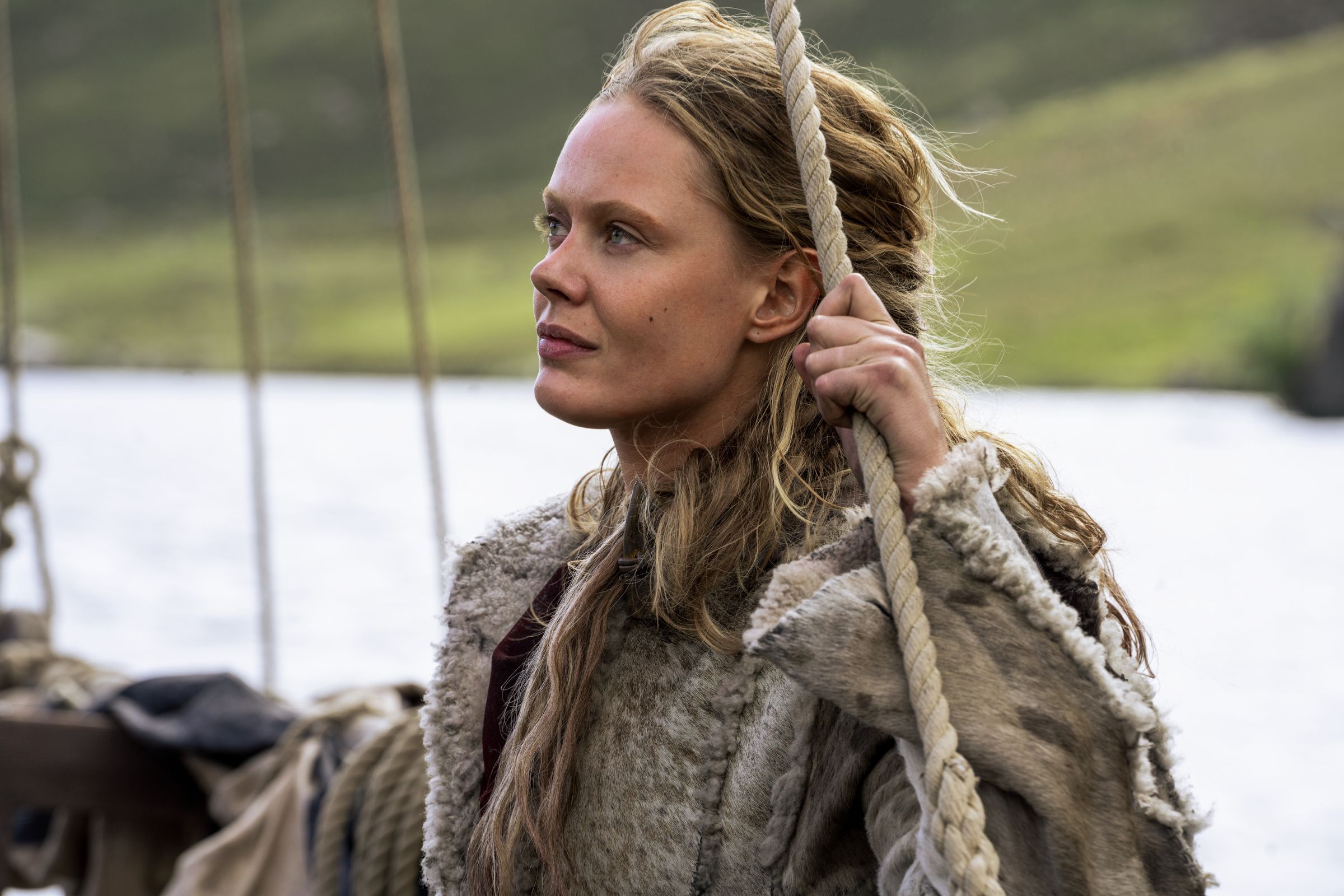 RELATED: 'Vikings: Valhalla' Showrunner Jeb Stuart on Planning 3 Seasons At Once
By the time we return to the world of the Norse for the second season, Leif is on the prowl for Jarl Olaf who has already been taken by Sweyn Forkbeard. One of Leif's prime motivations to get his hands on Olaf would be the death of his beloved Liv (Lujza Richter), a companion from Greenland and a woman he had come to love. While he mourns his loss, his sister, Freydís is expecting to have a child with her lover, Prince Harald. However, one of the hindrances to their love in the first place resurfaces. Faith. Harald is a Christian Viking prince, and when he ascends to the throne of Norway, his child would be raised accordingly. Freydís is an advocate for the old Gods, Odin, Thor, Freya, and all those who line the halls of Valhalla. She wants the child raised that way and hides the news from Harald as they go their separate ways.
How Freydís' relationship with Harald changes or not when the truth emerges will be worth seeing. Vikings: Valhalla Season 2 is available on Netflix. For more on the series, you can check out Collider's interview with the cast below: