Have you ever done something at a party or a wedding and then had a "did that just happen" moment? Then everyone does their best to carry on like nothing happened, but it's actually impossible to move on in normal fashion? And you can't leave, because you just got there, so that's even more awkward? The Hulu original comedy The Drop, about a woman who makes an egregious faux pas at her friend's wedding, is all about that cringey curl-up-in-a-ball feeling, and unapologetically steeps in it from start to finish.
Directed by Sarah Adina Smith (Buster's Mal Heart) and co-written by her and Joshua Leonard (who also stars in the film), The Drop, as the title suggests, is about an important item being dropped. But it's not fine China or food that is dropped…it's a literal human baby. A premise like this one could expire rather quickly if in the wrong hands (no pun intended), but thanks to this ensemble of skillful comedians who frankly thrive in situations like this, the film holds on to this shaky idea pretty well for the duration of the movie. PEN15 star Anna Konkle and Jermaine Fowler play Lex and Mani, a happily married couple who would much rather stay home and try to have a baby than go to their friends' island destination wedding. Yes, they love their friends, but also, they can be a lot. Neither of them wants to go to this wedding, but they can't not go. Lex and Mani are also dealing with a lot of pressure from their parents to have a baby, and though they both claim to want to start a family, it becomes clear that they aren't on the same page. (Mani is far more into being a parent than Lex is.)
Fowler and Konkle's similarly carefree vibes and inside jokes from the start make them a couple you want to root for. (Truly, them singing "This Is How We Do It" on the way to the airport is pure bliss.) Luckily, the cringe starts well before the titular moment happens. On the plane, we are immediately introduced to the incredibly high-maintenance and self-obsessed Shauna, an Emmy-winning actress who not-so-subtly will remind you that she's a famous actress. (She's the kind of celebrity who really wants to make sure you know that she's humble). This character is expertly played by A Black Lady Sketch Show creator and star Robin Thede, who brings along her experience playing multiple characters and nimbly navigates her curated personas with ease. Lex is forced to sit next to her while Mani is forced to sit next to Shauna's significant other, Robbie (Utkarsh Ambudkar), an opportunistic, philosophical-thinking narcissist who loves nothing more than to hold your attention hostage and ramble about his unrelatable life experiences or revolutionary ideas. Ambudkar shows off his comedy chops he's honed in projects such as Pitch Perfect, Free Guy, and of course, Ghosts, making him just the right person to play a character who does so much wrong over the course of one anecdote.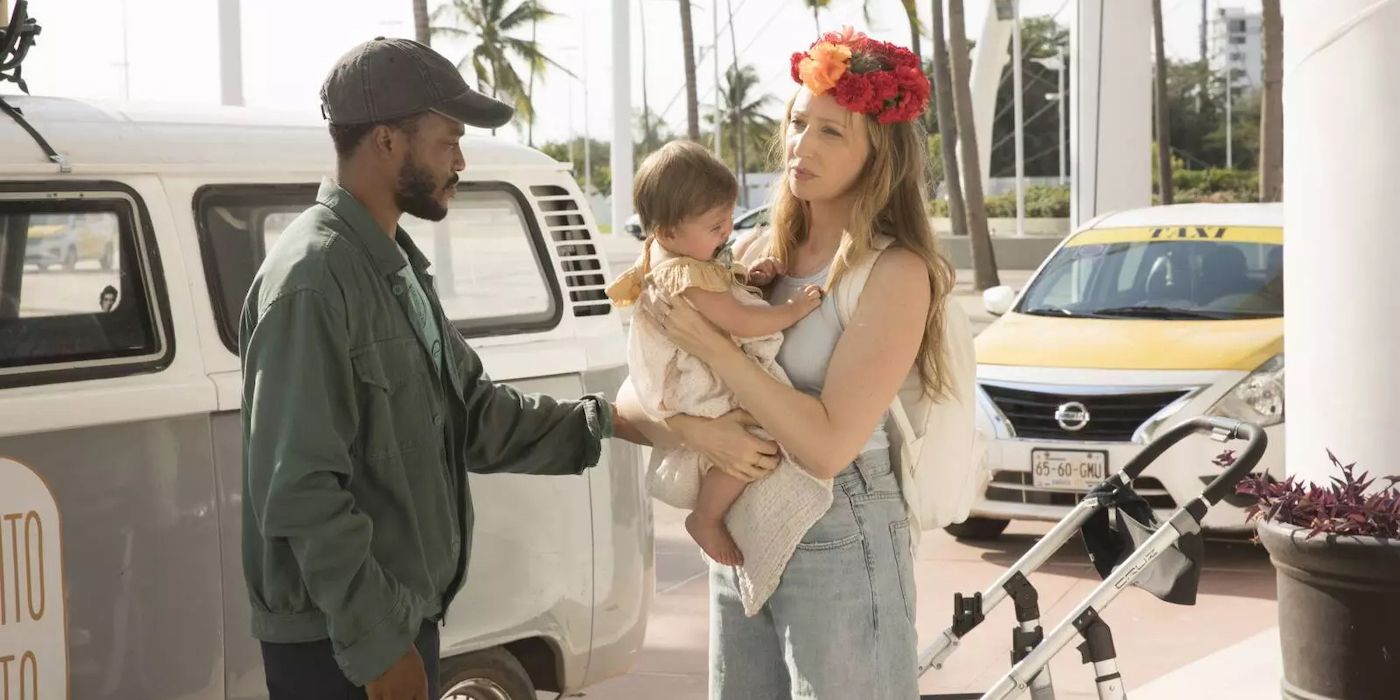 RELATED: Jermaine Fowler and Nomzamo Mbatha on 'Coming 2 America' and What the First Film Means to Them
The title of the film comes into play once they arrive at the tropical spot. Everyone is busy hugging and properly congratulating the brides-to-be Peggy (Jennifer Lafleur) and Mia (Aparna Nancherla) and greeting their friends and bicker-prone hosts Josh (Leonard) and Lindsey (Jillian Bell). When Peggy asks Mani to hold her baby, Mani is filled with a sense of purpose and euphoria. Hoping this glee is contagious, Lex takes her turn holding the baby, except that it doesn't last quite as long as she'd imagined. Instead, this intimate moment only lasts mere seconds, and abruptly ends with a massive thud, quickly followed by shrieks, screams, and frantic behavior from the guests. But, don't worry guys, the baby is totally fine.
The bulk of this movie bathes in this uncomfortable aftermath with largely flying colors. No one knows what the proper thing to say or do is, and in turn, end up saying more with their half-sentences and squirming than they do with fully-formed thoughts. A wide-eyed, cursory glance from Jillian Bell speaks volumes, as does a low-energy hair flip from Konkle. Despite the fact that it is their wedding and their baby that was dropped, Peggy and Mia aren't featured nearly as much as their guests. But their time on screen certainly does not disappoint. Peggy is less rattled by the fact that her baby was dropped than she is at the fact that the woman she vows to spend the rest of her life with is showing signs of being a not-so-secret Republican. Nancherla's intense, tightly wound, and overly protective mother character steadily increases in intensity with no brakes in sight. While their fresh-off-the-pavement baby sleeps, Peggy whispers in a deeply troubled fashion to Mia regarding her concerns about her shifting political views, and acts as if she caught her spouse having an affair. "It's just, like, with the gun, and the safety drills, and I saw that you added Joe Rogan to the Spotify playlist the other day," Peggy sighs. "What does that have to do with anything?" Mia retorts in a frustrated whisper. "He's a gifted interviewer."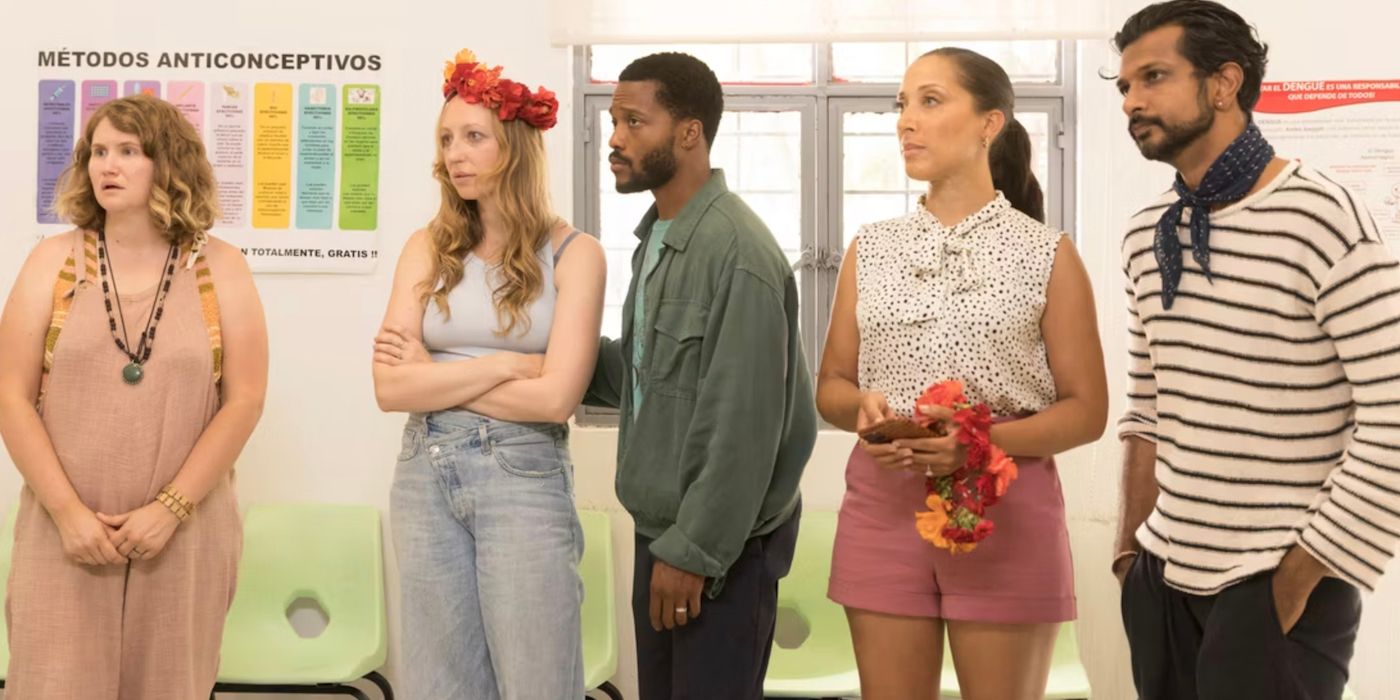 The satire is at its best when these witty comedians are able to verbally spar with one another, with the most entertaining being between Joshua and Lindsey. The high-octane duo is extra stressed because they are not only hosting the wedding guests at their exotic pad, but they are also trying to get some of them to invest in it. Jillian Bell adds to her impressive indie film track record, having just starred in the charming alien dramedy I'm Totally Fine, in addition to Sword of Trust and Brittany Runs a Marathon. Bell's panic and feral glares when Joshua fails to "read the room" and decides that drinking out of coconuts in the waiting room of the hospital was a smart move is hilarious proof that she's constantly on the verge of losing it.
Even though this is positioned to be Lex and Mani's movie, any time the film strays from the ensemble and focuses more on their dynamic, it loses its footing. Mani's stretch of self-exploration, while endearing, goes on a little long. While the ending is ultimately what we (likely) want, it either didn't feel totally earned or in line with where the movie seemed to be heading. These detours in the story, however, aren't enough to significantly detract from the movie's overall quality or distract from the clever plot.
The dialogue remains consistently sharp, authentic, and unique to its characters throughout, proving to be the film's strength. In a way, this comedy felt more like a series of tight sketches or episodes than it did a movie with a distinct beginning, middle, and end. Perhaps this is partially due to the occasional old-timey horror music and ominous cutaways to the roaring, yet lonely ocean. The characters and the actors bringing said characters to life play off of each other so well and are ripe for more awkward adventures. Whether it's a passing line of dialogue hinting at life outside the wedding, or a reference to a past relationship two of the characters had with each other, it seemed like this friend group was teasing us with potential storylines that could definitely be mined for more misguided adventures. Can we send this army of misfits to The White Lotus?
Rating: B+
The Drop is now available to stream on Hulu.