How to Make Raspberry Boba Tea in Disney Dreamlight Valley
One of the Festive Path Duties that players must complete in Disney Dreamlight Valley is making and giving Raspberry Boba Tea to Villagers.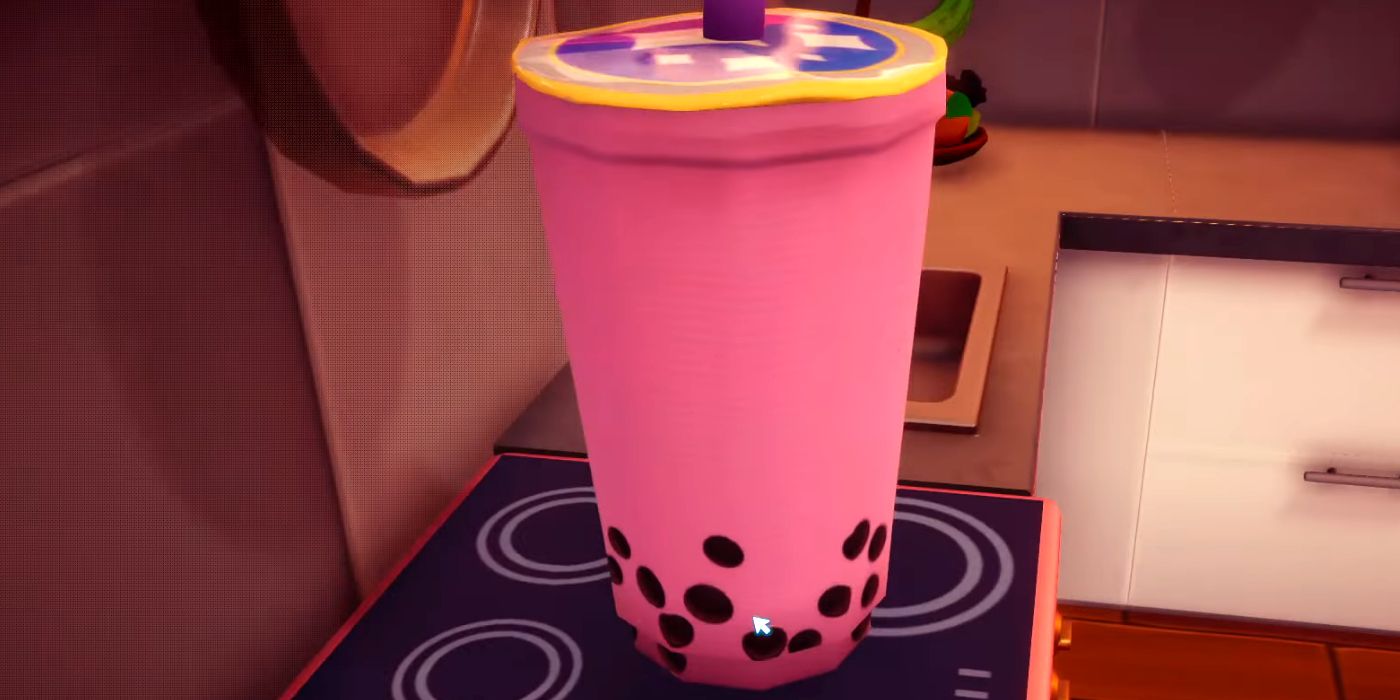 Raspberry Boba Tea is one of the many fabulous recipes added to Disney Dreamlight Valley during the holiday season update of 2022. The update introduced dishes such as the Gingerbread House, Fruitcake, and Yule Log, including a host of sweet beverages, like Mochas, Lattes, and Hot Cocoa. The Boba Tea recipes are likely favorites among fans and include regular Boba Tea, Coconut Boba Tea, Gooseberry Boba Tea, Mint Boba Tea, and Raspberry Boba Tea. All Boba Tea drinks, excluding the standard variant, provide players with over a thousand points in Energy, making them both beautiful and replenishing beverages to sip while working in the Valley.
To make the Raspberry Boba Tea recipe in Disney Dreamlight Valley, Dreamers will need Raspberries, Sugarcane, and Milk. First, Raspberries are a Fruit acquired from the Plaza and Peaceful Meadow biomes of the Valley.
These two zones are in the center of the world map and are accessible from the start of one's playthrough. In addition, players can harvest Raspberries from the waist-high Raspberry Bushes found in the biomes. These bushes yield three stacks upon being harvested and will reproduce their berries within 17 minutes.
Related: How to Find (& Use) Green Rising Penstemon in Disney Dreamlight Valley
Raspberry Boba Tea's Recipe in Disney Dreamlight Valley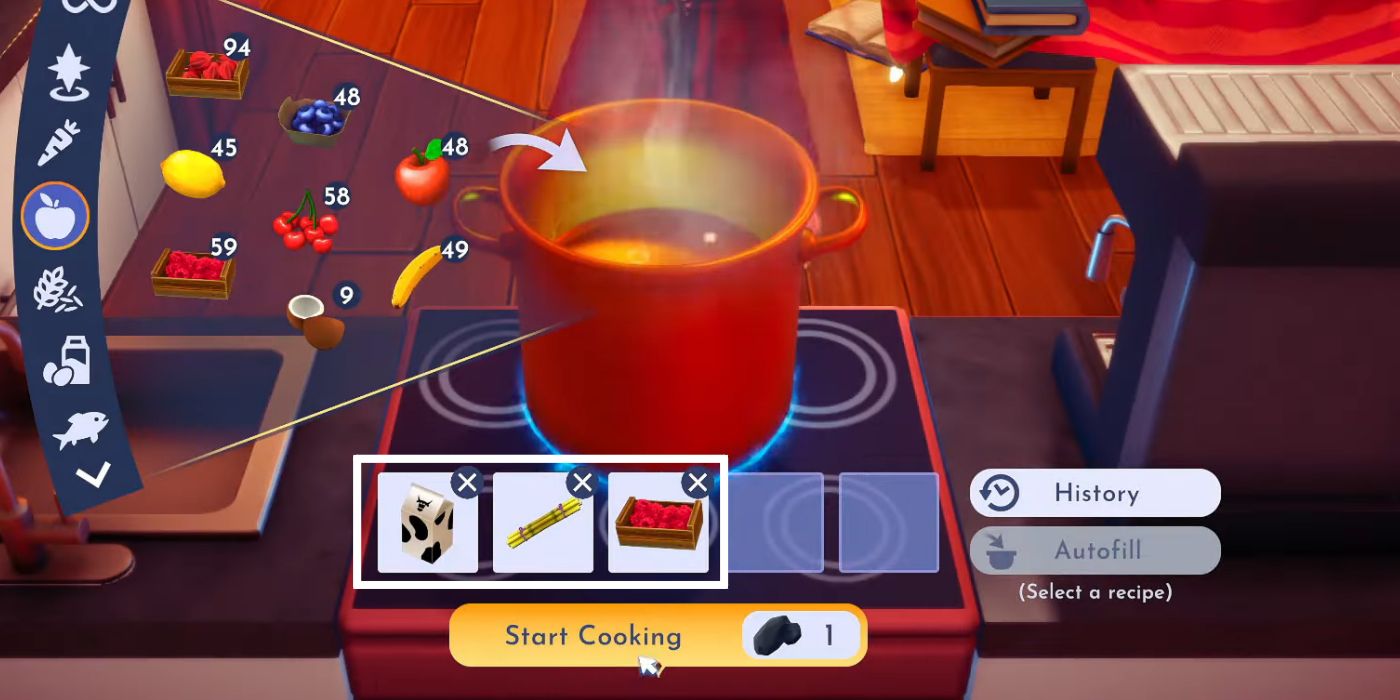 Suppose Dreamers struggle to find the Raspberry Bushes in the Plaza or Peaceful Meadow. In that case, YouTuber Quick Tips suggests opening the map and looking for green apple icons within the biomes. Players can also move the bushes using the Furniture Edit feature to place the Raspberry nodes in convenient spots for quicker access. The second ingredient for Raspberry Boba Tea in Disney Dreamlight Valley is Sugarcane, a farmable crop purchasable from Goofy's Stall on Dazzle Beach, the biome east and south of the Peaceful Meadow. Players can buy Sugarcane Seeds, plant them, and wait for them to grow in 7 minutes. Alternatively, they can buy the resource directly from Goofy for a slightly higher price.
The third and final ingredient for Raspberry Boba Tea in Disney Dreamlight Valley is Milk, a resource only obtainable from Chez Remy, the restaurant run by the rat chef, Remy. Remy and his restaurant become available once players have brought him back from the Ratatouille realm, accessible via the Dream Castle's interior. After players complete Remy's extensive cooking quest, he will agree to return to the Valley. After paying McDuck to build Chez Remy, players can buy their Milk from the establishment's kitchen. Once players have combined their three ingredients in a cooking pot, they can make Raspberry Boba Tea and serve it to their Villagers to progress their Festive Star Path in Disney Dreamlight Valley.
More: How To Make A Yule Goat in Disney Dreamlight Valley
Source: YouTube/Quick Tips
Disney Dreamlight Valley

Platform:

PC, Steam, Microsoft Windows, Nintendo Switch, Xbox One, Xbox Series X/S, PlayStation 5, PlayStation 4, iOS

Original Release Date:

2022-09-06

Developer:

Gameloft

Publisher:

Gameloft

Genre:

Life Simulation, Adventure

ESRB:

E

Summary:

In Disney Dreamlight Valley, players will create their own Disney avatar as they interact with some of the most iconic characters in Disney and Pixar history. The story surrounds the dream castle and the realm it resides in, which is a place where several characters, hero and villain alike, have lived together in harmony. However, an evil force known as the Forgetting consumes the kingdom. It's up to the player to solve puzzles, reunite characters, and embark on feature-rich character storylines to save the Dream realm. Players can build their own Disney neighborhood – plant gardens, go fishing, build residences – or go on adventures in dark caverns, sail the seas, or navigate spooky forests. The choice belongs to the player as they traverse the various Disney worlds in this cozy game that takes notes from mainstays like Animal Crossing and Stardew Valley. Disney Dreamlight Valley was fully released on September 6 2022.