Sony Pictures Animation has unveiled a new look at its upcoming Netflix animated series Agent Elvis. The series, previously titled Agent King, re-imagines the king of rock and roll as an undercover spy and is billed as an "adult animated action comedy." Shared on Twitter, the new close-up image sees Elvis smirking while holding a golden gun, and the look is finished with his signature hair and glasses. To mark the music icon's birthday, the studio wrote along with the picture "Here's your first look at #AgentElvis, coming soon to Netflix. Happy birthday, King!"
The graphic and 2D art style enhances the all-over vibe of the image. Sony has been doing some brilliant experimental work with its animation studio with features like Spider-Man: Across the Spider-Verse, and Agent Elvis seems to be the next feature to look out for, for animation lovers. The series is created by Elvis' ex-wife Priscilla Presley along with John Eddie.
Mike Arnold of Archer fame has written the series and serves as showrunner while Fletcher Moules is serving as supervising director. In the upcoming series, expect to see Elvis in a jetpack, shooting people in the head, and having a pet chimpanzee for a sidekick. He is covertly inducted into the CIA's secret government spy program to help battle forces that threaten the country – all the while maintaining his day job as the King of Rock And Roll. Speaking about the sentiment behind the series Presley previously said in an official statement:
"From the time Elvis was a young boy he always dreamed of being the superhero fighting crime and saving the world! Agent King lets him do just that."
RELATED: 'Elvis' Will Screen for Free in Honor of Elvis Presley's 88th Birthday
Elvis' wardrobe for the animated series is custom designed by notable menswear designer, John Varvatos, who also acts as a consulting producer on the series. The amazing art style and animation are handled by Titmouse, Inc which has brought us features like The Legend of Vox Machina, Star Trek: Lower Decks, and more. Executive producers of the feature include Presley, Eddie, Kevin Noel, Jamie Salter, Marc Rosen, Corey Salter, Chris Prynoski, Shannon Prynoski, Antonio Canobbio, and Ben Kalina while Moules and Arnold also serve as co-executive producers. No cast details are available as of now.
No release date has been set at Netflix for Agent Elvis, yet. You can check out the new image and synopsis below: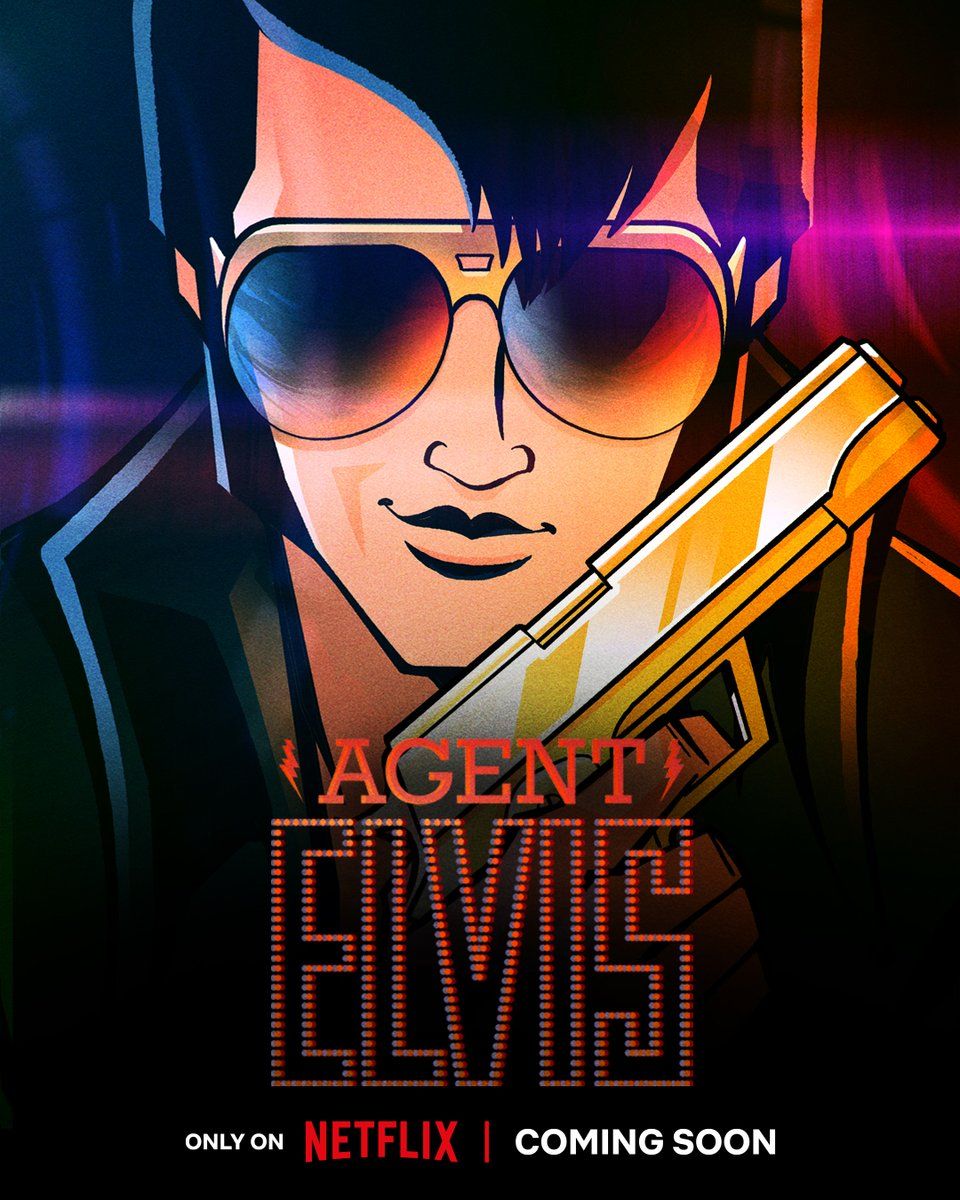 Elvis Presley trades in his white jumpsuit for a jet pack when he is covertly inducted into a secret government spy program to help battle the dark forces that threaten the country he loves — all while holding down his day job as the King Of Rock And Roll.