Soufflés are a soft and delicious Dessert in Disney Dreamlight Valley, but many players might not know that the recipe is actually a Star Coin jackpot. Star Coins, the primary currency of the Valley, is undoubtedly a resource that players cannot get enough of. Whether Dreamers are constructing a home for a new Villager or buying materials from Goofy and Kristoff, they will always need tens of thousands of Star Coins. Earning lots of money is not challenging since the Valley is rich with resources that respawn relatively often. Nevertheless, fans might feel like they are always behind with their Star Coins income, but starting a Soufflé bakery might be their salvation.
To earn an infinite supply of money with Soufflés in Disney Dreamlight Valley, players first must have access to the ingredients of the Soufflé recipe. In the early game, most cooking recipes are made from resources found or grown within the biomes of the Valley. However, the Soufflé can only be made from ingredients obtainable from Chez Remy, the restaurant establishment of the great rate Chef Remy.
Related: How to Craft Disney Purple Pigment in Disney Dreamlight Valley
Baking Soufflés for Infinite Star Coins in Dreamlight Valley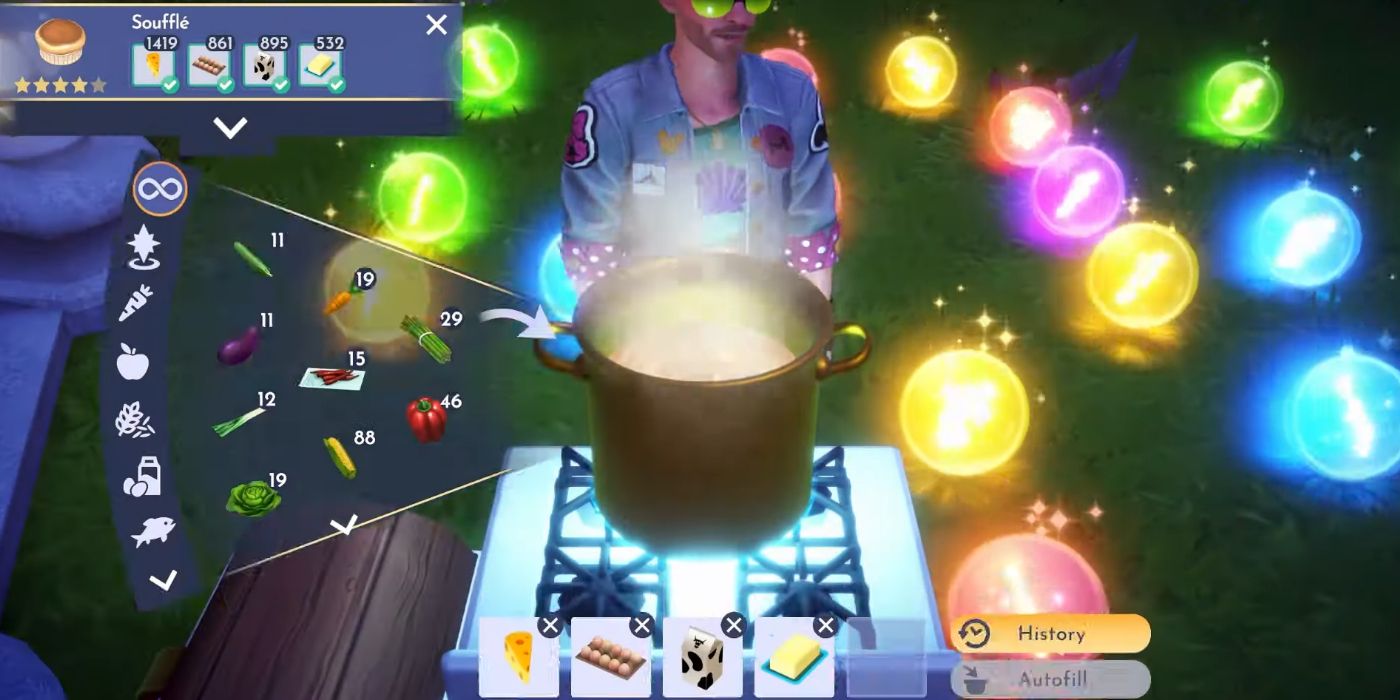 Unlocking Chez Remy in Disney Dreamlight Valley involves traveling to the Ratatouille realm by spending 3,000 Dreamlight in Dream Castle. After players arrive, they must help Remy with an extensive list of orders before returning to the Valley to finish preparations for the rat chef's return. Paying Scrooge McDuck 2,000 Star Coins to build Chez Remy will conclude the Ratatouille realm's quest and bring Remy to the Village, granting players access to the ingredients for baking Soufflés in Disney Dreamlight Valley. As noted above, all the ingredients used to make a Soufflé are from Remy's Chez Remy, so no biome foraging is required for resources. However, remember that every baking session needs a lump of Coal.
To make a Soufflé, players must spend one Coal to combine Cheese, Milk, Eggs, and Butter at a stove. This recipe costs 820 Star Coins, but one Soufflé sells for 1,230 Star Coins, resulting in an easy profit. One of the Disney Dreamlight Valley community members responsible for bringing the infinite money-making method with Soufflés to light is YouTuber MrStarInSky, who went from several thousand to millions of Star Coins during a Soufflé-baking montage. Of course, this leap in funds does not account for the expenditure to procure the necessary amount of ingredients or the time to farm the hundreds of Coal stacks. Nevertheless, Soufflé baking is an excellent, low-effort way of making infinite money in Disney Dreamlight Valley.
More: Disney Dreamlight Valley: Customers Know Best Quest Guide
Source: YouTube/MrStarInSky
Disney Dreamlight Valley

Platform:

PC, Steam, Microsoft Windows, Nintendo Switch, Xbox One, Xbox Series X/S, PlayStation 5, PlayStation 4, iOS

Original Release Date:

2022-09-06

Developer:

Gameloft

Publisher:

Gameloft

Genre:

Life Simulation, Adventure

ESRB:

E

Summary:

In Disney Dreamlight Valley, players will create their own Disney avatar as they interact with some of the most iconic characters in Disney and Pixar history. The story surrounds the dream castle and the realm it resides in, which is a place where several characters, hero and villain alike, have lived together in harmony. However, an evil force known as the Forgetting consumes the kingdom. It's up to the player to solve puzzles, reunite characters, and embark on feature-rich character storylines to save the Dream realm. Players can build their own Disney neighborhood – plant gardens, go fishing, build residences – or go on adventures in dark caverns, sail the seas, or navigate spooky forests. The choice belongs to the player as they traverse the various Disney worlds in this cozy game that takes notes from mainstays like Animal Crossing and Stardew Valley. Disney Dreamlight Valley was fully released on September 6 2022.