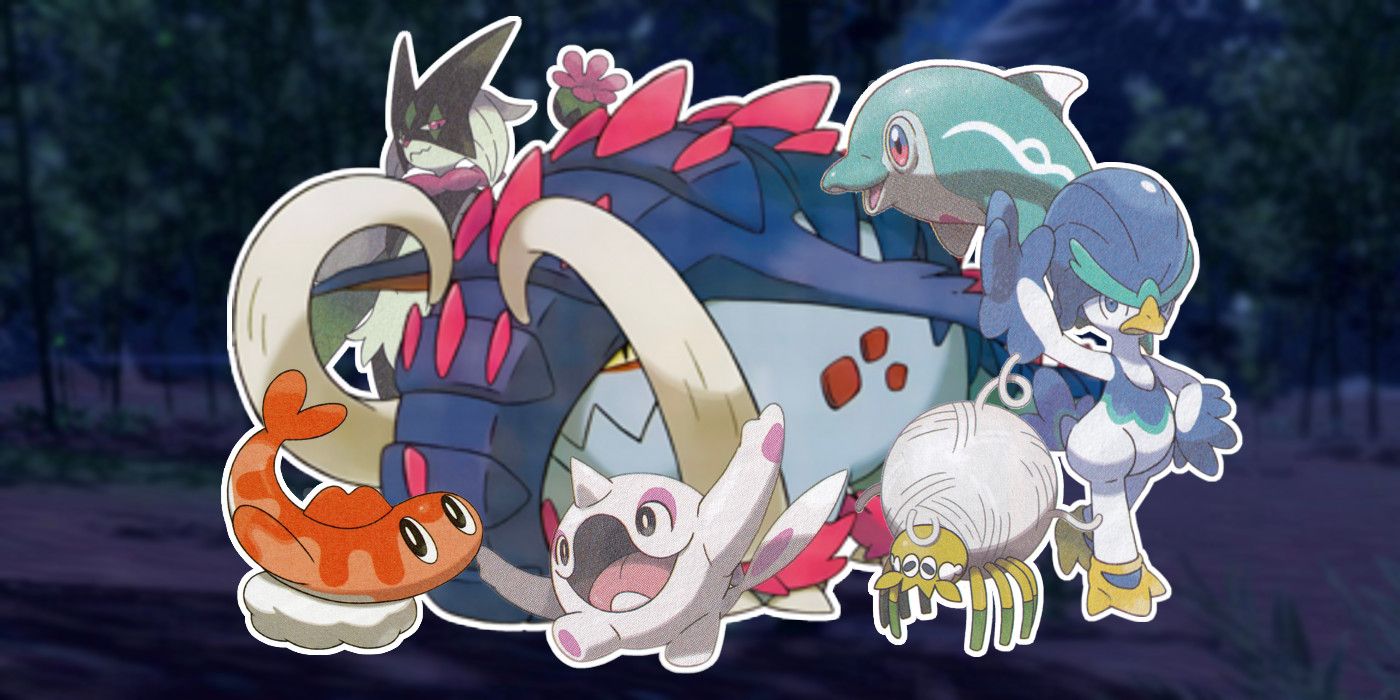 106
Dudunsparce
What a cruel joke at the expense of longtime fans who wanted Dunsparce to become cool.
105
Iron Jugulis
A real step down from Hydreigon's already incredible design. It even has worse stats.
104
Gimmighoul
Looks too much like the Reddit Snoo to feel like a Pokémon. Collecting Gimmighoul's coins is annoying.
103
Pawmot
It's just Pawmo, but slightly bigger and spikier. Revival Blessing is cool, though.
102
Pawmo
It's just Pawmi, but slightly bigger and bipedal.
101
Scovillain
A Grass/Fire pepper had so much design potential, and it was wasted on this.
100
Glimmet
Doesn't really feel like a Pokémon.
99
Glimmora
Also doesn't feel like a Pokémon, and Geeta used it incorrectly on her team.
98
Gholdengo
Looks too much like it should be a mascot for a string cheese brand. Its typing is good, though.
97
Tandemaus
It just looks like two cartoon mice, nothing screams Pokémon about its design.
96
Wo Shien
Its Shiny is great, but its normal colors make it look quite ugly.
95
Dondozo
It feels derivative of Whiscash, but is an offensive powerhouse if used right.
94
Spidops
Feels a bit too drastically different from the much better Tarountula to be an evolution.
93
Pawmi
Has a slightly bland design, but cute nonetheless.
92
Klawf
It's fine, but nothing really stands out about it.
91
Dolliv
A generic middle-stage Grass-type, a bit too reminiscent of Roselia and Steenee.
90
Flittle
It's cute, but feels a bit small and incomplete – like it should be a Baby Pokémon.
89
Tadbulb
Also feels like it should be a Baby Pokémon.
88
Grafaiai
It'd be higher on the list if it had an evolution, it just feels incomplete for a final form.
87
Squawkabilly
Doesn't stand out too much, but the rockabilly theme is fun.
86
Iron Treads
Not an improvement over Donphan's already great design.
85
Rellor
It's a dung beetle, there's not much else to say.
84
Frigibax
Simultaneously cute and ugly, so it's redeemed by having pug energy.
83
Bellibolt
Its fake eye gimmick is cool, but they could have done more with it.
82
Brute Bonnet
Amoonguss isn't great to begin with, but this form at least makes it threatening.
81
Rabsca
Turning the dung ball into psychic energy is an interesting concept, plus Revival Blessing is great.
80
Maushold
It evolves off-screen by adding an extra mouse, that's hilarious and makes up for its iffy design.
79
Shroodle
Another design that feels a bit too basic, like a Baby Pokémon. It's cuter than the other two, though.
78
Cyclizar
Feels like a generic variant of Koraidon and Miraidon, but still fine for sure. Needs an evolution.
77
Houndstone
Poor Greavard was reduced to this upon evolving. Last Respects is staggeringly powerful, which redeems it.
76
Brambleghast
Doesn't change too much when it evolves, but the design still works for sure.
75
Bramblin
A tumbleweed Pokémon is a great idea. The design feels too similar to Dhelmise, though.
74
Toedscool
Could have been a bit more different from Tentacool.
73
Scream Tail
A similar issue, but the head swirl looks cool at least.
72
Wiglett
Also too similar to a Kanto Pokémon, but Wiglett's just too funny to put below the others.
71
Naclistack
Basically just a Minecraft enemy.
70
Capsakid
It's cute, but in the overworld it is a feral beast, like Paras was in Legends: Arceus.
69
Oinkologne
Feels generic considering how fun Lechonk is, but the two different forms are a nice touch.
68
Tarountula
A cute little spider that, if bigger, could have been the final stage of a line for sure.
67
Arboliva
Its graceful design helps differentiate it from other Grass-type final evolutions.
66
Farigiraf
Girafarig getting an evolution is great, but more could have been done with its tail.
65
Paldean Tauros (Combat Breed)
It's basically the same as Kantonian Tauros, but black, and yet that's still a cool change.
64
Ting Lu
Dark/Ground is a great typing, and it has a really solid design.
63
Flamigo
Literally just a flamingo, but something about that is really endearing.
62
Meowscarada
Why couldn't it have been a cool Iberian lynx? At least it's not Incineroar 2.0.
61
Maschiff
Its weird grimace is both concerning and funny to look at. The most forgettable of the new dogs.
60
Paldean Tauros (Blaze Breed)
Being a Fire-type with horns that glow red when heated makes it a step above Combat Breed.
59
Chi Yu
Its flame design feels weirdly unique, and it's a very strong Pokémon.
58
Flutter Mane
If only regular Misdreavus was Ghost/Fairy, but this will have to do.
57
Nacli
Looks like the Rock Mushroom from Super Mario Galaxy 2, and yet somehow it works.
56
Sandy Shocks
Its weird bendy magnet legs are hilarious, as is its sort of caveman design.
55
Cetitan
Having a more simplistic, kaiju-like design makes it feel like a Gen 1 Pokémon.
54
Varoom
Who knew an engine could be so cute?
53
Orthworm
Something about it is so silly, but it looks like a happy friend.
52
Wugtrio
The differences in its shapes at least make it feel a little unique from Dugtrio.
51
Iron Hands
A mostly average design largely held up by how useful it is for Tera Raids.
50
Tinkatink
One of the cutest Pokémon of this generation for sure; it just looks so upset all the time.
49
Tinkatuff
Its Pokédex entry states that it mercilessly attacks Bisharp, so it may be why Kingambit exists.
48
Espathra
Combining Cleopatra with an ostrich shouldn't work, but it does.
47
Charcadet
It's basically Scarlet and Violet's answer to Ralts, but if it were a Fire-type. That's cool.
46
Ceruledge
Fire/Ghost is a cool type (but a little overdone recently), and its design is exceptional.
45
Armarouge
Looking like a Mega Man character is not a bad thing. It feels more Pokémon-like than Ceruledge.
44
Bombirdier
Its name is great, its typing is great, and its design is great. The stomach bag is a little odd, though.
43
Iron Thorns
Mechagodzilla and the mecha Tyranitar from Black and White 2 are both canon now, which is great.
42
Crocalor
Having a cute little sombrero egg hat makes it impossible to not love this Pokémon.
41
Floragato
Like Grovyle, this middle-stage Grass-type starter managers to be cooler than its final form.
40
Baxcalibur
Dragon/Ice is a great typing, and Baxcalibur has a nice design, but it feels just slightly lacking.
39
Arctibax
At the midpoint of the evolution line, Arctibax feels like it has so much squandered potential.
38
Mabosstiff
Maybe not the best dog Pokémon from Scarlet and Violet, but its role in the story drags it up a few spots.
37
Veluza
Its incredible design would have it higher on the list if it wasn't a nightmare in the overworld.
36
Revavroom
One of the best Pokémon to Shiny hunt, and has the great typing of Steel/Poison.
35
Skeledirge
A nice quadrupedal final starter evolution. Its design is busy, but Torch Song is amazing.
34
Wattrel
A really solid regional bird design, its simplicity is reminiscent of Taillow.
33
Finizen
It's astounding that it took 26 years to get a dolphin Pokémon, but it was worth the wait.
32
Palafin
Its Zero form is underwhelming, but its Zero form is a powerhouse that has broken the Gen 9 meta.
31
Smoliv
The constant look of terror in its eyes is so cute. Poor Smoliv.
30
Nymble
It's such an adorable Bug-type, and surprisingly helpful in battle too.
29
Garganacl
This Minecraft monstrosity is a strong battler and has a pyramid on its back. Brilliant.
28
Kilowattrel
A really slick regional bird. Its Electric typing helps it stand out from previous Flying-types.
27
Quaxwell
Its palette is very visually pleasing, and it makes for a very capable companion.
26
Sprigatito
Scarlet and Violet's starters have exceptional base forms, and Sprigatito is no exception.
25
Fuecoco
Fuecoco is first seen burning an orange and trying to eat it. Just such a lovable goofball.
24
Quaxly
Like the other starters, Quaxly oozes personality, but somehow it has even more than they do.
23
Iron Valiant
Fusing Gardevoir and Gallade was always going to result in a cool design.
22
Roaring Moon
With Megas being gone, this is the closest anyone is getting to having a Mega Salamence.
21
Toedscruel
Something about this Pokémon and how it walks is utterly hilarious.
20
Tinkaton
Corviknight can't be used as a taxi service in Paldea because Tinkaton is that dangerous.
19
Lokix
It has a third set of legs that are switchblades, and is based on Kamen Rider – what's not to love?
18
Iron Moth
A robotic Volcarona that can't be poisoned is an asset to any team, especially with an Air Balloon.
17
Slither Wing
It's almost a fusion between Larvesta and Volcarona, which is fascinating.
16
Greavard
All it wants is to play with people, but it drains their life force – tragic yet adorable.
15
Annihilape
Primeape getting so angry that it dies is just so on-brand, plus Fighting/Ghost is an interesting type.
14
Lechonk
Its name isn't just a meme, it's a brilliant pun based on the Spanish dish lechon.
13
Cetoddle
One of the happiest and cutest little Pokémon in Gen 9.
12
Chien Pao
Sword tusks are obviously cool, which makes sense because it's an Ice-type.
11
Kingambit
Bisharp didn't need an evolution, but it was a very welcome surprise.
10
Tatsugiri
It's just so cute, and the sushi concept feels like a logical Pokémon idea.
9
Miraidon
An amazing Gen 9 design with an excellent type and color scheme.
8
Paldean Wooper
Its little bone whiskers are just adorable.
7
Fidough
One of the cutest Pokémon dogs for sure.
6
Dachsbun
Adorable bread dog, and its immunity to Fire-type attacks is the cherry on top.
5
Clodsire
Quagsire, but better. Water Absorb is a great ability for it too.
4
Koraidon
Not using its wheels because it's from the past is hilarious, plus its design is brilliant.
3
Iron Bundle
The closest thing to an official, much-needed Delibird evolution, with great battling potential.
2
Great Tusk
Donphan's already amazing, so a cool design, great stats, and being a Fighting-type now is a real glow-up.
1
Quaquaval
Great design, and the Moxie + Aqua Step combination is deadly.