Rian Johnson has an enthusiastic response to the idea of a Knives Out holiday special. The director recently oversaw the second installment in the Knives Out franchise, Glass Onion: A Knives Out Mystery. It brings back Daniel Craig's master sleuth Benoit Blanc to solve a new murder mystery involving tech billionaire Miles Bron, played by Edward Norton, and his motley crew of close friends, who are played by Janelle Monáe, Kathryn Hahn, Leslie Odom Jr., Jessica Henwick, Madelyn Cline, Kate Hudson, and Dave Bautista. Since Glass Onion was released on Netflix to critical acclaim and strong viewing numbers in late December, fans have naturally been looking ahead to Knives Out 3, suggesting fun crossover ideas and other interesting possibilities.
One of the most popular fan suggestions has been a Knives Out crossover with The Muppets, which Johnson admits is a fun idea, but says ultimately it wouldn't work. In response to Johnson's tweet, author Kelly Knox suggested another intriguing possibility – a Knives Out holiday special. The filmmaker had an enthusiastic response to the suggestion, simply responding "OH SHIT" in all caps, suggesting he supports the idea. Check out the interaction below:
Related: Glass Onion True Story: Who Every Character Is Based On
Could A Knives Out Holiday Special Actually Happen?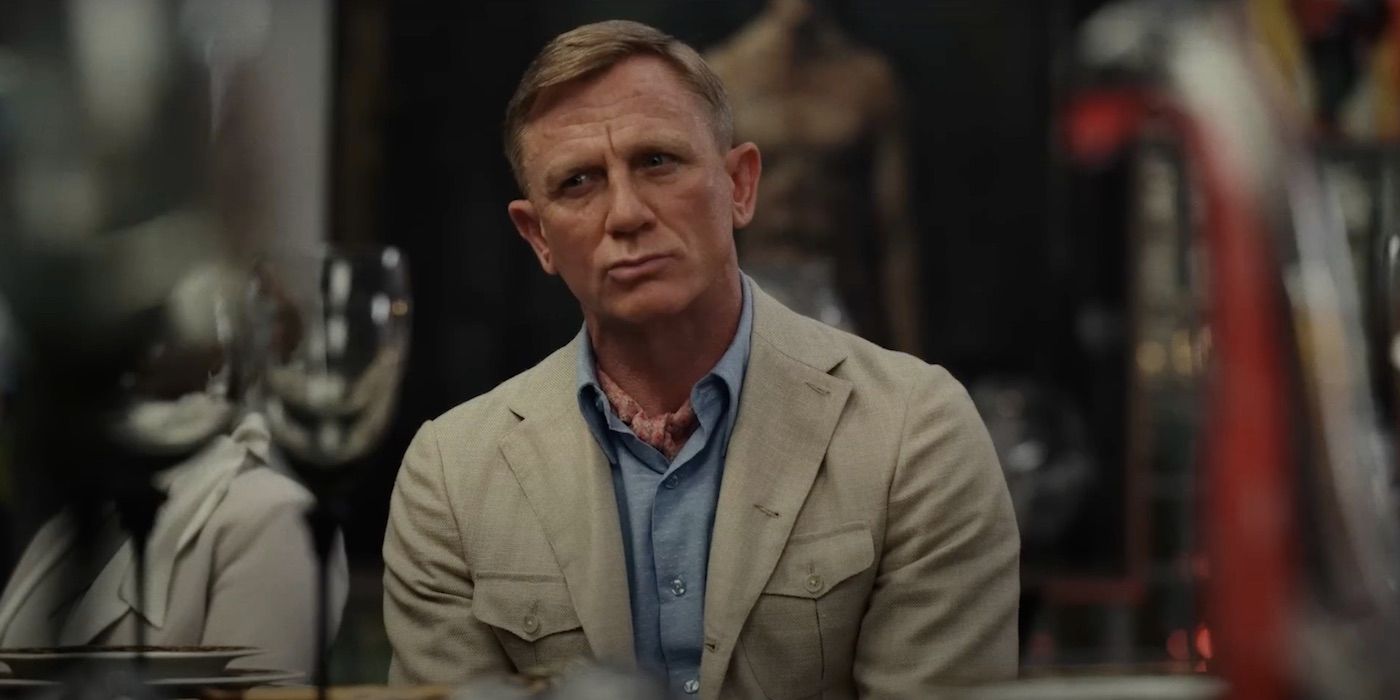 The recent history of popular franchises doing holiday specials can be traced back to the infamous 1978 Star Wars Holiday Special which, due to its negative reception and limited availability, has become something of a cultural legend. As an homage to Star Wars, James Gunn recently used the "holiday special" title for his Guardians of the Galaxy Holiday Special which, as opposed to the Star Wars event, was received well by critics and audiences. The Star Wars franchise got a second chance at a holiday special in 2020 with The Lego Star Wars Holiday Special, which follows Disney's sequel trilogy cast.
Considering Johnson's relation to the sci-fi franchise, the Last Jedi director likely has an appreciation for the Star Wars Holiday Special and the legacy it's left behind. This is likely a part of the reason why he's so enthusiastic about the idea of his own franchise, Knives Out, doing a holiday special. Netflix owns the rights to two Knives Out sequels, the first of which was Glass Onion, and if Johnson is enthusiastic about the idea, there's a good chance the streamer would be willing to produce and release a Knives Out holiday special as well.
With Knives Out 3 seemingly being Johnson's next movie, he could simultaneously shoot a Knives Out holiday special during production of the threequel, similar to what Gunn did for The Guardians of the Galaxy Holiday Special and Guardians of the Galaxy Vol. 3. As Glass Onion proved, the Knives Out formula of having Benoit Blanc solving mysteries, each with a new cast and location, functions phenomenally well and could easily be applied to a Christmas setting. Only time will tell what exciting and unexpected directions the Knives Out franchise might head in going forward.
More: Glass Onion Has 1 Big Flaw Compared To Knives Out
Source: Rian Johnson/Twitter