Frog hunting is an "Into The Wilds" activity that players must participate in to earn Battle Pass XP in Fortnite Chapter 4: Season 1. More specifically, users can earn 16,000 XP if they clear the limited-time objective, "Hunt a frog from 5 meters or less." While it might seem cruel or even wasteful to some to hunt down a wild, docile creature, eliminating a Frog in Fortnite provides practical Meat that restores Health upon consumption. Regardless, finding a Frog and taking it down within five meters or less is a feat that might stump many Fortnite players.
The first step for completing the Frog-hunting "Into The Wilds" quest in Fortnite Chapter 4: Season 1 is locating the habitat of the target amphibian. Like in real life, Frogs tend to live near areas with a water source on the Battle Royale Island. Such locations include the small island east of faulty splits, the pond near Frenzy Fields, the lake south of Anvil Square, and the multiple bodies of water surrounding The Citadel. Like Sky Jellies, Frogs do not have a fixed spawn location and roam within a sizeable radius. However, their croaking can serve as a hint if they are nearby.
Related: How to Find (& Throw) Holiday Presents in Fortnite
Where To Find Frogs in Fortnite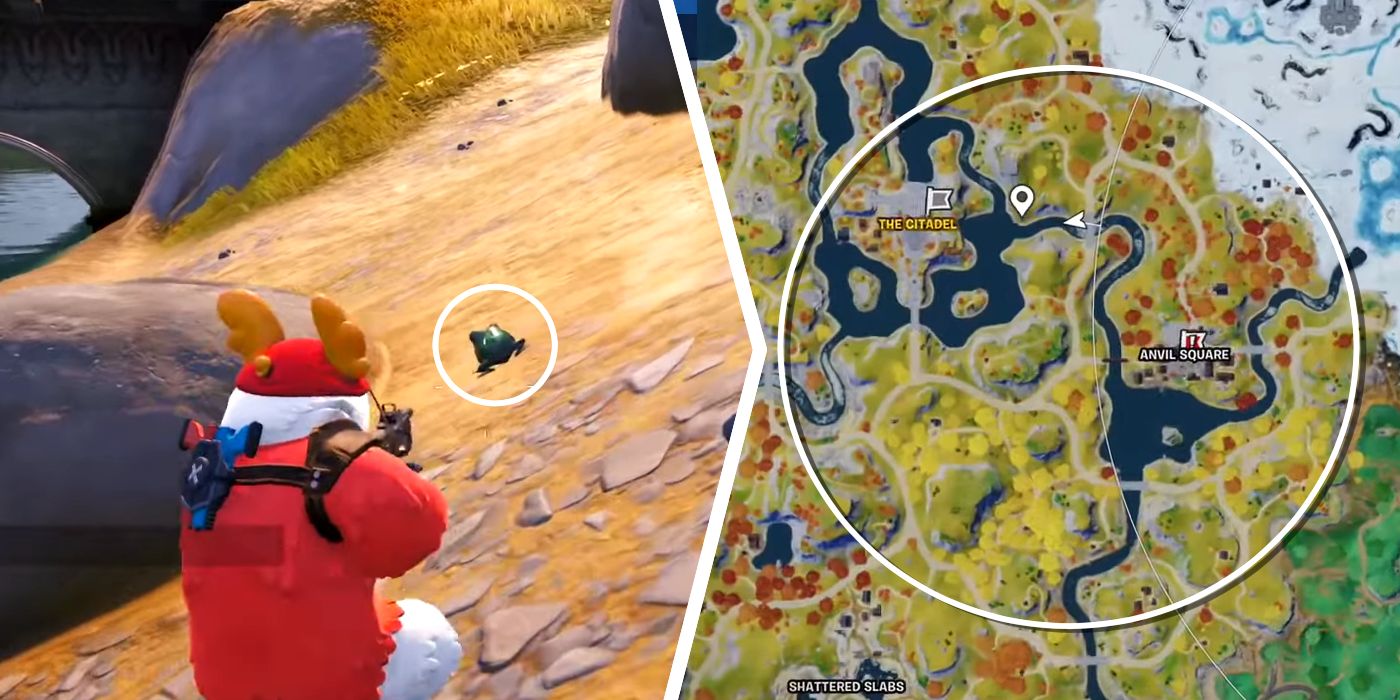 If players would like to simplify their search, sticking to the river banks and lake shores of The Citadel and Anvil Square is the best approach for finding Frogs in Fortnite Chapter 4: Season 1. The river connecting the two Named Locations, in particular, is a hot spot for encountering Frogs on the Fortnite map. However, bear wary of running into other players who might also be competing for hunting down Frogs in the vicinity. Once players finally find a Frog, the next step is eliminating one within a close range of five meters or less.
Undoubtedly, slaying a tiny, swift-moving target that hops about is easier said than done. It is possible to use one's Harvesting Tool to take down a jumping Frog, but the tedious chase might not be worth the effort. To make the procedure easier, YouTube content creator Comrad3s suggests that players first ping the Frog to ensure they can follow its movements and location easily. Next, using a weapon with AoE damage, such as Fortnite's Snowball Launcher, or a wide-spreading shot like a Shotgun will make the Frog hunt much easier. Accordingly, chase after the target Frog and lead it into the water to slow it down or into an open field where it has nowhere to hide before ending its existence and completing the Fortnite quest.
​​​​
More: How to Refund Your Account in Fortnite
Source: YouTube/Comrad3s
Original Release Date:

2017-07-21

Genre:

Action, War

ESRB:

T