When you're searching for something to watch on a streaming platform with as big a catalog as Netflix has, it can get overwhelming. Even when you've narrowed down the genres, there are just too many things to watch. You don't want to take a risk on a new movie, end up not liking it, and turn it off halfway through to find a new one and start the process all over again. To hopefully help you navigate the labyrinth of movies that is Netflix while searching for a new psychological thriller to watch, we've put together a list of great picks for you to watch during your next night on the couch. With any luck, you'll find something that fits your fancy and you enjoy watching.
Looking for more suspense? Check out the best thriller movies on Netflix, Hulu, and HBO, or the best movies on Netflix.
Editor's note: This article was updated January 2023 to include Side Effects.
RELATED: The Best Thrillers of the 21st Century (So Far)
I Care A Lot (2020)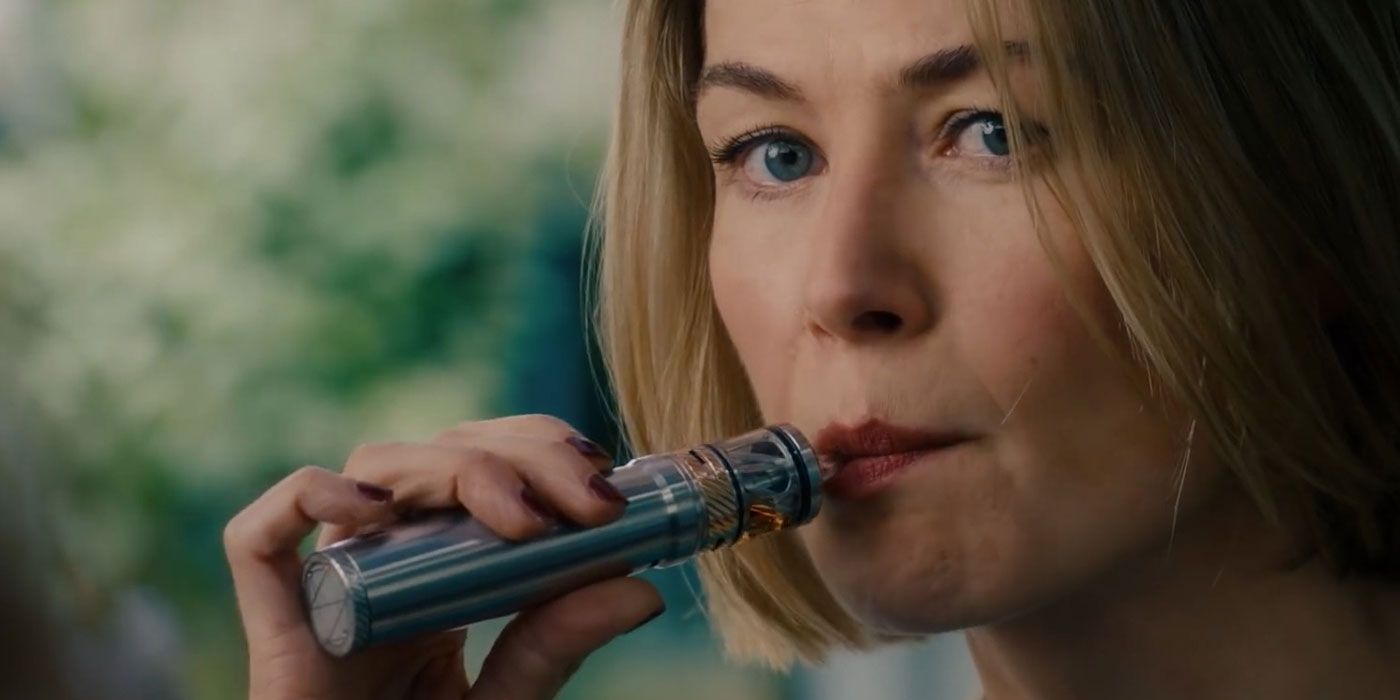 Run Time: 1 hr 58 min | Director: J Blakeson
Cast: Rosamund Pike, Peter Dinklage, Eiza González, Chris Messina, Dianne Wiest
Rarely does a female antihero come along where you feel tension for rooting for her schemes. Such is the case with the black comedy thriller, I Care A Lot, where a con woman makes her living by becoming the court-appointed guardian to vulnerable elders, convincing the courts that they're unable to take care of themselves and seizing their assets. However, she finds herself in dangerous waters after she hijacks guardianship over a crime lord's mother. The cat-and-mouse chase keeps you on the edge of your seat until the last moments of the film. Rosamund Pike stars as the meticulous yet manipulative con artist, unwilling to give up her enterprise without a fight; in fact, her electric performance won her a Golden Globe. — Meredith Loftus
Side Effects (2013)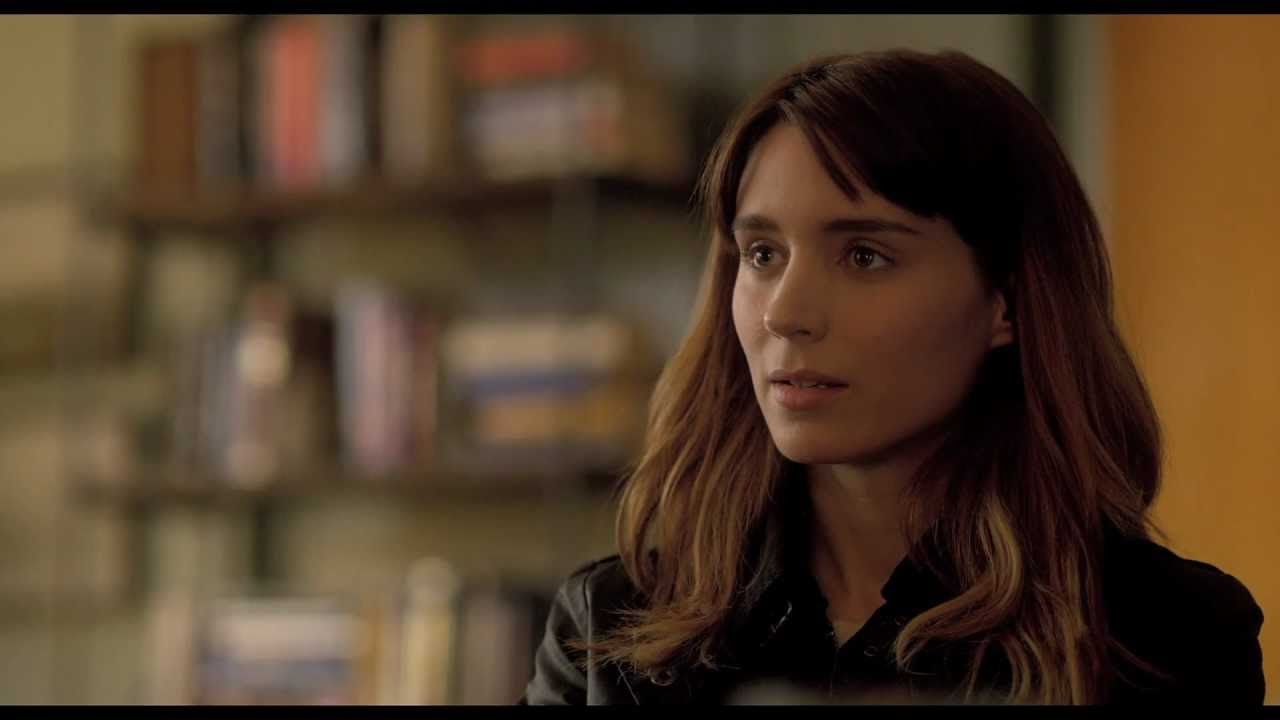 Run Time: 1 hr 46 min | Director: Steven Soderbergh
Cast: Rooney Mara, Channing Tatum, Jude Law, Catherine Zeta-Jones
Side Effects wasSteven Soderbergh's last film before he reportedly "retired" from filmmaking, only to return nearly a year later. Soderbergh can be trusted to craft meticulous thrillers, but his collaborations with screenwriter Scott Z. Burns have been a high point; Burns adds a layer of insight into highly specific industries. Following the success of Contagion and The Informant!, Side Effects explores the pharmaceutical industry and the impacts of untested medical research. The tight, intimate thriller features strong work from Rooney Mara in particular, whose character is forced to reckon with the consequences of an experience she can't even remember. — Liam Gaughan
The Weekend Away (2022)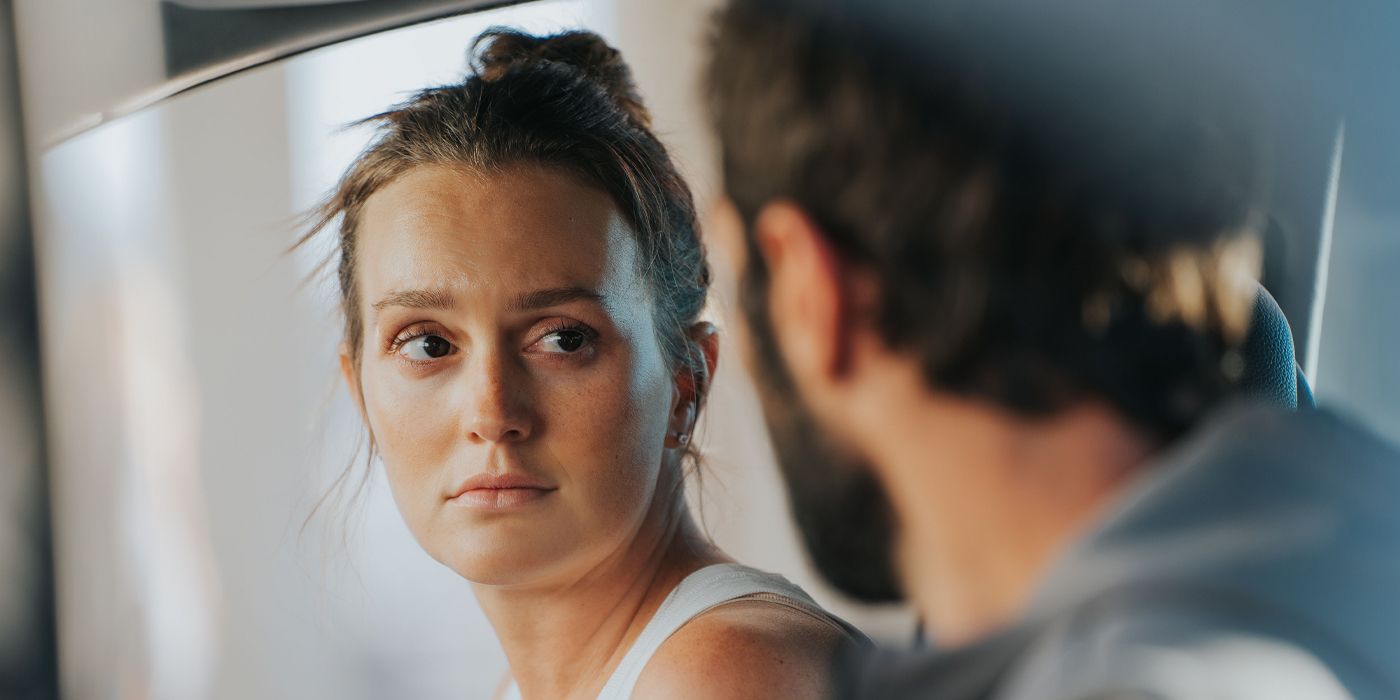 Run Time: 1 hr 29 min | Director: Kim Farrant
Cast: Leighton Meester, Christina Wolfe, Ziad Bakri, Luke Norris
Leighton Meester (Gossip Girl) stars in The Weekend Away, a psychological thriller directed by Kim Farrant. Written by Sarah Alderson, who also wrote the novel on which the movie is based, The Weekend Away follows Beth (Meester) as she attempts to uncover what happened to her friend Kate (Christina Wolfe) during their weekend trip to Croatia. Meester and Wolfe's performances are a highlight in the heart-pumping adventure filled with twists and unreliable, shady characters. The Weekend Away is ultimately an expansive and gorgeous tour of Croatia with a mystery plot weaving through it. – Yael Tygiel
The Platform (2019)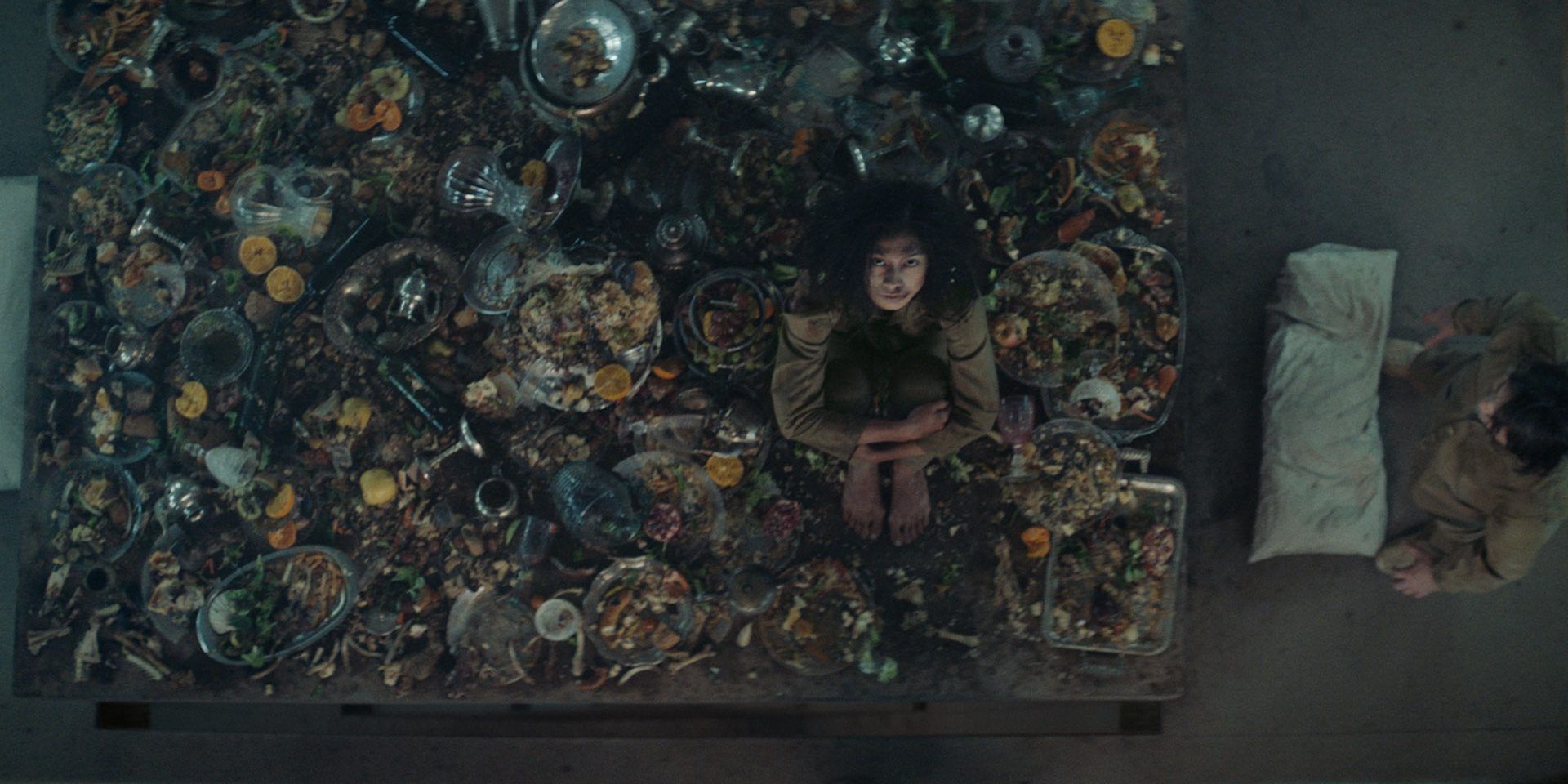 Run Time: 1 hr 34 min | Director: Galder Gaztelu-Urrutia
Cast: Iván Massagué, Antonia San Juan, Zorion Eguileor, Emilio Buale, Alexandra Masangkay
The Platform is a unique and utterly terrifying thriller that offers biting (pun intended) societal commentary about class in the vein of Squid Game. The film revolves around people living in a concrete tower, either as punishment for a crime or as volunteers. Everyone in the tower is fed via a platform that begins at the top of the building and slowly descends. Those at the top of the building have their choices of delicious cuisine, while those at the bottom are left with scraps. Every month, the inhabitants are rearranged, and the power dynamic changes. Intense and disturbing, The Platform is a difficult yet riveting and important watch. – Taylor Gates
Hypnotic (2021)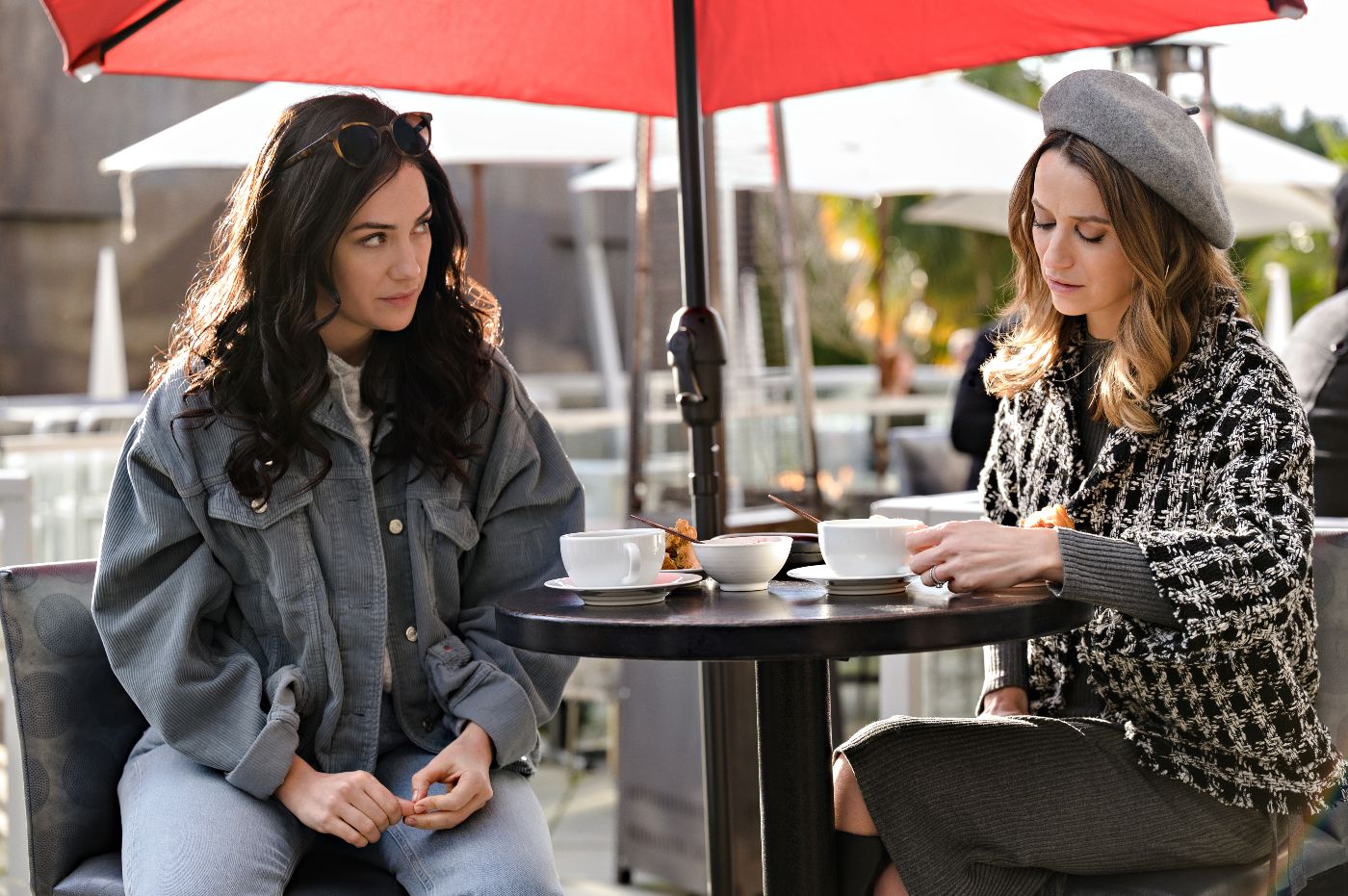 Run Time: 1 hr 28 min | Director: Matt Angel, Suzanne Coote
Cast: Kate Siegel, Jason O'Mara, Dulé Hill
From The Haunting of Hill House and Bly Manor to Hush, Kate Siegel is a master horror actor, and Hypnotic is no different. A young woman named Jenn (Siegel) is on a mission to improve her life, including doing sessions with a hypnotherapist (Jason O'Mara). After a few sessions, however, she beings to experience dangerous consequences that could prove deadly for herself and those around her. Though the plot can veer towards the silly and predictable at times, Hypnotic is a fun thriller to watch with some friends and a bucket of popcorn. – Taylor Gates
The Devil All The Time (2020)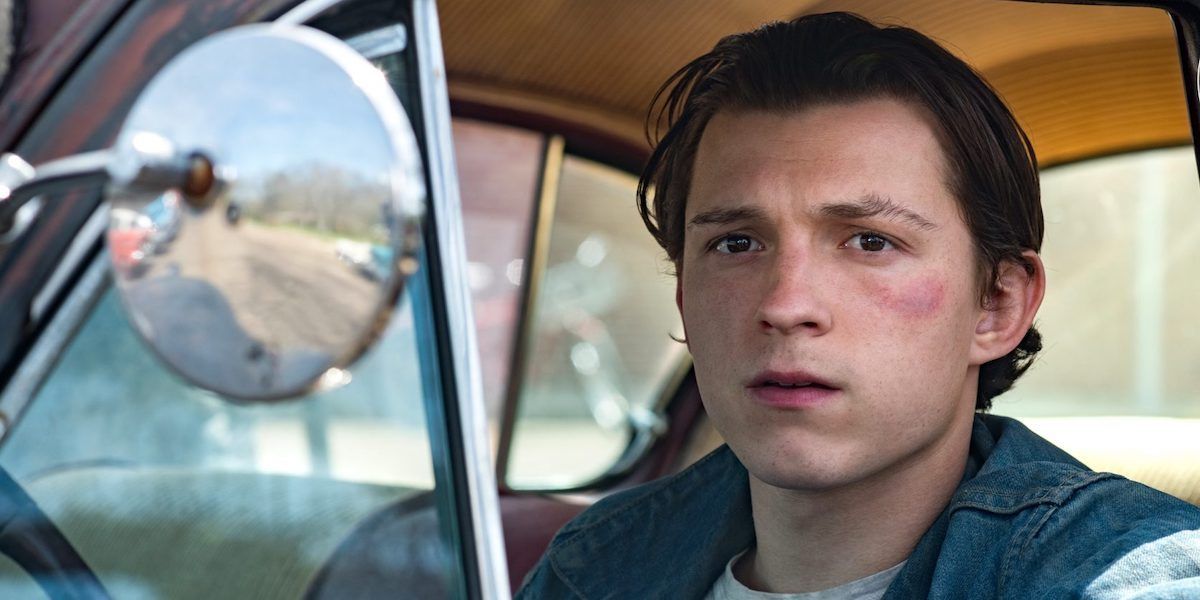 Run Time: 2 hr 19 min | Director: Antonio Campos
Cast: Tom Holland, Bill Skarsgård, Haley Bennett, Robert Pattinson
A bleak vision of life in America from 1950 to the mid-1960s, director Antonio Campos' The Devil All The Timeis about the most perpetually painful film that you could imagine. Made up of a strong ensemble cast whose lives all end up intersecting, it is based upon the novel of the same name by Donald Ray Pollock who also serves as a fitting narrator for the increasingly dark events of the film. Central to this is Tom Holland as Arvin, a traumatized young man who is trying to make things right for those he cares about despite the sinister trajectory of the world around him. It is one of the roles that Holland really shows his full range and talents in as he holds his own against a terrifying Robert Pattinson as a controlling new preacher. It is not a happy film by any means, though it is one that does a good job of showing the strengths of its characters and comprehensively capturing the horrible world they live in. — Chase Hutchinson
I'm Thinking of Ending Things (2020)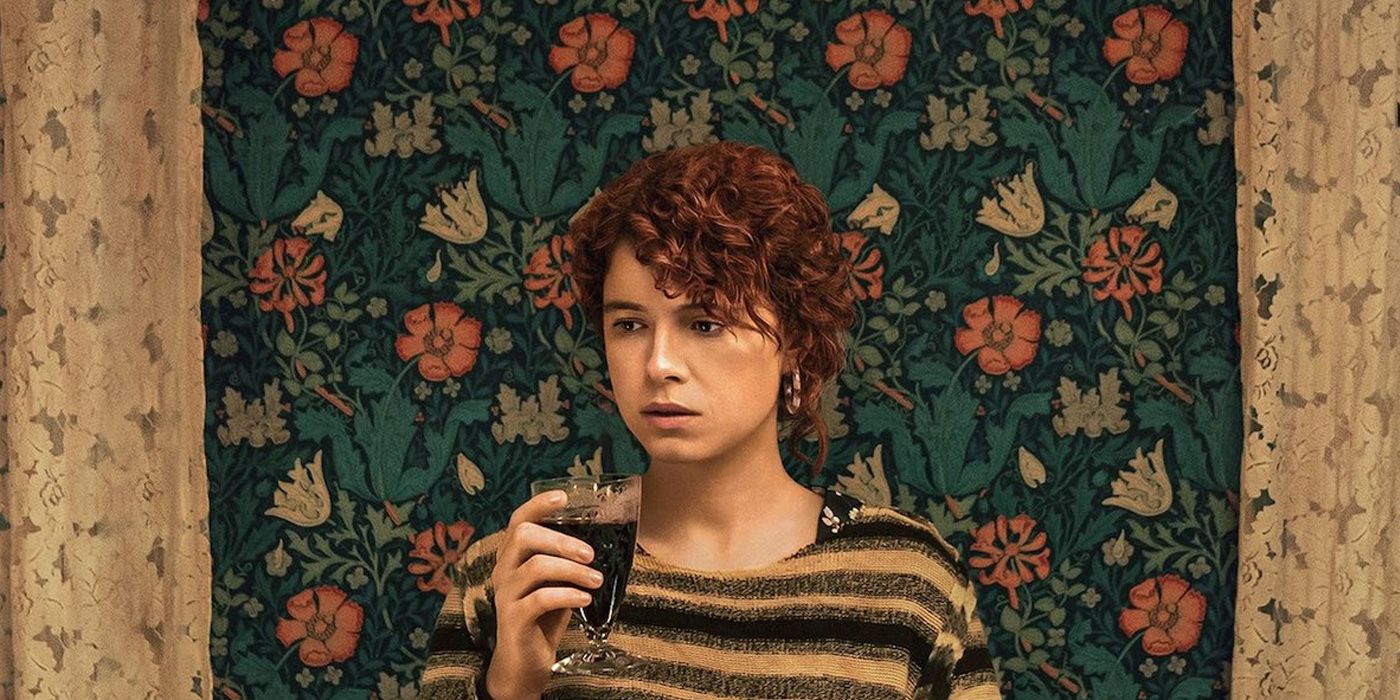 Run Time: 2 hr 14 min | Director: Charlie Kaufman
Cast: Jesse Plemons, Jessie Buckley, Toni Collette, David Thewlis
It might be time to end that relationship. Based on the 2016 novel of the same name by Iain Reid, Charlie Kaufman's I'm Thinking of Ending Thingsis a wonderfully maddening psychological thriller that will leave you with many questions, theories, and concerns. A young woman (Jessie Buckley) is having second thoughts about her fledgling relationship with Jake (Jesse Plemons). She agrees to go on a trip with him to meet his parents (Toni Collette and David Thewlis) at their remote cabin, but upon arrival, quickly regrets it. There's something about this family and the cabin that seems…not right. What's up and what's down? What's real and what's in her imagination? And what's the story with the old janitor? — Emily Bernard
The Woman in the Window (2021)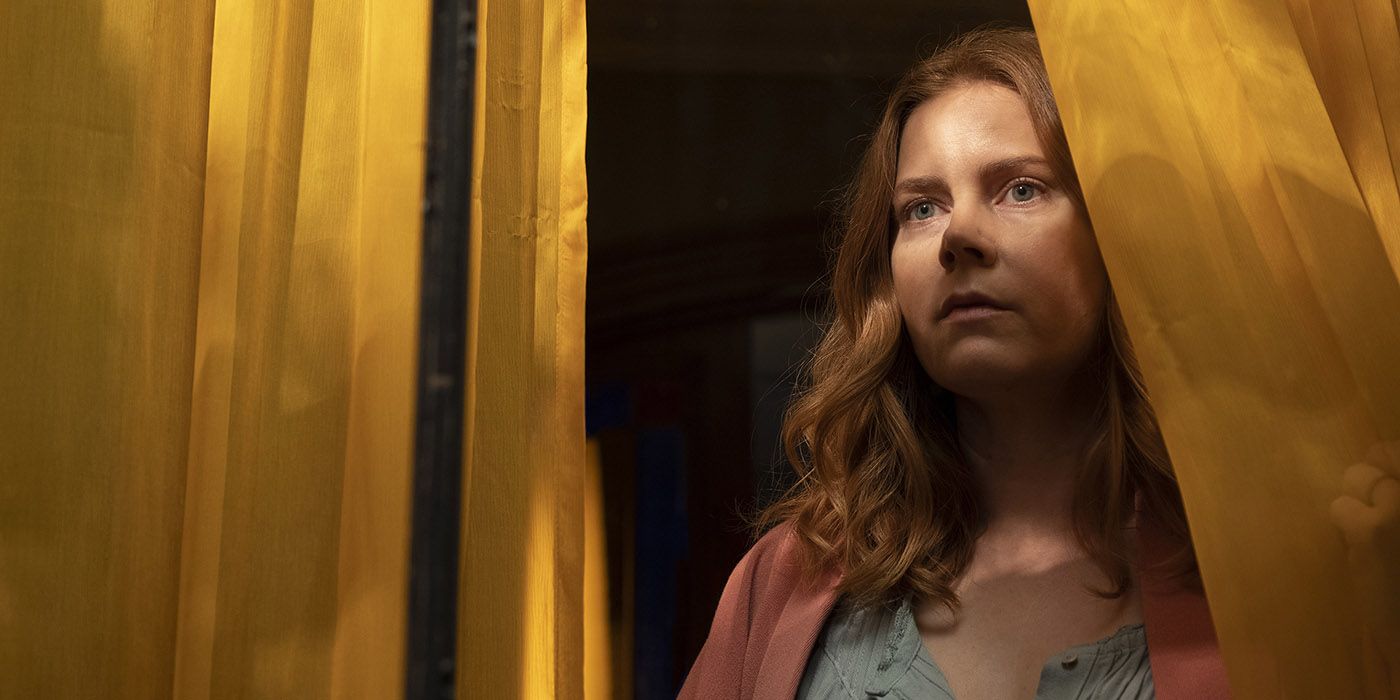 Run Time: 1 hr 40 min | Director: Joe Wright
Cast: Amy Adams, Gary Oldman, Julianne Moore, Fred Hechinger, Wyatt Russell, Anthony Mackie, Brian Tyree Henry, Jennifer Jason Leigh
Nothing good can come from spying on your neighbors. Based on the 2018 novel of the same name by A.J. Finn, The Woman in the Window shows life from the perspective of Anna Fox (Amy Adams) a reclusive, agoraphobic woman who, aside from her basement tenant David (Wyatt Russell) lives by herself in a massive Manhattan brownstone. She passes the time by drinking, checking in with her estranged husband and their daughter, and keeping a watchful eye on her neighbors. She has a clear view into the home across the way, which was recently purchased by the Russell family. One night, she witnesses what she believes to be Alistair Russell (Gary Oldman) stabbing his wife Jane (Julianne Moore) to death in the living room. Anna calls the authorities, but has trouble convincing them of what she saw. Will the woman in the window be able to seek justice for her deceased neighbor? — Emily Bernard
The Gift (2015)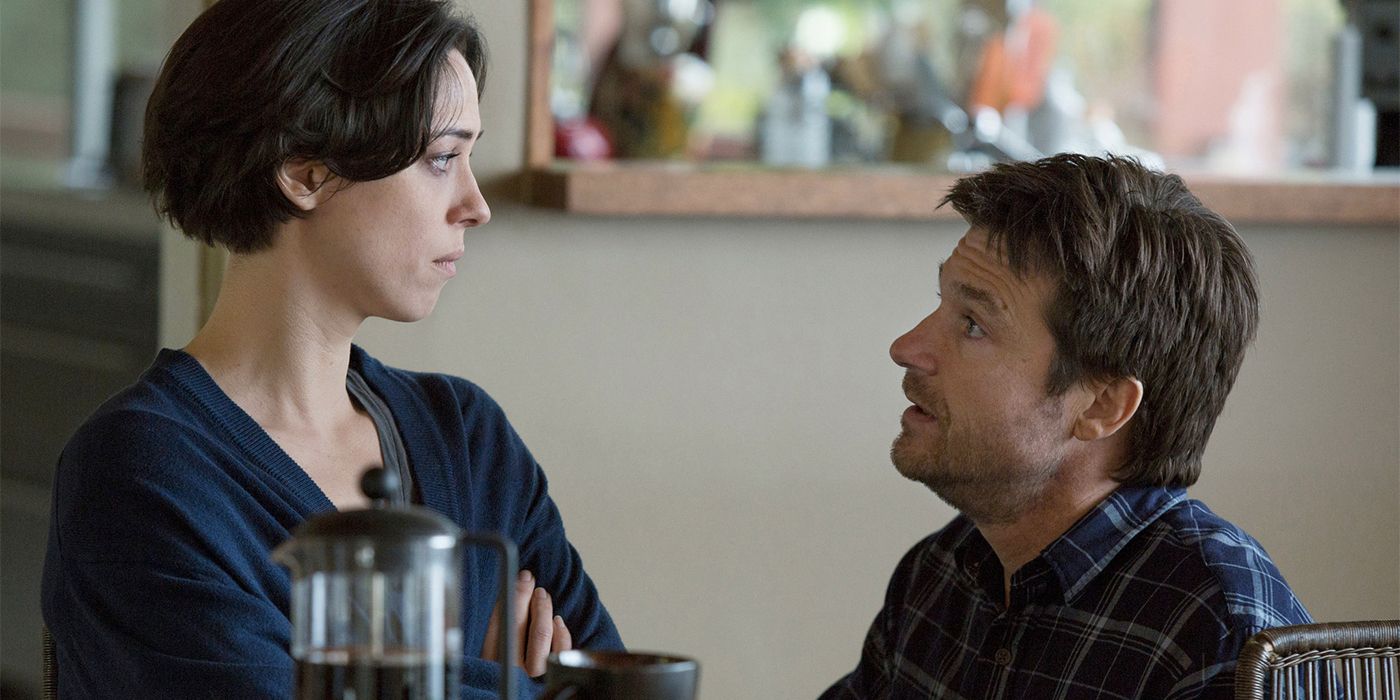 Run Time: 1 hr 48 min | Director: Joel Edgerton
Cast: Jason Bateman, Rebecca Hall, Joel Edgerton, Allison Tolman, Busy Philipps
Gifts aren't always meant to make you happy. Joel Edgerton's The Gift follows married couple Simon (Jason Bateman) and Robyn (Rebecca Hall) who recently made the move to Los Angeles for Simon's new job. Just as they are settling into their new home, they bump into Gordo (Joel Edgerton), an old classmate of Simon's who is eager to catch up. A benign interaction slides into creepy territory once Gordon repeatedly shows up uninvited to Simon and Robyn's home bearing gifts. The gifts start out simple enough with bottles of wine, but the couple soon notices that things have gone missing and feel like they are being watched. Cryptic messages and visits force Simon to confront his murky past and figure out how to shake this naughty new neighbor. — Emily Bernard
The Call (2020)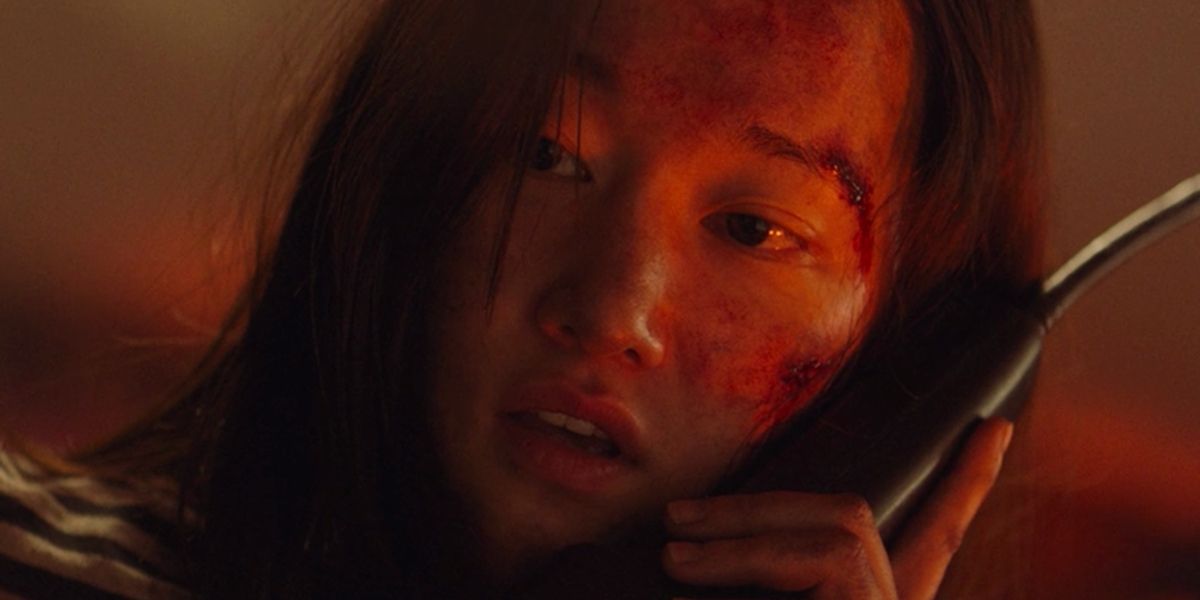 Run Time: 1 hr 52 min | Director: Lee Chung-hyun
Cast: Park Shin-hye, Jun Jong-seo, Kim Sung-ryung
If you are looking for a mind-bending thriller that will make your head hurt, the 2020 South Korean film The Call is the perfect pick for you. The story starts with a woman named Seo-yeon (Park Shin-hye) in 2019, who finds an old cordless phone while visiting her sick mother at her childhood home and picks up a random call. On the other side of the call is a woman named Young-sook (Jun Jong-seo) who is living a tortured life with her shaman adoptive mother twenty years in the past, in 1999.
Both women have suffered intense loss and find solace in the other, and soon enough Seo-yeon is helping Young-sook save her future, while Young-sook changes Seo-Yeon's past, and therefore the present. While at first everything seems great, the changes start having huge, deadly ramifications, especially when Seo-yeon discovers just how dangerous her companion is. Brace yourself for an intricate, gripping story that constantly keeps you on your toes. By the end of The Call, you'll consider yourself lucky that you can't change the past.
Rebecca (2020)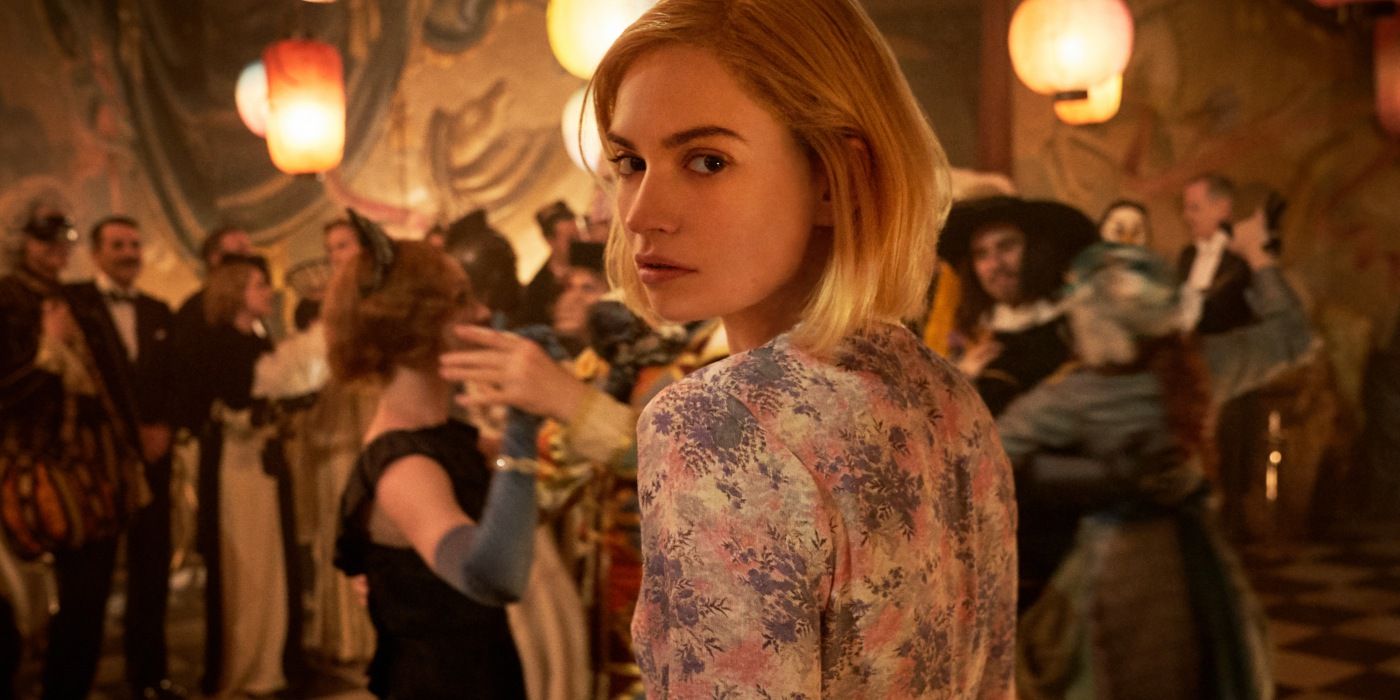 Run Time: 2 hr 3 min | Director: Ben Wheatley
Cast: Lily James, Armie Hammer, Kristin Scott Thomas, Ann Dowd
Although nothing can really compare to Hitchcock's Best Picture-winning 1940 film Rebecca, based on the novel by Daphne du Maurier, the 2020 remake from Kill List and High-Rise director Ben Wheatley is a visually stunning, unnerving adaptation in its own right. Arguably quite underrated, the Netflix Original film stars Lily James as Mrs. de Winter, the new wife of recent widower Maxim de Winter (Armie Hammer), who supposedly lost his wife Rebecca in a boating accident. When Mrs. de Winter arrives at her new home, she encounters an unfriendly housekeeper named Mrs. Danvers (Kristin Scott Thomas), who clearly prefers Rebecca to Maxim's new wife. Facing marriage with a man hiding a past full of secrets, Mrs. de Winter pushes for answers, but she might not like what she finds.
Of course, no one can best Hitchcock, and that's okay. But Wheatley's version of the classic story is brilliantly made with fantastic performances from the main cast, and is still an enjoyable watch. If you've never seen the 1940 film, even better. You can go into the 2020 version of Rebecca with a fresh mind, and decide for yourself if it's a good film or not, but do yourself a favor and make sure to watch the classic version too.
Forgotten (2017)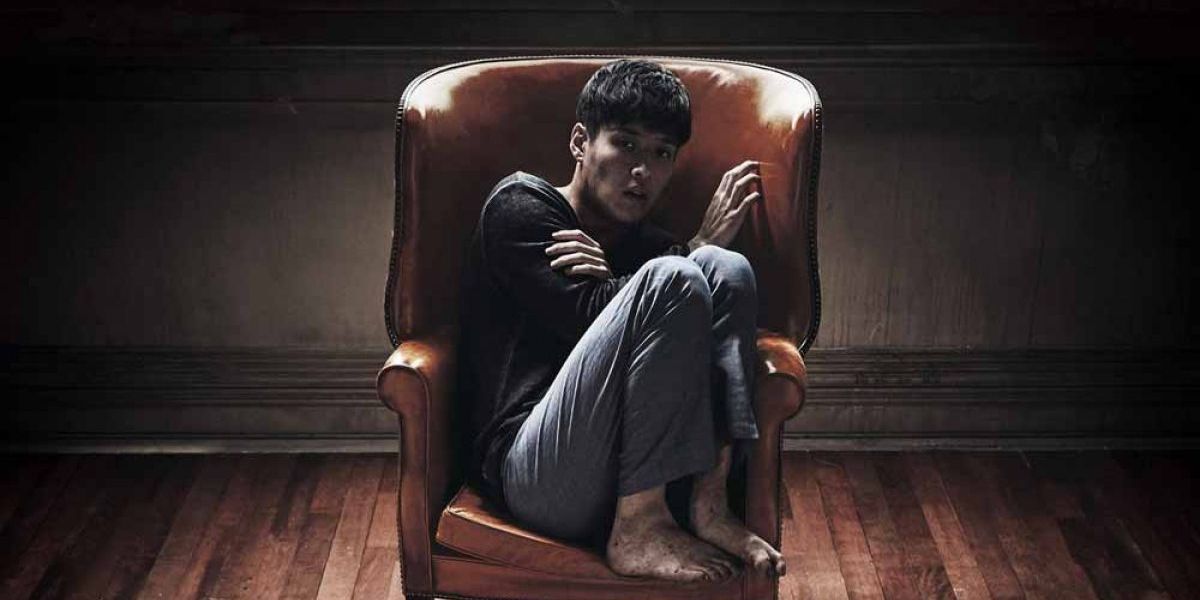 Run Time: 1 hr 48 min | Director: Jang Hang-jun
Cast: Kang Ha-neul, Kim Mu-yeol, Mun Seong-kun, Na Young-hee
If you want to watch a movie that will really mess with your head, the South Korean psychological thriller Forgotten is it. Honestly, the plot is really hard to explain without giving anything away, but it basically centers around a man named Jin-seok (Kang Ha-neul) who has no memories of the last 20 years, who reunites with a man claiming to be his brother, Yoo-seok (Kim Mu-yeol). When Jin-seok begins to suspect that something's amiss, Yoo-seok reveals that he really isn't Jin-seok's brother, and that he is on a mission to find out what really happened one night two decades prior, when a woman and her daughter were brutally murdered in their house.
With Forgotten, it's best to just go into watching the movie without knowing too much about the plot, because soon enough everything you think you know about the story will be thrown out the window anyway. It's a seriously twisted story about these two men and how deeply their pasts are intertwined, as they both grow desperate in their search for answers.
Mirage (2018)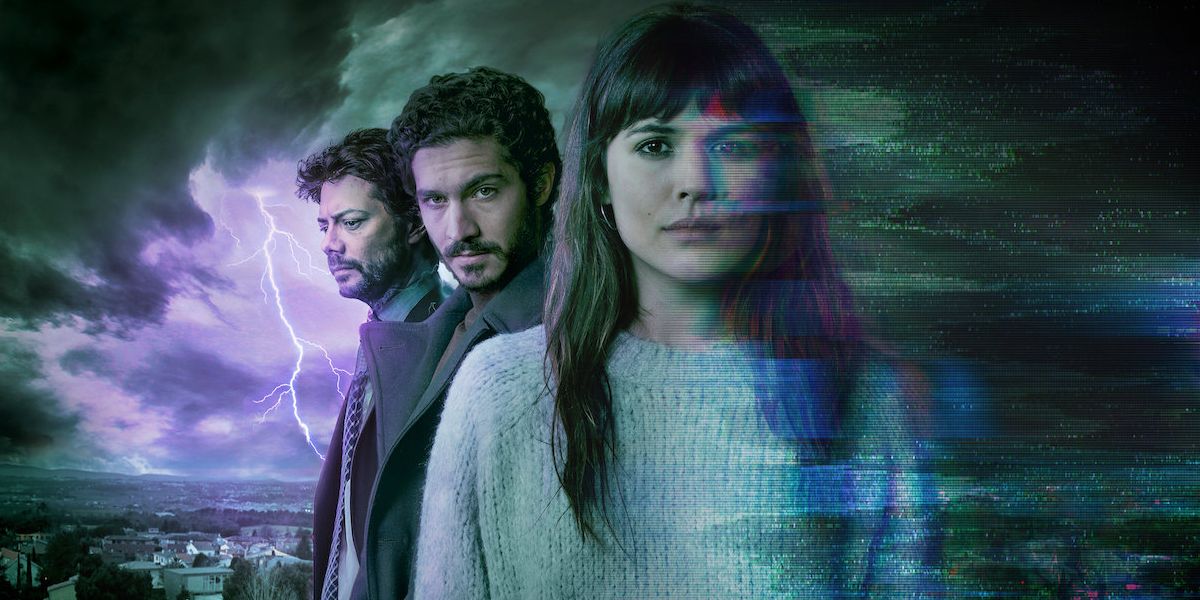 Run Time: 2 hr 9 min | Director: Oriol Paulo
Cast: Adriana Ugarte, Chino Darín, Javier Gutiérrez, Álvaro Morte
The Spanish-language Netflix Original movie Mirage is built around a similar premise as The Call, but thankfully it's not quite as sinister. In Mirage, a woman named Vera (Adriana Ugarte) moves into a new house with her husband and daughter. There, they find an old TV set, and during a strange electrical storm, they discover that they can communicate through the TV with a boy in 1989. Finding out that the boy in question dies soon after, Vera uses the TV to warn him of his fate, which in turn completely alters Vera's current reality. In a world without her family, Vera starts looking into how she can use the TV set to reverse her mistake, while also still saving the young boy's life.
At the center of Mirage is a murder case that happens in 1989 where a man murders his wife. The boy originally dies in his efforts to run away and tell someone after he witnesses the murder, leading the man to get arrested. When Vera saves the boy's life, she inadvertently allows the man to get away with murder, and so along with fixing reality herself, Vera must do everything she can to make sure that justice is served in the murder case as well. Complicated, but well-planned and executed, Mirage is a compelling and suspenseful drama that really shines through the emotional character arcs.
Gerald's Game (2017)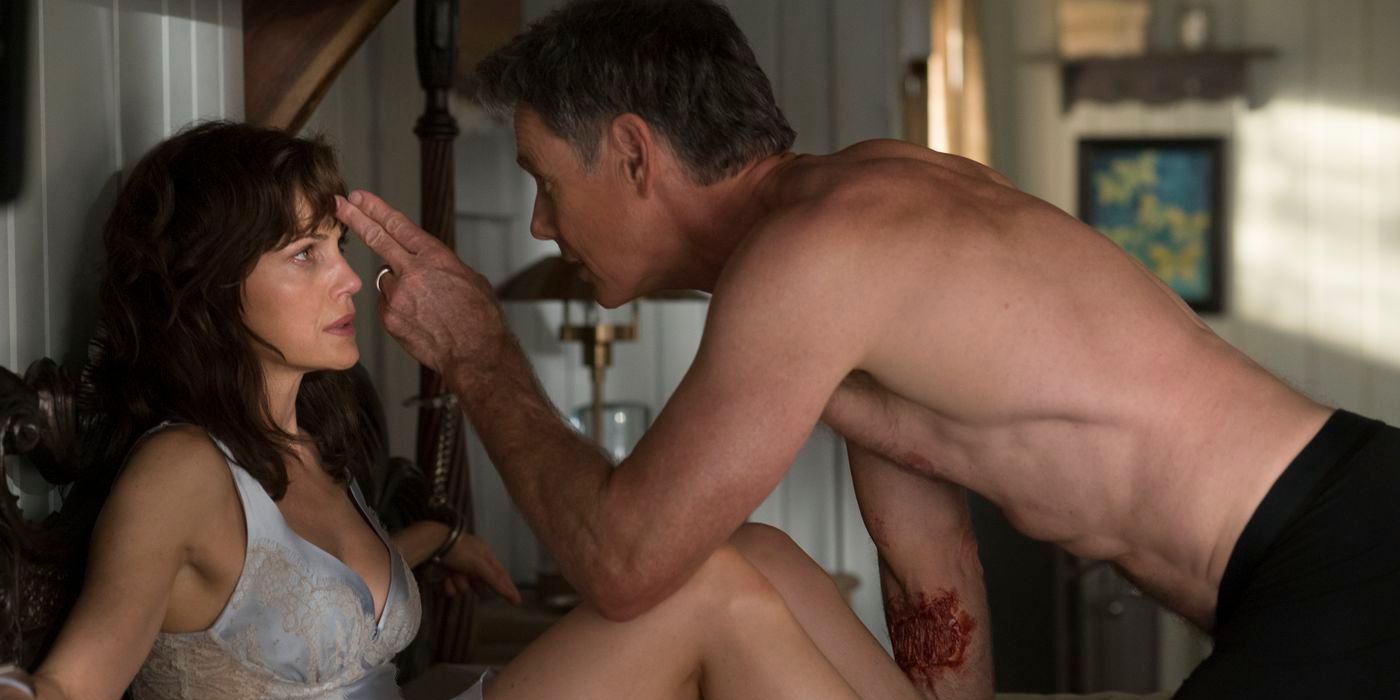 Run Time: 1 hr 43 min | Director: Mike Flanagan
Cast: Carla Gugino, Bruce Greenwood, Chiara Aurelia, Carel Struycken
Directed by Mike Flanagan, the mind behind the movie adaptation of Doctor Sleep, the indie horror film Hush, and hit horror series like The Haunting of Hill House, Gerald's Game was Flanagan's first Stephen King adaptation, but obviously not his last. The movie, which came out on Netflix in 2017, is the first adaptation of the book of the same name. Many people believed the book was simply unadaptable in any understandable way, since most of the book is first-person narration that takes place in the main character's head. Still, Flanagan took on the challenge, and he succeeded, making a psychological horror film that will leave you with nightmares for months.
Gerald's Game stars frequent Flanagan collaborator Carla Gugino as Jessie Burlingame, a woman who travels to a lake house retreat with her husband, Gerald (Bruce Greenwood), in an attempt to save their marriage. The two engage in foreplay in bed, which Gerald takes to an unexpected place when he handcuffs Jessie's wrists to the bedposts and attempts to enact a rape fantasy, a kink Jessie has no interest in. The two start to argue, and in the middle of the conversation, Gerald has a heart attack and dies, falling off the bed and leaving Jessie alone, still handcuffed to an unmovable bedpost.
The rest of the movie chronicles Jessie's experience trapped in the handcuffs, slowly becoming dehydrated and losing her sanity as she scrambles for any way to escape. The movie is seriously creepy and a fantastic mystery, but fair warning that a character in this story knowm as "the man made of moonlight" is one of King's scariest creations, and he's even worse on-screen. Not to mention a particularly gory scene, infamous for making even hardened horror fans squirm in their seats.
RELATED: 'Gerald's Game' Review: Carla Gugino Shines in a Stunning Stephen King Adaptation
1922 (2017)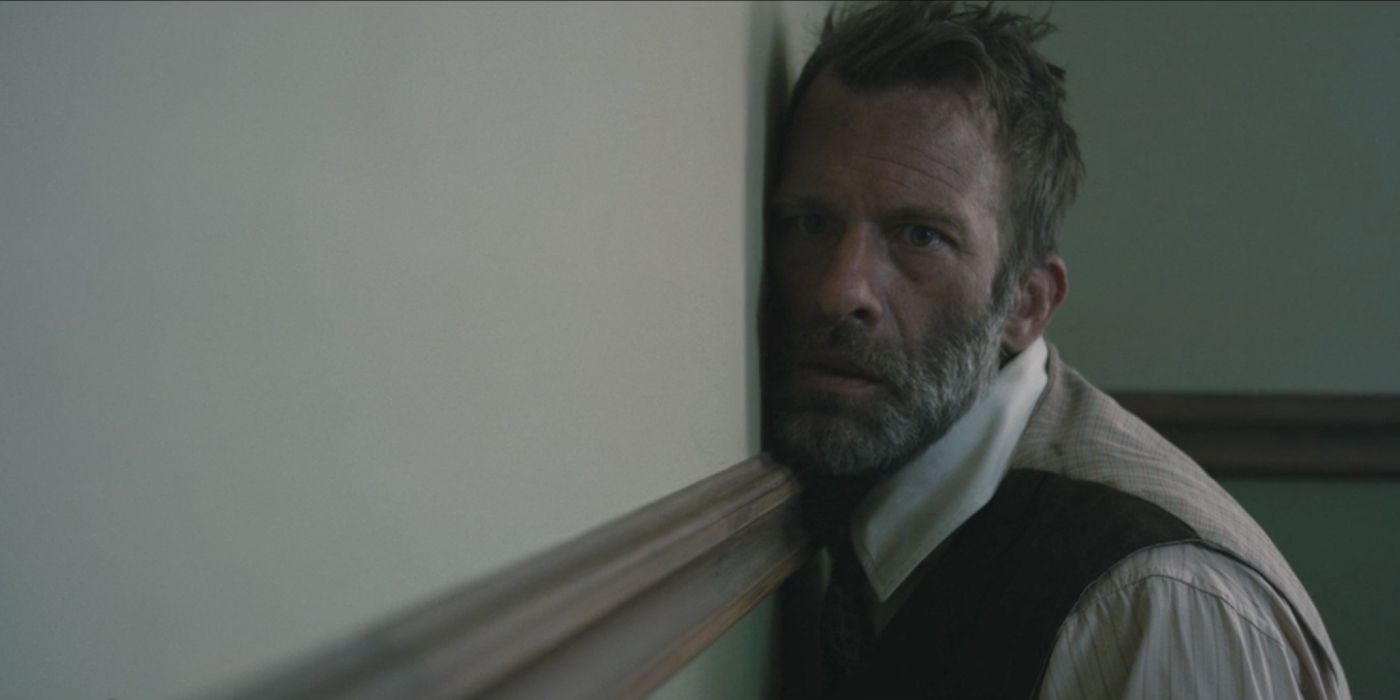 Run Time: 1 hr 41 min | Director: Zak Hilditch
Cast: Thomas Jane, Molly Parker, Dylan Schmid
Another Stephen King adaptation, 1922 is based on the author's novella from his 2010 collection, "Full Dark, No Stars". Set in the year 1922 in Hemingford Home, Nebraska, the story follows the character Wilfred "Wilf" James, played by Thomas Jane, a farmer who lives with his wife Arlette, played by Molly Parker, and a 14-year-old son named Henry, portrayed by Dylan Schmid.
When Arlette, who owns more than half of the family's farm through her father, announces that she wants to sell the land and move to Omaha, Wilf decides that the only way to stop her is to murder her, and he blackmails his teenage son into being his accomplice. Together, the two trick their mother into thinking they want to sell the farm, let her get completely drunk, before killing her and dumping the body in the family well. The rest of the movie chronicles Wilf and Henry's slow journey to insanity as they are terrorized by the guilt and the rot that settles into their home, land, and minds.
1922 is a dark, psychological horror film for both hardcore Stephen King fans and regular movie watchers alike. It's a particularly good pick if you like period horror films like The Witch or television series like The Terror. While there are a lot of horror elements, 1922 primarily plays on the complex power of the mind and perception in the same way that Gerald's Game does, earning it's place as one of the best psychological thrillers on Netflix.
Cam (2018)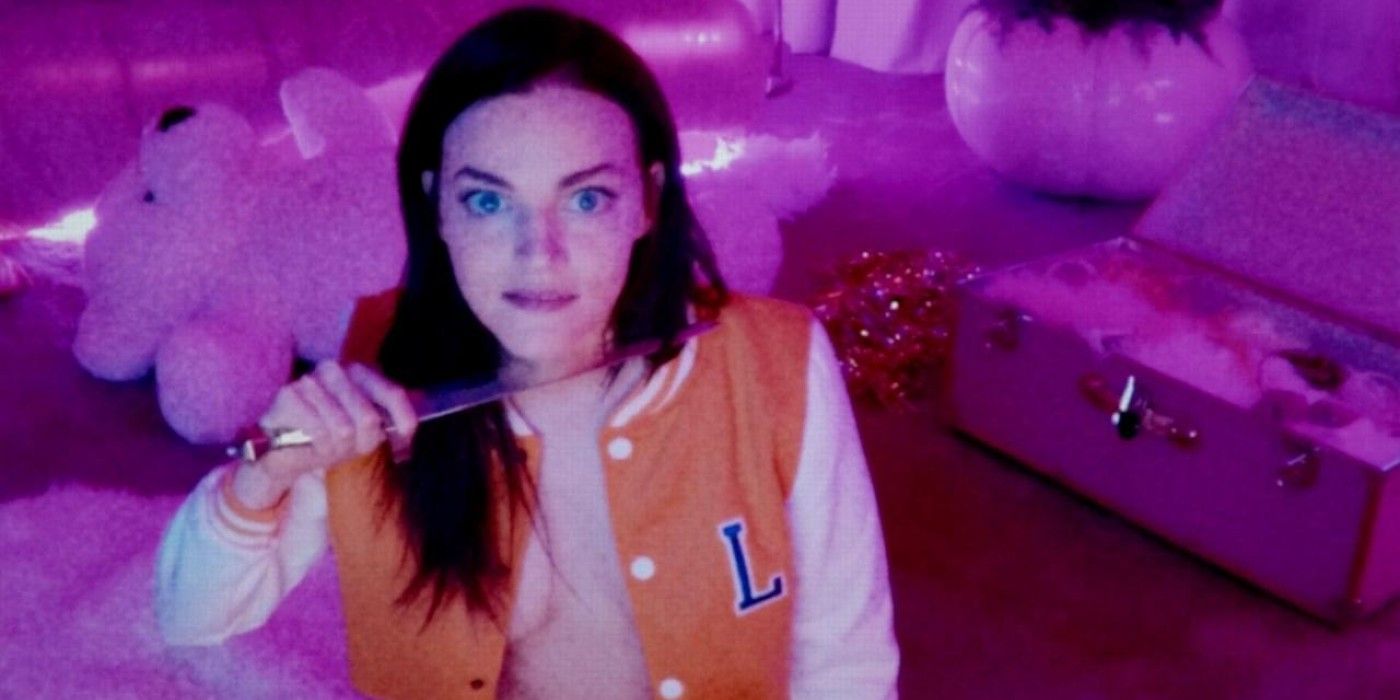 Run Time: 1 hr 35 min | Director: Daniel Goldhaber
Cast: Madeline Brewer, Patch Darragh, Samantha Robinson
Starring Madeline Brewer as Alice, a cam girl who goes by the name "Lola_Lola," Cam explores the dangers of artificial intelligence, how we alter our online images and personas, and just how much of ourselves we hand over to the unknown when we "log on". Alice is a successful cam girl on a popular camming site, steadily climbing the ranks, but she wants to be at the top. One day, her rise to the number one spot is interrupted when Alice can't log into her account. When she investigates what's going on with her account, she sees that someone who looks and sounds just like her is streaming live on her channel, and despite knowing it's impossible, Alice is able to confirm that the stream is really happening.
Through further investigation and talking to other cam girls, Alice discovers that the same thing has happened to many other top girls on popular sites, and no one has any idea what or who's behind it. Still, Alice is determined to take her account back from her doppelgänger no matter what it takes, and get back her identity and the career she truly loves.
Cam is a very interesting film in how it explores the idea of digital replicas, as well as its respectful portrayal of the cam girl industry and the many young women who are creating a full-blown business out of it, and with a script co-written by former cam girl Isa Mazzei, it's an honest, empathetic look at the highs and lows of online sex work. Brewer is seriously fantastic as Alice and her clone, and with such a smart and tightly-packed plot, Cam is the perfect thriller to watch during your next night in – but it might make you a little paranoid about who or what is controlling your stream.
Nocturnal Animals (2016)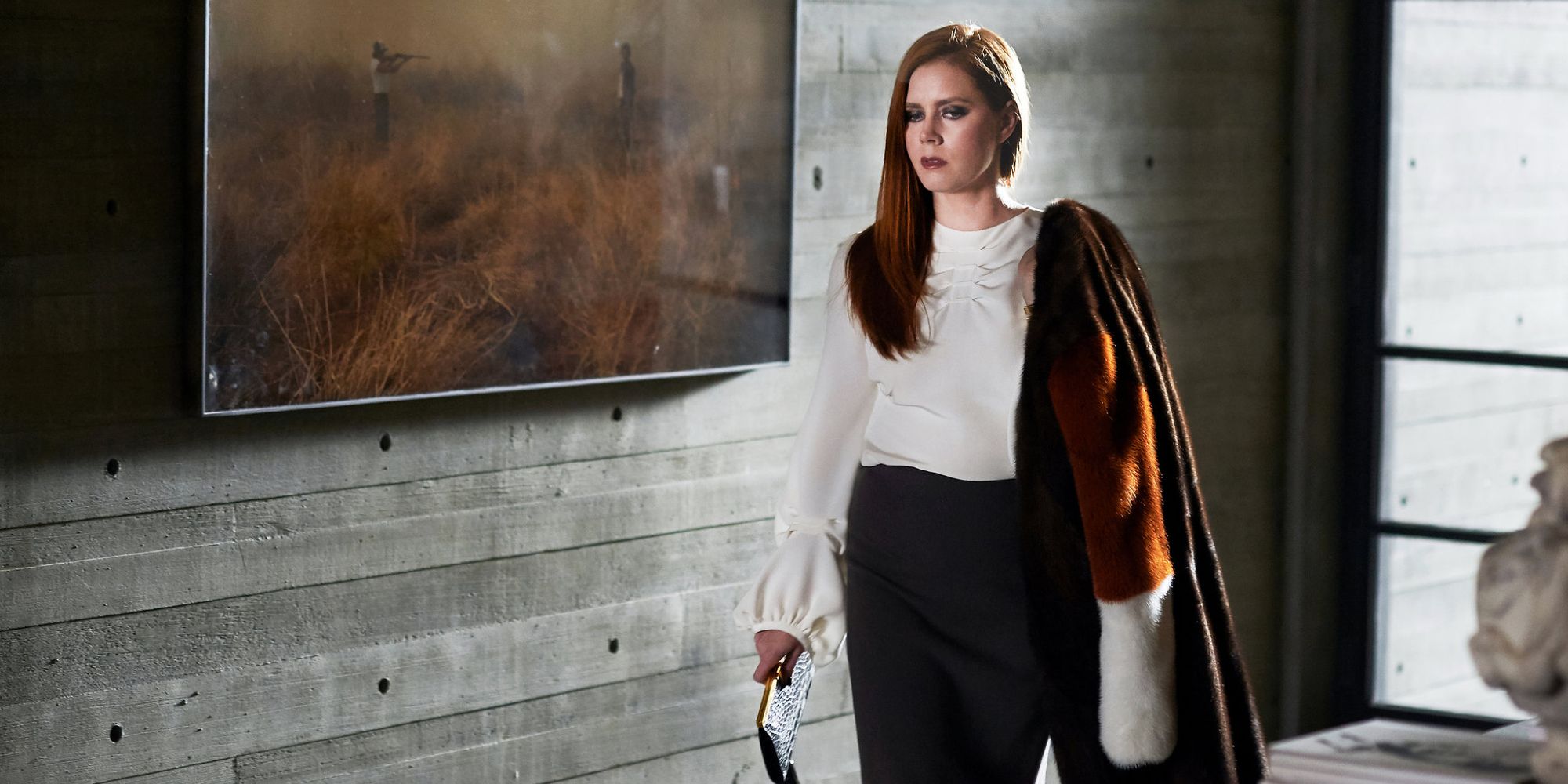 Run Time: 1 hr 56 min | Director: Tom Ford
Cast: Amy Adams, Jake Gyllenhaal, Aaron Taylor-Johnson, Michael Shannon
Directed by celebrated fashion designer turned filmmaker, Tom Ford, Nocturnal Animals is an impactful thriller that tells paralleling storylines of an art gallery owner named Susan (Amy Adams) and the manuscript she is reading written by her ex-husband, Edward (Jake Gyllenhaal), which she realizes has dark similarities to their past relationship. The movie flashes back and forth between the story of Susan and Edward and the book's storyline of the character Tony Hastings (also played by Gyllenhaal), a man on a road trip with his family who finds his wife and daughter taken away from him by a brutal man named Ray Marcus (Aaron Taylor-Johnson). As Susan reads the manuscript, she notices the representation of her own failed relationship with Edward, and begins to regret past mistakes that have led her to where she is now.
Nocturnal Animals can be very dark, especially when Ray enters the picture, but the overarching themes and the layered storylines are really well-orchestrated. If the plotline isn't enough to convince you to check out the movie, know that Ford really brings his visual expertise to the film medium, and the performances of the actors are amazing.
Fractured (2019)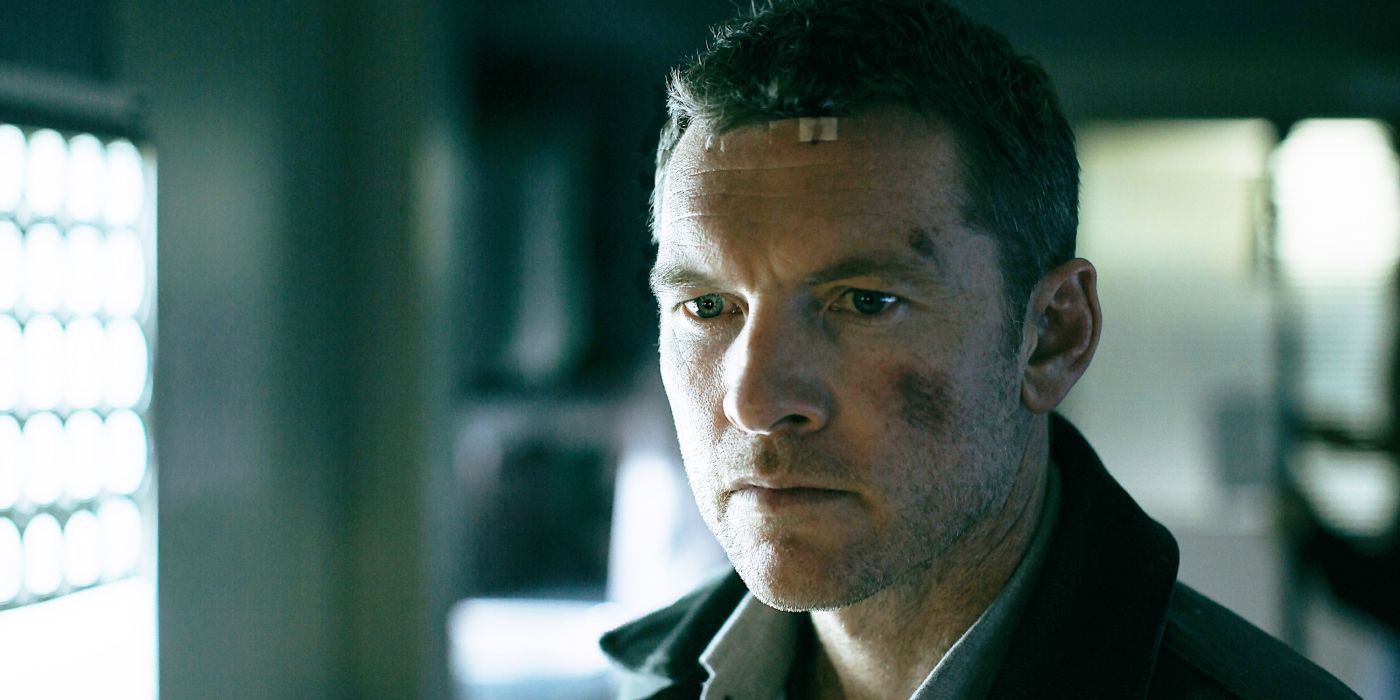 Run Time: 1 hr 40 min | Director: Brad Anderson
Cast: Sam Worthington, Lily Rabe, Lucy Capri, Adjoa Andoh
Released as a Netflix Original movie in 2019, Fractured stars Sam Worthington as a father named Ray waiting for his wife and young daughter to get out of a quick procedure at the hospital, only to be told that they were never there. His wife Joanne is played by Lily Rabe, while Lucy Capri plays his young daughter Peri.
Originally arriving at a hospital to get Peri's injured arm looked at, the doctor insists on a CAT scan and Joanne accompanies them. After falling asleep in the waiting room, Ray wakes up to find that the hospital has no record of his family ever being there. Ray takes the matter to the police, and as photos and other evidence seem to confirm that Joanne and Peri are real, the police start to suspect Ray as having a darker involvement in their disappearance. While some frequent watchers of psychological thrillers might be able to guess where the story is going, Worthington is powerful as the distraught father, and there are plenty of great plot twists to keep viewers engaged the whole time.
RELATED: 'Fractured' Review: Brad Anderson's Netflix Puzzle-Box Is Striking But Too Easy to Solve
Tau (2018)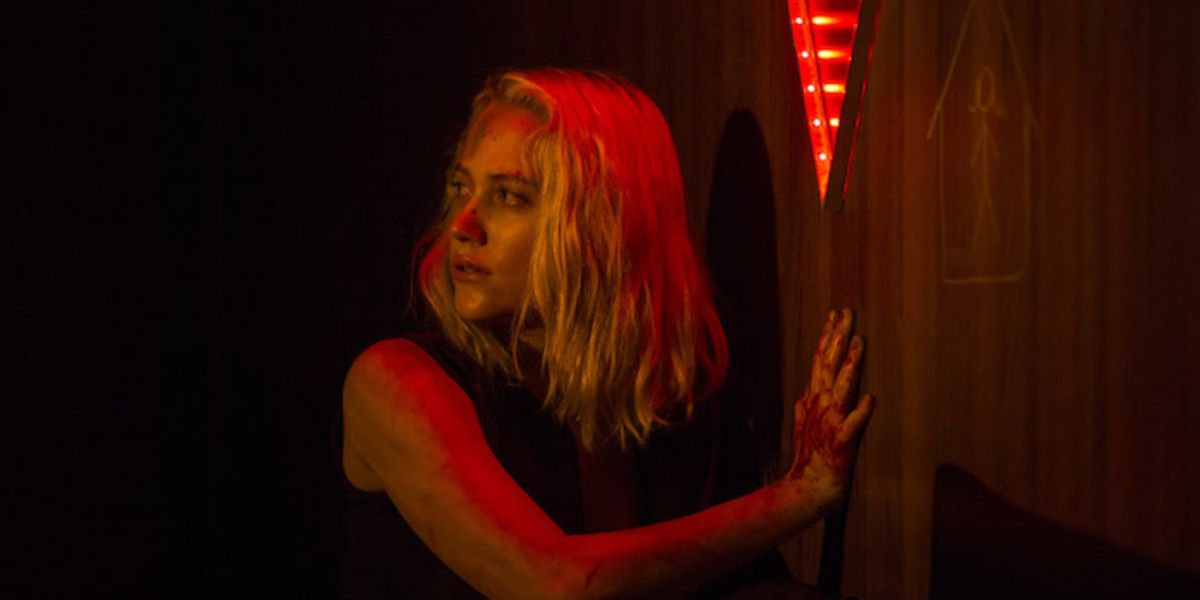 Run Time: 1 hr 37 min | Director: Federico D'Alessandro
Cast: Maika Monroe, Ed Skrein, Gary Oldman
If you're already a fan of Monroe, then you'll know that the actress got her start in the horror genre, and although she impresses in all of her performances, playing thriller protagonists is still where her main strength lies. In 2018's Tau, another Netflix Original, Monroe plays Julia, a young woman who unwillingly becomes a test subject in the house of a man named Alex (Ed Skrein). Alex puts Julia through various puzzles and tests to collect data for his own technology, with everything run through his AI system called Tau (voiced by Gary Oldman). As Alex spends his days away at his real job, Julia and Tau keep each other company. Tau starts to sympathize with Julia and care about her wellbeing, but he is unable to help her escape due to Alex's programming. In order to stop herself from becoming another one of Alex's victims, Julia must manipulate Alex's own system of technology and security measures to escape before he kills her.
Tau joins the ever-growing list of sci-fi horror films as the genre gets more popular, with past hits including Upgrade, which came out the same year as Tau, and the modern, reinvented The Invisible Man, both by director Leigh Whannell.
Calibre (2018)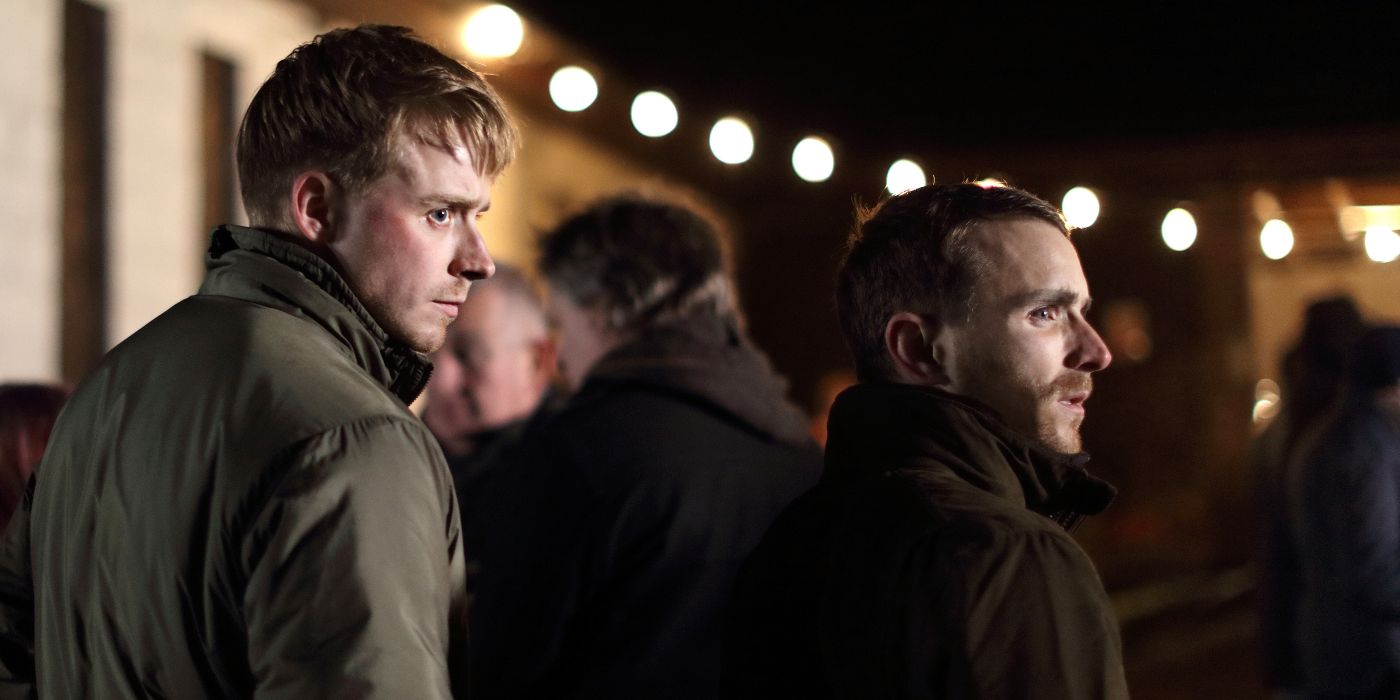 Run Time: 1 hr 41 min | Director: Matt Palmer
Cast: Jack Lowden, Martin McCann, Tony Curran, Kate Bracken
In 2018's Calibre, a man named Vaughn (Jack Lowden) goes on a weekend trip with his old school friend Marcus (Martin McCann), leaving his pregnant fiancée at home. Driving out to the Scottish Highlands, the two friends stay in a small town as they plan a hunting trip, Vaughn's first. While Vaughn is quiet and hesitant, Marcus is aggressive and impulsive, and he clashes with the men around town. Still, they manage to get out to hunt as planned, but it's safe to say that nothing goes as the two had hoped.
After a fatal hunting accident, Vaughn wants to call the police, but Marcus is adamant that they will be thrown in jail for murder. Vaughn, unwilling to go against his friend, allows Marcus to lead them down a path to nowhere, as the two do whatever they can to escape the town without being caught. Eventually, the story progresses to a situation in which Vaughn is presented with a truly terrible choice, one you never want to have to make. What does he choose?