As people flock to movie theaters and see the latest upcoming movies like Avatar The Way Of Water, movie subscriptions are becoming a popular option for anyone who visits the theaters regularly. As of today, AMC A-list and Regal Unlimited dominate the movie subscription industry, but they also couldn't be more different.
Since the days of Moviepass, the culture behind movie subscriptions have evolved to bring cost-effective and savings opportunities to purchase tickets and watch multiple movies on a monthly or yearly basis. AMC A-list and Regal Unlimited have provided the benefits and advantages of watching the newest movies each week, but new subscribers may need some help to determine which subscription will serve them best.
Price, Plan, & Payment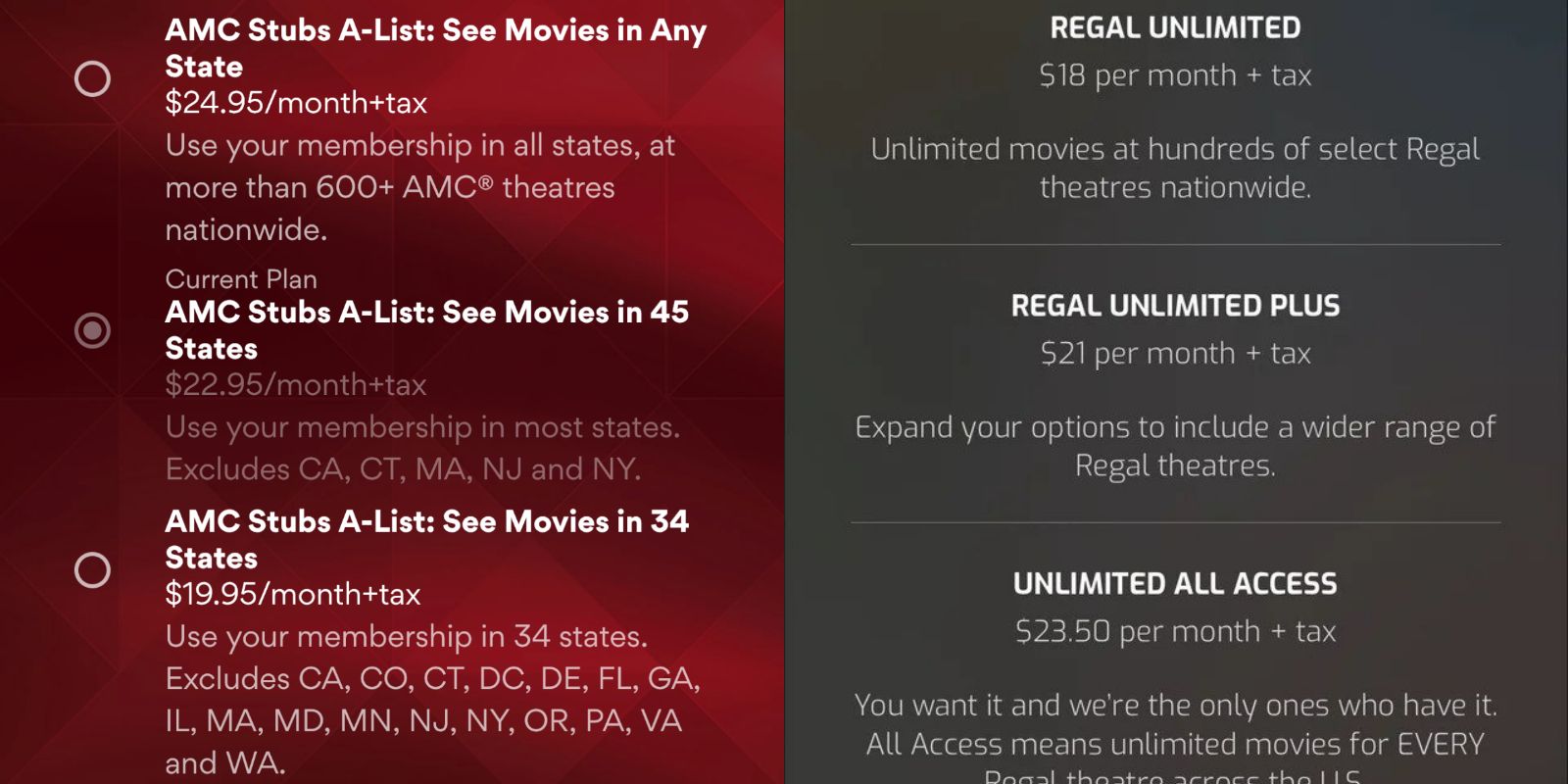 AMC A-List
AMC A-list has three price plans, and all are monthly subscriptions. There are no yearly plans. However, the basis of which plan to choose from relies on the state where the subscriber resides. That means some lower tiers may not work in some excluded states and requires a subscriber to pay a little extra for the subscription to work in that state. Here is the price of each state plan:
Use in 34 states plan: $19.95/month + tax

Excludes California, Colorado, Connecticut, District of Columbia, Delaware, Florida, Georgia, Illinois, Massachusetts, Maryland, Montana, New Jersey, New York, Oregon, Pennsylvania, Virginia, and Washington.

Use in 45 states plan: $22.95/month + tax

Excludes California, Connecticut, Massachusetts, New Jersey, and New York.

Use in all 50 states: $24.95/month + tax
A better way to understand which plan to choose is to base it on which state the subscriber currently lives in. For instance, a Florida resident has to choose 45 state plan to use in Florida state. The plan also allows the subscriber to use A-List in 44 other states as long as they are not listed as an exception. On the other hand, a New Yorker has to choose the most expensive option (50 states) since it is the only plan that includes New York. Their benefit, however, is that it can be used in all 50 states without any restrictions. As for payment, the subscription is renewed monthly unless the subscriber cancels it before the next cycle.
RELATED: The 15 Best Movies Of All-Time, According To Letterboxd
Regal Unlimited
Regal Unlimited also has three plans, but it works very differently from A-list. Whereas A-list is based on state, Regal Unlimited uses a tier system for movie theaters that determines the plan for a subscriber. Here is the price of each tier plan:
Unlimited Plan: Plan: $18.99/month + tax

Cannot use for theaters designated as Unlimited Plus and Unlimited All Access.

Unlimited Plus Plan: $21.99/month + tax

Can use for theaters designated as the Unlimited level
Cannot use for theaters designated as Unlimited All Access

Unlimited All Access Plan: $23.99/month + tax

Access to all movies theaters with no restrictions
A subscriber chooses a tiered plan that includes their closest theater in a designated list. This theater list from Regal shows all the theater's names alongside the plan level. If the plan level says Unlimited Plus Plan, that is the plan they have to choose if that is their closest or preferred theater to visit. They can use it in all theaters with Unlimited and Unlimited Plus levels, but it cannot be used for any Unlimited All Access theaters. As for payment plans, Regal Unlimited requires that the user chooses between a three-month plan or a one-year plan, which can either be paid monthly or be pre-paid in full.
Final – Tie
Both movie subscriptions have pros and cons, so it all comes down to which theater chain is most accessible to the subscriber. Regal Unlimited allows more freedom for a subscriber to choose a plan that is most cost-effective for them, but this all comes down to the tier of the select theater. But the downside is that they are either bound for three months or a year, depending on the payment option they choose. A-List has a fixed price that doesn't limit a subscriber from using many theaters in their current state, which would make this subscription more appealing. Also, some locations may have Regal theaters and no AMC theaters or vice versa, so the subscriber may not always have this choice.
Commitment Policy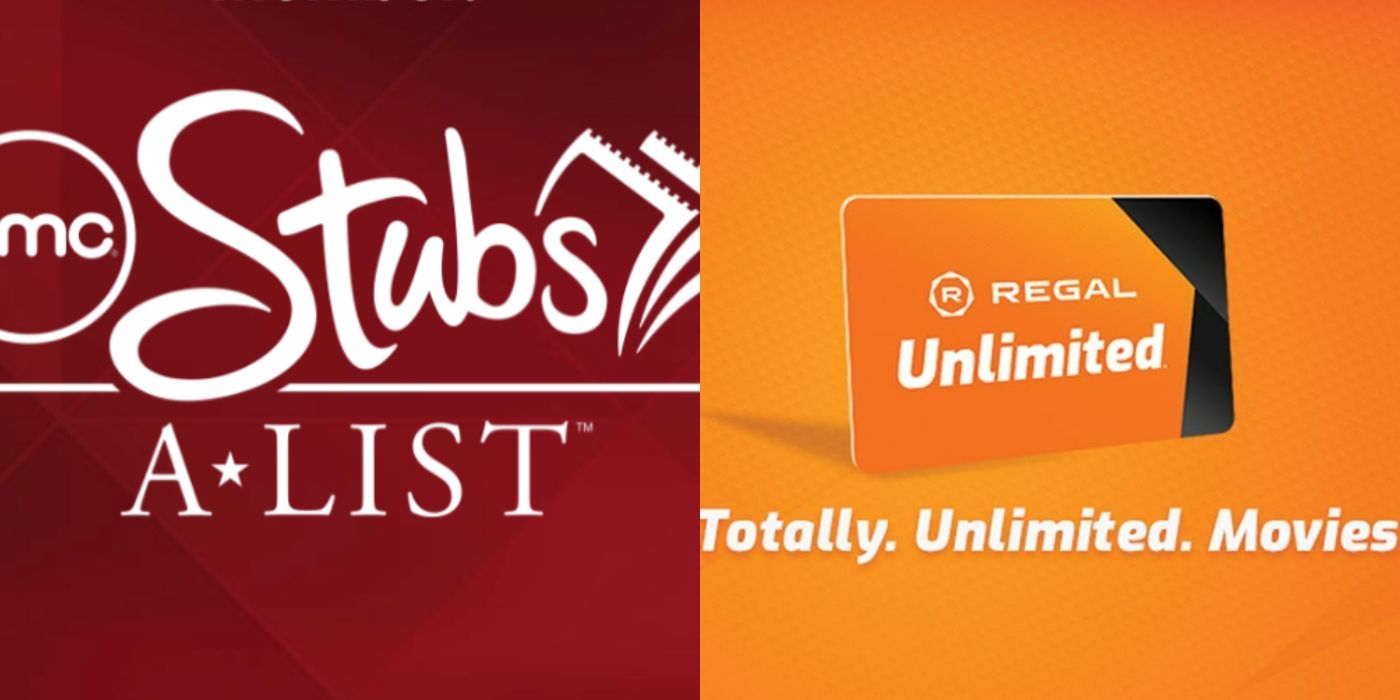 AMC A-List
A-List does require that a subscriber is committed to the plan for the first three months of their subscription. If they want to cancel the subscription before the three months commitment is over, the subscriber would still have to pay the difference between the remaining months. However, once the three-month commitment period ends, the subscriber can cancel the subscription at any point after without paying any extra fees.
Regal Unlimited
The commitment for Regal Unlimited depends on whether the subscriber picked the three-month plan or the one-year plan. Based on that, the subscriber would have to commit to those terms similar to A-List's three-month commitment. Once a commitment cycle is over, and there has been no cancelation, the cycle will reset from that point.
Final – AMC A-List
Unfortunately, both have commitment periods, so there is no way of getting out of either after one or two months of use. That said, AMC A-list commitment is more doable as the commitment only applies for the first three months after they activated their subscription. Afterward, they have the choice to cancel anytime they want without any penalty. Regal Unlimited doesn't have that option, unfortunately, as even its three-month plan would reset the three-month commitment after the initial cycle is completed.
How Many Free Movie Tickets (Per Month)?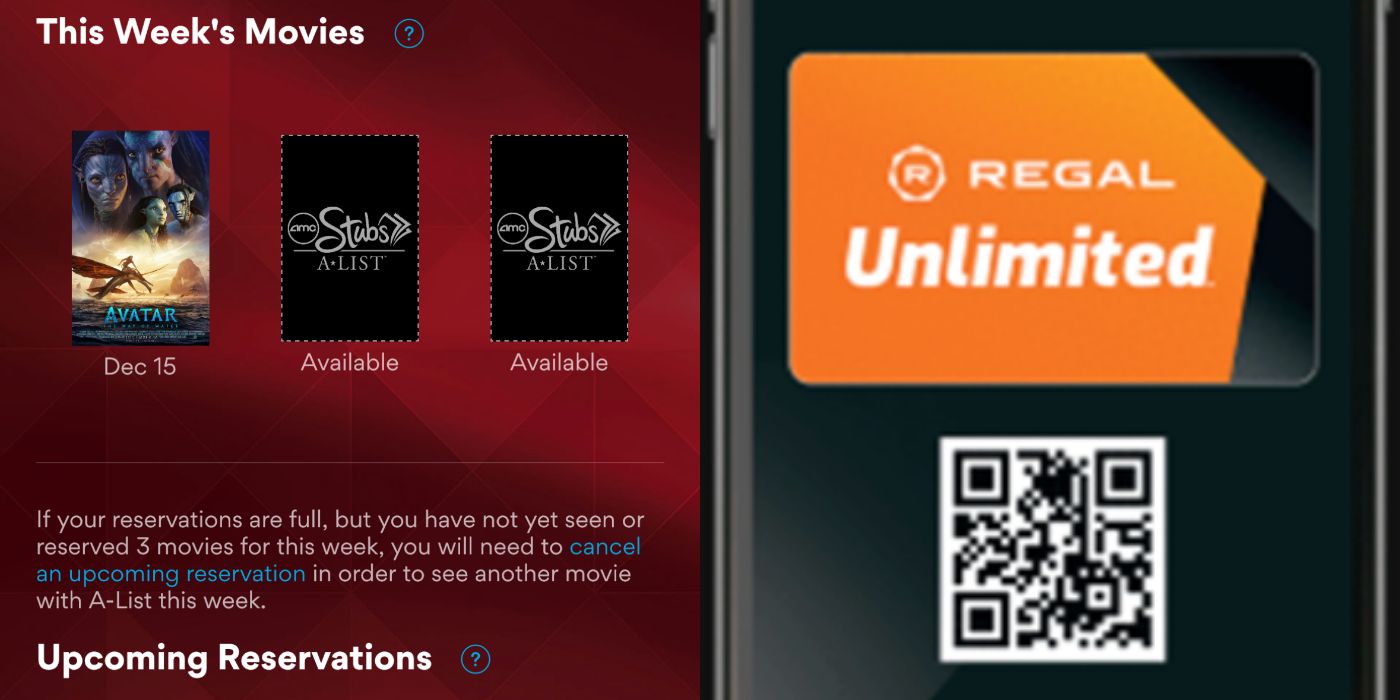 AMC A-List
For AMC A-list, subscribers are allowed to watch three movies per week. This can average out to about 12 movies per month. Any unused movies do not roll over. If a user does use all three movie slots and plans to watch a fourth, they would have to pay for that ticket out of pocket. Some movies may be excluded from A-list, but the restriction usually only applies to some early screenings, fan events, and some subtitled international movies. A subscriber can watch a movie multiple times, but they will count as separate movie viewing. There are no blackout dates.
Regal Unlimited
The name says it all – it is unlimited! A subscriber can watch as many movies as they want in a single day or per month. Some restrictions may apply to private screenings or some international movies, which would be stated on the app if they are excluded from Regal Unlimited.
Final – Regal Unlimited
Regal Unlimited has by far the more appealing service since it allows an unlimited number of movies, whereas A-list allows only three free movie tickets per week. However, one thing to note is that there aren't usually many movies that come out in a week, and not all movie releases are available in every market.
Reservations & Ticketing
AMC A-List
A-list subscribers can book and reserve tickets without any additional fees. In terms of reserving tickets, users are allowed to reserve up to three movies at a time. The reservation process is separate from the three free movie slots per week. Subscribers can reserve a movie month in advance, taking up one of the three reservations available on the app. It won't affect a subscriber's ability to watch three free movies per week (even if the reservation is months away) as long as at least one reservation spot is available on the app. If all three are used but a subscriber wants to see a movie not booked for that week, they need to cancel one of the reservations. As for ticketing, the subscribers must show the barcode they use to book the tickets, and they do need to show their ID to match the information.
RELATED: 10 Best 3D Movies Of All Time
Regal Unlimited
Regal Unlimited's reservation system is a bit more complicated. While booking tickets at the theater or a kiosk are free, reserving admission tickets on the app does have an added fee. Booking a ticking reservation requires paying a fee of 50 cents (+applicable tax), which isn't necessarily a horrible thing. However, this can be overwhelming if a person makes reservations in most cases, which can increase the bill. Also, a subscriber can only make three reservations at a time. Ticketing is similar to A-list where a person has to show a barcode and confirm identification. However, the identification process is more convenient, as the app requires the user to upload an image of themselves to the app. Final – AMC A-List
While both A-list and Regal Unlimited have similar systems that require identification, A-list takes the edge because it does not have any fees when reserving advanced tickets. There is no convenience fee for reserving any tickets, while Regal Unlimited makes this a slight hassle when subscribers already have to pay for the main part of the movie subscription. Nevertheless, there are ways to get around the convenience fee for Regal Unlimited subscribers if they physically book the tickets at a theater or kiosk.
Booking Premium Screenings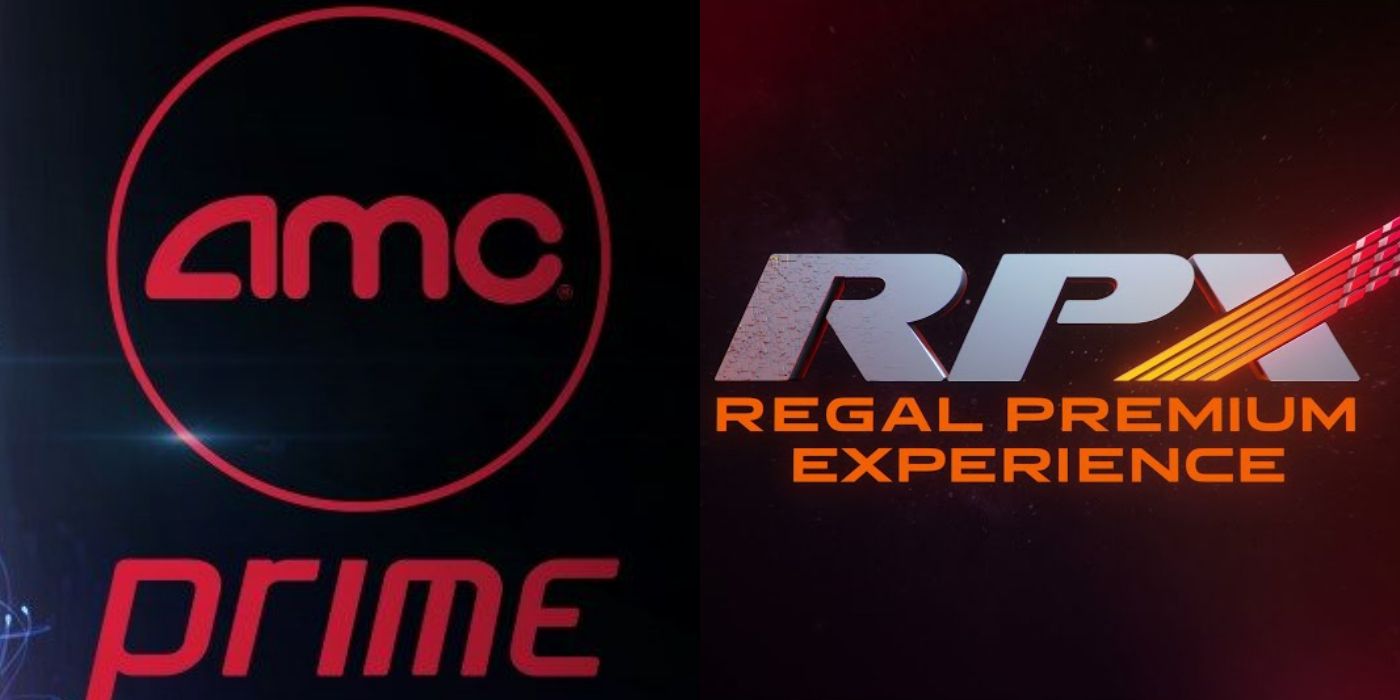 AMC A-List
A-list allows all subscribers to reserve and book premium screenings (IMAX, Dolby, Prime) without any additional fees. The subscriber would have to apply the same protocols about the three movies per week when reserving any tickets in any premium format.
Regal Unlimited
Premium screenings are not free for Regal Unlimited subscriptions. Only movies with standard screenings are free. However, Regal Unlimited does give a discount for anyone subscriber booking any premium format by subtracting the difference between the total cost of the premium ticket and that of a standard ticket. The total may vary based on the premium ticket, but a subscriber should be able to see the discounted purchase at the end of the transaction.
Final – A-List
Since movies like the Avatar sequel have visual effects that are a must-see in IMAX, A-list beats Regal Unlimited regarding their services for premium screenings. It is already included as part of their subscription without any cost, while Regal Unlimited requires paying the difference from a standard ticket. That said, not all movie theaters have premium offerings, so that is something to think about before subscribing.
Rewards, Perks, & Benefits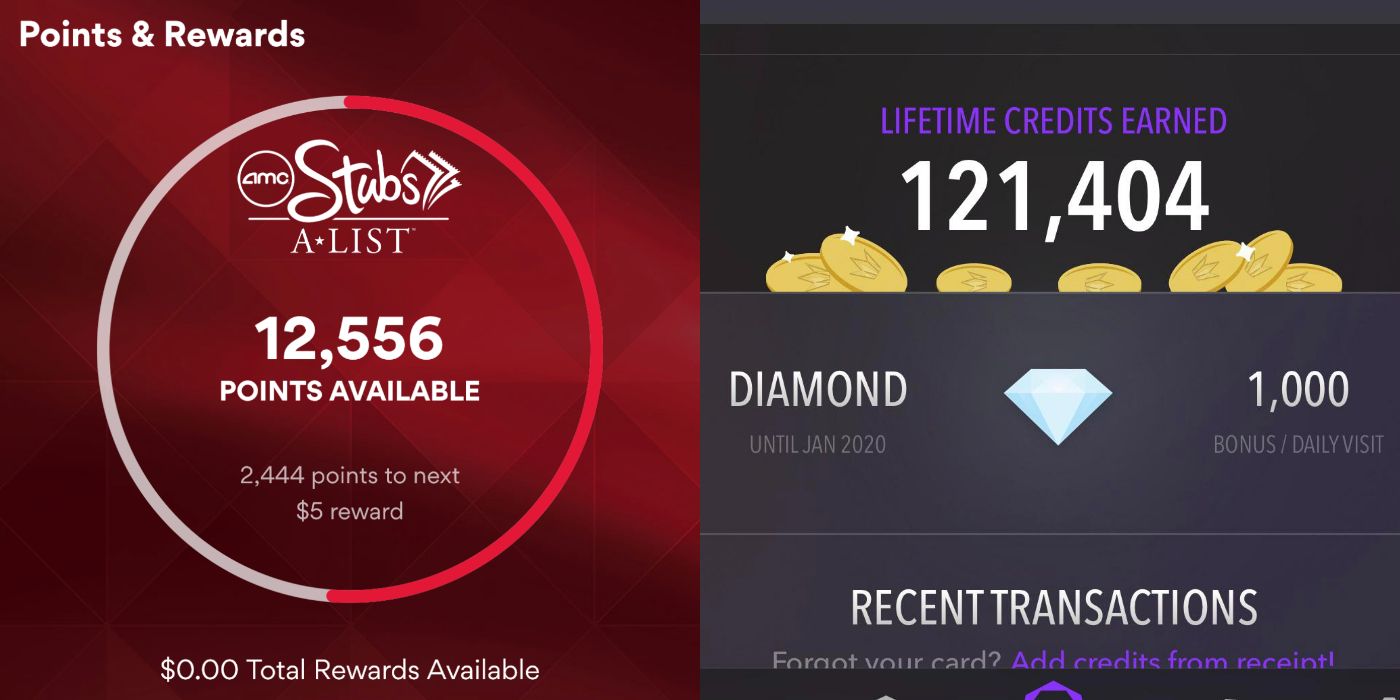 AMC A-List
AMC A-List integrated the rewards program they previously used for Premiere and Insider. The subscription uses a point system that gives $5 rewards for every 5,000 points made, which is based on how much money was spent on commodities like popcorn, drinks, and tickets. Unfortunately, payments for A-list subscriptions do not count towards the point system, but a subscriber can earn points if they paid for separate tickets out of pocket. In addition, subscribers are given free large popcorn and drink upgrades. Also, theaters have separate priority lines for A-list subscribers to use when buying any concession.
RELATED: 10 Best Movies In IMAX, According To Reddit
Regal Unlimited
Regal Unlimited also has a few perks and rewards for subscribers. For concessions, everyone subscriber gets a 10% discount on all non-alcoholic food and drinks. And though Regal Unlimited only allows one person to use the app (the person who is associated with the account), they offer some chances for the subscriber to bring a companion for free, but this depends on the screening itself. Regal Unlimited also has a point system for any purchases made for any separate tickets and concessions, and building up those points can allow subscribers to get upgrades on large popcorn and drinks or even get them for free. Regal Unlimited rewards points for every time your subscription is renewed.
Final – Tie
Both subscriptions have perks and rewards, and they have their pros and cons. AMC A-list seems slightly more appealing, and the separate priority line may make them feel like royalty. And the difference with the upgrades is key since A-list allows this for any concession purchase, whereas Regal Unlimited allows these upgrades when the subscribers get the points for them. However, Regal Unlimited does give points when a subscription is paid, which AMC does not offer, and that can also make a huge difference.
AMC A-List Entourage Vs. Regal Unlimited's Friends And Family
AMC A-List
If subscribers have friends or family members who also have an AMC A-list, they can use Entourage to book tickets together rather than having to book them separately. All a subscriber has to do is to invite them on the AMC app, and once the invitation is accepted, the subscriber can always book any reservation with their entourage by selecting their names and completing them in a single transaction. There are no added costs or fees to booking an entourage.
Regal Unlimited
Regal Unlimited has the Friends and Family service that allows a subscriber to book tickets with guests. Similarly, they have to invite their friends and family by using email or RCC numbers, and once they have accepted, the members are included in their list. Then a subscribe can book tickets with friends or family members in a single transaction. The fees would still apply for any advanced reservations made. A subscriber can add up to five members.
Final – Tie
The best ways to watch movies is to share that experience, and both subscriptions have provided this convenience that allows subscribers to book and reserve tickets all in one transaction. It makes booking more convenient than having each person go into the apps, make the ticketing, and scramble to find the correct seats. Still, the rules do apply for each app regarding any limitations and restrictions set in place for their subscription.
Final Thoughts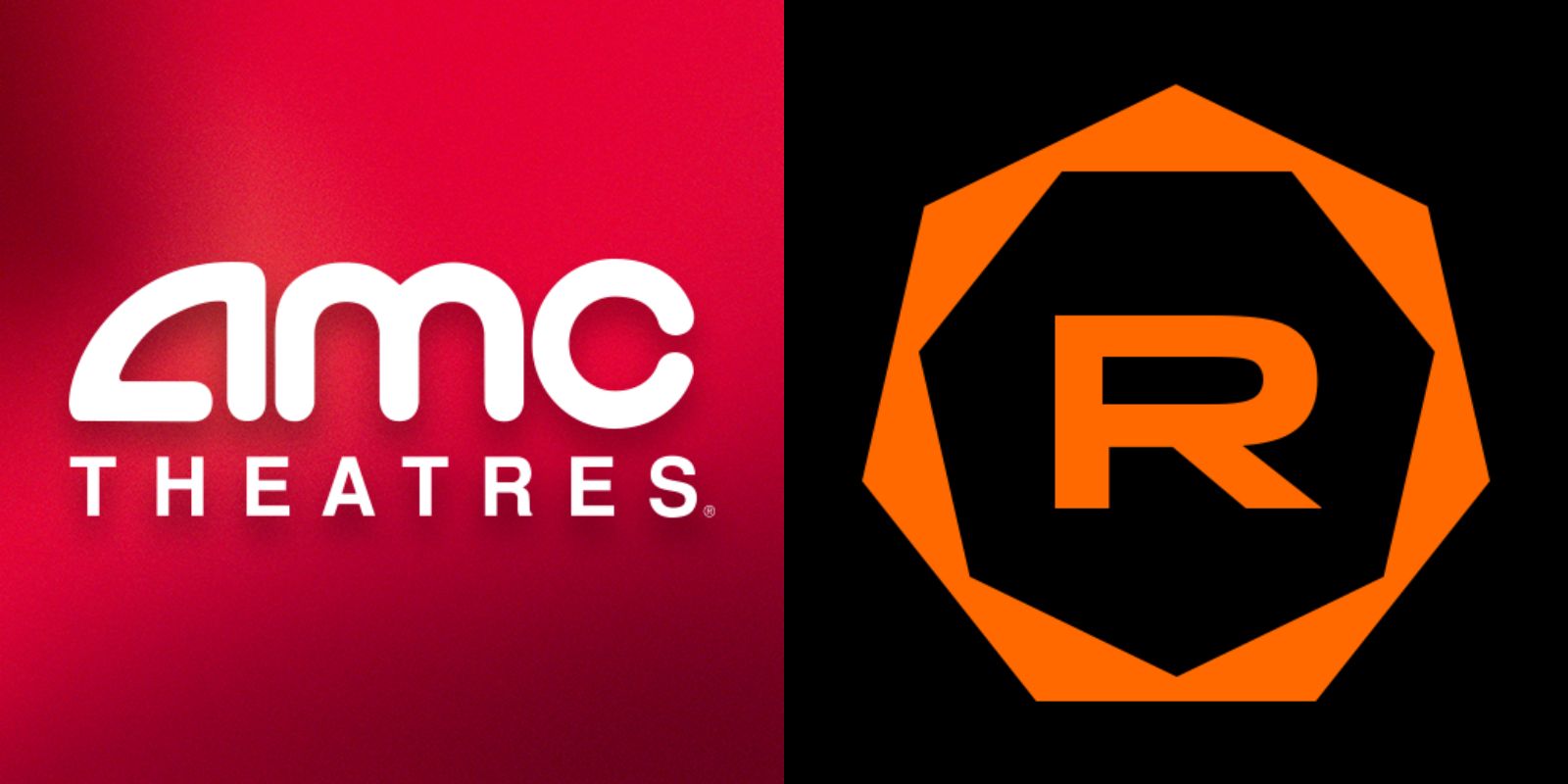 Both AMC A-List and Regal Unlimited are great options for any subscriber who loves to watch movies monthly. And as a moviegoer decides which subscription is the most appealing, the decision ultimately depends on the person's preferences and accessibility. The big deciding factor will be location. Some locations may have both Regal and AMC theaters, which is when they may consider things like the perks and benefits. Some areas may not have any AMC theaters but have Regal theaters or vice versa. Things like perks and benefits are secondary factors but come in play once a subscriber considers their options and theater availability.
Some movie theaters have the right gimmicks that fit a subscriber's needs while the subscription may miss out on optimizing a moviegoer's experience. As long as a subscriber makes up the difference and sees the savings at hand, the movie subscription will be worth the time and investment for any moviegoer, whether with AMC A-list or Regal Unlimited.
More: 10 Best Free Movie Apps