Universal's holiday action comedy Violent Night enjoyed one final hurrah at the global box office before the New Year, reaching $72.8 million across the holiday weekend. The David Harbour-led picture added a total of $2.9 million with $2.1 million of that coming from the domestic box office, bringing the total up to $47.5 million while the international box office sits at $25.3 million. Against a reported budget of around $20 million, the Die Hard-like film continues to prove that Universal's decision to release it in theaters was the right move.
With its latest additions, Violent Night now stands firmly ahead of Bob Odenkirk's Nobody, another popular Universal action comedy that has been the watermark for this film. Excluding Russia, the film's international mark now surpasses Nobody's international cume of $24 million. The killer Santa flick was already en route to surpassing the global box office mark of the film ($57.5 million) back in mid-December, though now that number is well behind Violent Night. In fairness, Nobody was released at a time when theater attendance was still impacted significantly by the pandemic whereas Violent Night has taken advantage of rejuvenated attendance amidst the holiday season, but it's still an impressive feat for the actioner.
Violent Night puts Harbour at the helm as a Viking-inspired Santa. After forming a bond with the young daughter of a wealthy family, he attempts to save them after a team of elite mercenaries takes them hostage with an eye on their massive wealth. John Leguizamo leads the team as Jimmy Martinez, aka Mr. Scrooge with Alex Hassell, Alexis Louder, Leah Brady, Edi Patterson, Cam Gigandet, and Beverly D'Angelo rounding out the cast.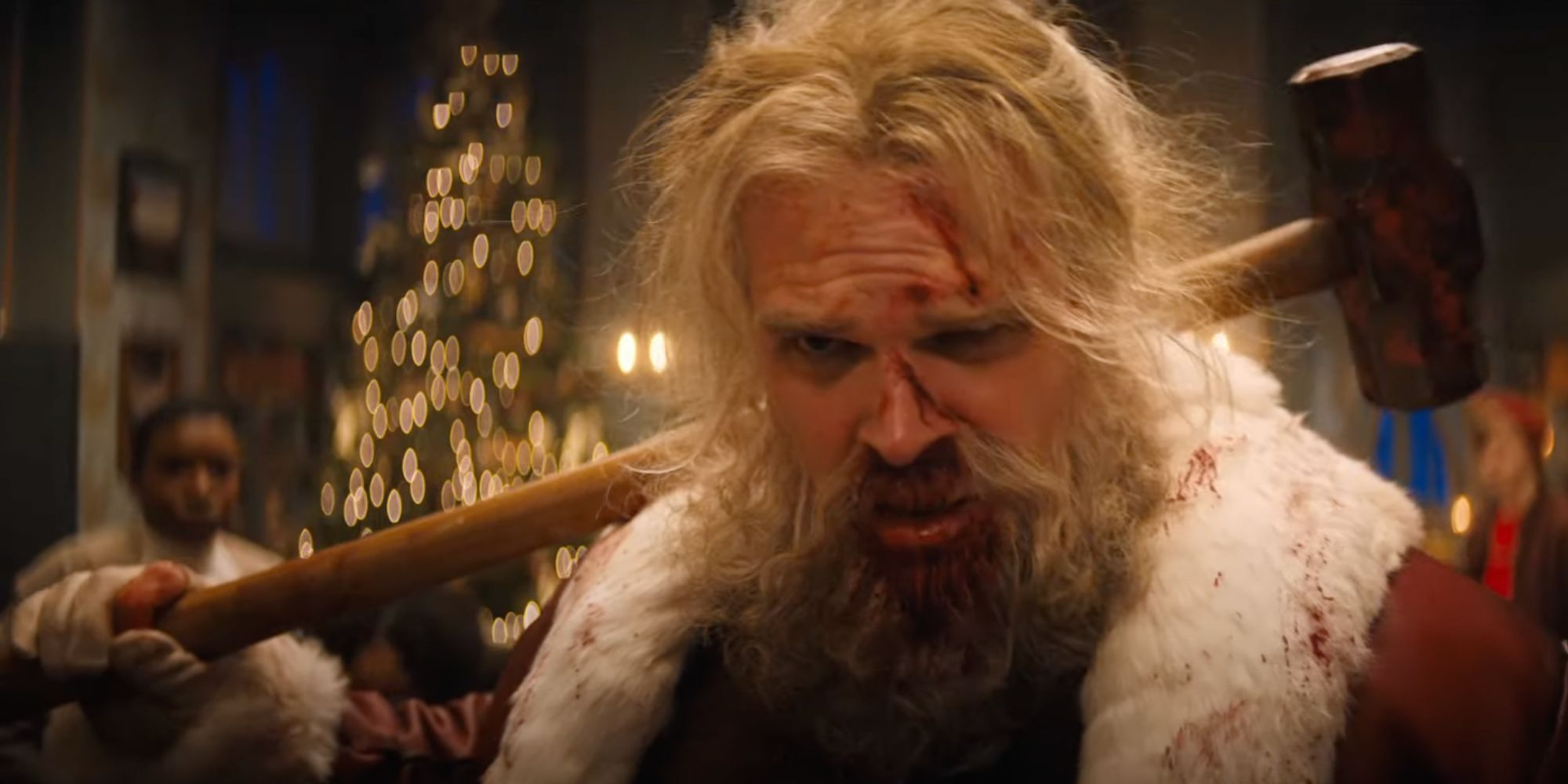 RELATED: The Greatest Action Films of 2022, Ranke
Violent Night Has the Makings of a Holiday Classic
Tommy Wirkola directed the film, bringing his experience from his violent, snow-covered horror comedies Dead Snow and Dead Snow 2: Red vs. Dead to the table alongside 12 Deadly Days and Sonic the Hedgehog writing duo Pat Casey and Josh Miller. Together, the three have made a film that looks to fit right in among fans' holiday catalogs, earning a stellar 88% audience score on Rotten Tomatoes while also winning over critics with its bloody Christmas tale. Collider's own Marco Vito Oddo praised the film in his review, writing that "While being far from perfect, Violent Night is just too fun not to revisit, which means it can become a new holiday classic in the years to come."
Violent Night is still out in some theaters and is available via any VOD service. A streaming release still hasn't been announced yet. Check out our interview with David Harbour below: