Actor and climate activist Mark Ruffalo shared some heartfelt condolences for his friend and fellow Avenger Jeremy Renner following Renner's troubling ski accident.
He asked for "prayers up" for "our brother" Renner and wished him a fast recovery from the injury, on his Instagram stories.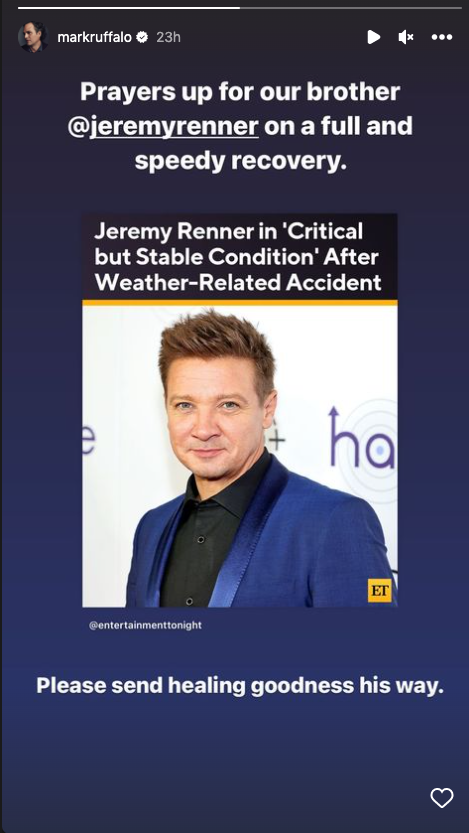 Renner is in critical but stable condition after a Snowcat plowing machine accidentally ran over one of his legs. The actor suffered "a lot" of blood loss. Reno mayor Hillary Schieve shared that Renner was helping a driver who was trapped in their vehicle when he was run over.
Schieve also said said Renner was "always helping others" and that most of the time he helps out but "most of it you would never know he is doing."
A spokesperson for Renner told CNN previously that he suffered "blunt chest trauma and orthopedic injuries" after the accident. He's gone through two surgeries so far to try and help with the injuries. The Reno area was hit with between 6-12 inches of snow between New Year's Eve and the following day, and some areas saw as much as 18 inches.
Renner's family released a statement saying thanks to everyone that zoomed in to help the actor.
"Jeremy's family would like to express their gratitude to the incredible doctors and nurses looking after him, Truckee Meadows Fire and Rescue, Washoe County Sheriff, Reno City Mayor Hillary Schieve and the Carano and Murdock families," the statement said. "They are also tremendously overwhelmed and appreciative of the outpouring of love and support from his fans."
Renner's best known role is as Hawkeye in the Marvel Cinematic Universe. He also stars in Mayor of Kingstown on Paramount Plus.