High on Life has many upgrades and uses for the bounty hunter suit, including Mag Boots. Mag Boots allow the player to walk on metallic surfaces. These boots will allow players to reach new areas and discover more secrets.
When the game released on December 13th, 2022, High on Life was simultaneously released on Game Pass for Xbox and PC. The game is about a human from Earth who becomes a bounty hunter in order to save the species from enslavement. The game consists of taking down high-target G3 Cartel bounties, which become easier with each new upgrade acquired.
Finding the Mag Boots in High on Life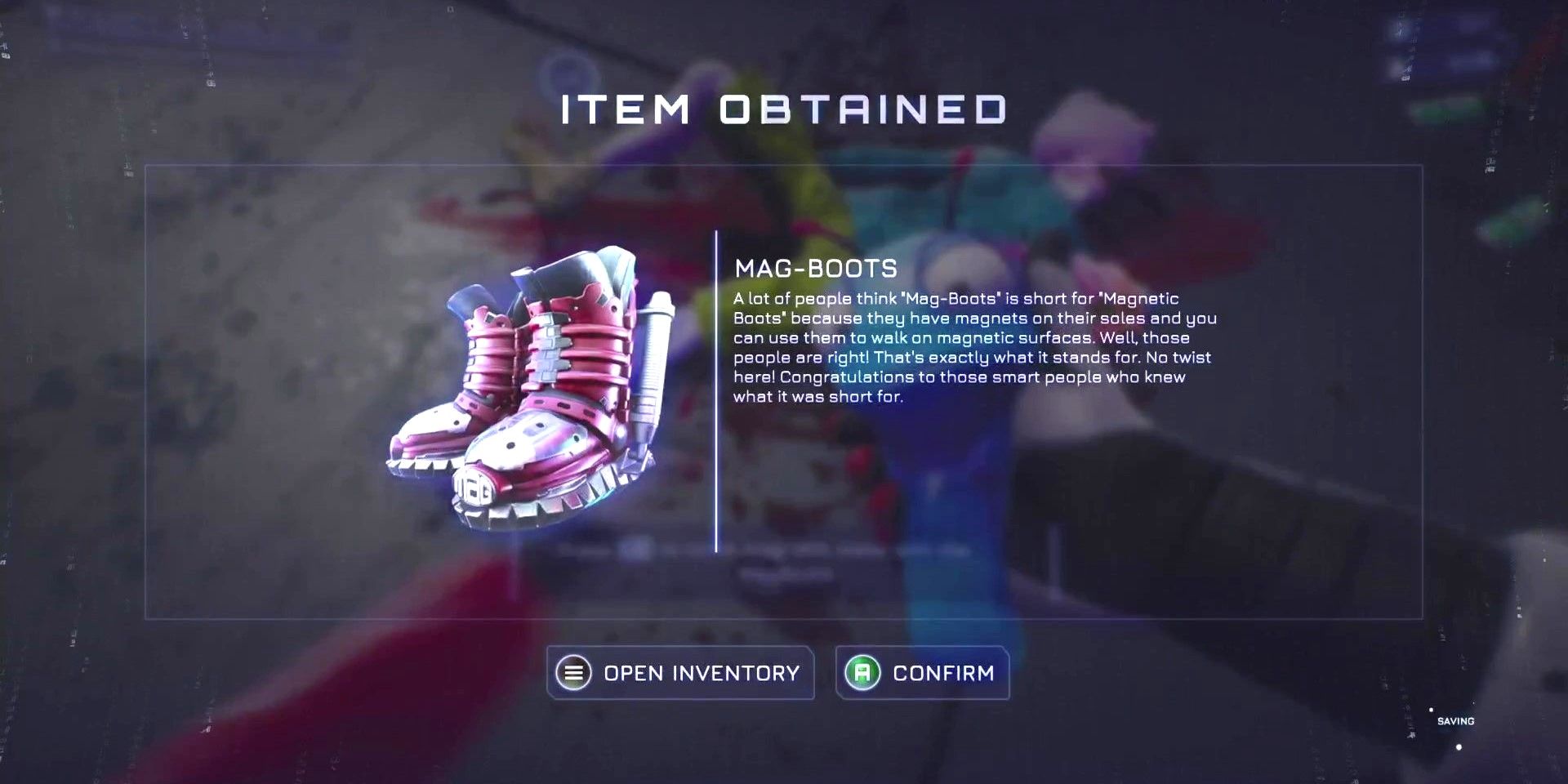 To acquire the Mag Boots in High on Life, players will need to start the bounty for Dr. Giblets. Dr. Giblets will be either the fourth or fifth bounty available to the player. Once his bounty is selected, players will have to start an investigation into his whereabouts. The players must interrogate the citizens of Blim City which will eventually lead them to Blorto's.
Blorto will send the player to the in-game store High on Life. The player will have to re-traverse the Slums in order to reach the store. Players will need the assistance of their Gatlian companions in High on Life, as there are yet more goons to shoot at here. After fighting through the first area, use the Jetpack to reach the Uptown District. By following the in-game cues, players should reach the High on Life store fairly quickly. Once there, cut to the front of the line and walk in.
Complete the story mission within and leave the store. Outside there will be much less of a line and an obvious body on the ground. A red alien will be nearby, who informs the player that they were trampled by the crowd, but that it was fine because they were obviously a terrible person. They will also inform the player that they can just probably take their Mag Boots because they won't be doing anything with them anymore. After that, interact with the body and the game will tell the player that they have gained the Mag Boots.
As with acquiring other upgrades in High on Life, the game will then explain to the player how to use the new Mag Boots. Enemies will also appear, prompting the player to rush back to their home. They can get away with using a metal panel above them. Using more metal panels the player can return to their home faster than they left. The Mag Boots will be particularly important for the rest of the Dr. Giblets bounty, and players should keep a lookout for any metallic surfaces to cling to. With the Mag Boots acquired, High on Life will be more open for exploration than ever.
More: High on Life Review: An Interdimensional Cable FPS
Source: Squanch Games Youtube Channel
High on Life

Platform:

Microsoft Windows, Xbox One, Xbox Series X/S

Original Release Date:

2022-12-12

Developer:

Squanch Games

Publisher:

Squanch Games

Genre:

Action-Adventure, First Person Shooter

Engine:

Unreal Engine

ESRB:

M

Summary:

Justin Roiland, co-creator of Rick & Morty and Solar Opposites, comes High On Life, developed by Squanch Games. Players take on the role of a fresh high-school graduate with no real direction in life – until an alien cartel crashes into earth intent on using humanity as a new drug source. Stumbling upon an armory of talking guns, players will take up the hero's call and embark on a comedic action-packed adventure to stop the cartel and become the greatest bounty hunter in the universe. 

Mode:

Single-player