On January 6, Scott Cooper's newest feature The Pale Blue Eye arrives on Netflix. Set in the 1830s, the gothic horror/thriller follows a detective Augustus Landor (Christian Bale) who is tasked with investigating a gruesome murder at West Point military academy. However, he hits a major roadblock due to the cadets' code of silence. So, Landor turns to one of their own for help, a young cadet who would soon become the Edgar Allan Poe (Harry Melling). The upcoming film is adapted from Louis Bayard's novel of the same name. Ahead of the film's release, Netflix has shared a new behind-the-scenes video.
The featurette breaks down a few of the film's main components, beginning with its overall look. As previously revealed in the trailer and other photos, the film's cold tones convey both the literal wintry setting within its world and the eeriness of its story. Director and screenwriter Cooper reveals this was an intentional choice, as he wanted to make viewers feel like they were watching it in black and white. Bale, Melling, and Gillian Anderson add that creating an atmosphere like that makes it feel more real.
Another important facet of the film is the relationship between Landor and Poe. Bale talks a bit about how Landor becomes an "unexpected mentor" to Poe as they work through the case. This in turn leads the two to form a stronger bond and friendship. But the dynamic is only as good as its actors, and Cooper sings the praises of the cast. Like Out of the Furnace and Hostiles, Cooper wrote Landor specifically for Bale. He also shares that Melling's portrayal of Poe went beyond his initial vision for the character.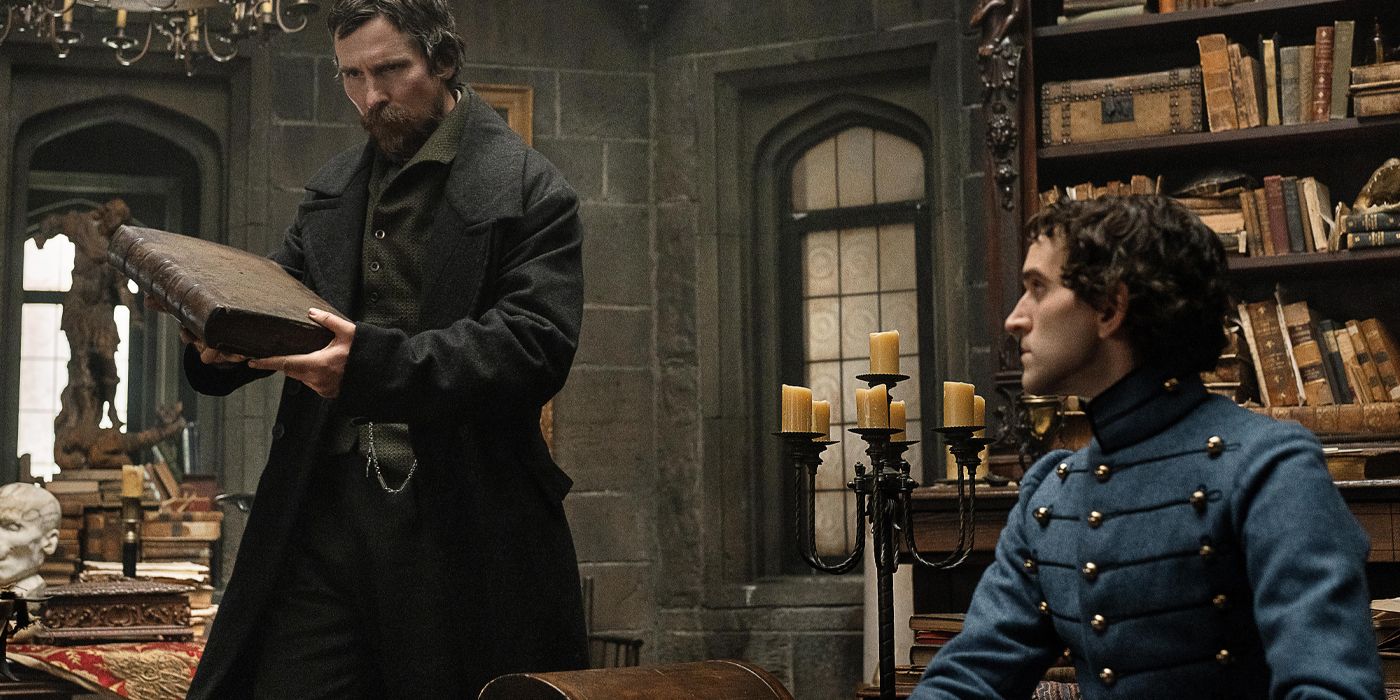 RELATED: 'The Pale Blue Eye' Review: Christian Bale and Henry Melling Get at the Tell-Tale Heart of an Edgar Allan Poe Mystery
Finally, Cooper, Bale, Anderson, and Lucy Boynton hit on the mystery of it all. They each offer tidbits on what to expect from the story, including the twists and turns it takes and how no one is really quite who they seem. Bale notes that viewers who don't know anything about Poe will still enjoy it, and Poe fans will get a "gold mine."
The Pale Blue Eye was written and directed by Cooper who also produced alongside Bale and Cross Creek Pictures' John Lesher and Tyler Thompson. Dylan Weathered and Tracey Landon executive produced. Additional cast includes Timothy Spall, Charlotte Gainsbourg, Toby Jones, Robert Duvall, Harry Lawtey, Simon McBurney, Hadley Robinson, Steven Maier, Charlie Tahan, Joey Brooks, Brennan Cook, Gideon Glick, Fred Hechinger, and Matt Helm.
The Pale Blue Eye releases on Netflix this Friday, January 6. Watch the latest featurette below: