A new poster for upcoming Netflix sitcom That '90s Show teases the show's return to one of That 70s Show's most iconic locations. After a successful run on Fox from 1998 to 2006, That '70s Show will be returning in the form of a revival show set in 1995, 15 years after the end of the original show's story's conclusion on New Year's Eve 1979. That '90s Show will see worlds colliding as many characters from the show's original run will return alongside a fresh, new cast of teenagers. While the original show was all about what it was like to grow up in the '70s, the revival will focus on what it's like for these new characters to grow into adults during the '90s.
Netflix has released a new poster for That '90s Show, which shows the new group of teenage characters in the old gang's favorite hangout spot: the basement of Red (Kurtwood Smith) and Kitty (Debra Jo Rupp)'s house. That '90s Show will be available to stream exclusively on Netflix starting on January 19th and will be centered on Eric Forman (Topher Grace) and Donna Pinciotti (Laura Prepon)'s teenage daughter Leia Forman (Callie Haverda), who forges relationships with other teenagers while she's spending the summer of 1995 with her grandparents in their home back in Point Place, Wisconsin. Check out the new poster, below:
Related: Every That '70s Show Character Who Appears In That '90s Show's Trailer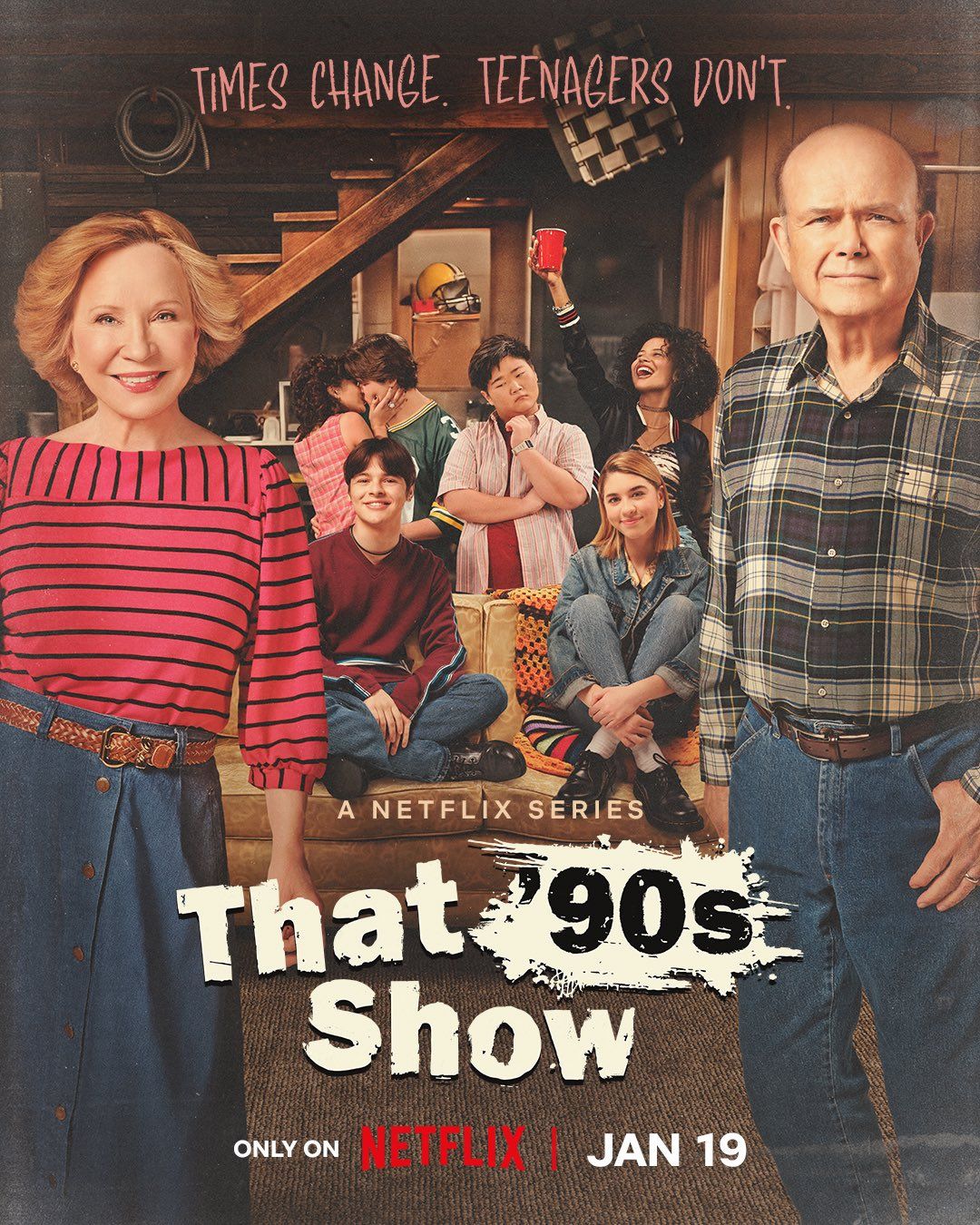 Can That '90s Show Live Up To That '70s Show?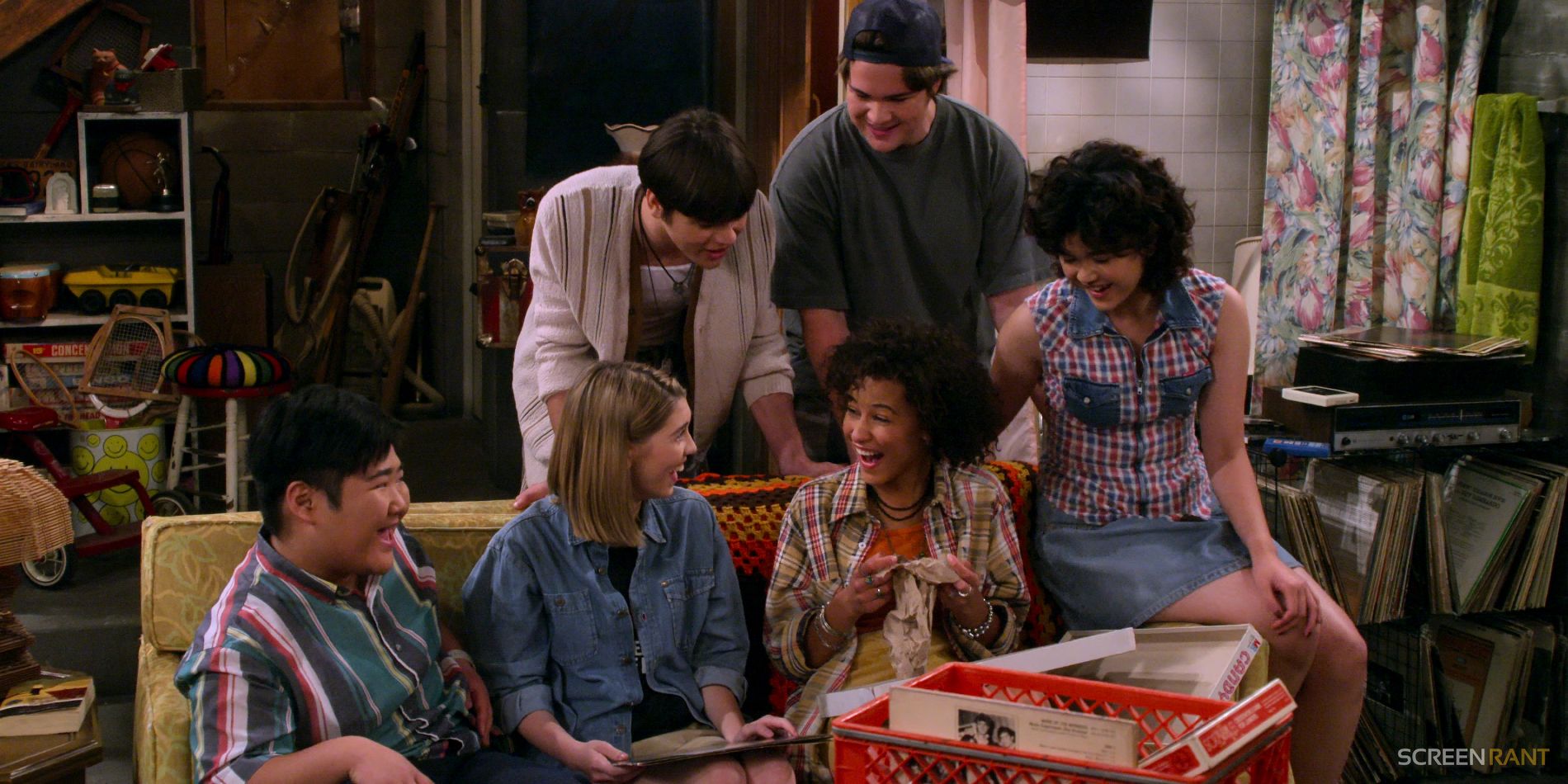 The cast and crew of That '90s Show definitely have their work cut out for them if they intend to live up to the lofty expectations That '70s Show's successful eight-season run has burdened them with. It's worth noting that this isn't the first show the producers of That '70s Show have created in an attempt to build off the popularity of the original, with that distinction going to the short-lived That '80s Show, which aired in 2002. The show had the same creators and several of the same writers as That '70s Show, but it never really got off the ground and received widely negative reviews, which led to its cancelation after just one 13-episode season.
The good news is That '90s Show has something going for it which That '80s Show didn't, giving the new show a much better chance of recreating the success of the original. That '80s Show did not have any characters or storylines crossing paths with the original, so it was unable to take advantage of the nostalgia and goodwill created by That '70s Show. The upcoming show won't have that problem, with Red and Kitty returning as part of the main cast, and Eric, Donna, Jackie Burkhart (Mila Kunis), Michael Kelso (Ashton Kutcher), and Fez (Wilmer Valderama) also returning as special guest stars.
A return to the familiar pastures of the Forman's house in Point Place, Wisconsin also seems like a huge plus for That '90s Show, as the new cast of teenagers will be recreating classic sequences such as the old gang's iconic smoking circles. The new show continuing Fez's arc from shampoo boy in the original to owner of his own salon, Chez Fez, in the new series is an encouraging sign for the arcs of the other returning characters as well. A seamless mix of old and new could be the perfect formula for That '90s Show to carve out its own place in the current TV landscape while also paying homage to the original.
More: Fez's That 90s Show Fate Is So Much Better Than We Imagined
Source: Netflix
That 90s Show premieres on January 19 on Netflix.