As superhero movies are starting to wean out of mass audience's favor, the next big thing is kind of up in the air. While we're starting to see an ant-sized surge in mid-budget studio films, it seems as though the movie going public is completely attached to gargantuan spectacles as the primary type of project that will draw them into theaters and streaming services. One genre that seems to really be catching peoples' eye nowadays is fantasy, something we're seeing with HBO's House of the Dragon and Amazon's The Lord of the Rings: The Rings of Power. It seems that as audiences have proven greater interest in the genre, we're starting to hear about more and more fantasy related films being announced by studios every day. As audiences are looking for additional fantasy movies and TV shows to catch, whether new and old, one that has probably flown under many radars is Disney's 1985 film The Black Cauldron — a dark and mystical adventure still bound to satisfy the needs of fantasy heads everywhere.
A Troubled Journey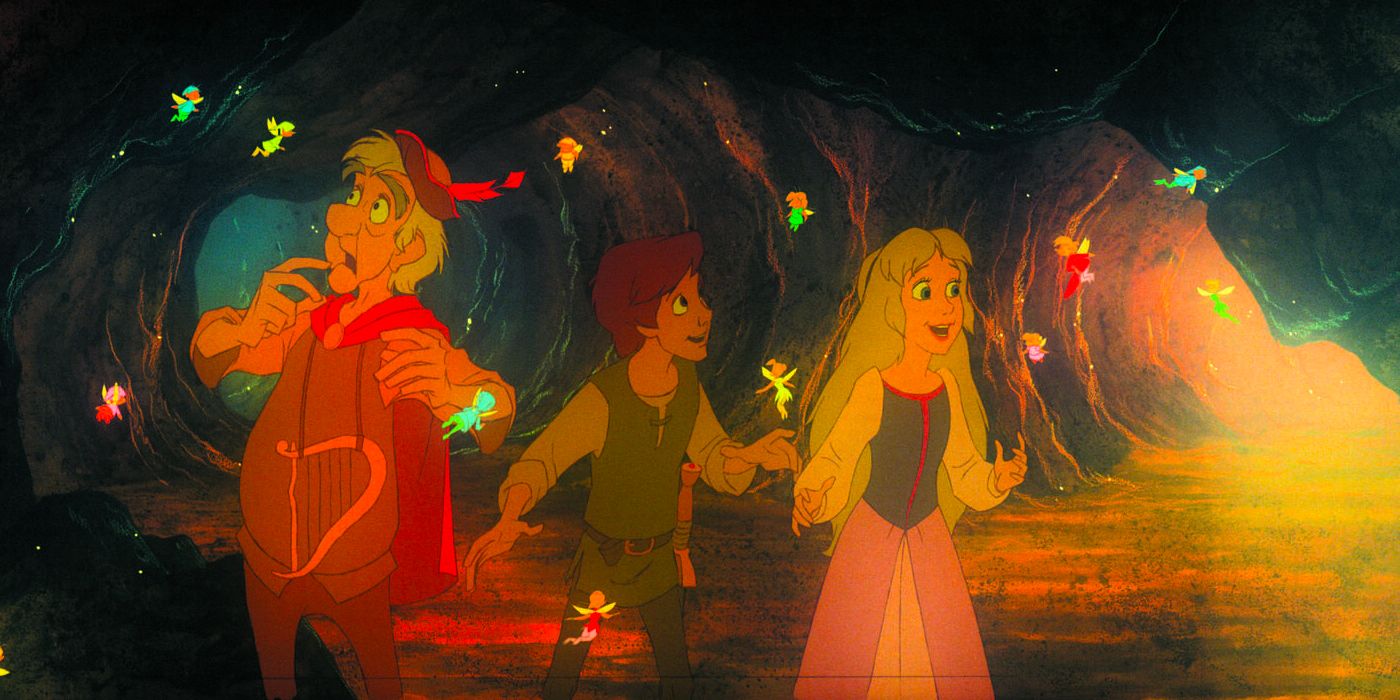 The Black Cauldron is a film that had a troubled journey to the big screen. The film is based on the Chronicles of Prydain novels by Lloyd Alexander, a high fantasy series consisting of five books written every year, from 1964 to 1968. Disney acquired the rights to Alexander's stories in 1973 and after years of pre-production, the film was scheduled to be released in 1980. The novels were so ambitious and sprawling in the scope of their narrative that the filmmakers had a tough time wrangling the general story down to a single digestible 90-minute Disney film, so the studio ultimately settled on adapting the first two books, The Book of Three and The Black Cauldron.
Related: How 'The Black Cauldron' Nearly Killed Disney Animation
Newly hired animators were also brought on to help adapt the material, but the concept art for the film's overall visual nature and necessity for realistic animation was deemed too advanced for this freshly broken-in crew to work with. This is where the film's history of delays began. The tone of the project would bounce back and forth from light and comedic to dark and serious, a side effect felt by the ever-changing lineup of writers, animators, and directors. The characters at the center went from looking like the typical lighter Disney designs to a more extreme version of the darker, more angular look found in Sleeping Beauty. An eventual combination of veteran hands at Disney ready to see something different come out of their studio with animators early in their careers meant a more reckless and daring project was on its way. This showed The Black Cauldron heading into a type of mature territory that Disney had and have still rarely delved into, and it's all the more interesting for that.
Going in a Darker Direction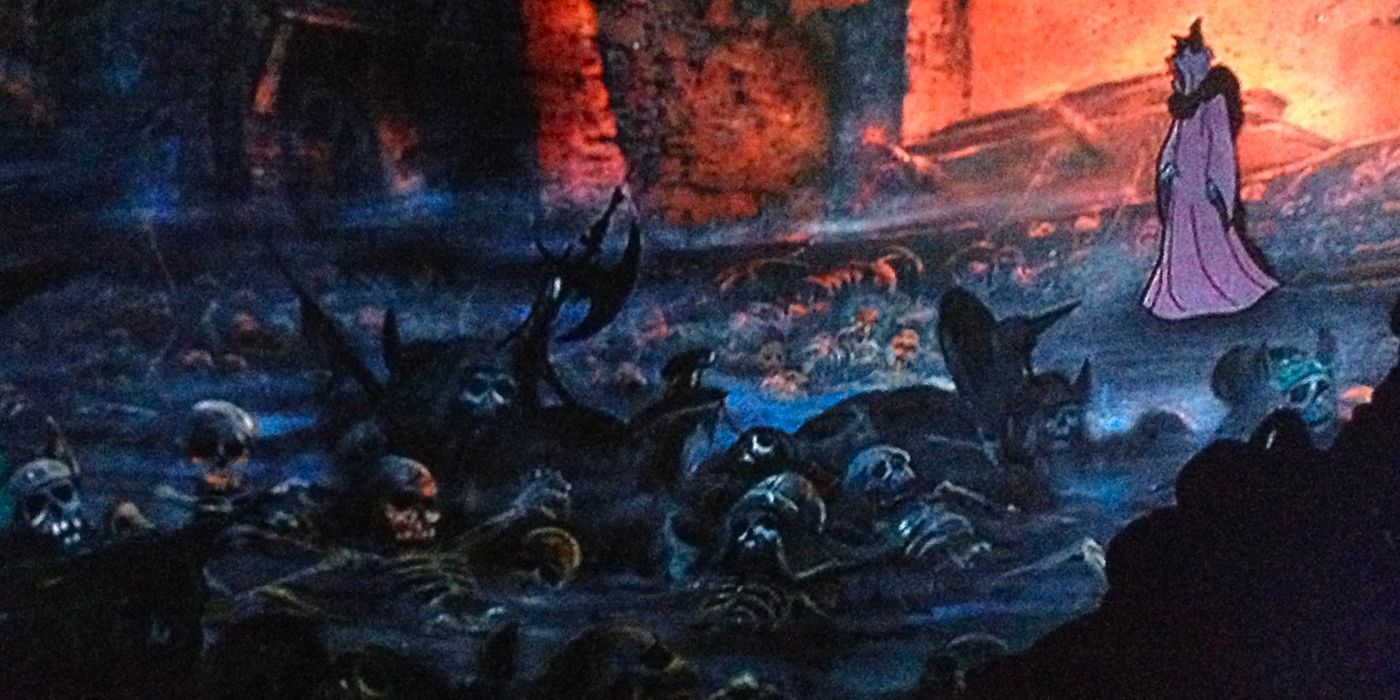 The Black Cauldron is about as interesting of a film as Disney has ever made, but not for the reasons one might expect. It's underrated, that's for sure, but not great. The film toggles back and forth between what you'd come to expect from the studio that brought audiences Cinderella and Pinocchio with basically stretching out the evil-by-Disney-standards "Night on Bald Mountain" segment of Fantasia over 80-minutes. It's nuts. Throw some all but confirmed The Lord of the Rings and Wizards-esque Ralph Bakshi influence into the pot, and you've got The Black Cauldron. You'd expect any film from Disney to have pristine and seamless animation, but that's not the case here. The movie looks great, but more in the way that fans of '70s underground animated films and progressive rock album covers would find its visuals appealing. At times, this thing is a bit of a trip. It indulges in the darkness of fantasy that Disney had previously dabbled in by cranking things all the way up. The eerie, cobwebbed castles and lush, high fantasy landscapes make Cauldron a visual feast and a worthy break from Disney's typical output. Of course, it's not quite Heavy Metal, but the last movie that the studio released was The Fox and the Hound. You've got to give them some credit for going there with this one, they deserve it.
The film follows your typical fantasy lead, a farm boy named Taran (Grant Bardsley) who aspires to becoming a great warrior. After his future-seeing pig (yes), Hen Wen, is abducted by the Horned King's (John Hurt) dragons with the intent in capitalizing on Wen's abilities to find the titular Black Cauldron, Taran sets out to save his pig and stop the Horned King from raising the Cauldron-Born, an army of the dead. Again, it's about as standard as you can get in terms of story (barring the pig with visions), but that's one of the things that makes it immediately accessible to fantasy fans. While this kind of thing isn't always a positive — generally, we're a fan base that enjoys a fresh take on our beloved genre — familiarity is a key element to drawing us in. The story can be a bit too basic at times, making the film a sad case of style over substance. But if you're willing to sacrifice a bit of story in favor of some wild fantasy animation, you can't really miss with this one.
While much the story of The Black Cauldron and the characters are not all that gripping or engaging, there is one major exception to that rule. The Horned King, voiced with menacing gravitas by John Hurt, is one of Disney's coolest protagonists. He's not a villain that carries any emotional weight for either characters or those watching the film, he's just straight up cool. Cool in the way that the nazgûl from Lord of the Rings are cool. His character design was originally meant to present an angry Viking with a big red beard, something we can thank producer Joe Hale for scrapping. His thin, decomposing, zombie-like body covered in a tattered cloak is about as great of a design as Disney's ever had for a villain. Any time he appears, every fault that the film has is forgiven. The filmmakers know it too. When the Horned King shows up, the score and a large amount of the sound effects get sucked out in a vacuum, leaving his booming voice and creaky body to fill out the soundscape. In short, this brother is menacing, the best part of The Black Cauldron. The Horned King is not necessarily one you'd hope to show up in The Aristocats, but for a fantasy film, this guy rocks.
Disney Rethinks the Genre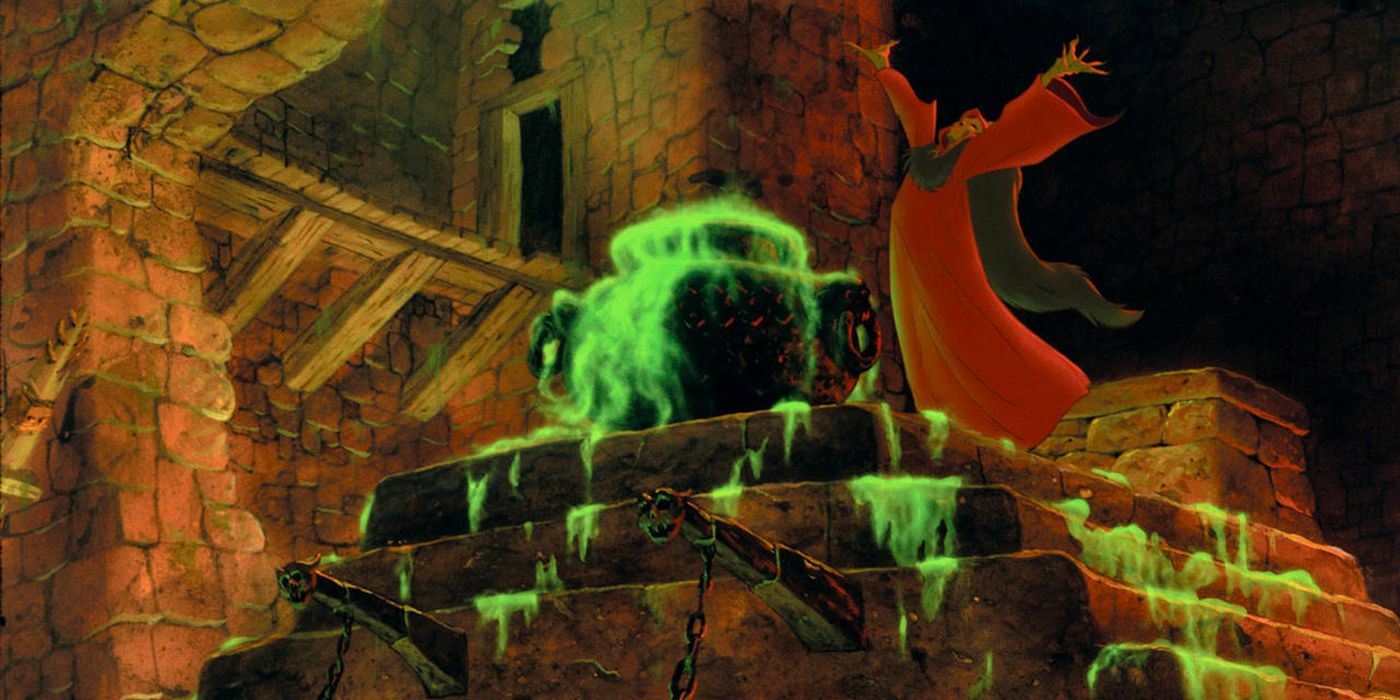 Even though Cauldron is now seen as an interesting piece of the larger Disney canon, audiences back in 1985 definitely didn't think so. The film bombed so hard that it almost tanked Disney's animation department entirely, making only $21.3 million off of a $44 million dollar budget. This seems to be a combination of general audiences not knowing what to make of a grittier film from the studio along with those that made it not knowing what to do with their final product or how to market it properly. This bomb led Disney to rethinking their approach to the types of stories that they would tell moving forward, guiding them into their ever-present squeaky clean, totally family friendly fare. It can be argued how some sort of piece had to fall into place for the studio to get the quality of their films back on track and crank out '90s bangers like Tarzan and The Lion King.
But that doesn't detract from this film at all. Despite The Black Cauldron's black sheep status over at Disney, it's perfect for anyone digging around for more fantasy to take in. With its astonishing visuals, creepy atmosphere, menacing antagonist, and reliable structure, The Black Cauldron still works as a wonderful fantasy venture off into Disney's darkest corner.