There are few things in life more satisfying than a perfectly fitting pair of pants, and no movie has captured that feeling on-screen more perfectly than The Sisterhood of the Traveling Pants. The problem of finding such a mythic article of clothing has plagued mankind for decades. But in the 2000s comedyThe Sisterhood of the Traveling Pants, four best friends somehow manage to find a pair that fits all of them perfectly, despite the women each being different sizes and shapes. This is the premise to possibly one of the most essential girls' trip movies ever produced.
What Is 'The Sisterhood of the Traveling Pants' About?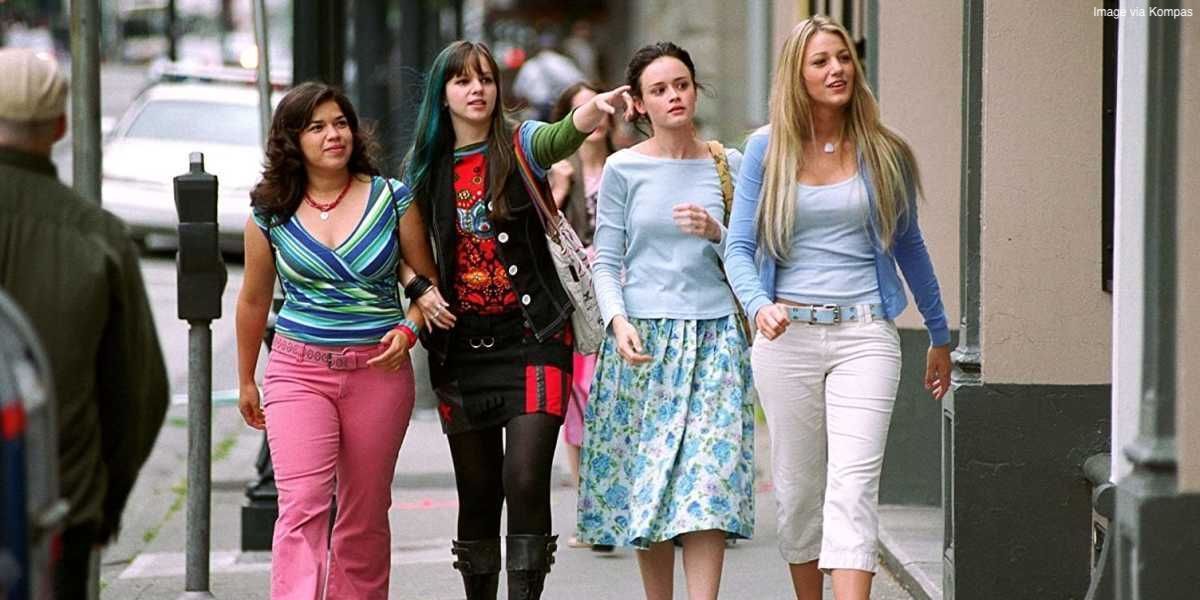 Directed by Ken Kwapis and written by Delia Ephron, the movie was based on the New York Times Bestseller of the same name by Ana Brashares and follows Lena (Alexis Bledel), Tibby (Amber Tamblyn), Carmen (America Ferrera), and Bridget (Blake Lively), as they spend their first summer apart each promising to send that magic pair of jeans to each other to keep in touch and help them on their adventures. That's right, this is a girls' trip movie that doesn't even entail the friends traveling together, and it still makes it one of the best.
Back in the mid-2000s, this movie was very popular, especially when it was released for showing on DVD and on cable. This article only exists because its writer had flashbulb memories of scenes that were playing on the family television seemingly for a week straight. At the time, it seemed like everyone's sister had watched and read Sisterhood of the Traveling Pants and therefore, so did everyone's brother and parents. The film even spawned a sequel due to its success with the original cast returning, no small feat. The movie had an absolute stranglehold on the teen and family audiences at the time as did the book. Although far from a perfect movie, there is a lot of merit to the film which is why it gets placed as an essential girls' trip movie.
RELATED:Regina Hall Gives One of Her Best Performances in 'Girls Trip'
If not for the extremely simple yet universal premise of perfectly fitting pants, the movie actually touches on some important themes, especially for a teen oriented movie. In terms of the travel, the movie is split between scenes from each place one of the friends goes. Lena, travels to Santorini Greece, meeting family and exploring the place of her roots. Bridget travels to Baja California to participate in a soccer camp. Carmen excitedly takes a bus to North Carolina to spend time with her father, and Tibby well, Tibby stays home. Each member of the squad encounters their own challenges and attribute the overall out of the ordinary experiences they have on the magic jeans.
In 'The Sisterhood of the Traveling Pants,' Lena Learns How to Love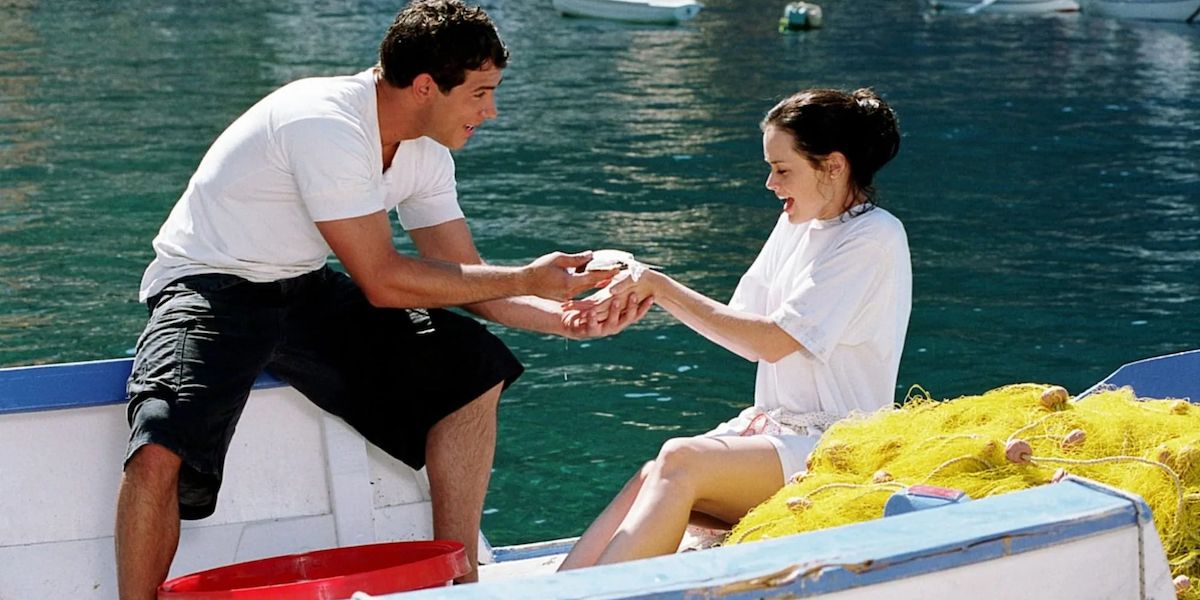 First in the line of receiving the pants is Lena who finds herself in Greece visiting family she had never met before.The jeans travel all the way from Bethesda, Maryland to Greece and the many steps of that journey are shown in the form of a montage of short moments at the various package processing points, a recurring sequence throughout the movie. While there she is sporting the magic jeans when she falls into the ocean only to be rescued by the charming and handsome Kostas (Michael Rady), a local fisherman and charmer extraordinaire.
Of course, their love is forbidden not just by the feud between their families but also because of Lena's emotional reluctance and testy level of self acceptance. The pants were on when she fell in the water and later is able to reunite with Kostas before he leaves for Athens to profess her love for him as he did to her, also in the mythical jeans. It is the jeans that give her the boost of self-confidence and that extra little something (magic) that are ingrained in these jeans.
Supported by the Pants, Tibby Learns That All Is Not Always What it Seems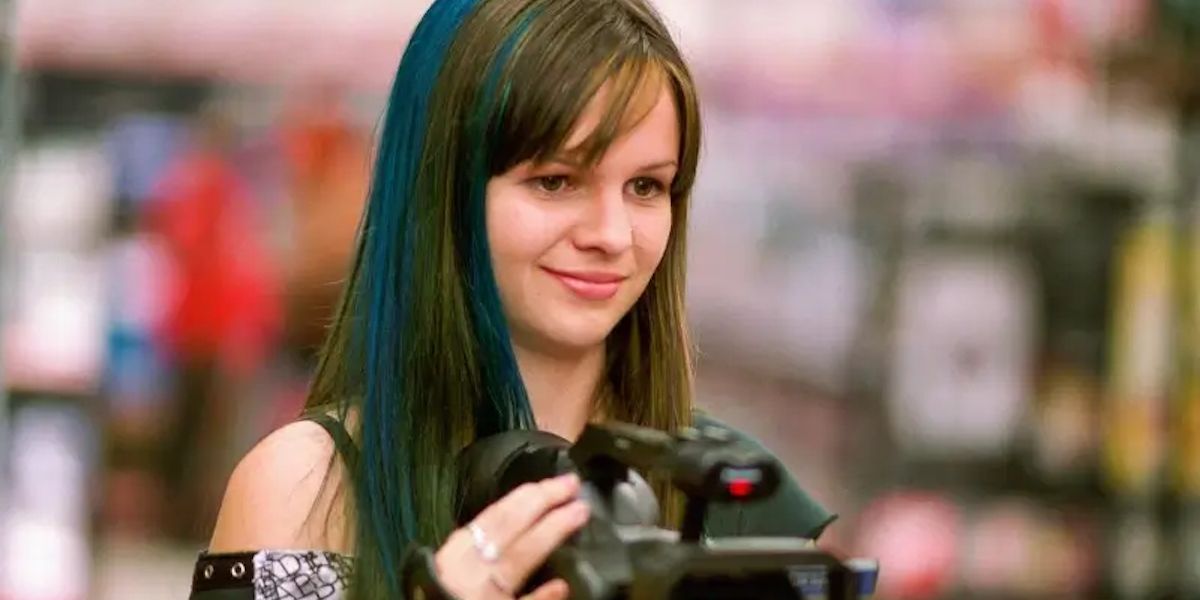 Tibby is all geared up for her summer to be a wash due to the fact that she had to stay home. Her life outlook in general is a bit on the cynical side as she believes nothing of substance would happen in her town. When a younger girl collapses at Tibby's place of work, a friendship ensues as the girl, Bailey, decides to help Tibby make her 'Suckumentary' by interviewing various people around town. Tibby was indeed wearing the jeans when she first helped Bailey.
Eventually it is learned Bailey has leukemia and Tibby experience losing someone she cares about. Through that hardship, Tibby also learns to look beyond first impressions to find amazing and sometimes heartbreaking stories in unexpected places. After Bailey expresses one of her dying wishes is for Tibby to finally finish her movie, Tibby is seen working hard on it and ends up calling it 'Bailey.' Again, the jeans provide exactly what Tibby needs at the moment in the form of a random connection that proves more deep and meaningful than Tibby realizes at first.
Carmen Stands Up for Herself in the Pants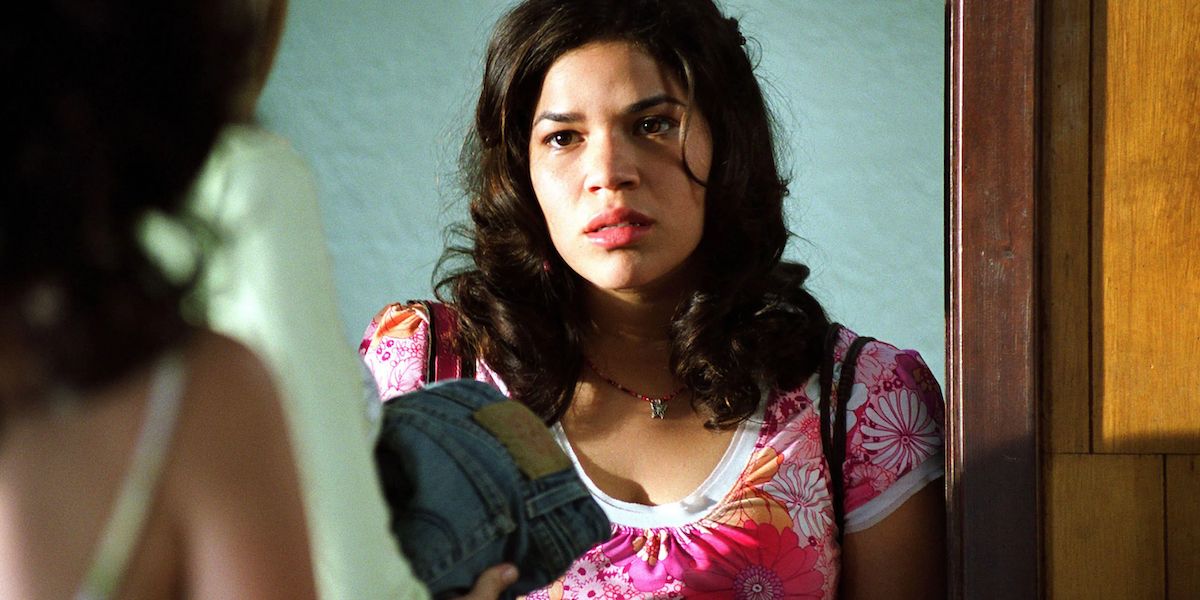 Carmen is more excited than ever to see her father in North Carolina. When she arrives she meets her dad's soon to be wife and her two kids, a complete surprise to Carmen at the time. Her dad (Bradley Whitford) seems to be too pre-occupied with his new family to spend any quality time with Carmen, even going as far as ignoring her and sitting down to a family meal hours after she ran out of a dress fitting for being ridiculed and embarrassed by her future stepmom.
Throughout the course of her tenure with the jeans, she is embarrassed and disrespected by her father and his soon-to-be new family. It's only after returning home early and having an emotional heart-to-heart with Tibby that Carmen calls her dad and says what she had been holding back the entire time. In the end Carmen is publicly apologized to at the wedding while of course sporting the jeans of the sisterhood. The jeans in Carmen's instance act as a passive observer of her struggles they fit her perfectly in a time when she is made to feel like she doesn't belong.
Wearing the Pants, Bridget Learns What Truly Matters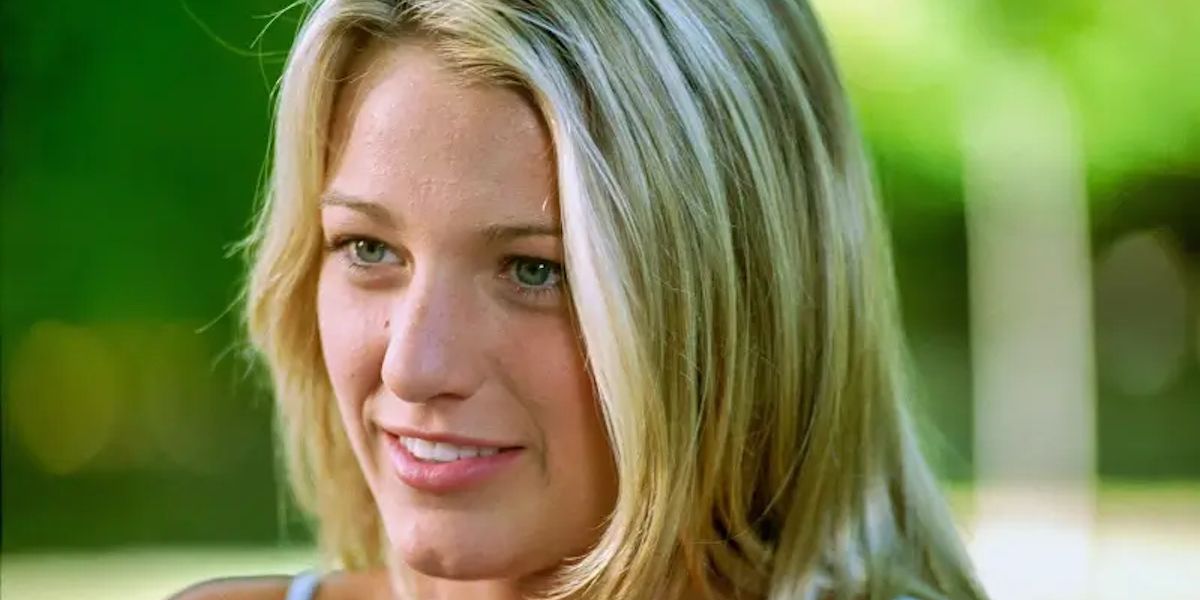 For Bridget, the soccer camp in Mexico was never really about soccer it was about boys and the only one on her radar is a coach named Eric (Mike Vogel). Throughout the camp, she is taking every opportunity she has to flirt with him. When the jeans finally travel to Bridget, she has them on the night she gets her moment with Eric. This event causes some discomfort in Eric and afterward, an emotional down turn for Bridget. Although this may seem like the jeans only helped Bridget get what she wanted for the moment, what they really do is clue the other friends in on some concerning feelings Bridget was experiencing behind her typically happy demeanor. When all four members of the Sisterhood are back home, they comfort Bridget recalling happy memories of her late mother and assure her that Bridget is strong and has a support system. Without the Sisterhood, Bridget might not have kept in touch with her friends, risking them never picking up on Bridget's feelings.
The jeans are more of a passive observer of the four friends' summer away, but nonetheless they allow the Sisterhood to stay connected and supportive of each member. The look into these girls' friendship could've been achieved with a road trip movie or perhaps a trip through the woods gone awry, but it wouldn't have captured the more relatable event of growing older and apart from your friends as life takes you to different spots. That's what makes the movie so essential, it is able to balance the multiple locales of the girls' travel with the various themes explored throughout. Additionally, the universal idea that a good fitting pair of pants really can provide that little extra something one needs. The trip aspect of this movie isn't only the jeans and friends physically traveling themselves, but the transformations that occur in each member of the Sisterhood as the summer goes by.