To earn Magik's Midnight Sun Suit and Darkchylde Legendary combat ability in Marvel's Midnight Suns, players must complete "Demon Child," Magik's Challenge Mission at the Forge. This challenge becomes available once the protagonist has reached Friendship Level 5 with Magik. Like other Hero Challenges in Midnight Suns, fans must figure out a way to acquire their Legendary Card and use it to achieve victory. However, while infinite Card Plays are allowed during this combat instance, Magik will be unable to move across the field or redraw her cards. Moreover, the challenge will immediately fail if she falls in battle.
To complete Magik's Challenge Mission in Marvel's Midnight Suns, players must perform a series of predetermined moves by playing cards in a certain order. While the order of one or two cards might differ slightly depending on the individual, the solution will generally remain constant. Accordingly, the first card Magik users should play as their first is Limbo's Grasp to buff the Hero's damage output. Next, play the Trap Door card and move the center enemy to the back, near the crumbled green fissure on the ground.
Related: Marvel's Midnight Suns: All Character Hangouts Guide (Likes & Dislikes)
How To Complete The Demon Child Mission in Marvel's Midnight Suns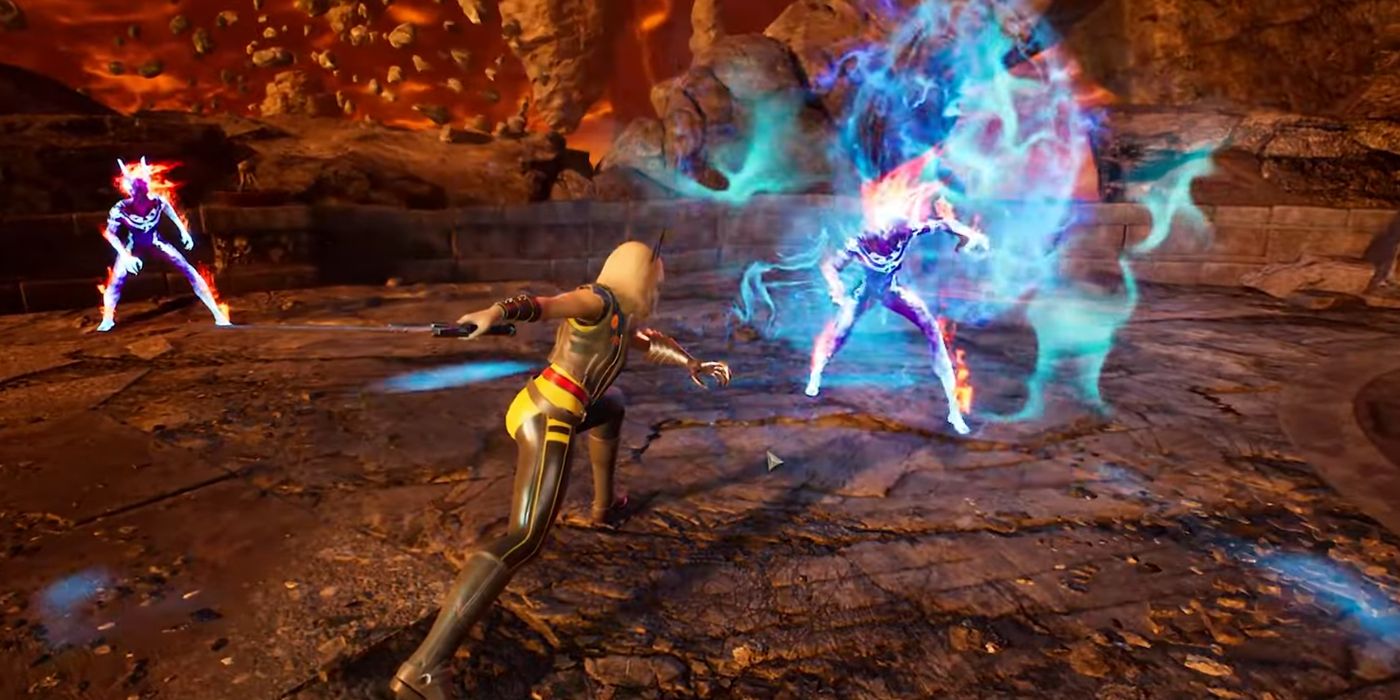 After repositioning the enemy holding Darkchylde during "Demon Child" in Marvel's Midnight Suns, players should then use Quick Soulslash on the same opponent. Based on gameplay footage provided by YouTuber TapCat, Quick Soulslash should be followed by Limbo Portal and Kick, sending the Darkchylde-holding foe into the back wall on the right. Keep in mind that the players must set up Limbo Portal before the Kick, as the cards do not play out simultaneously in this Midnight Suns' turn-based combat. Next, proceed to use Soul Blast on the same enemy to inflict a Forceful Knockback into the wall again. Next, play the Trap Door card to relocate this Darkchylde-holding enemy mob near the red fissure opposite Magik's current position.
Content creator TapCat warns players to avoid dropping the enemy directly on the red Leyline during Magik's Challenge Mission in Marvel's Midnight Suns. Instead, they should ensure that the opponent is placed near the fissure, similar to how they did before by the green Leyline. Finally, players must spend Heroism to Detonate the Leyline and KO the enemy target. The Incarnation of Memory will then drop Darkchylde, allowing players to play the Legendary card to complete the puzzle. Once played, Magik will transform, and all the Midnight Suns' enemies surrounding the arena will be taunted. One by one, they will strike at Magik, but she will not be harmed thanks to the gained Invulnerability. Once the assault is over, "Demon Child" in Marvel's Midnight Suns will conclude, and players can claim their rewards.
More: How to Solve The Standing Stones Puzzle in Marvel's Midnight Suns
Source: YouTube/TapCat
Summary:

Firaxis Games, the developers/creators of the X-COM series, introduces Marvel's Midnight Suns, a new tactical RPG game set in a unique Marvel Universe. When the world is under siege from an apocalyptic threat via a demon named Lilith, heroes across the Marvel Universe will have to band together under the leadership of a unique player-created character known as "The Hunter" as they face off against demons and corrupt Marvel heroes and villains alike. Players can partner up with characters like Wolverine, Blade, Ghostrider, and more as they engage in fast-paced strategy action gameplay. Marvel's Midnight Suns were given a new release date at the Marvel + Disney Games Showcase for December 02 2022.

Franchise:

Marvel

Platform:

Xbox One, PlayStation 4, Nintendo Switch, PC, PlayStation 5, Xbox Series X/S, Steam, Epic Games Store

Original Release Date:

2022-12-02

Developer:

Fireaxis Games

Publisher:

2K Games

Genre:

Tactical, RPG

ESRB:

T