Stitch has made his fabulous arrival to Disney Dreamlight Valley and brings a variety of quests and activities with him. As players increase their friendship level with him, they will help the adorable blue alien adapt to life in the valley and find something to take his mind away from pranking Donald Duck. Finally, in "Making Music," Stitch settles on starting a band and recruits the player to make that happen.
"Making Music" is a late-stage quest for Stitch in Disney Dreamlight Valley, unlocked upon reaching friendship level 10 and completing the previous Stitch quests. Stitch wants to star in a band, but he needs band members. The player must talk to some villagers who play instruments and find the best fit for the band. The player can invite two of the five options; Kristoff, Merlin, Remy, Eric, or Ursula. Kristoff and Eric are good choices with their lute and flute.
Related: How to Unlock Stitch's Hidden Requirement in Disney Dreamlight Valley
Helping Stitch Start a Band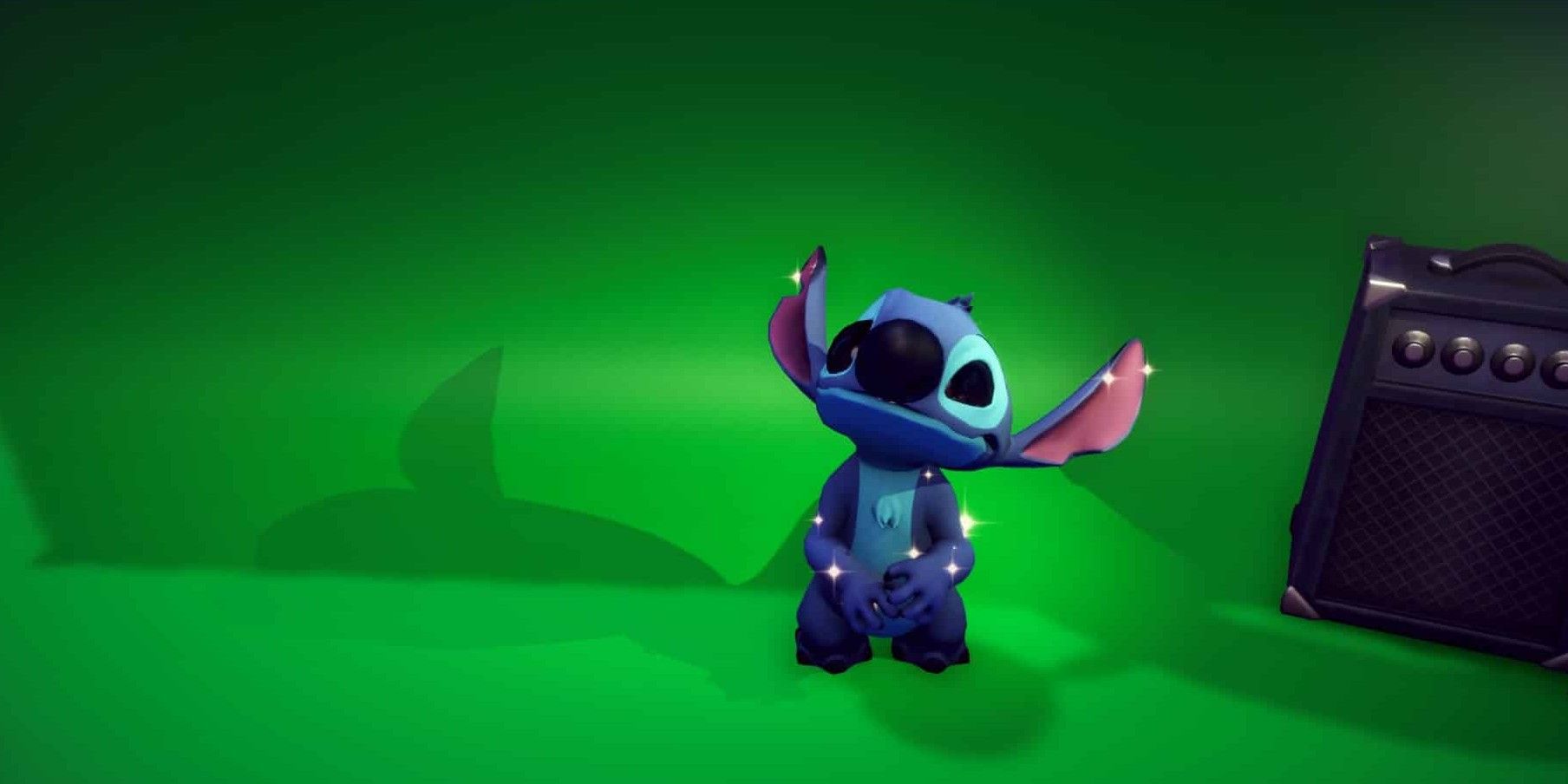 A band needs sound equipment to be heard, but luckily, Scrooge McDuck seems to own everything. It's good that he's one of a few characters who doesn't sleep in Disney Dreamlight Valley. However, according to the Youtube channel GosuNoob, he won't give the player anything until they make a good photo backdrop. To build the photo backdrop, players need 20 Hardwood, 10 Glass, 10 Fabric, and 9 Tinkering Parts.
Hardwood is a natural resource from the Forest of Valor, Glade of Trust, Sunlit Plateau, or Frosted Heights. Glass, Fabric, and Tinkering Parts, meanwhile, require crafting. 10 Glass requires 50 Sand from Dazzle Beach and 10 Coal. 10 Fabric needs 50 Cotton, whose seeds are bought in Sunlit Plateau and then grown in the village. Lastly, 9 Tinkering Parts come from 6 iron ingots, requiring iron ore mining in Disney Dreamlight Valley.
With the backdrop built, Scrooge will prep a photo shoot on the third floor of Dream Castle. Players must visit this location with Stitch. The blue alien will place himself beside the backdrop while the player takes three photos of him. After that, Scrooge says he'll need time to collect the sound equipment. Players won't be able to continue the quest for another 24 hours.
Once the day passes, talk to Stitch and ask him to hang out. From there, players can collect the sound equipment from Scrooge. They will need to place it somewhere nice on Dazzle Beach. Make sure to take a great group photo to commemorate the band's excellent performance!
Related: Disney Dreamlight Valley: How To Complete The Goodness Level Check Quest
Talking to Stitch ends the quest and rewards "Stitch's Little Red Ship" as furniture. Stitch has been a great inclusion in Disney Dreamlight Valley's Toy Story update and will certainly spice up life in the village. While his Friendship Quests are complete, players can always enjoy having this cute little alien around.
More: Disney Dreamlight Valley: How To Complete The Very Sleep Stitch Quest
Source: YouTube Channel/GosuNoob
Disney Dreamlight Valley

Platform:

PC, Steam, Microsoft Windows, Nintendo Switch, Xbox One, Xbox Series X/S, PlayStation 5, PlayStation 4, iOS

Original Release Date:

2022-09-06

Developer:

Gameloft

Publisher:

Gameloft

Genre:

Life Simulation, Adventure

ESRB:

E

Summary:

In Disney Dreamlight Valley, players will create their own Disney avatar as they interact with some of the most iconic characters in Disney and Pixar history. The story surrounds the dream castle and the realm it resides in, which is a place where several characters, hero and villain alike, have lived together in harmony. However, an evil force known as the Forgetting consumes the kingdom. It's up to the player to solve puzzles, reunite characters, and embark on feature-rich character storylines to save the Dream realm. Players can build their own Disney neighborhood – plant gardens, go fishing, build residences – or go on adventures in dark caverns, sail the seas, or navigate spooky forests. The choice belongs to the player as they traverse the various Disney worlds in this cozy game that takes notes from mainstays like Animal Crossing and Stardew Valley. Disney Dreamlight Valley was fully released on September 6 2022.