Glass Onion: A Knives Out Mystery initially begins as a fake murder mystery party before turning very real, with the former aspect giving away the keys to the film's central whodunit story. At the beginning of the film, each of Glass Onion's main characters is invited to their friend's private island. The friend in question, Miles Bron, gathers them together for a weekend of relaxation and murder mystery fun in the titular Glass Onion mansion.
However, after the murder mystery party turns very real and someone turns up dead, Benoit Blanc has to uncover another mystery once again. Through writing a murder mystery party as the catalyst for Glass Onion's plot, Rian Johnson wisely foreshadows the events of the film's major mystery. This both showcases Johnson's skill as a writer and ties the meaning of Glass Onion's title perfectly to its story.
Related: Why Glass Onion's Reviews Are So Positive
Miles' Murder Mystery Game Is Another Example Of A Glass Onion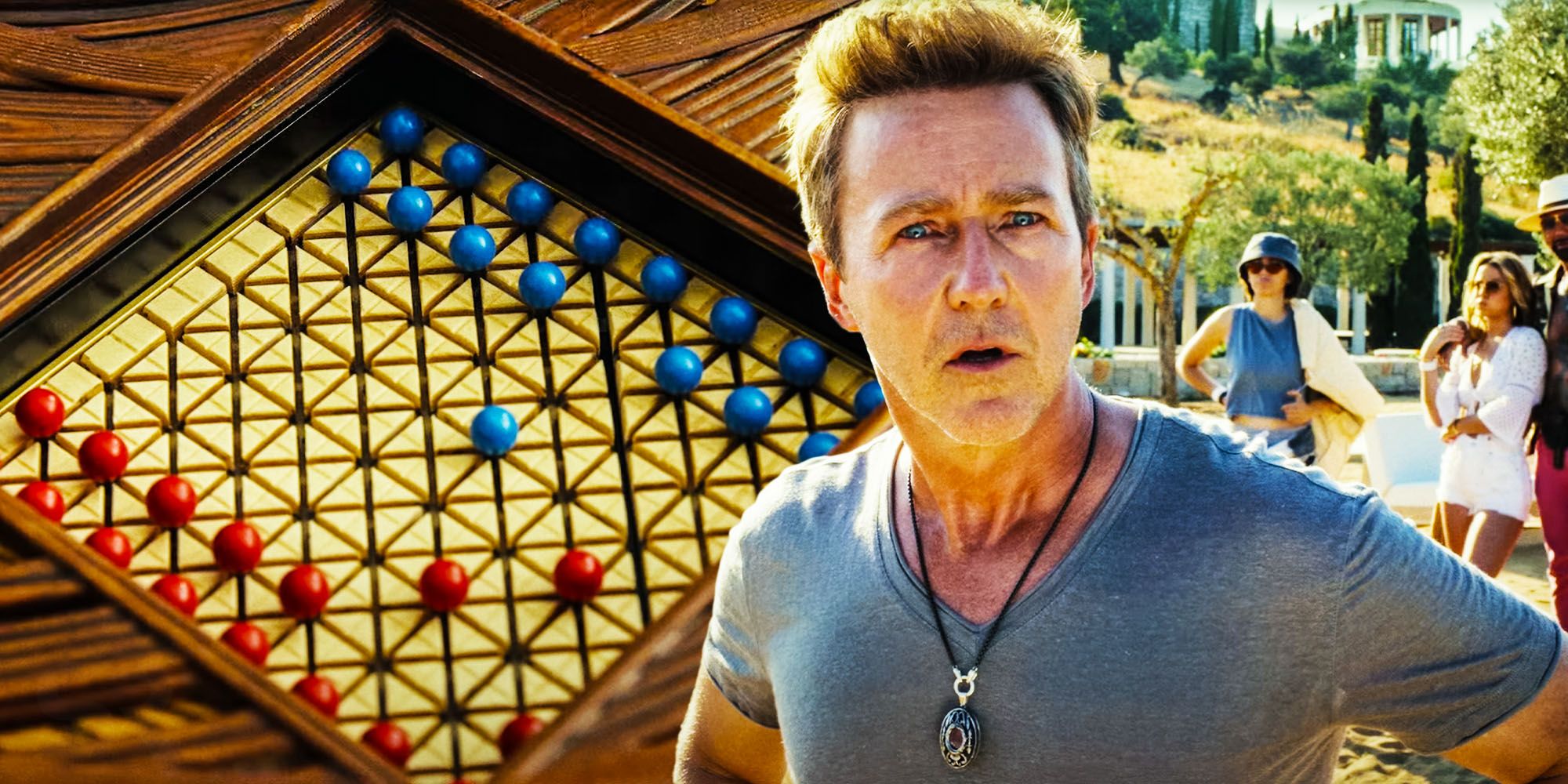 The first half of Glass Onion builds to Miles' murder mystery game, with the character having littered clues and hints throughout the island for the other attendees to use once his "murder" takes place. However, shortly after Miles announces this, Blanc foils the murder mystery within minutes. Blanc nonchalantly explains every minute detail of Bron's murder mystery and uncovers that Birdie Jay was the intended murderer, succinctly blunting Miles' excitement over his seemingly meticulously crafted plot. This revelation ties in perfectly with the film's title, which has multiple meanings. While Glass Onion refers to the name of Miles' mansion, it has another meaning entirely.
Netflix's Glass Onion title references the idea that something seems layered and complex, like an onion, but is actually very simple and obvious, hence the glass part of the title. This links to Miles' murder mystery plot, which may seem overly complex and calculated but is actually revealed as fairly simple once Blanc deduces the case. This foreshadows the central mystery of Miles' murder of both Duke and Andi, and the attempted murder of Helen. While it may seem complex, the revelation of Miles simply taking ideas from Blanc and that he is not the genius he makes out harkens back to the murder mystery and the true meaning of Glass Onion.
The Fake Blood Miles Uses Nods To Blanc's Hot Sauce Trick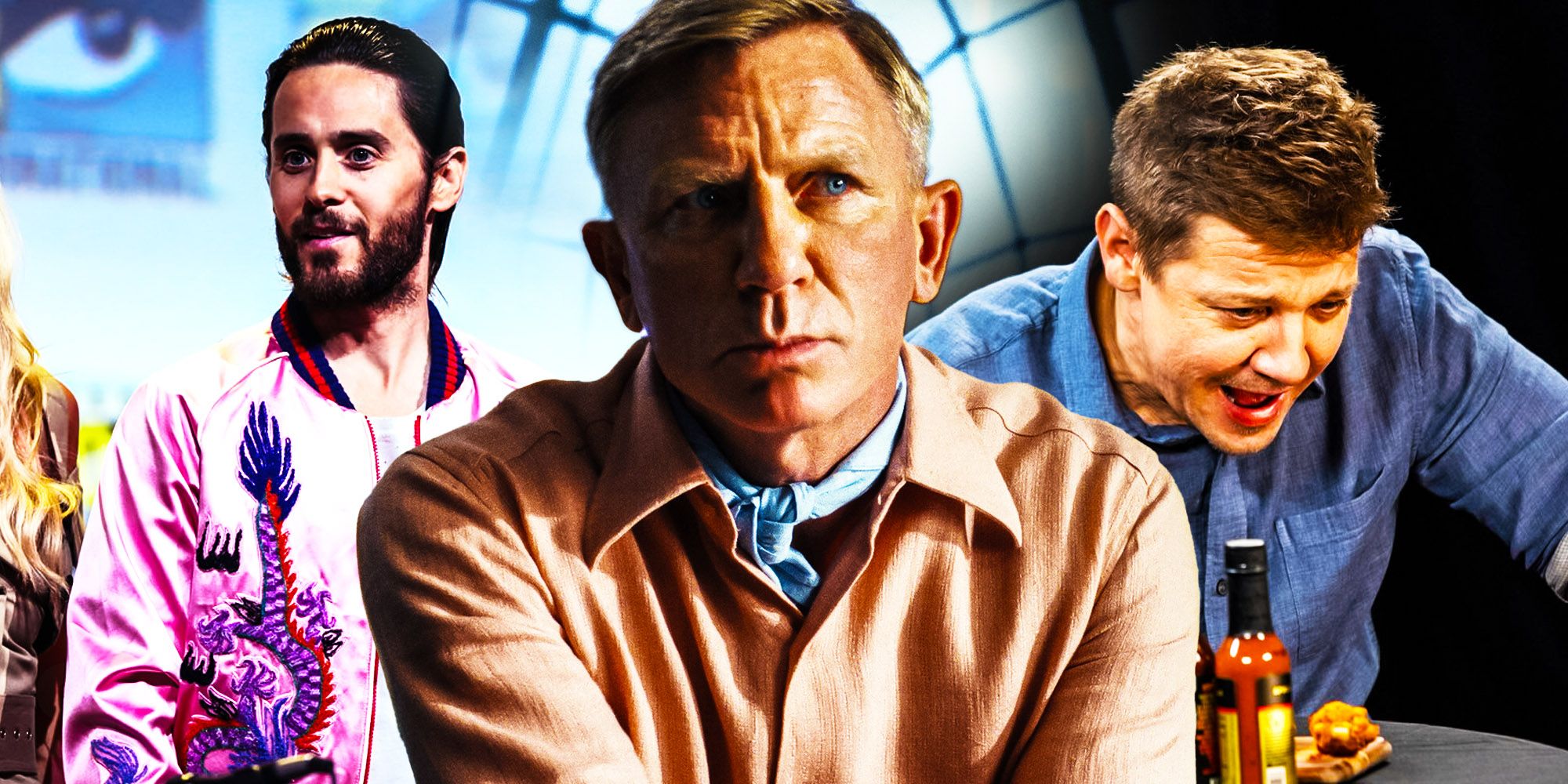 Another, more overt way that the murder mystery element reflects Glass Onion's cameo-infested plot is through Miles' fake death. After Blanc unintentionally ruins Miles' murder mystery plot, he is "shot" with a crossbow, after which fake blood comically squirts onto the dinner table in silence. The use of fake blood by Miles links to both the film's story and the aforementioned cameos. Later in the film, after Miles shoots Helen, Blanc realizes she is still alive due to Andi's journal blocking the bullet. In order to sell the murder and bait Miles into admitting his attempt on her life, Blanc covers Helen in Jeremy Renner's hot sauce.
After this, all the other guests appear and mistake the hot sauce for blood. Blanc, having rubbed some hot sauce on his eyes, looks as if he is crying. This causes the guests, and Miles, to believe Helen is dead through one of Glass Onion's many celebrity jokes and references. This harkens back to Miles' murder mystery, with the fake blood of both scenarios providing humorous jokes for the film's distinct tone, with Helen's scenario selling a murder that Miles' failed to do.
Related: Does Glass Onion Have A Post-Credits Scene?
Miles Taking Credit For The Game Echoes His Andi Betrayal
Finally, Miles' murder mystery and who wrote the plot for it is essential in reflecting his betrayal and murder of Andi. After Blanc foils Miles' murder mystery, the latter reveals that he did not even write the murder mystery story and that it was Gillian Flynn, a well-known mystery author, who wrote the complex crime. Before this, Miles takes credit for the story, allowing everyone else to believe it was his own genius that wrote it. This reflects his betrayal of Andi, whose relationship with Miles is explained throughout the film.
The ending of Glass Onion reveals that Miles murdered Andi to keep her quiet about the fact that she began Alpha rather than him. Miles pushed Andi out of the business she created, and allowed the wider public to believe he was the creator during a rigged court case in which he blackmailed his friends into testifying against Andi. Miles claiming credit for his murder mystery, when someone else was its creator, is emulative of Glass Onion's central betrayal of Miles taking credit for Andi's creation of Alpha.