The third week of the Season of the Seraph has begun in Destiny 2, continuing the More Than a Weapon storyline. The questline has fewer steps this time but may be more challenging for some Guardians. Additionally, players will earn a unique reward as part of the story. Guardians resume their mission to restore Rasputin by speaking to Clovis Bray at the Exo Frame in the H.E.L.M.
Same as in previous weeks, players are first sent to receive more data by unlocking a Seraph Chest at the end of the Heist Battleground playlist. Guardians will need to gather 500 Seraph Key Codes before opening the chest. These can be earned most efficiently by completing any ritual activity in Destiny 2. Additionally, wearing any piece of the Warmind's Avatar armor increases the amount of Seraph Key Codes obtained.
Related: Destiny 2: How To Complete More Than a Weapon Week 1
Destiny 2: More Than A Weapon Week 3 Guide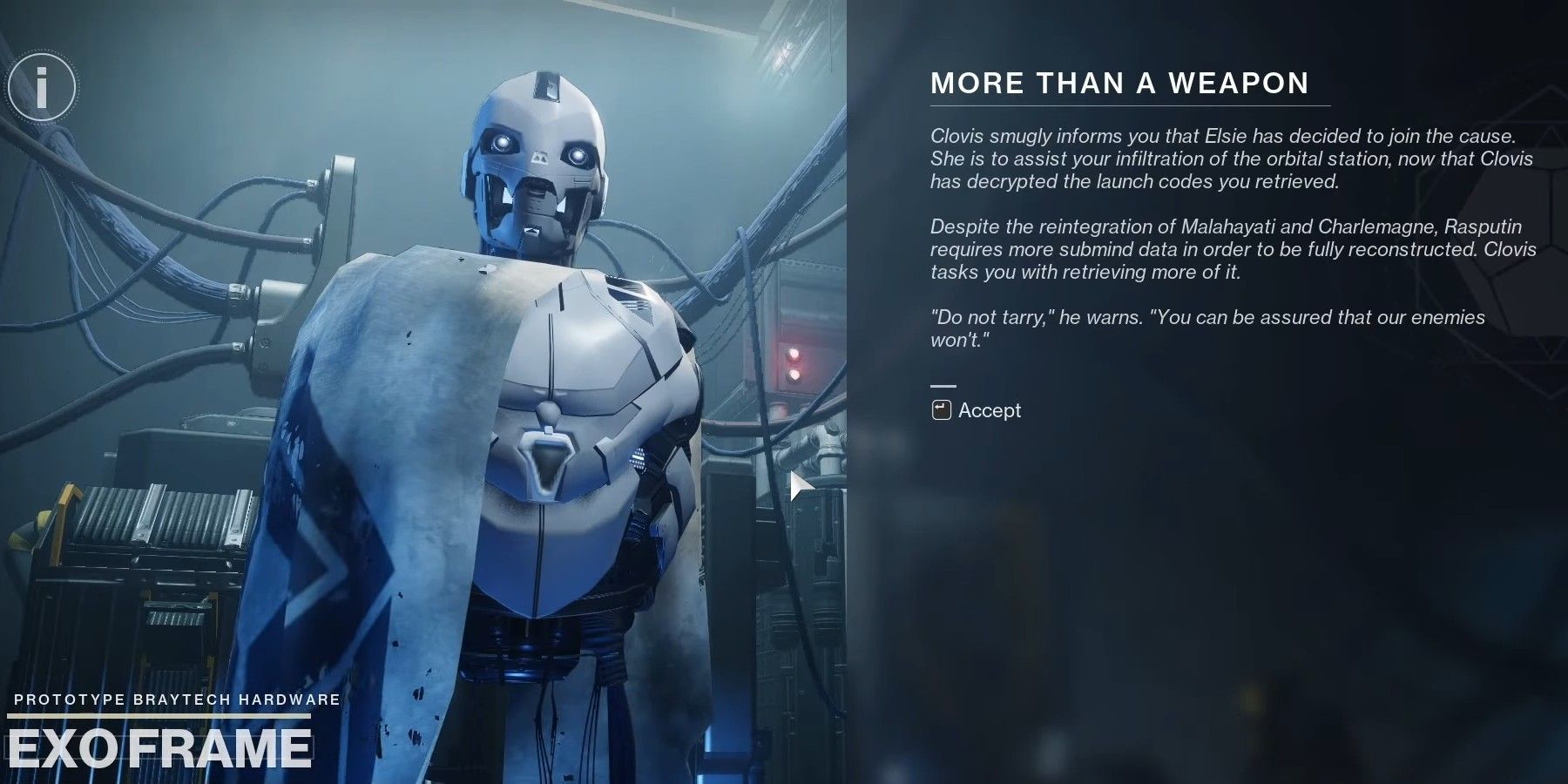 Once a Seraph Chest is unlocked, Guardians will need to head back to the H.E.L.M. and speak to Elsie Bray through the Holoprojector. She will inform players that she and Ana have devised a plan to infiltrate the Seraph Station. The goal is to upload a virus that will grant Rasputin access to the network once he is restored. Guardians are given the Exotic quest, The Hidden Shape, and must launch the mission Operation: Seraph's Shield.
This lengthy activity can be challenged solo or with a Fireteam of three players. Once inside, Guardians will need to dodge lasers, activate security panels, and fight off Eramis's Fallen. The mission incorporates many aspects from the Deep Stone Crypt Raid in Destiny 2. Guardians will constantly need to utilize the Scanner, Operator, and Suppressor Augments throughout the activity. Operation: Seraph's Shield does a great job teaching these mechanics to anyone who has yet to challenge Deep Stone Crypt. Once completed, players will need to return to the H.E.L.M.
The final step is to talk to Clovis again at the Exo Frame. He then asks Guardians to continue retrieving more data while he searches for a faster way to restore Rasputin. While not part of More Than a Weapon, players can listen to a radio message between Queen Mara Sov and Eramis. Guardians will need to hear a transmission each week to earn one of the seasonal Triumphs in Destiny 2. While More Than a Weapon had fewer steps this week, players gain a fantastic new Exotic weapon from completing Operation: Seraph's Shield.
More: Destiny 2: Fastest Ways To Earn Cookie Ingredients In The Dawning (2022)
Original Release Date:

2017-09-08

Genre:

Sci-Fi, Action

ESRB:

M