A stop-motion recreation of Rudolph the Red-Nosed Reindeer turns the classic character into a raptor, and it is unhinged Christmas fun. The fictional reindeer, originally created by Robert L. May in 1939, has become one of the most recognizable figures of the holiday season. With his own song and a number of movies and television specials, most notably 1964's Rudolph the Red-Nosed Reindeer, his story is well-known, especially among children. Gifted with a bright red nose, which he uses to lead Santa Claus' sleigh, the tale of Rudolph is also applicable to its audience, celebrating one's uniqueness, though criticism in recent years has questioned the value of its lessons.
Now, one Twitter account, But With Raptors, has put a twist on the story of Rudolph the Red-Nosed Reindeer, imagining the character as a dinosaur. Brought to life in a style similar to the 1964 stop-motion special depicting Rudolph and others, the two clips feature a small, green raptor with a shiny red nose. It is pointed out in one, with Santa eventually taking notice, as a man hilariously comments on the fact that he is a dinosaur. The other video sees Rudolph wearing fake reindeer ears while his peers poke fun at him. Check out both recreations of Rudolph the Red-Nosed Reindeer below:
Related: Where To Watch Every Version of How The Grinch Stole Christmas In 2022
How Rudolph Being A Raptor Would or Wouldn't Change The Story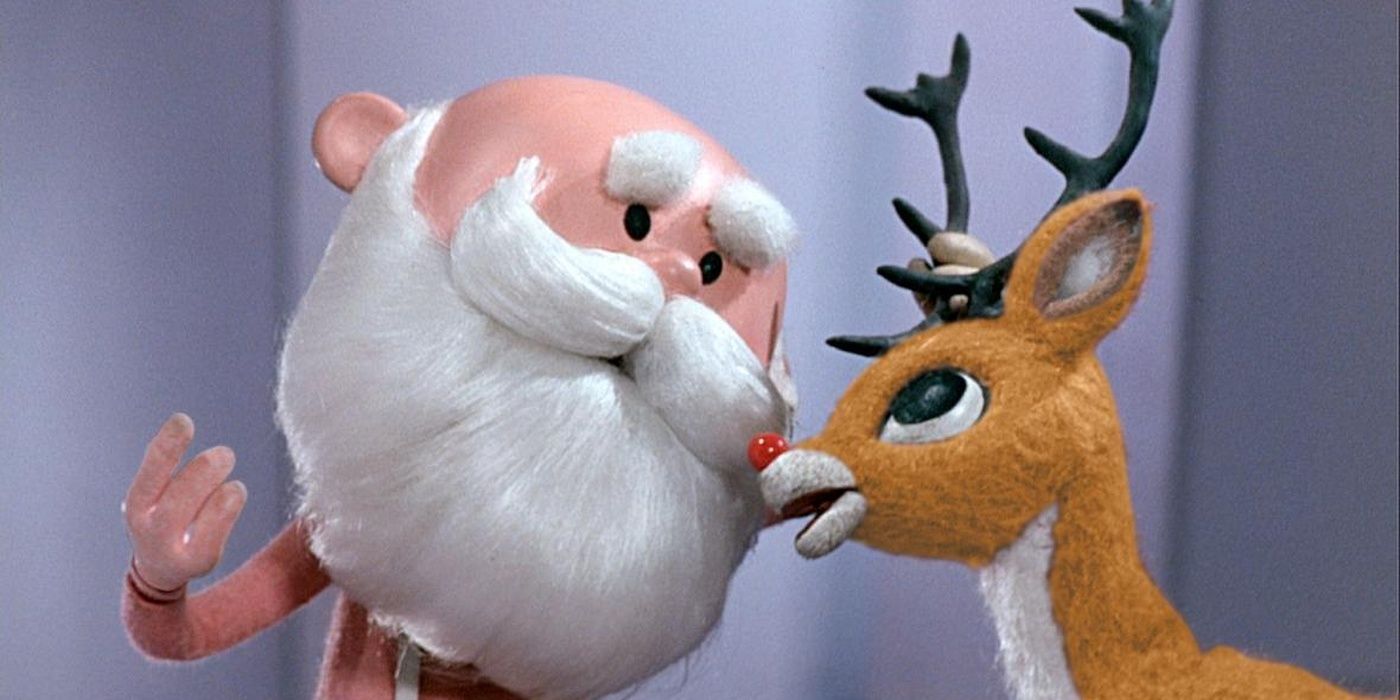 Most people are probably aware of Rudolph's story, a young reindeer born with a glowing red nose, and because he was different, he got teased by other reindeer and left out of their fun, but Rudolph's unique quality was essential one Christmas Eve. As weather conditions impaired Santa's vision, he asks Rudolph to guide his sleigh, resulting in praise from his peers. Being a raptor, the character's story would still contain some similarities, like the fact that he would be mistreated by reindeer for not fitting in, as represented in the clips. He also still has the ability to aid Santa's travels with his nose, so long as he can fly.
The tale of Rudolph would likely change in some regards if he had been a raptor because, as the stop-motion video and other Twitter users point out, his response to the constant ridicule would be different. One of the clips reveals that his peers were unaware of what they were getting into, alluding to the idea that Rudolph might fight back, and given that he is a dinosaur, odds are it would end poorly for them if he did. When it comes to Rudolph the Red-Nosed Reindeer or other movies based on the character, is it worth wondering how his interactions with others would go, and if Santa himself would be scared of him.
With all the recent twists being made to famous Christmas stories, it is amusing to see a classic like Rudolph the Red-Nosed Reindeer changed in this kind of way. Interestingly enough, this recreation of Rudolph as a raptor may strike a chord with others, as the message embedded in it, while hilariously updated, still remains the same. Those who enjoy seeing the holiday figure imagined as a dinosaur and like the darker, more comical takes of projects like Violent Night and the upcoming Grinch horror movie, can be sure to keep an eye out for any other unhinged Rudolph the Red-Nosed Reindeer adaptations.
Next: David Harbour's Santa Is Definitely On The Naughty List
Source: But With Raptors/Twitter