Menya Moonspell is one of the new playable characters in Vampire Survivors: Legacy of the Moonspell, whose starting weapon is the Four Seasons, an armament of explosive power. Menya also has an alternate form in the DLC known as Megalo Menya Moonspell, or simply Megalo Menya. One of the main differences between the two besides their appearance is their stats. Menya starts every stage with 80 Max HP, +10% Might, -10% Cooldown, and +8 Banish. While Megalo Menya also possesses 80 Max HP, the character also has +100% Movespeed, +100% Might, -20% Cooldown, and +108 Banish. Needless to say, Megalo Menya is a much more powerful variation of their default counterpart.
Before players can unlock the Megalo Menya character in Vampire Survivors: Legacy of the Moonspell, they must first unlock the unit's base form, Menya Moonspell. Moreover, Menya has a prerequisite that involves using a weapon known as the Silver Wind. Those who have explored a good portion of Legacy of the Moonspell will know that the Silver Wind is the starting weapon of Miang Moonspell, another one of the eight units in the DLC's unlockable roster.
Related: Vampire Survivors: How to Unlock Miang Moonspell
Unlocking Menya & Megalo Menya in Vampire Survivors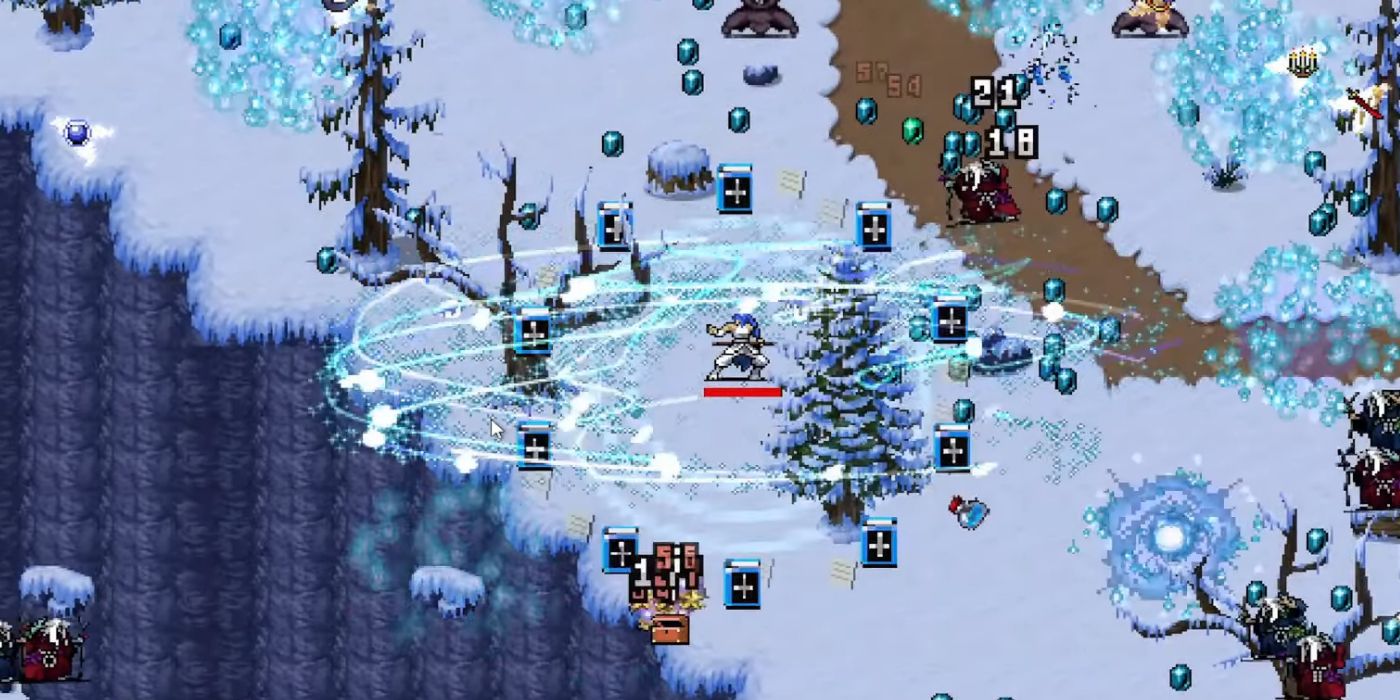 In summary, Miang Moonspell is unlocked by defeating a miniboss within the dojo of Mt. Moonspell, after which Miang's Coffin becomes accessible by the player character. After unlocking Miang, the next step to getting Menya in Vampire Survivors: Legacy of the Moonspell is evolving Miang's Silver Wind into Festive Winds. If players would like to use Silver Wind with another character instead of Miang Moonspell, they can unlock it for other units by surviving with Miang for 15 minutes. Regardless, the Silver Wind evolves with a Passive Item called Pummarola which is also needed to unlock the Boon Marrabbio in Vampire Survivors. For those unfamiliar, the Pummarola can be unlocked relatively early by surviving 5 minutes in a stage with Gennaro Belpaese, one of the early-game units.
Once players have evolved Silver Wind into Festive Winds in Vampire Survivors, Menya Moonspell will become available as a playable character. Next, to unlock Megalo Menya, YouTuber Nuzzy states that fans must defeat 100,000 enemies in a single run with Menya. This feat doubtless might sound like a monumental challenge, especially for newer players. Fortunately, Nuzzy has a solution to get Megalo Menya easily via the following steps:
Step 1: First, set max weapons to one using the Mindbender Relic and enter the Mad Forest with stage mutators on, including Hyper Mode, Limit Break, and the Arcana: Silent Old Sanctuary.
Step 2: Focus on power-leveling Spinach and Candelabrador, this can also be used for the best Gold Making builds in Vampire Survivors.
Step 3: After max-leveling Spinach, Candelabrador, and Menya's Four Seasons, the weapon's evolution into Godai Shuffle will trigger.
Step 4: Use the Godai Shuffle to effortlessly slay 100,000 enemies.
More: Vampire Survivors: How to Banish 10 or More Weapons in a Single Run
Source: YouTube/Nuzzy