Similar to Clay, Soil, or Snowballs, Pebbles are a resource in Disney Dreamlight Valley that comes from digging up the ground within the Valley. They are used in a small assortment of crafting recipes, such as Snowman variations, the luxurious Fountain, and the sizeable Zen Garden. Players will also need Pebbles for specific character quests, during which a certain number of materials, such as Stone, Hardwood, or Pebbles, will be required to proceed to the quest's conclusion. As a result, Pebbles will be an essential resource that Dreamers should know how to acquire to progress their adventure in Dreamlight Valley.
As noted above, Pebbles are acquired by using the Royal Shovel in Disney Dreamlight Valley to dig up the ground in Disney Dreamlight Valley. However, this resource is not readily available in every biome but can only be obtained from Dazzle Beach, Forest of Valor, Sunlit Plateau, and Forgotten Lands. In other words, if Dreamers attempt to dig in areas elsewhere, their excavation will not yield any Pebbles. For newcomers, Dazzle Beach is the most accessible biome to get Pebbles from, as it only costs 1,000 Dreamlight to unlock after completing "Friendship Is Everything."
Related: How To Find Night Shards In Disney Dreamlight Valley
How To Farm Pebbles in Disney Dreamlight Valley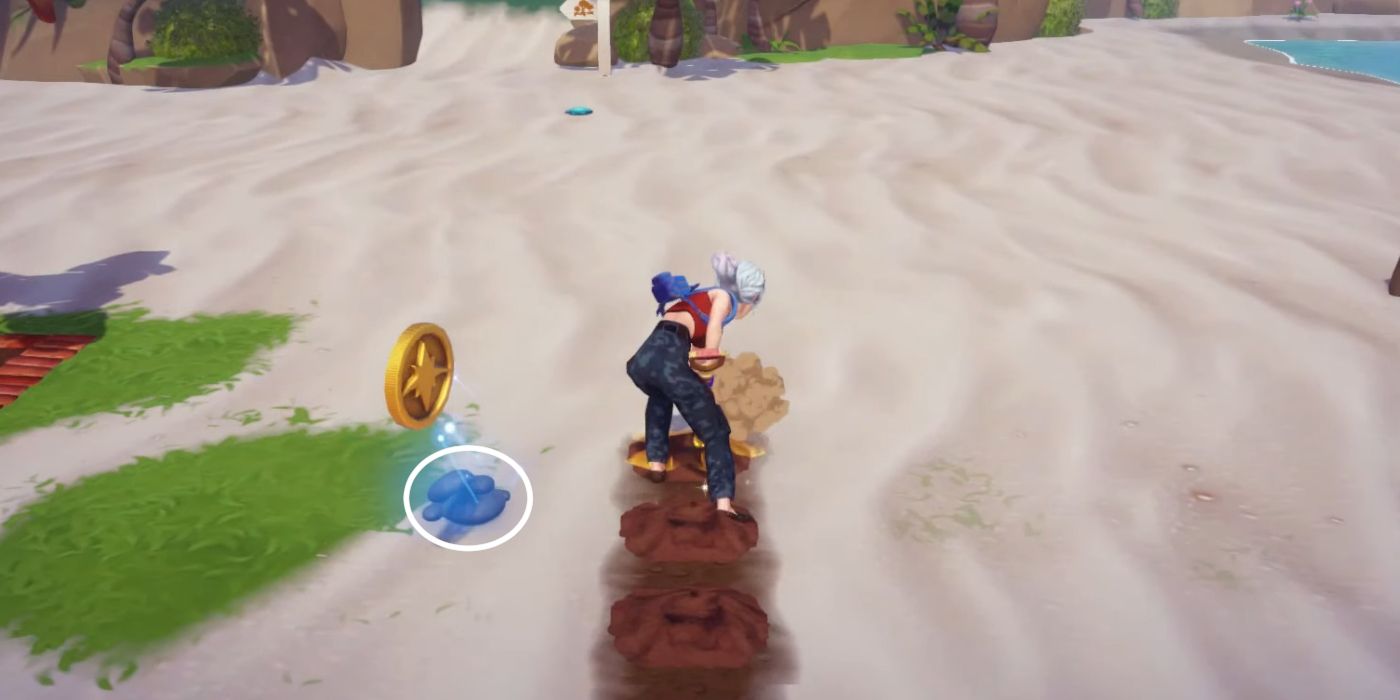 The next "Pebble-bearing" biome that Disney Dreamlight Valley fans unlock will likely be the Forest of Valor, costing 3,000 Dreamlight. Furthermore, the Sunlit Plateau is accessed using 7,000 Dreamlight, and the Forgotten Lands costs an exorbitant 15,000 Dreamlight to unlock. However, just because a biome is more expensive to enter does not mean it produces more resources than other zones. For example, the chances of acquiring Pebbles from digging on Dazzle Beach are the same as unearthing the ground in the Forgotten Lands. Nevertheless, biomes in Disney Dreamlight Valley make a difference if players' main focus is solely farming Pebbles in Disney Dreamlight Valley.
More specifically, digging dirt on Dazzle Beach can also yield Sand, meaning that the drop rate of Pebbles is competing with Sand. As a result, it is a less optimal biome for farming Pebbles in Disney Dreamlight Valley. Likewise, the ground in Forgotten Lands and Sunlit Plateau yields Clay, which also might contest with Pebbles when digging. Therefore, the Forest of Valor might be the "best" biome for farming Pebbles, but drop rates are still RNG-dependent, regardless of the biome. Conversely, the YouTube channel MrGoon claims that it is more important that Dreamers bring along a Villager with the Digging profession to ensure they maximize their income of Pebbles for every unearthed plot. Ensuring one's Energy is sufficient is also essential when farming resources in Disney Dreamlight Valley.
More: How to Complete The Fragmented Past Quest in Disney Dreamlight Valley
Source: YouTube/MrGoon
Disney Dreamlight Valley

Platform:

PC, Steam, Microsoft Windows, Nintendo Switch, Xbox One, Xbox Series X/S, PlayStation 5, PlayStation 4, iOS

Original Release Date:

2022-09-06

Developer:

Gameloft

Publisher:

Gameloft

Genre:

Life Simulation, Adventure

ESRB:

E

Summary:

In Disney Dreamlight Valley, players will create their own Disney avatar as they interact with some of the most iconic characters in Disney and Pixar history. The story surrounds the dream castle and the realm it resides in, which is a place where several characters, hero and villain alike, have lived together in harmony. However, an evil force known as the Forgetting consumes the kingdom. It's up to the player to solve puzzles, reunite characters, and embark on feature-rich character storylines to save the Dream realm. Players can build their own Disney neighborhood – plant gardens, go fishing, build residences – or go on adventures in dark caverns, sail the seas, or navigate spooky forests. The choice belongs to the player as they traverse the various Disney worlds in this cozy game that takes notes from mainstays like Animal Crossing and Stardew Valley. Disney Dreamlight Valley was fully released on September 6 2022.