Shazam! Fury of the Gods star Zachary Levi clarifies his Shazam future amid a possible cinematic reboot in the DCU. The DC world is actively being reworked since James Gunn and Peter Safran were announced as Co-CEOs of the newly unveiled DC Studios. While audiences are mostly behind the duo's future at DC, Gunn's announcement of Henry Cavill being out of the role of Superman left many stunned, with a full DCU reboot possibly looming, which may not bode well for Levi's future as Shazam.
Levi took to Instagram Live to talk about his current Shazam situation and clarify his DCU future. The delayed Shazam! Fury of the Gods leading man Levi had teased in a couple of previous comments on social media that his Shazam future seemed guaranteed, with one answer to a fan saying "Oooh, I really wouldn't go believing everything you see on the internet. I'm Gucci, Ash. We all Gucci." Now, Levi's changed tunes, revealing he doesn't know what his DCU future looks like. The actor did say he trusts that Shazam! Fury of the Gods is a good movie and leaves him in a good position, but Levi assured fans that he'd be okay if he didn't return for the new DCU, stating that he'd only want to see audiences had enjoyed his tenure as Shazam when the time comes. Check out the full quote and video below:
As of this point right now, I'm still that character […] I have no idea what's going to ultimately happen to me. I think I'm in a pretty good position, I think we made a pretty good movie, I think it's gonna do well – reasonably well, I hope so. But again, regardless of that, if they decide at some point that "hey, this is the way we gotta go"… then's the brakes, that's how it goes, and I hope that people enjoyed – whatever point I finish playing the role of Shazam, I hope that people enjoyed my tenure playing the role, and that they come with me to whatever else I get to go on do, that's it ok.
Related: Why Black Adam Says "Shazam!" (How They're Connected)
Will The New DCU Continue With Zachary Levi's Shazam?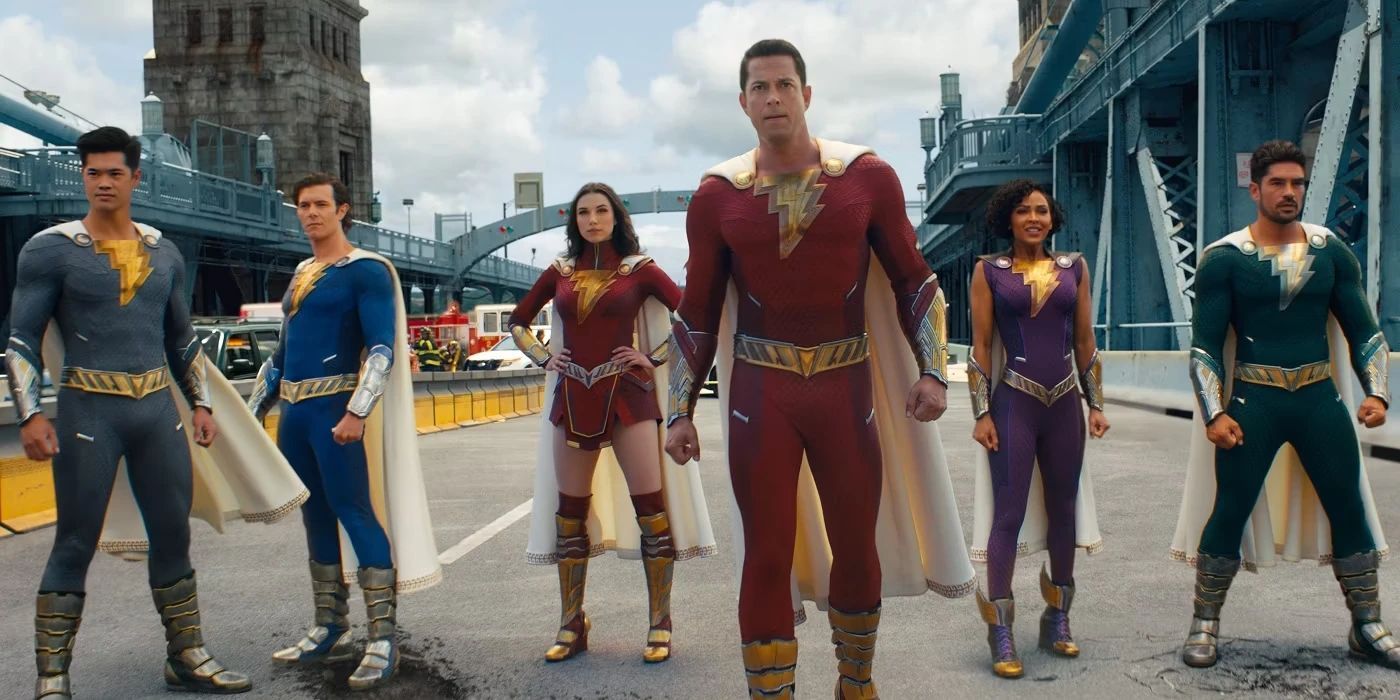 Shazam! Fury of the Gods might be Levi's last turn as the titular hero. DC has been making waves in the news since Gunn and Safran took over, with the new DCU looking at a possible full reboot for the franchise. Cavill's out as Superman, but it appears he won't be the only one leaving. Wonder Woman 3 isn't happening, after Gunn met with director Patty Jenkins. Not long after the shocking news, a new report claimed Wonder Woman star Gal Gadot had a cameo cut from the upcoming The Flash movie, which doesn't bode well for her future in Gunn's new DCU.
DC has always focused on its Trinity in the comics, consisting of Superman, Wonder Woman, and Batman. All three actors in those roles at the former DCEU appear to be out of the rebooted DCU. Ben Affleck returns as Batman in two more movies: The Flash and Aquaman 2. After that, he's looking at a way to remain involved with DC in the future. Gunn revealed on Twitter that he's met with the star over finding Affleck a DCU project to direct. Affleck's Justice League co-star Jason Momoa's reportedly the safest talent to return in the new DCU, albeit in a different role. Reports state that Gunn and Safran are looking to include Momoa not as Aquaman, but as the anti-hero Lobo in the new DCU.
With Shazam!, the hero might never meet his biggest villain, as Dwayne Johnson won't be returning as Black Adam for the foreseeable future. The Rock took to social media to let audiences know he'd met with Gunn over his Black Adam future. The star then revealed that Black Adam isn't involved with the first chapter of storytelling Gunn and Safran have planned for the DCU. The news hit closer to home for Shazam! star Levi, as it directly links back to his turn as the hero. The original Shazam! became a beloved DC movie, with a positive reception by critics and fans. Levi hopes to repeat the magic with Shazam! Fury of the Gods, so that Gunn and Safran might keep an eye on him for the character, should the DCU call out for Shazam!
Next: Shazam's Greatest Power Is Missing From The DCEU (It'd Be Too Strong)
Source: Zachary Levi/Instagram