Genshin Impact's third and final Shatterdark Challenge allows players to max out their rewards in the Akitsu Kimodameshi event by scoring 4,500 points or more against Mesmeric Marine Maiden. The boss fight is one part of the Genshin Impact Akitsu Yuugei mini-game, which is the RPG's interpretation of Atari's classic arcade game Breakout.
When beaten, Akitsu Yuugei's Mesmeric Marine Maiden grants 60 Primogems, 200 Courage Test Tickets, and 30,000 Mora – but beating the other four objectives by surpassing the 4,500 score extends the prize pool, exactly like the Gibbering Grumbler challenge in Genshin Impact. The Traveler obtains an additional 120,000 Mora, four Hero's Wit, eight Mystic Enhancement Ore, and 340 Courage Test Tickets by scoring 4500 in the Mesmeric Marine Maiden challenge.
Related: Why Genshin Impact's Update Schedule Being Six Weeks Works
Strategy To Score 4,500 Points Against Mesmeric Marine Maiden in Genshin Impact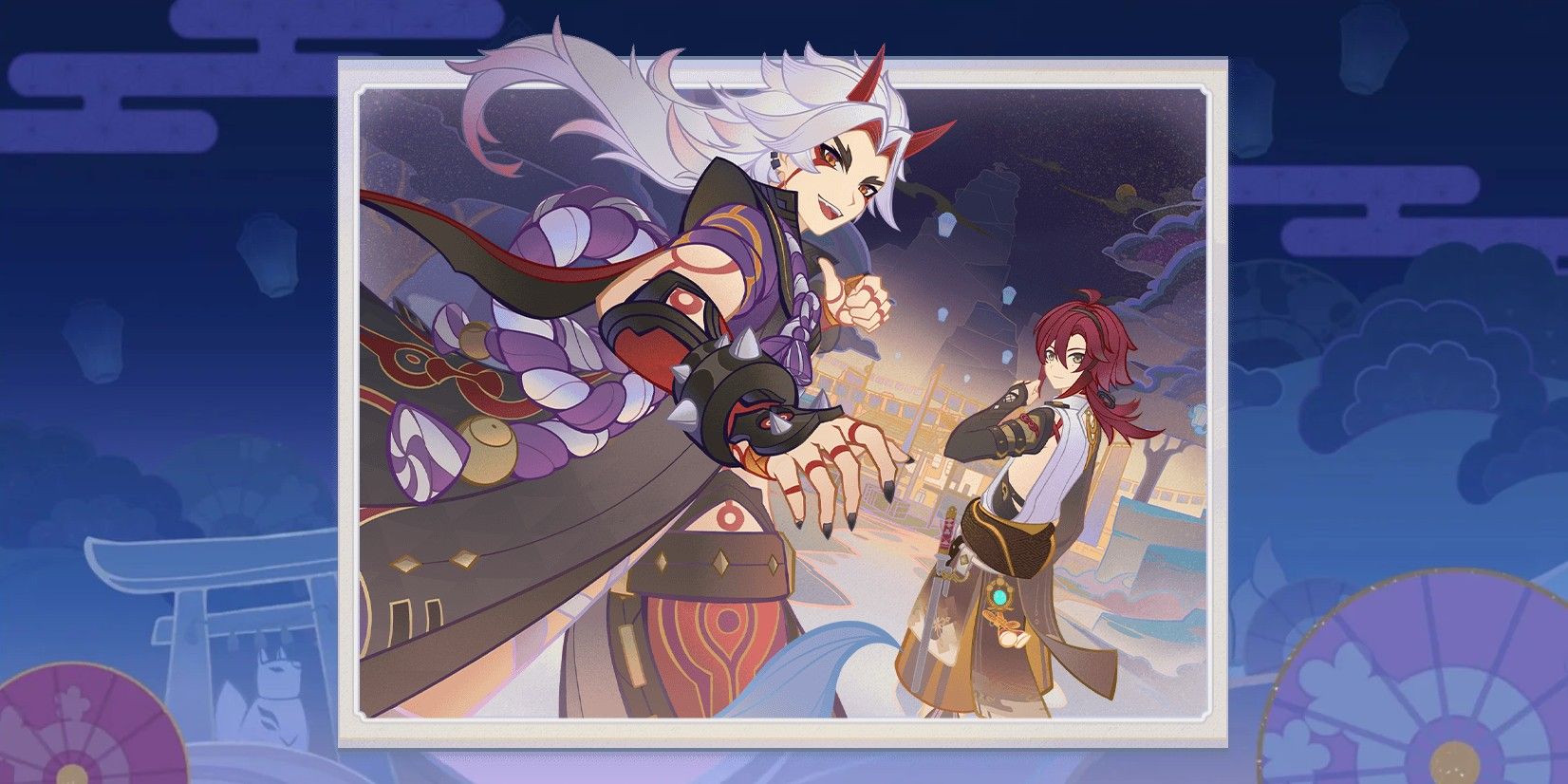 To obtain 4,500 points or more during the Mesmeric Marine Maiden encounter in the Akitsu Yuugei mini-game, players will have to create a proper team comp with appropriate modifiers. Mesmeric Marine Maiden uses Cryo, Hydro, Pyro, and Electro-infused bricks, so having a diverse team able to use most elemental reactions in Genshin Impact is a great start.
The Mesmeric Marine Maiden is inspired by the open-world opponent Mirror Maiden and, as such, has exclusive mechanics attributed to the Akitsu Kimodameshi fight that replicate her behavior in normal Teyvat encounters. While she does teleport around after suffering damage from the Skill-Ball akin to her Akitsu Yuugei boss predecessors, like the Deranged Decrepit Duelist boss in Genshin Impact, she also has mirrors set at the far end of the field.
Every time a Skill-Ball hits a mirror, another ball comes out of another random mirror, multiplying the number of Skill-Balls on the field. Making good use of this mechanic against Genshin Impact's Mesmeric Marine Maiden herself is essential to reach 4,500 Akitsu Yuugei points. Players can use Relative Expansion to keep the bar widened, Impact Accelerator to increase the points gained, and Replicating Collider to add more Skill-Balls to the already overcrowded field.
In this Akitsu Yuugei challenge, which is one of many Genshin Impact 3.3 events, scoring 4,500 isn't as difficult as it seems. Changing up the team composition and chosen modifiers is a very flexible option. Players will want to keep at least one point multiplier up against Mesmeric Marine Maiden, such as the safe Shatter-prise! modifier, if they want to obtain 4,500 points, but otherwise have many options to successfuly complete the challenge.
More: Genshin Impact Gives Free Primogems If You Die in a Ridiculous Way
Source: Genshin Impact/YouTube
Original Release Date:

2020-09-28

Developer:

HoYoverse (Formerly miHoYo)

Genre:

Action, RPG, Open-World

Platform:

PlayStation 4, iOS, PC, Android, PlayStation 5

Publisher:

HoYoverse (Formerly miHoYo)

ESRB:

T

Multiplayer:

Online Co-Op

Summary:

From the creators of Honkai: 3rd Impact comes Genshin Impact, an open-world action-adventure RPG where players embark on an ever-expanding journey across unique lands. Players assume the role of the "Traveller," a protagonist who survives a great battle against a powerful god and is separated from their sibling in the aftermath. Awoken by a small flying character named Paimon, the Traveller embarks on a quest to find their sibling and restore their lost memories in an unfamiliar world. Players can add new teammates they meet through the storyline via a gacha system. Characters roll out in patches but are never added permanently to a poll so that new team members will rotate in and out depending on the current patch. Gameplay consists of embarking in teams of four and engaging in fast-paced action RPG combat along with Zelda-like world traversal, from gliding, climbing, swimming, and sprinting. New events are launched with every patch, and unique gameplay modes and mini-games are added with each iteration.