After discovering a vandalized sign of Donald Duck near the Peaceful Meadow's trail to Dazzle Beach, players will begin "Goodness Level Check," Stitch's Friendship Level 2 Quest in Disney Dreamlight Valley. It has not been long since Stitch arrived in the Valley, but he is already up to no good, vandalizing the signs that Donald had put up within the Peaceful Meadow. Therefore, it is up to the savior protagonist to resolve this feud between duck and alien by helping Stitch rebuild the property that he damaged.
The first step to completing the "Goodness Level Check" Friendship Quest in Disney Dreamlight Valley is reporting the situation to Donald Duck, after which Stitch must be informed of his wrongdoing. Next, players must collect the remaining two vandalized signs. One can be found near the southern stairwell to Dazzle Beach, while the other is located by the narrow slope into the Glade of Trust. After collecting all three signs, players must then rebuild them by collecting Softwood and Hardwood from different biomes of the Valley. Fortunately, both can be gathered relatively quickly, thanks to their high spawn rate.
Related: How To Get Coffee Beans In Disney Dreamlight Valley
Restore Donald Duck's Signs in Dreamlight Valley To Complete Goodness Level Check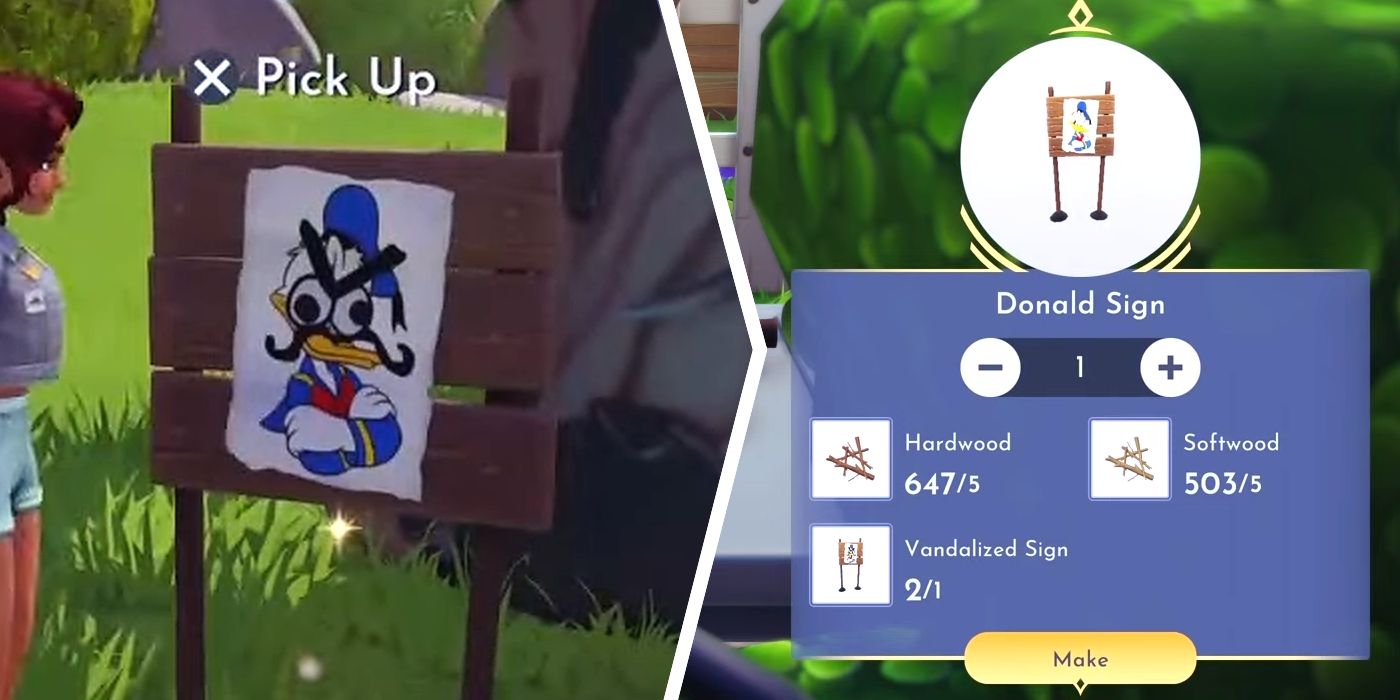 To restore Donald Duck's signs in "Goodness Level Check," Dreamlight Valley players will need Hardwood ×25 and Softwood ×25. For reference, Hardwood can be found on the dirt or grass of the Frosted Height, Sunlit Plateau, Glade of Trust, Forest of Valor, or Forgotten Lands. It is also worth pointing out that players may have collected extra Hardwood while trying to unlock Kristoff's stall in Disney Dreamlight Valley. Softwood will spawn on the ground in the Plaza, Forgotten Lands, Frosted Heights, Glade of Trust, Sunlit Plateau, Forest of Valor, and Peaceful Meadow. Those playing the game for multiple hours will likely have several dozen stacks of softwood and Hardwood in their storage chests.
Fifteen stacks of both the gathered Hardwood and Softwood must be given to Stitch, while ten of both wood types will be used for the players' crafting endeavors. After "re-crafting" two of the three signs, Dreamers must rendevous with Stitch to share each other's work. While Stitch's artistry could use some polish, there is no doubt that his heart went into reconstructing the sign. Therefore, players must take the three wooden signs and place them back in the Peaceful Meadow biome. While users like YouTuber Backseat Guides did their best to place the signs back in their original positions, such meticulous efforts are optional to complete the quest. Afterward, players can conclude the tale by listening to Stitch's apology to a less angry Donald, after which "Goodness Level Check" will be completed in Disney Dreamlight Valley.
More: How to Get Iron Ore Fast In Disney Dreamlight Valley
Source: YouTube/Backseat Guides
Disney Dreamlight Valley

Platform:

PC, Steam, Microsoft Windows, Nintendo Switch, Xbox One, Xbox Series X/S, PlayStation 5, PlayStation 4, iOS

Original Release Date:

2022-09-06

Developer:

Gameloft

Publisher:

Gameloft

Genre:

Life Simulation, Adventure

ESRB:

E

Summary:

In Disney Dreamlight Valley, players will create their own Disney avatar as they interact with some of the most iconic characters in Disney and Pixar history. The story surrounds the dream castle and the realm it resides in, which is a place where several characters, hero and villain alike, have lived together in harmony. However, an evil force known as the Forgetting consumes the kingdom. It's up to the player to solve puzzles, reunite characters, and embark on feature-rich character storylines to save the Dream realm. Players can build their own Disney neighborhood – plant gardens, go fishing, build residences – or go on adventures in dark caverns, sail the seas, or navigate spooky forests. The choice belongs to the player as they traverse the various Disney worlds in this cozy game that takes notes from mainstays like Animal Crossing and Stardew Valley. Disney Dreamlight Valley was fully released on September 6 2022.