Anyone not that familiar with using TikTok may initially find the app jarring to use — immediately after launch, users are led to the For You page, a seemingly endless stream of recommended videos that's supposedly tailored to their interests. At first glance, this feature's design seems like a good solution for some people who are "just looking" and are not entirely sure how to find entertaining content. Others may be wondering how the app determines what a certain individual would find compelling, and occasionally find some recommendations to be off the mark.
Clips that appear in the For You feed are not completely random. Like most media-sharing platforms, TikTok's suggestion algorithm feeds on a person's activity on the app and monitors what videos they actually watch, comment on, share with others, mark as interesting, or add to favorites. To help viewers better understand how exactly content is curated for them, TikTok is rolling out a new tool that'll provide an explicit explanation why a video is appearing on their For You feed.
Related: Here's How TikTok Is Tackling Its Misinformation Problem
This Is Why TikTok Thinks You'd Like A Certain Video Clip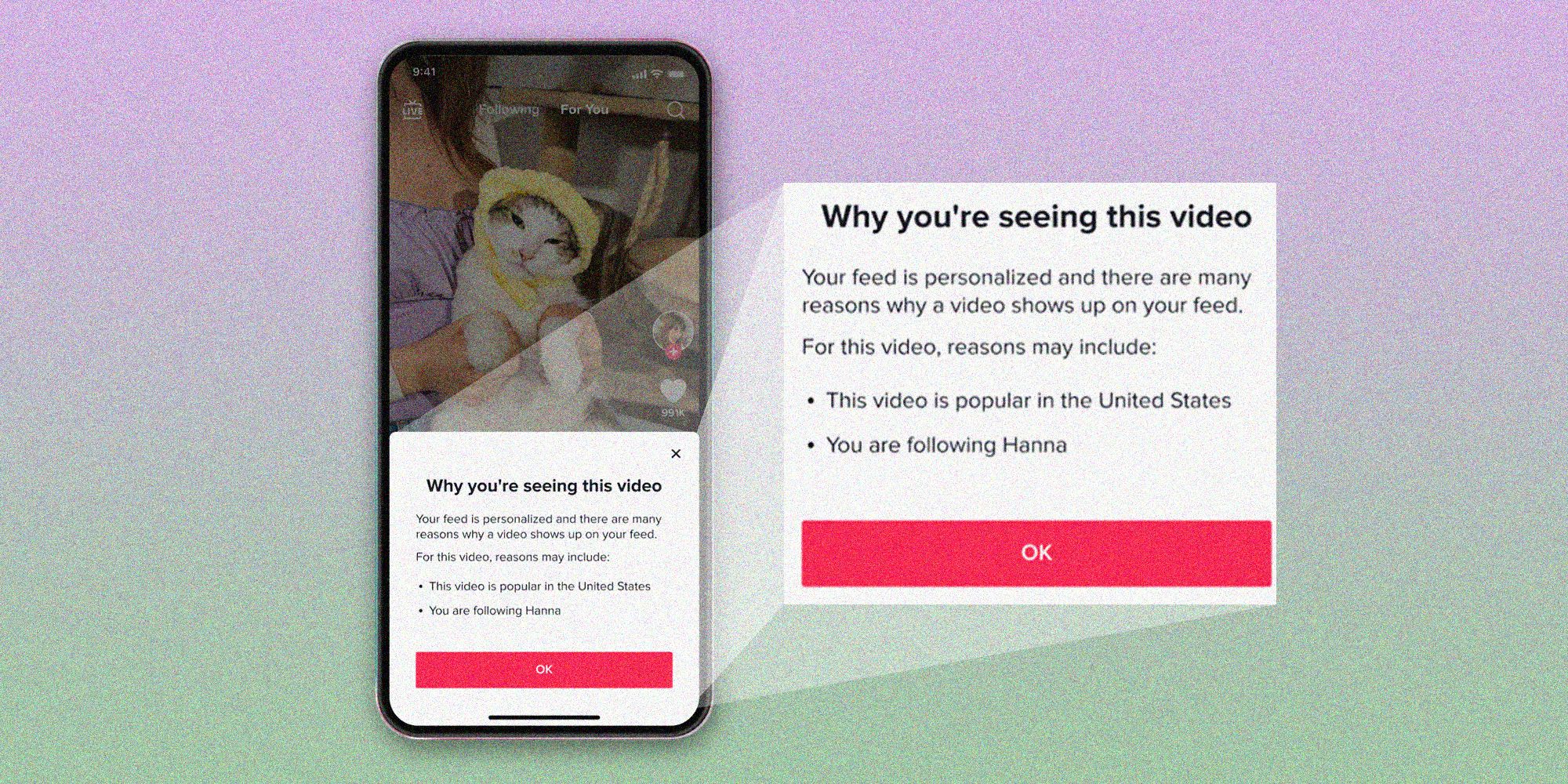 Those who are curious about the potential reasons why a specific post has appeared in their TikTok #fyp can find out by tapping on the clip's share button. In the bottom section of the share options tray, if they have access to the new tool, there should be a question mark icon labeled, 'Why this video.' Tapping this would pull up a bulleted list of applicable criteria that deemed the content in question as a relevant recommendation for the particular user.
Apart from a person's interactions with clips that appear on their For You feed, possible causes for the suggestion of a TikTok video include content preferences of people they follow on the app, as well as other accounts that have been suggested for them to follow. In addition, the user's location is also taken into account and as a result, they may be fed content that was recently posted or has attained viral status within their region.
The newly released explainer tool is currently on a gradual rollout, so some users may not see the update just yet. In the meantime, in the rare occurrence that a video they don't find that entertaining slips through the recommendations crack, vigilant TikTok users who like to keep their feed as relevant as possible can essentially downvote them and press the 'Not interested' button, which will affect future For You page results.
More: When To Use TikTok's Restricted Mode (And How To Enable It)
Source: TikTok