According to showrunners Eric Heisserer and Daegan Fryklind, Shadow & Bone season 2 makes a lot of changes to Alina Starkov and the Crows' stories from the "Grishaverse" novel series. Netflix's fantasy series is adapted from Leigh Bardugo's young adult novels, with the first season covering the events of Shadow & Bone, the first novel set in the universe. Set in the fictional country of Ravka, Shadow & Bone sees orphaned assistant cartographer Alina Starkov (Jessie Mei Li) discover that she is not only a magic user known as a Grisha, but a powerful and rare type known as a Sun Summoner. She soon catches the attention of the ambitious Grisha General Kirigan (Ben Barnes) with her potential power.
Speaking to EW, Heisserer and Fryklind reveal that while the upcoming Shadow & Bone season 2 will adapt the remaining books in the Shadow & Bone trilogy, Siege & Storm and Ruin & Rise, the new season will divert from the novels' narrative and feature elements of later novels. Alongside the introduction of Wylan Hendricks (Jack Wolfe) from the later Six of Crows novels, season 2 will also feature a number of deeper cuts to the surrounding tales of the Grishaverse. Check out Heisserer and Fryklind's full response below:
Eric Heisserer: We touch on a few others in Leigh's catalog. There's a piece that's integral to the story that was Daegan's idea that I'm particularly excited about. I don't think the fans are gonna see that one coming 'cause it's a pretty deep cut.

Daegan Fryklind: I don't even think that Leigh saw it coming.

Heisserer:We aren't actually using the plot of Six of Crows in season 2. That is a beefy and robust story that requires its own lane. We have a bigger ambition for it.
Related: Shadow & Bone Season 2 Teaser Proves It's Fixing A Season 1 Problem
What These Changes Could Mean For Shadow & Bone Season 2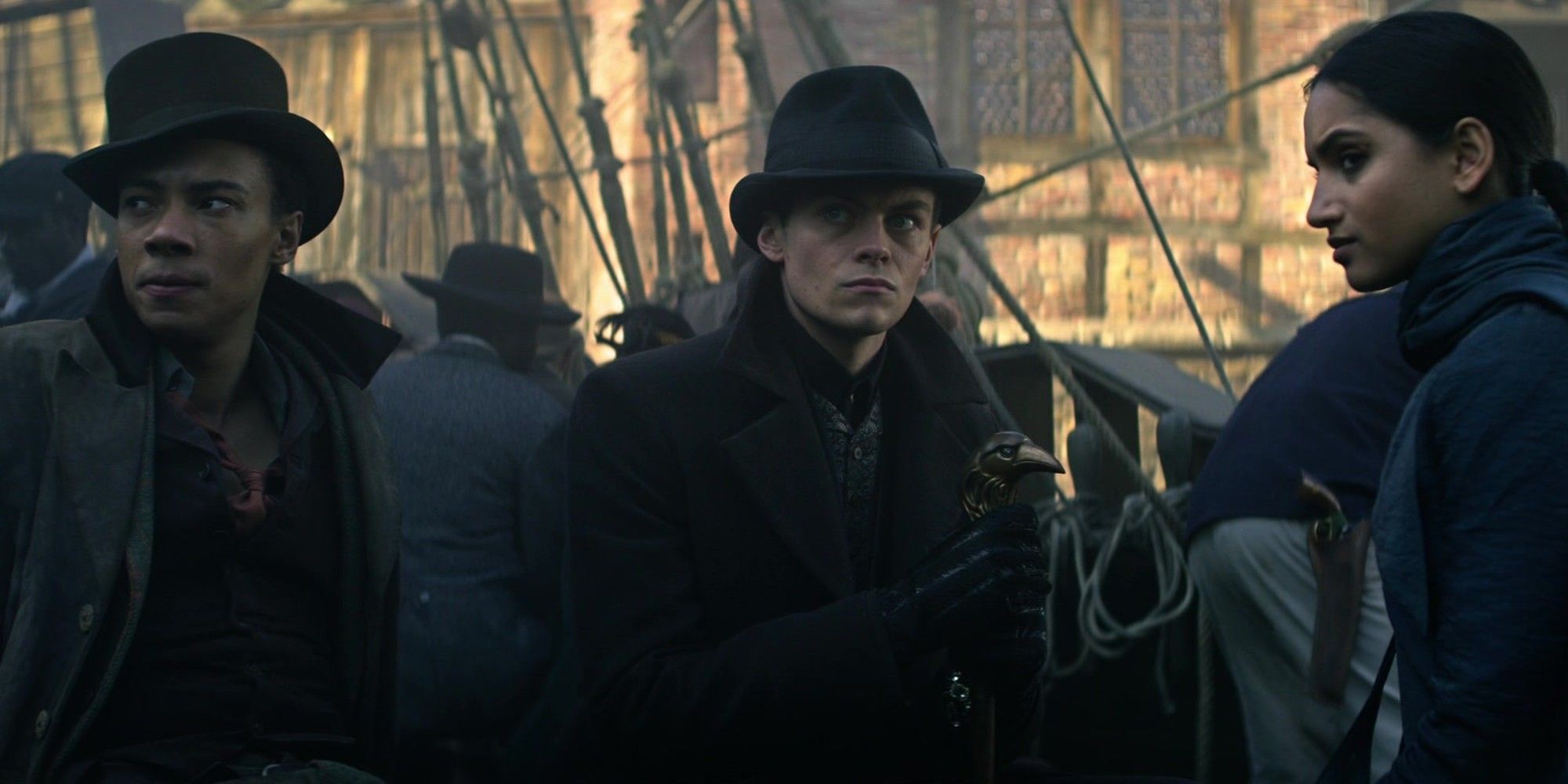 Netflix's Shadow & Bone is no stranger to changes from the novels, as seen with the Crow's inclusion in season 1. The Crows were added by Heisserer after the showrunner stated he wouldn't join the production without access to those characters, despite them not being present for Alina's story. As such, Kaz Brekker (Freddy Carter), Inej Ghafa (Amita Suman), Jesper Fahey (Kit Young), and Nina Zenik's (Danielle Galligan) arcs across Shadow & Bone season 1 are original stories that introduce audiences to a select few members of the crew before they could potentially take the spotlight in later seasons.
While the Crows' further inclusion in Alina's story may suggest that future seasons could adapt the Six of Crows duology, adjustments to her trilogy's narrative may lay the groundwork for later works in the Grishaverse to be brought to screen. As Shadow & Bone season 2 is covering books 2 and 3 together, the new episodes seem set to bring Alina's story and her battles against Kirigan to a close. In turn, they could set up details for an adaptation of the King of Scars duology, which follows on from the events of the Shadow & Bone books. Season 1 featured Zoya Nazyalensky (Sujaya Dasgupta), and season 2 will introduce Nikolai Lantsov (Patrick Gibson), who are both main characters of the duology. As such, Shadow & Bone season 2 could utilize new elements introduced in the later novels to lay the groundwork for future seasons.
With Shadow & Bone season 1 receiving positive acclaim upon release and Netflix preparing to develop a video game based upon the series, it is clear that the Grishaverse franchise could become another hit fantasy series for the streaming service following previous successes like The Witcher. As such, while Heisserer and Fryklind's changes and the reveal that season 2 will also adapt Ruin & Rise may cause existing fans to be wary, it is clear that the showrunners have long-term plans for the franchise. Therefore, any changes could potentially smooth over any inconsistencies the novel series may have featured, giving new and old audiences a solid, well-paced narrative across Shadow & Bones' existing and future seasons.
Next: Every New Shadow & Bone Season 2 Character Revealed So Far (& Explained)
Source: EW