Justified revival showrunners explain how Quentin Tarantino helped bring the new show into being. Based on the works of famed crime novelist Elmore Leonard, the neo-Western series Justified starred Timothy Olyphant as Raylan Givens, a lawman willing to bend just about any rule in order to bring the bad guys to justice. First airing on FX in 2010, the show lasted for 6 critically-acclaimed seasons before finally coming to an end in 2015. But now Justified is coming back with a revival season sub-titled City Primeval, with Olyphant once again picking up the badge and gun as Givens.
Justified fans are understandably excited to know that Olyphant is coming back to play Raylan Givens once again. And if those fans want someone to thank for Justified getting another chance on the small screen, they should look no further than Pulp Fiction filmmaker Tarantino, who played a key role in making City Primeval happen. Speaking recently to EW, Justified revival showrunners Michael Dinner and Dave Andron explained how Justified: City Primeval happened, detailing how Tarantino's discussions with Olyphant led directly to a new Justified story being pitched to FX. Check out Dinner's remarks on the matter in the space below:
A lot of people had wanted to make this book before. It almost got made by [Sam] Peckinpah years ago as a movie, and [Quentin] Tarantino wanted to make it as a movie, and a lot of people wanted to play with it in television, streaming or cable. We had a great experience doing Justified, and some years later Elmore's son had approached me about doing it as its own thing. I'd always loved the book, we always referenced it when we were in the writers' room on the original series, and so that was the intention: It was going to be its own thing.

And then one day the phone rang and it was Tim Olyphant who said, "I've been sitting on the set with Quentin, and we were talking about this book, City Primeval. We thought it would make a great year of Justified." So we started kicking around the idea, and FX was into it. It was very complicated to put together because the rights situation was a little murky — part of the rights belonged to the estate, part belonged to MGM which was going to make this movie several times, and it took a while to get it going, but then we did.
Related: Justified: What Happened To Raylan Givens After The Show Ended
Everything We Know About Justified: City Primeval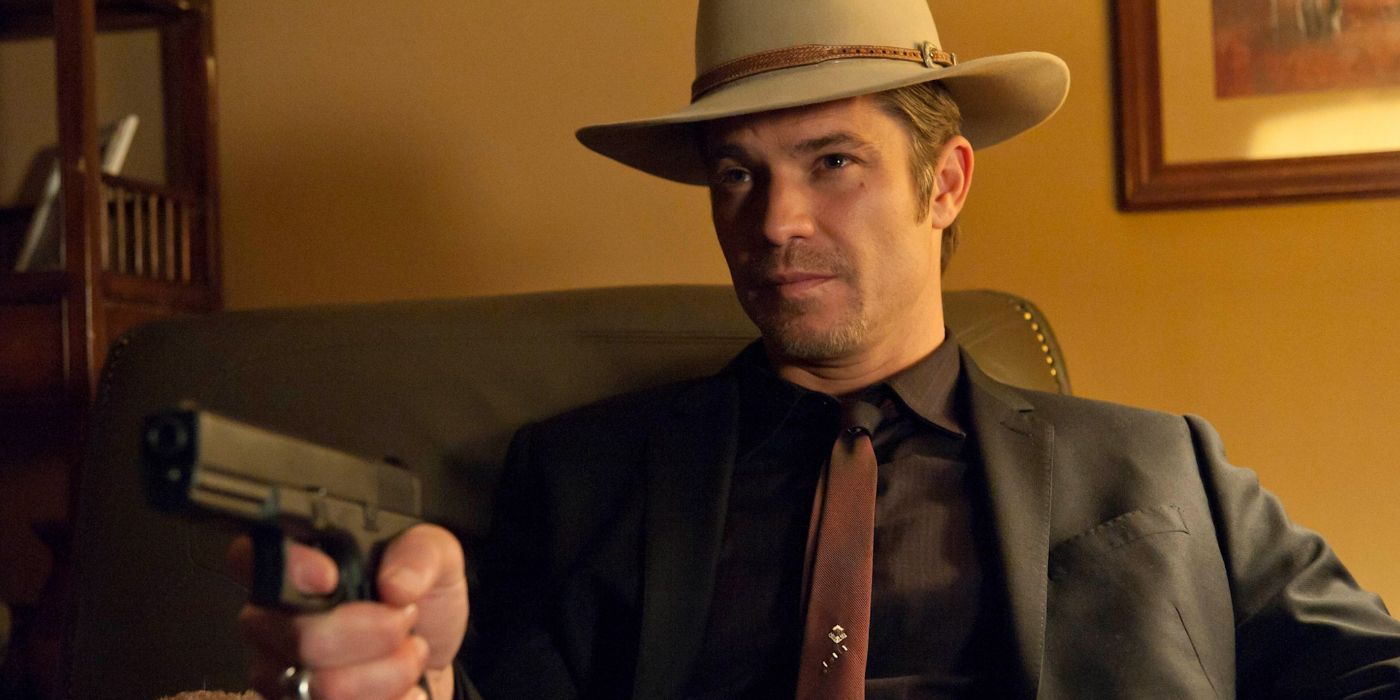 Tarantino's involvement in Justified: City Primeval is indeed not news, as at one point the director was reported to be signing on to helm a few episodes of the revival show. But it's since been reported that Tarantino will not in fact direct any of the show's episodes himself. Nevertheless, Tarantino is clearly a huge Justified fan, and it's cool to know that he was so involved in boosting the show in the first place. Story-wise, City Primeval is set eight years after the events of the original series, and sees Olyphant's Marshal Givens leaving Florida for Detroit after an encounter with a violent sociopath named Clement Mansell.
Filming on Justified: City Primeval went down last summer in Chicago, with a cast including Aunjanue Ellis (The Help), Boyd Holbrook (Logan), Adelaide Clemens (The Great Gatsby), Vondie Curtis-Hall (Marvel's Daredevil), Marin Ireland (The Umbrella Academy), Norbert Leo Butz (Bloodline), Victor Williams (The King of Queens) and Vivian Olyphant. Some of that cast indeed got more than it bargained for during shooting, as City Primeval experienced a pair of interruptions related to real-life violence, one for a bomb threat and another when an honest-to-goodness real gun battle crashed into the show's set.
Thankfully the show was able to get back on track despite these very scary setbacks. Indeed, a first look image from City Primeval was recently revealed, featuring Olyphant back in action as Raylan Givens. The image doesn't give much away in terms of plot, but it makes it clear that Raylan's fashion sense remains the same all these years after he last graced the small screen. Fans of Givens and his ever-present cowboy hat, including Tarantino, can check out Justified: City Primeval when it premieres on FX in mid-2023.
More: Justified Revival's Perfect Villain Is A Missing Season 3 Character
Source: EW